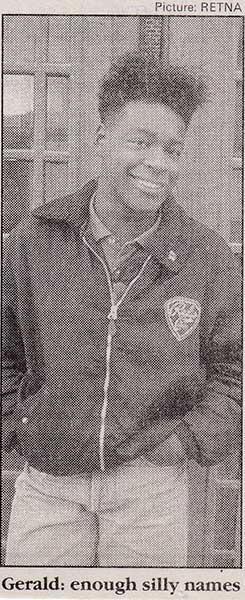 The two-minute interview with A Guy Called Gerald
Neil McCormick: Why did you decide to go under the name A Guy Called Gerald?
A Guy Called Gerald: I'm a guy and I'm called Gerald. There's enough silly names about. I thought I'd keep my own name.
Why has jungle music been retitled drum 'n' bass?
Corporate record company people thought jungle sounded a bit too uncivilised. That's my theory. Drum 'n' bass is more marketable.
Which description do you prefer?
I just call it dance music
What is Black Secret Technology?
If told you, it wouldn't be secret (Laughs).
It's OK, I'm black.
(Laughs) I just wanted people to think about what's going on at the moment. I was watching a late-night TV chat show and there was some mad woman on talking about the government using Black Secret Technology to brainwash people. It just kinds jumped out at me. It is getting to the stage where soon you'll have a credit card that will be your driving license, birth certificate, everything. You lose that and you cease to exist. Some kinds of technology limit your freedom. Other kinds set you free.
Why did you decide to re-release the album?
It was a record label decision. Its an album that kind of disappeared. Some people thought it deserved another chance. But I'm already half way through another one.
Where is your new music going?
I'm still doing the same kind of thing, just basically using more technology.
Black Secret Technology?
All kinds of technology. I'm kind of experimenting. And when you're experimenting with something it's hard to put it in any kind of field that would make sense to someone else. It's searching. Finding out what the music is capable of doing.
Is It quite solitary doing what you do?
Totally. But I like to work alone.
You collaborated with David Bowie on a single (Telling Lies) that was released on the Internet. What was he like to work with?
I didn't actually meet him. He sent me some DAT tapes with vocals on. But I've talked to him. He's pretty switched on.
As drum 'n' bass Is integrated into the mainstream, does it push you further towards the outer limits?
Not yet. There are so many dimensions. Most mainstream artists still have to pay someone to do it for them.
[Author: Neil McCormick, Photo: Retna]