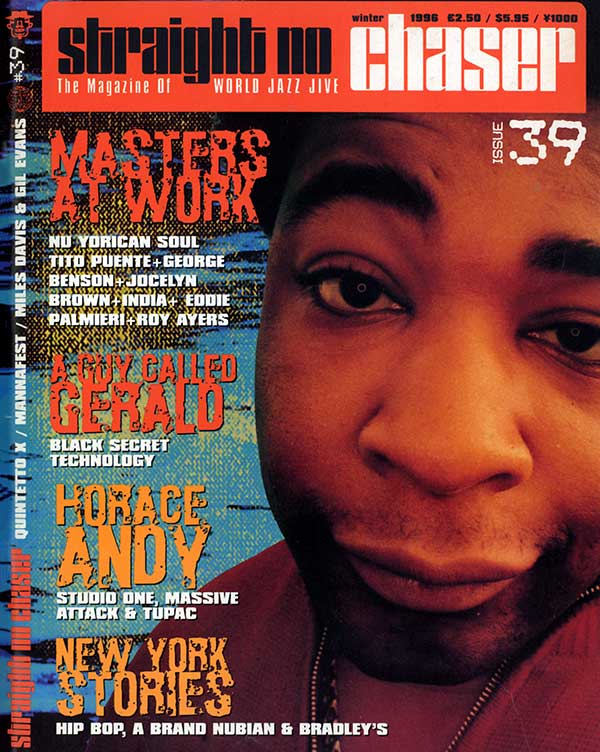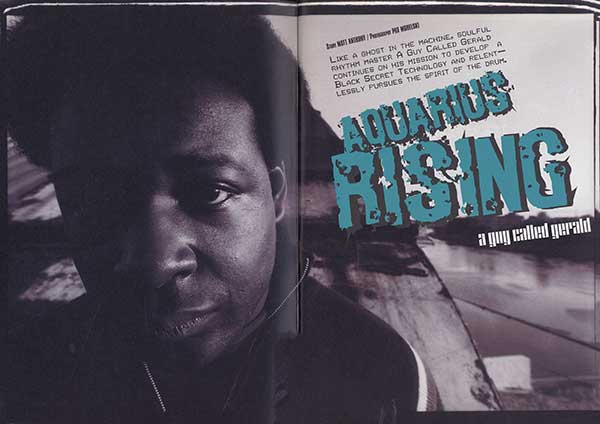 Gerald Simpson has a quiet intensity about him, a soft-spoken voice that carries his thoughts into the air with conviction. A luminary of the burgeoning drum'n'bass scene, he's floated on the periphery for some time. Anyone who was involved in the club culture of the late Eighties will know him for that one track but 'Voodoo Roy' is the post - time has moved on and Gerald is making music that will take us into the next millennium. His 1995 album Block Secret Technology' should hove shaken the voodoo curse - a wash of sonic textures and fractured rhythms it was a forward-thinking work that pre-empted the shifts of o rapidly fragmenting scene. It was critically acclaimed but it didn't reach the ears of all that should hove heard it. Re-mastered, with more boss and two new tracks it's just been re-released on his Juicebox imprint and with a new album Aquarius Rising due in early `97 Gerald is acutely aware that time is of the essence.
"Everything has its own pattern," he confides, lounging on the sofa at his studio in West London.
"Rhythm is everywhere. Maybe people don't always recognise it because sound rolls by as time unwinds. But if you isolate a point and loop it you steal hock that piece of time. It becomes something in itself. Ancient people used sounds that were around them, natural sounds. Today you don't have to go for to hear artificial noise. It surrounds us and the way that we live; I try to reflect that in my music."
The intertwining of man and machine is a concept that Gerald has always embraced. He started out writing with Mancunian collective The Hit Squad (which later spawned 808 State). "I was always trying to put my own expression into the machines. I'd run the 808 and try to get some movement into the beats - I wonted to get into the circuits. I liked Kraftwerk but I never really heard things in that clock tempo, those measured pulses. The electronic fusion that Herbie Hancock and Chick Corea were doing - some people said it was really cold music, all blips, beeps and squeaks but to me that was about freedom and self-expression. That's sort of how I've come to see machines - if it's made to perform a particular function then you've got to fuck with it and make it doing something else."
Processing sounds is one of his vices, utilising the knife of technology to remove a section and push it through digital corridors, adding and subtracting. "Sometimes I'll take something and run it through the effects, like o reverb. Then I'll re-record the reverb but lose the original sound." This idea of sonic scaffolding, wrapping something around a core then removing the framework to leave a ghostly structure is just one of his ways of personalising sound. He's forged his own path through an elementary, almost spiritual approach: "Imagine trying to follow someone else's footsteps - it's a lot easier to make your own."
While Black Secret Technology focuses closely on juxtaposing layers of melody a cursory listen to rough cuts from Aquarius Rising reveals that the sound of the drum has come to the fore. Trademark reverse snares come scudding overhead like an approaching storm, mad polyrhythms teeter on the brink of confusion with the elegant chaos of a Blakey solo before locking hack in. The drums operate on that precious moment in time and space - loops cycle then mutate, splicing like chromosomes, constantly evolving. For Gerald, mastering the drum has taken many years but he seems to treat it as a deep-rooted quest that requires awareness, intent and the element that he turns upside down in his samplers - time. "When I look back over my career it's like a musical journal - I can trace myself.
Since doing 'Black Street Technology' my rhythms have become more detailed, more complex which has allowed me to ease back on the melody because there's so much more power in the sound. That album was like looking into the past to see the future and that's the measure - 'Aquarius Rising' is the definition of where I am now."
The new album represents a turning point in other ways as well. It sees Gerald bringing live vocals into the equation for the first time- Lady Miss Kier from Dee-Lite and Louise Rhodes from Lamb both contribute to tracks that reflect their individuality, Gerald providing music that responds to the myriad's of tone and inflection that the human voice can conjure. "I've learned how to treat vocals now, letting them develop the overall shape of the track, getting to grips with the phrasing. It's like working with a brand new instrument." He's also collaborated with David Bowie and is set to write some new material with him before the end of the year. "I was never really into the Tin Machine stuff but there's other things that he's done - just weird lyrics, strange ideas that I really like. I'd love to get him in a studio on a mad one, just pure stream-of-consciousness."
Being independent for the last few years has allowed Gerald artistic freedom. Juicebox was originally started in `92 so that he could release his own stuff. After a disappointing time at Sony when his second album was rejected because "it didn't fit their niche of who they thought I was", he wasn't about to give a major label another chance. Now with label manager Craig Golding running the business side of things and new artists like Tamsin and Bushmaster on the roster, 1997 looks like being o good year for the crew. "Juicebox is a drum'n'bass label," says Gerald emphatically. "It's like if someone says `Def Jam' you think `hip hop'. They put out other stuff too but the emphasis was hip-hop. That's what I'd like to do - build a label with music synonymous to the country."
As far as Gerald is concerned making music is about seeing and hearing the world and offering people his perception. His energy comes from on innate curiosity to open up and examine that which surrounds him and he becomes consciously animated when discussing the future: "I've had people come up to me in New York and say that we're doing crazy shit with breaks over here and that they'd have been doing it if they'd developed the rhythmical side of hip hop more. But drum'n'bass is our music - the music of the streets from the U.K. I think it's the first underground music we can truly call our own... It's developing at a rate of knots and I'm not about to let go of it - it's our cultural identity. Our music."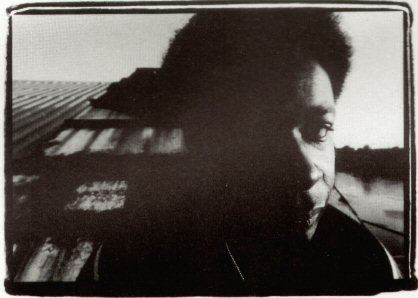 [Author: Matt Athony, Photos: Pav Modelski]