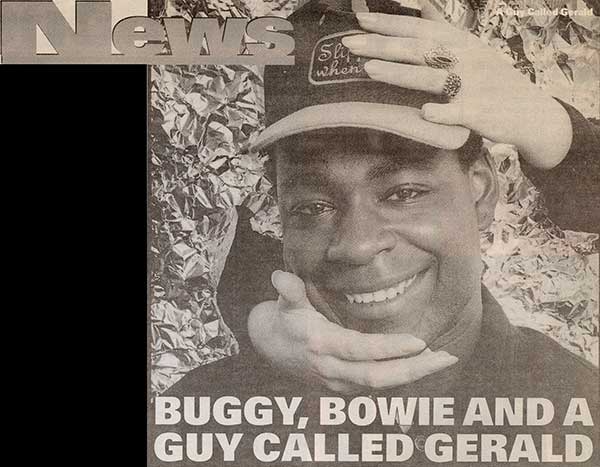 A GUY CALLED GERALD, Minty and Squarepusher are among the artists performing at Nottingham's Now'96 multimedia arts festival. Running from October 18 to November 17, it will explore the relationship between the arts and new technology in venues throughout the city. Fresh from his work with David Bowie, A Guy Called Gerald will be performing a specially commissioned piece written with classical composer Errollyn Wallen. It will be staged ,n conjunction with visuals from video artist Buggy G Riphead, who's best known for his work with the Future Sound Of London. Talking about his involvement, Gerald said: "We started out aiming to create a totally classical piece, but the more we worked on it, a very African theme started to come through. So it's very much a traditional African thing, although there's a lot of weird stuff going on in there too." The event will be presented as a "digital club" involving Internet links with unconfirmed UK venues and a special live 'Net performance by Zion Train from a club in Europe. Minty will be teaming up with the rest of their performance troupe, known as Offset, to present their controversial 'Mint Tea Rooms", a show which finds the band at their most outrageous– inspired by the untimely death of founder Leigh Bowery. The show moves from uneasy ambience towards a white-knuckle confrontation which attempts to express the schizophrenia of modern-day living. "Mint Tea Rooms" will feature songs from Offset's debut album alongside new and exclusive tracks by Minty. Acclaimed, freeform jazz-junglist Squarepusher will be performing an improvised set alongside Talvin Singh in an evening celebrating new music. Also featured are Bjork favourites Plaid (ex-Black Dog) and ambient dubsters Woob. Scanner and Pressure Of Speech are promising an exclusive installation titled "Incarceration" which will include exclusive material from both artists.
Also included in Now'96 will be "Massive", the first-ever public multi-user virtual reality performance. It's intended that both audience and artist will have a presence in a shared virtual space. Performances come from hip hop poets Chocolate Art and Stickman. This is Nottingham's seventh festival of contemporary arts. For an information brochure, call 0891-660 605. The box office is 0115-9419419.
• Bristol Sound '96 begins in the city this week to build on last year's Radio 1 Sound City. The intention is to provide an annual, national music festival. Dodgy, The Divine Comedy and PJ Harvey are among bands including Bristol as part of their touring plans, with dates already announced. A Guy Called Gerald is also involved with Sound '96, taking part in a series of "strong club nights". There will also be seminars and local bands playing live showcases.
• Liverpool has its own music festival too. Liverpool Now'96 –the third in the series–takes place at various city venues from October 23 to November 2. The focus will be on up-and-coming Liverpool bands such as Smaller, Cecil and Proper, although there will be a range of activities such as seminars. The aim is to "showcase the strength and diversity of Liverpool-based music, with artists performing everything from indie to jazz to funk to soul to gospel."
[Author: Melody Maker]