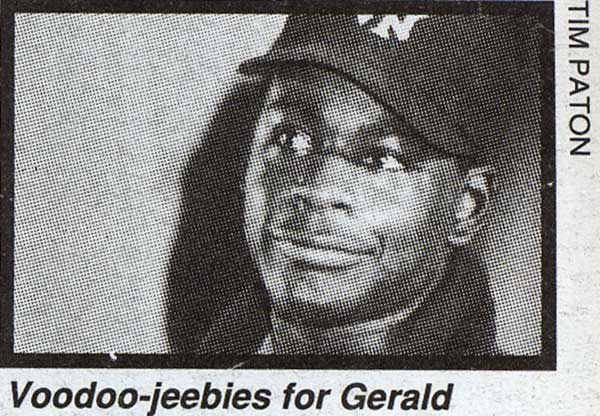 A GUY CALLED GERALD has refused to put his name to a new version of his seminal 1989 techno smash 'Voodoo Ray' because he believes there is a curse attached to it.
He has retitled the new version 'The Curse Of Voodoo Ray'. The track is being issued under the name of vocalist, Lisa May, even though Gerald produced, wrote and arranged it. Gerald even refuses to talk about the song.
A spokeswoman explained that Gerald failed to make money from the original as he signed away the royalties rights to his manager in exchange for a flat fee because he had no money at the time. This left Gerald working in a burger bar while his manager made money when the record reached Number 12 in the singles charts.
An effort to re-release the track in 1991 failed and the latest attempt has been delayed by 18 months following legal wrangles with original vocalist Nicola Collier.
She refused to participate in the reworked 'Voodoo Ray' and tried unsuccessfully to block its release.
The spokeswoman added, "He's not religious in a conventional sense, but he's very spiritual and he just feels this is unnatural and wants nothing more to do with it."
Instead, Gerald will be devoting his time to his collaboration with DAVID BOWIE.
They got together after Bowie heard Gerald's 'Black Street Technology' LP, which was released last year. They are working together on the Bowie-penned and produced track called 'Telling Lies'. Gerald is remixing the track and it will be released on September 9.
[Author: NME]