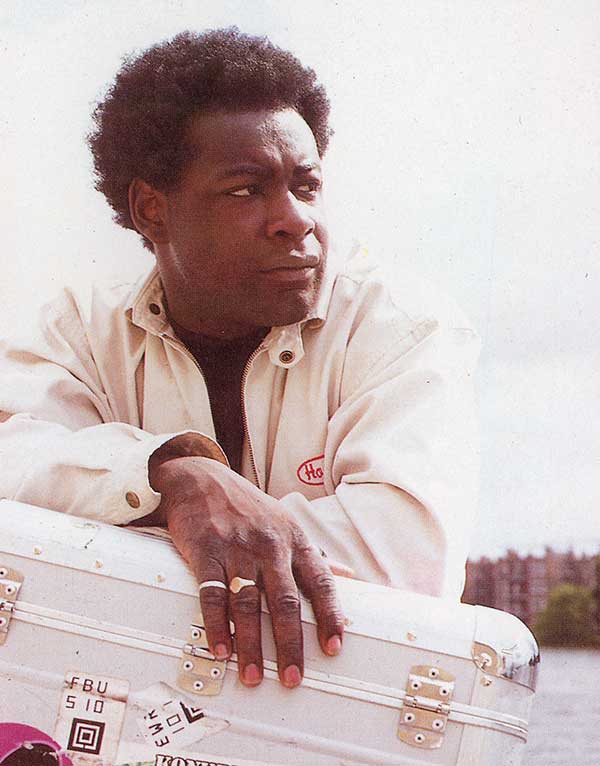 a guy called gerald likes a good melody. he picks his top 10 classic tunes
20 below zero' ep cold mission (reinforced)
"This came out in 1993 and ifs kind of melodic. Nowadays you don't get much melodic music, something that sounds like a proper song. Its pretty cool."
'missing from the picture (remix)' jlm productions (reinforced)
"This came out in late '95 and I like the bass, it kind of plays a tune and everything else on the record follows that. The bass is the main melody."
'tell me' majistrate (intalektive)
"This is really hard but there's a vocal in it - its a real balance. Its a female vocal and is pretty loud but it matches the loud drums."
'the water margin' photek (white label)
"This came out in 1995 and I like the structure of it. As soon as you hear it you want to move to it."
'turquoise (dj trace remix)' t.power (s.o.u.r.)
"Hard drums and a really menacing attitude."
'fabric of space' source direct (source direct)
"This came out in early '95 and again I like the structure. I like the sound of the drums, they're really classy artificial drums but they're really hard."
'streams of thought' intense (creative source)
"This really, really gets people going. You can play it where people have not heard much drum & bass, the sort of people who might think drum & bass is violent. People who are into house or garage like it, it can cross over."
'she' so' fbd' (fbd)
"A really good use of a sample from a pretty old soul tune. It's got a build to it; it starts off pretty calm and builds into a hard structure."
'this is la' lemon d (metalheadz)
"Its like a mixture. I don't usuallylike playing a lot of tracks with that break in that everyone uses, but it suits this track."
'drift to the centre' aquarius (looking good)
"Its got a really spooky whisper and the bass drums are really heavy - in-yer-face bass."
tips for the week:
• 'footsteps' lady miss kier (dub plate)
• 'slightly sinister bliss n tumble (bear necessities)
untitled, artist unknown (white label with a squiggle on it)
• 'mystery' digital (creative source)
• 'aromatherapy adam f (section 5)
• 'still life (photek remix)' goldie (metalheadz)
• 'long distance' artist unknown(dj recordings)
• 'careless minds' intense (good looking)
• 'solutions' axis (good looking
• 'groove therapy universal (white label)
CV
BORN: Manchester, February 16, 1967.
LIFE BEFORE DJING: record producer.
FIRST DJ GIG: "I DJed at a youth club for two years in the mid-Eighties then it was Isobar in Manchester in 1994."
MOST MEMORABLE GIG: Best - "The Roxy in New York early last year. It was a life-time ambition from my hip hop days." Worst - "The Limelight, New York, also early 1995. The promoter bumped into me on the steps and asked me to DJ. He thought I lived in Chicago so I should have sussed that he didn't have a clue about me. I took my records down and played drum & bass and freaked him and everyone else out."
FAVOURITE CLUBS: Metalheadz, Speed, Logical Progression (London).
NEXT THREE GIGS: Energy Festival, Zurich (Aug 10); Arena, Middlesbrough (31); Aarhus, Denmark (Sept 14).
DJ TRADEMARK: "Changes in the music. I fluctuate between hard-step style and more melodic stuff."
LIFE OUTSIDE DJING: Artist - as Voodoo Ray feat Lisa May out August 5 on Manifesto; working on an album due out in the autumn on Juicebox; remixer; "I like 'natural sports' and I'm getting into graphic design."
[Author: Sarah Davis, Photgrapher: GP]