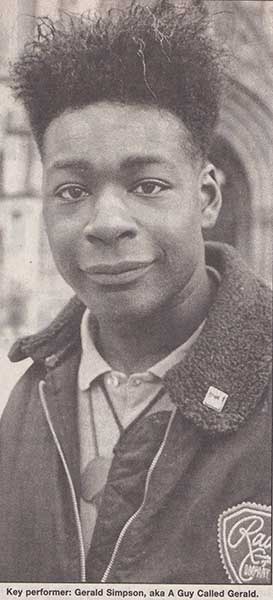 BOSS GROOVES
David Belcher reports on an exciting fusion of jazz culture and clubland cool
WHEN Billie Holliday long ago first sang of strange fruit, she was employing the phrase as a metaphor for death and oppression. In marked contrast, the Strange Fruit on offer at Glasgow's Old Fruit-market in a fortnight's time promises to be lively and life-enhancing.
Drawing on a range of artistic and cultural genres, Strange Fruit also intends to stoke the fires of debate about the ever-evolving nature of jazz . .. surely a handy thing to be done by a clubland gig which will be part of the forthcoming Glasgow International Jazz Festival.
Much jazz-style, free-form philosophising has already been done by the multi-faceted band of folk responsible for Strange Fruit's second flowering, which will feature the pioneering jungle of A Guy Called Gerald alongside the computer-driven improvised orchestrations of Craig Armstrong.
"We get very precious and heavily argumentative about what Strange Fruit should and shouldn't be, not least because you need the right balance between stereotypical 35-plus jazz festival folk and younger junglists with clubbing expectations," says Strange Fruit facilitator Bobby Paterson, a man whose CV covers almost as many activities as Strange Fruit intends to encompass during its five-hour lifespan on June 28.
Bobby used to play bass with Love and Money. On the band's dissolution, following a gig supporting Bryan Adams, Bobby oversaw the birth of Glasgow's hip Volcano niterie. Now he co-owns city-centre restaurant Mojo, Mojo's chef having spent two years touring the globe as personal nutritionist to the aforementioned Mr Adams. How does Strange Fruit fit in?
"I actually applied to be director of the Glasgow jazz festival when the post became free," says Paterson. Undeterred by a negative reply, he offered the idea for Strange Fruit: a clubland cross-fertilisation . . .musicians playing live with DJs. "I'd seen the success of Horizontal at Volcano — 500 people spending steamy summertime Wednesday nights dancing to jazz that was older than they were."
Last year's initial Strange Fruit featured DJs Nick Peacock and Gilles Peacock alongside Greg Kane's band and Dutch keyboards player David Caron. Much was learnt organisationally from that first event. So Strange Fruit Mk 2 is intended to be an evening of seamless fades: from DJ into live music and back. Nor will bands be sent on stage without an audience to see them, as happened last year. "We were overly-rigid with our running order," confesses Paterson.
Do it fluid might be this year's Strange Fruit motto, in fact. Certainly the event's creative team constitutes a multitalented pool. Strange Fruit's visual identity should be as memorable as its musical one, according to graphics wizard Damien Smith, whose own CV includes promo videos for One Dove, flyers for Slam gigs, and the title sequences for Channel 4's Tribe Time.
"We'll have a 15ft square gauze cube hung from the ceiling, featuring projections, film loops, digital art, and experimental typography. There'll be four or five film cameras in action in the venue, via which we'll be assembling a live scratch video." Additionally, there'll be a live photography site.
"We're keen to reflect the original spirit of jazz rather than one strict musical definition," says Smith. "Jazz was experimental, but now much of it seems to have ossified."
That could not be said of Smith's fellow collaborators in Strange Fruit's visual sphere. For Strange Fruit represents the debut of ISO, a loose Glaswegian agglomeration of friends who are all professionals in the overlapping worlds of graphics, advertising, film, and TV.
On the musical front, Strange Fruit will also feature the junglist disc-spinning abilities of Paul Cawley, whose Phar Out night has enjoyed an 18-month residency at Glasgow's Art School. Chanteuse Jerry Burns will sing; the mysterious Doctor Rapaniki will drum; Bobby Paterson will pick up a bass again.
What will happen?
"Dunno exactly," says Paterson. "It's contentious whether what Gerald does is jazz. Similarly, Craig Armstrong's work is refracted through the traditions of classical and jazz, yet he's worked with Massive Attack, U2, and Pavarotti. Strange Fruit is putting all this together in order to offer lots of possibilities. A bloke with a £70,000 grand piano and live musicians; A Guy Called Gerald with a sampler and a computer, a vocalist, and two dancers."
Will Strange Fruit be any. good?
"I'm conscious of us sounding very serious and pretentious, but last year Strange Fruit succeeded in bringing lots of people out of the woodwork for a really good party ... a club for concert-goers and a concert for clubgoers."
Strange Fruit; satisfyingly flavoursome.
At the creative centre of A Guy Called Gerald there is, naturally enough, a guy called Gerald . . .Gerald Simpson. Straightforward enough, but Gerald Simpson is a guy who's curiously difficult to pin down.
He's a musician, as his forthcoming Strange Fruit engagement will reveal. He's a DJ, as folk at Glasgow's Volcano discovered a couple of weeks ago. He's a re-mixer, as can be vouchsafed by acts as diverse as jazz diva Flora Purim and industrial grindcore merchants Cabaret Voltaire. He's pioneered all forms of dance music, from Chicago house in the eighties to today's drum'n'bass excursions.
Additionally, this Gerald guy is a natural artistic collaborator, and not solely a musical one. Five years ago, for instance, he composed the music which accompanied Manchester's literary forerunner to Trainspotting, Trevor Miller's Trip City. "I wrote the tracks after reading the book, and they were given away with it on a cassette," says Gerald. "Funnily enough, I met Trevor not long ago in Los Angeles. He lives the Hollywood life ... running a couple of porno magazines."
GERALD'S not one for solitary pursuits, though. Look at the cast-list for his forthcoming album on his own Juicebox label. "A female collective of top vocalists," Gerald says proudly. Alongside Louise from hotly-tipped Mancunian step-hoppers Lamb, there's Lady Miss Keir, seeking to regain the global prominence she had five years ago with Deee-Lite.
While he's never truly been away, Gerald's on his way back, too. For it's been seven years since he initially tasted the big time with Mancunian electro-dance explorers 808 State. Success came suddenly. Indeed, in the week Voodoo Ray cracked the top 20, Gerald was still working in a branch of McDonalds.
It didn't last, Gerald soon leaving his erstwhile partners in a bitter public fall-out over unpaid royalties.
Mutual antipathy fuelled by capitalist exploitation. Maybe it was something Gerald could have foreseen. After all, another of his early jobs had been as a street-vendor of Militant's weekly newspaper.
"Well, my girlfriend at the time was in Militant. Back then I thought: 'Yeah, maybe politics can change things.' But I began to see that Militant directed all their energy towards in-fighting ... if only they'd directed half as much of it at their opponents as at the people who were supposed to be on the same side.
"Now I leave! politics to politicians."
Ach, well. At least that means Gerald can devote more time to music.
"It's been a strange progression from what I started off liking as a kid in Moss Side. Chart stuff, electronic stuff, Kraftwerk, avant garde, jazz, hip hop ... a real muddle, but a good one."
How do you explain the current favoured urban beat, jungle — also known as drum'n'bass and / or intelligent?
"It emerged out of rave and then morphed into something else. I noticed a change in the MCs, everything coming on stronger and speeding up. It's music for the millennium, man — it sums up dance music in the UK over the past 20 years.
"It crosses all borders, touches lots of bases. I can hear all sorts in there. Kraftwerk, Can . . . everything I've listened to in the past 20 years from the Jackson 5 onwards."
As yet, Gerald and A Guy Called Gerald don't have the same profile as the Jackson 5. Indeed, his last album, Black Secret Technology, slipped out so quietly it could have been called Well-Kept Secret Technology. Would you change anything to become a less peripheral figure?
"No. I've got freedom. I wouldn't mind doing a deal for the label with one of the majors . . . but as it is, I face new things every day."
One of these tasks is the recent creation of a New York arm of the Juicebox label, and America's first jungle club, Concrete Jungle, which has already spread from the Big Apple to Philadelphia. In addition, Gerald's turntabu-lar prowess regularly takes him to New York dance temples like the Limelight and the Roxy.
"Spreading the word about jungle," says Gerald. Spread the word about A Guy Called Gerald . . . and the word is cool.
[Author: David Belcher]