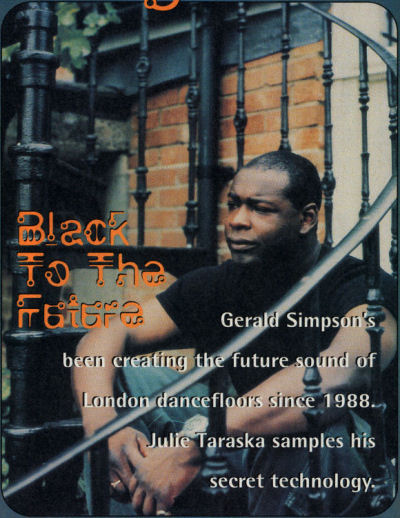 Come, follow me to Gerald Simpson's studio, the windowless bunker where he transcends time and space. Enter through a building's side door, and at the end of a short corridor is the lounge. Slumped down on one of the couches, making wisecracks is the diva whose ethereal vocals looped over the top of "Voodoo Ray" - Gerald's anthemic 1988 track that defined the hugs'n'drugs Madchester. She giggles as Gerald, face glowing with pride, leads me to the adjacent studio. A giant mixing board dominates the room, samplers and keyboards are plugged into the board's dozens of channels, supplying it, with its lifeblood of sounds. Speakers are positioned strategically around the room, and electrical cords snake across the carpet. A banner for Juice Box, Gerald's label, hangs in a place of honour on the back wall.
It is in this room, hunched over the mixing board, that this Guy Call Gerald processes breakbeats, slowly building his visionary jungle tracks from the bottom up. Bass serves as his songs' foundation, drums their framework, rhythms their drapery and vocals their top-hat. The music's roots read like a UN conference - American hip hop, European electro, Jamaican sound systems and Northern English soul that gel into techno's harder, speedier cousin. Gerald's been in its groove since '93, when his cyber drum'n'bass album, 28-Gun Bad Boy, took the experimental electronica of Automanikk (1990) to the next level. Black Secret Technology, his recent collection of ambient jungle tracks [released domestically in early '96 on Juice Box USA] extends the genre's parameters even further. In place of hard edgy paranoia are rounded beats, sculpted into textures and waves of tension. A half-dozen rhythms jostle in each track, and, like in dub, sections drop out, leaving just drums and bass skeletons.
"Jungle is going through different phases," says Gerald. We're sitting on a bench by the Thames, barely a stone's throw from his studio. Gerald's wearing a green t-shirt from Konkrete Jungle, the New York club whose organizers will be running Juice Box USA. "In 1993, yeah, jungle was just breakbeat," he rejoins. "There was that really happy jungle style earlier on which was really rave-like, then there was a really heavy backlash against that, and the music went frightening, into menacing sounds. And from there, it changed again, became a lot more tuneful with lighter strings."
Black Secret Technology serves as primer to these styles. Written over a period of six months, the album showcases Gerald's storehouse of techniques. "Dreaming Of You" flits in and out of focus like the details of memory, while the jittery rhythms in "Survival" encircle the listener before rushing in. "Finley's Rainbow," a take on Jamaican lover's rock, is a ballad with beats, "Energy," a collaboration with fellow jungle innovator Goldie stretches and constricts rhythms, playing with time until the music seems to be flowing both forward and backward.
This time trick summarizes jungle: it's a music that looks to the future while restoring a lost history. As Gerald says: "I make my rhythms on computers, but they still sound black or African or Latin. There's some sort of connection." He mentions black sci-fi and mythology, along with the symbolic space travel of Sun Ra and George Clinton. "I would like to go to somewhere like Africa and trace where these drums came from," he says, referring back to his music, "trace back these rhythms and what they meant, how they evolved."
Gerald sees the sound systems in Britain as a part of that history. "You go to a jungle sound system, and there's an MC there, and he'll wheel the tune and spin it again. That's exactly what happened [at dub sound systems] through the '60s to the '70s to the '80s to today. And he'll play dub plates [special versions of a record given to a DJ] like they used to play in the old days in Jamaica. But now [jungle's] put it on a British vibe."
Recently, Gerald has been working with Lady Miss Kier of Deee-lite and re-editing "Finley's Rainbow", which will be the first single from Black Secret. He's also remixing - for the last time, he swears - "Voodoo Ray' ["I'm getting so much earache about it. This is going to be 'the total overkill, this is it, this is all you're getting, it's over' remix."] Aside from jungle, he plans to make the odd house or techno track, but laughs when I ask if he's going to experiment with trance, the other high-BPM music influenced by the Detroit sound. "Oh no! [Trance] sounds like my bedroom from '84," he cries, scrunching up his face ín mock horror. "I'm sorry, but you're trying to bring me back. But no! I'm on a mission! I'm going forward!"
[Author: Julie Taraska]