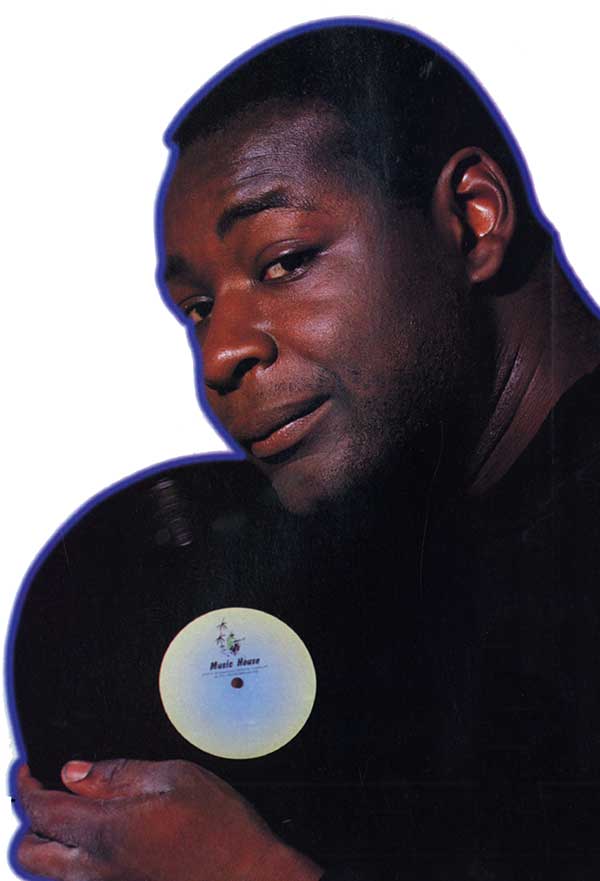 A face on the seminal Manchester dance scene, A Guy Called Gerald ducked the fall-out from acid house to hook into the new sound of the underground...
"SOMEBODY GAVE ME a beer last night," deadpans, 'Gerald Simpson, explaining his wrecked appearance. Gerald's studio-cum-hideout in Hammersmith is in a similar state: it looks like he's remixed it. It turns out this mild-mannered Mancunian actually spent the night before our meeting getting royally blasted at a pub lock-in, then decided a quick excursion to London's Ministry Of Sound club would finish off the evening nicely. Instead, it finished him off.
Simpson, better known as A Guy Called Gerald, moved to London from his native Manchester six months ago but hasn't rented a proper flat, preferring to sleep in his studio close to his precious equipment after his last one was burgled. "An inside job," he mutters darkly.
Bad luck has been a recurring theme in Gerald's career since hitting Number 12 in 1989 with acid house anthem 'Voodoo Ray' and remixing The Stone Roses in 1990. First, he had to drag fellow Mancunian techno veterans 808 State into court when they dropped his co-writing credit from their Top Ten hit 'Pacific State'. Later, he parted company with Sony when his final album for them was shelved in 1992. Inevitably, the master tapes remain in Sony's vaults.
"It was a whole year out of my life," sighs Gerald, shaking his head. "They were really immature; it was like stealing football cards off people at school. But I don't regret signing with Sony, because it was a learning process. If I hadn't signed to them I'd probably have signed to someone else and the same thing would have happened." More turbulence followed when he split with two sets of managers in two years and, in the process, ditched his PR on the eve of his latest album's release.
"There was a lot of money changing hands," says Gerald, though none of it seemed to be going in his direction.
Despite this catalogue of misfortune, he remains unswervingly cheerful, with his creative rebirth in full swing. On the rebound from Sony, Gerald set up his own label, Juice Box, and successfully reinvented himself as an early pioneer of jungle, the new sound of Britain's dancefloor underground. In the past 12 months, he has quit Manchester's moribund dance scene, collaborated with current jungle overlord Goldie and released his own acclaimed album of mellow junglism, Black Secret Technology.
"The title comes from a TV programme, from this woman who said she was a witch," he says. "She was warning everyone that the government was using 'black secret technology' to hypnotise us. That sounded like a cool title, and it tied in with what I was doing."
A descendent of early '90s ragga and hardcore techno, jungle mixes high velocity breakbeat percussion with frenetic samples and heavy dub basslines. Having fleetingly filtered into the mainstream when General Levy and M Beat gate crashed the Top 20 with 'Incredible' last September, the scene returned underground, largely because the Gallup chart registers only a fraction of the jungle records sold, since they tend to go through specialist shops. The music, though, has flourished, absorbing everything from jazz to rap, dub to ambient. Having shed much of its ragga content, jungle's newest development is drum'n'bass, an even more stripped-down, wilfully uncommercial hybrid.
"It's a strange one, because the name drum'n'bass actually came after the name jungle," explains Gerald. "Jungle was there from later rave days, around the time when The Prodigy started, when people were using a lot of hip-hop breaks. Hardcore turned into jungle, then jungle turned into drum'n'bass."
PERHAPS THE TRUEST pioneers of the style now known as jungle were Shut Up And Dance, the label and band who mixed sound-system attitude with the raw speed of rave. After hitting the Number Two spot with 'Raving, I'm Raving' in 1992, the duo fell victim to their highly flexible interpretation of sampling laws, but not before they slammed the jungle tag as racist.
"About three years ago, I would have thought it was totally out of order," agrees Gerald, "but the statement now doesn't mean the same thing. For me, it's like tapping into my roots. If someone said to me 'You're from Africa, you play jungle music', I'd say 'Wow! I wish I was from Africa..."'
The irony here, of course, is that jungle is one of the most uniquely British musical hybrids ever concocted. The alchemy necessary for this ferocious cocktail of rootsy reggae, acid house, hip-hop breakbeats and brutal experimentalism couldn't have occurred in New York, Detroit or Kingston, Jamaica. The voracious way urban British youth devours diverse influences is, says Gerald, the key to drum'n'bass.
"There's a real mish-mash of music here," he nods. "Jungle is just a whole cross-section of what's happening in Britain-like, my parents were Jamaican and I grew up Jamaican in Britain. That does your head in a bit but it can also work to your advantage, listening to different influences and mapping out your own plan. I'd be listening to Detroit techno in my bedroom, then I'd go downstairs and my brother would be playing Shabba Ranks, then I'd go out and hear house music and jazz. So you end up mixing different sorts of music unconsciously."
As for the future of jungle, Gerald reckons the genre's assimilation into mainstream pop won't happen as long as it remains an underground, self-supporting scene.
"It's too liquid," he says. "The majors can't put their finger on it. It's too flexi for them; they're too set in their ways. I found this out when I was at Sony. People will sign side projects to them, to keep them at bay, but they won't sign themselves exclusively."
Gerald insists the majors would get more of a handle on jungle if they employed as talent scouts some of the artists they were trying to sign. So can he see himself doing a bit of corporate A&R on the side?
"Never!" he laughs, fully awake for the first time. Then he gives this career option a moment's thought and adds: "Unless they got me an eight-series BMW. You've got to look the part, you know?" 
Juice Box Juror
Don't know your ragga from your drum'n'bass? Let Gerald introduce you to the jungle massive..
SL2: Hardcore duo who hit Number Two in 1992 with 'On A Ragga Tip'
"There were a lot of MCs doing it at the time, but SL2 actually put it on to vinyl," says Gerald. "They weren't the first, but they were the first to get through. You could have called it jungle, even then. It was definitely a development."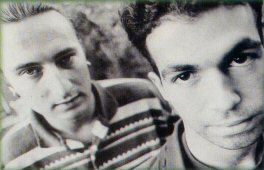 MC TUNES: Mancunian rapper and former chart star also collaborated with Gerald on his early Juice Box releases. Currently recording a new album
"One of the things he started doing early on was rapping over jungle. It worked for us, but my ex-management weren't keen. It was the same with Beth from Portishead; we worked together a few years ago. I was doing breakbeats and she was singing, like, country and western. Her management really wanted it to go through, but my management didn't. I bet they're kicking themselves now."
RONI SIZE/DJ DIE/DJ KRUST: Key Bristol junglists who pioneered the fusion of jazz and jungle on tracks like 'It's A Jazz Thing' and 'Music Box'
"'It's A Jazz Thing' is definitely one of the markers. There's a big difference between that and the really heavy ragga style, which shows the diversity of jungle. This really stands out from the more mellow side. You can tell it's proper music, too; he's not just knocked it together and thrown it out. I'd say there is a Bristol sound in jungle. Even extending to Portishead, the way they seem to loop a sample and build a whole track around it."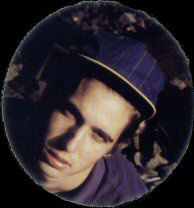 GENERAL LEVY/ M BEAT: Teaming that aroused the wrath of jungle purists' last year as cynical bandwagon-jumpers
"It was important, in that it was out there, and M Beat are wicked producers. But the way I heard the story, the guy whose vocals they sampled thought: Hang on, I want a part of this, then stepped in and called himself the King Of Jungle. I don't know him from Adam but in the days when everyone was raving, he was probably on the sound-system set. You can't really call yourself something like that if you haven't followed the development."
GOLDIE: The man behind Metalheads. Collaborated with Gerald on their joint single, 'Energy', and his debut album, Timeless, is released by London this month
"He's definitely the Don at the moment. He does a lot of experimentation, uses a lot of new techniques and new sounds as well as doing things with timestretch drums and stuff. It's hard to explain: there's a lot of serious programming going on, but if you're not into it, you won't hear it. There's a serious dance going on in there. The LP is totally serious, man, very dark science. He's totally changed again, like a chameleon. Definitely one to look out for,"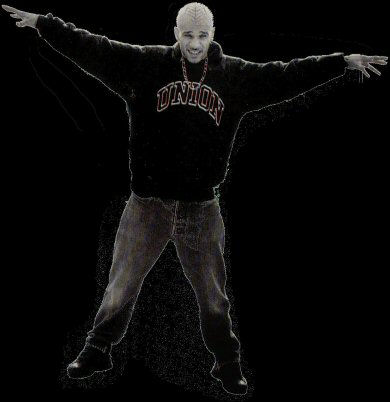 LTJ BUKEM: Regular DJ at London junglist night Speed, also runs his own label Good Looking, godfather of ambient-jungle sound
"It's on the mellow side, but he's a little bit more military in the style of his breaks. It works because it's really hypnotic, there's always a trancey melody going on which drags you in. Every producer/DJ has their own style. For me, his style is more military, whereas if I was coming from, say, more of an in-your-face drum'n'bass style, he'd probably sound really mellow."
FABIO: Veteran DJ from the rave era and a regular at both Speed and Rage clubs. Hosts a jungle show on London radio station Kiss FM
"He's one of the original pioneers-Goldie and I used to go to Rage to hear him. In the early rave days he was spinning 'Voodoo Ray', but he's followed the music all the way through. Now his style is more in tune to what I'm doing. He hasn't made a record yet. I wrote a tune for him, called 'Fabio', to try to entice him into the studio. I haven't succeeded yet."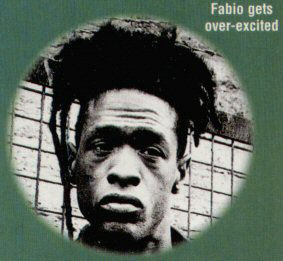 4 HERO: Upcoming darlings of the drum'n'bass scene, Have worked with everyone from Juan Atkins to Nicolette, and remixed Gerald's next single 'Finley's Rainbow'.
"I've wanted to work with them from day one. They've got so many projects on the go it's hard to keep up, but the stuff is never watered down in any way. Their sound is very uncompromising, and usually they'll go the opposite way to everybody else. They remixed that Scarface single, 'I Seen A Man Die', a kind of cross between rap and jungle. For me, that's another marker. But when people start throwing around phrases like gangsta jungle, that'll definitely stop it happening up in Manchester, There's a lot of At Ca panes up there."
REINFORCED RECORDS: The cutting edge jungle label that nurtured the early Goldie/4 Hero project Internal Affairs among others. Reinforced's most recent tour-track sampler, titled Enforcers 8, featured Gerald and Goldie's 'Energy' track.
"I don't listen to compilations much; I like an LP to have a theme. I'm thinking of getting a few on CD, though, just to sample them. But it's a good way into something, to learn the name of certain artists. Reinforced puts out the Enforcer stuff, these picture discs with four tracks by different artists and they're totally happening." 
DILLINJA: A relative newcomer to jungle who mixes lush melodies with brutal but intricate percussion, as heard on his recent Warrior' single
"He's a young guy coming through, really talented. I'd hear his stuff and think it was someone else under a different name. He's one in a million. He's got a real techno edge-the real techno, from Detroit. It's like that but with a really hard edge."
SHUT UP AND DANCE: Hackney duo and roster who scored the first novelty jungle hit with 'Raving, I'm Raving' in 1992
"If it wasn't for the laws about not being able to use anyone else's samples, they'd have been massive. At that time, they were like Moving Shadow or Reinforced-you had to have their records. People they discovered, like Nicolette, were unique, and they were pulling them out of the hat all the time."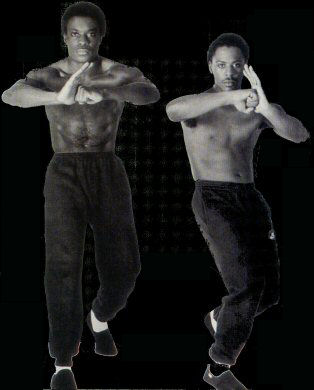 [Author: By Stephen Dalton, Main Picture: David Tonge ]