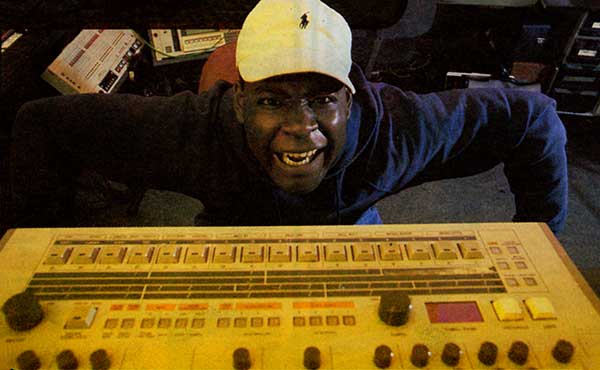 ENFORCERS 8 (Reinforced)
"I REALLY like the Nookie remix of the Tek 9 track, 'Slow Down'. I'm into that. The Enforcers series is like a cult thing now. The Reinforced guys always throw together a well-constructed package all the time. The music is totally real. The Enforcers series is important because it marks the progression of what's happening in the drum 'n' bass scene at any particular time. You can go back to 'Enforcers 1' to trace what was happening in that year at that time. Reinforced is for me a pedigree label on the scene. It's 'appening."
FREE FOR ALL - MIND ADVENTURES: LOST IN THE WILD (Flavour Trax)
"I LIKE this, man, because it's really raw. For me, the reason why I like it is because it has proper drums. Going back to drum programming, a lot of people are aware of how to tackle it and get a more realistic sound now. A lot of throw-away drum noises are created by stretching a drum out and tuning it up and down, in order to make it go as fast as possible. .This means that when you listen to it, there are no rhythmic values to grab you in. There's no groove. This track uses the same samples as everyone else, but they are used properly so that there are actual grooves in the tune. The drums actually take you on a journey."
NOOKIE - RIVER NIGER (Rough Cut Records)
"IT was only last year that I picked up on his stuff. The record that got me hooked was on Reinforced and was called 'Only You'. Nookie's got a mellowness about him which is raw. It's nice. He's definitely a name to watch."
SHARON FORRESTER - LOVE INSIDE: A GUY CALLED GERALD REMIX (London)
"I WAS on a total vibe when I was working on the tune. From start to finish, I was buzzing. It was really weird because one of my speakers had blown, so I was working on one speaker. It's not going to be released or anything, but I've got it on vinyl. I don't know why it isn't going to be released, but I like it anyway. When I was doing it, I was really happy. And, every time I hear it, this comes across personally."
DILLINJA - ANGEL'S FALL (Metalheadz)
"THIS takes me back to Goldie's 'Angel'. It's a nice mix. Dillinja sort of brings the main themes in and out. It's one of them. What I mean is that it rings a particular resonance with anyone who's been following what's going on in the drum 'n' bass scene. That's why those people, when they listen to that tune, will hear it in a different way to people who've never heard 'Angel'. Newcomers will hear it as a fresh thing even though it is really a part of an ongoing story. It's like they're starting a book in the middle, but missing out the essence of the plot. People who are on it will know exactly what the tune is."
[Author: Simon Reynolds]