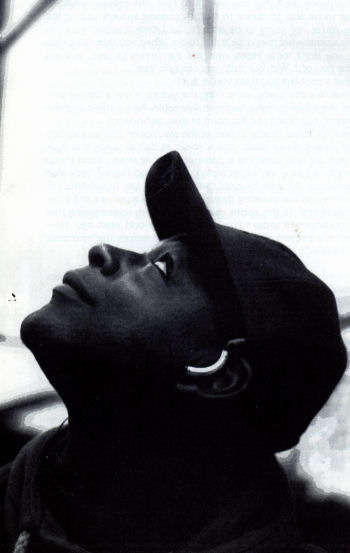 Back in the eighties, A GUY CALLED GERALD made 'Voodoo Ray'. In 1995, he's one of the most respected and innovative artists on the Jungle scene. CHRIS SHARP meets Gerald Simpson to ask where he's been all this time. Surveillance: Ita Plattner.
The guy who sang on 'Finley's Rainbow' was called Finley, and he I disappeared after doing the vocals - before I even switched the mic off. He'd stolen some equipment from the Hacienda and sold it to me, and on the same day that he was doing the vocals the manager of the Hacienda came round with two of his bouncers -and Finley just darted out!" Gerald Simpson, aka A Guy Called Gerald, laughs a hearty laugh. An everyday tale of Mancunian street hassle is clearly a minor incident compared to the ups and downs of his career.
One of the first generation of UK house explorers, Gerald emerged in Manchester just as the Hacienda was becoming the first club in the country to concentrate on the House sound of Chicago, which soon spread virally around the city and the rest of Britain. He worked with Nicky Lockett (MC Tunes) as The Hit Squad, co-wrote the ultra minimal Newbuild LP and the Oceanic House classic 'Pacific State' with 808 State, and stunned the nation with the icy, mantric, hypnotic and unique 'Voodoo Ray'. A deal with Sony promised to increase Gerald's profile much further, but after the audacious Automanik LP he faded from sight.
Although the music seemed effortless, Gerald's progress was being impeded by a string of legal, financial and management disputes. A second LP for Sony - High Life Low Profile - never even saw the light of day, and Gerald was released from his contract. He now places the blame firmly at the door of his old management team, and works on an entirely self-sufficient basis, releasing all his music on his own firmly underground Juice Box label. The last year or two has seen a slow return to prominence as new, strange, alien Jungle tracks began to trickle from Gerald's Machine Room studios, finding favour with the arbiters of taste in the London Hardcore scene. Kenny Ken described 'Gloc' as one of his favourite tracks of 1994, while Goldie of Metalheads fame went so far as to call Gerald up and invite him down to London. As The 2 Gs, they have collaborated on a new single 'Energy' which was released in January, and is certainly drawing attention to Gerald in time for the February release of his Black Secret Technology LP.

It has been, as they say, a long strange trip, and the twelve year old who remixed Herbie Hancock's 'Rockit' on his mum's Amstrad hi-fi can hardly have known what he was letting himself in for. As one of the few producers to stay relevant throughout the endless metamorphoses of dance music, I wondered how Gerald came to shift his attention away from traditional house and focus on the emerging Hardcore scene.
"Even after 'Voodoo Ray' I knew that I had to move on - 4/4 was just too monotonous for me. When my management said that they didn't want High Life Low Profile, I just turned my hand to doing more uptempo music. The first stuff I did (documented on the 28 Gun Bad Boy LP) was quite aggressive - it was like working out loads of pent-up anger which had been building up from 'Voodoo Ray' onwards. Eventually I started bringing the volume of the drums back in the mix so that it wouldn't sound so harsh."
Over the past couple of years, Gerald's idiosyncratic take on Jungle has produced some of the most complex and fascinating dance records of the 1990s. He's certainly fully aware of the possibilities of the genre:
"Jungle is a lot more advanced than Techno, and people are beginning to realise that it's not just breakbeats. Most of the stuff that I'm doing now is minimal breakbeats - I've gone back to drum machines, using them to trigger samples. The whole scene is getting really, really sophisticated, touching on Jazz levels of sophistication. And it's new now, so just imagine how it's gonna sound in a year's time - it's progressing all the time."
Black Secret Technology will undoubtedly contribute to Jungle's rapid advance. The LP features remixes of some of Gerald's finest moments, including 'Finley's Rainbow', 'Energy' and 'Voodoo Ray' - retiled 'Voodoo Rage'. Elsewhere, the constantly shifting rhythmic loops and bewitching variations in texture mark Black Secret Technology as the most advanced and distinctive full-length Jungle voyage to appear so far. Shakers, woodblocks, mutant orchestral stabs and a host of unidentifiable soft-edged burbles advance, shiver and fade before morphing into airy melodic spirals. At some points it's impossible to keep track of all the layers - the invention is inexhaustible. So how is something this complex actually composed?
"I start with a simple loop, and then I'll layer it with different sounds, adding different textures to it, and then I just build from there... I spend most of my time actually spacing things out, making sure that they're not too cluttered - there's a lot of stuff going on there, really fast, so you've got to space it out." Gerald pauses. "You know if you're on a train, and you look right near the track everything's, like, going mad - but if you look further back, at the trees, they're sailing past. That's what I try to create with the stuff that I do - there's always a fast thing that you can latch on to, and a slow, dreamy thing, too."
But such is the premium placed on originality and exclusivity in the Hardcore scene that Gerald is reluctant to be drawn on the specifics of his technique. When I ask what technology he uses, there's a pregnant pause. "Secret technology", he laughs.
"I've got a 950 [an Akai sampler] that I took apart because it was doing my head in, and I use a lot of digital tape, but that's all I'm saying."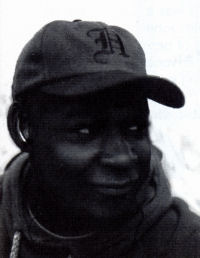 1994, as you might just have noticed, saw Jungle rise fully-formed from the underground into the open. Suddenly Radio Top Shop is spinning Roni Size and Leviticus, and you can find Jungle Hits Volume Two in the racks at Woollies alongside Gloria Estefan and Classic TV Themes. In true voracious fashion, the mass media has seized upon one of modern Britain's few remaining secret enclaves, and laid it bare for all to see. Naturally, Jungle's practitioners are glad to get the exposure, the acclaim, and the occasional pay check, but they retain a sensible wariness about the consequences of overground existence. Gerald is no exception.
"I wasn't surprised at all the interest we've got. I mean, they'd done everything they could do on House music. About a year ago I read an article on DJs' mums, and I thought, 'That's it - it's our turn now'. We've started another phase - but if the mainstream and majors get into it, they'll write a sort of Jungle textbook, and force people to conform to that sound. Which would be terrible - it'd be stripping the soul away from the people who are willing to go out there and create."
But it's not as if Gerald's music could ever be reduced to a soundtrack for the handbags 'n' hormones brigade. Like Ken Ishii's dislocated Techno, it has an abstract beauty which places it at the other end of the dance spectrum from the clichés of the cattle market. In fact, I'm almost worried that Gerald has moved too far from the dancefloor - it's art, but can you dance to it?
Gerald's laughing again. "When I do live shows, I'm gonna get out from behind the decks and show people how to dance to my music - I dance to it all the time! But the thing is, I want people to listen to it as well - you should listen while you dance and dance while you listen."
This is exactly the attitude which has taken Jungle from being the entrenched refuge of suburban ravers to being the most fully developed and dynamic music of its time. Unsurprisingly, Gerald is full of optimism.
"Jungle went through a stage where there were a lot of clichés - heavy Ragga samples, the timestretch thing - but people realised that they had to move beyond that, and personalise the music. Jungle is music by the people for the people, and there's more and more self-expression going into it."
There are no limits.
[Author: CHRIS SHARP, Photos: Ita Plattner]