1994 truly was the year of jungle but everyone's still confused about who actually did what. Here then are the important people. Words: Bethan Cole.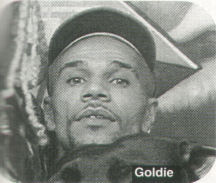 1. Goldie.
If '94 was the year of jungle, it was also very much the year of Goldie. And as Diane Charlemagne's honeyed vocal on 'Inner City Life' becomes the universal soundtrack for the close of the year, it looks like '95's pretty much set to belong to him too.
In fact the rise to recognition of the 29 year old Wolverhampton born graffiti artist has turned into a metaphor for the genre of jungle itself. Goldie's years in the wilderness, ignored by the main-stream, steadfastly pioneering a new science of breakbeat and producing seminal cuts like 'Terminator', 'Kemistry' and 'Angel'. His passionate interest in creating a new music, deploying fresh breaks and live instrumentation, his collaboration with Movin' Shadow head Rob Playford. His Metalheads record label for the next generation - Alex Reece, Pashay, L Double. Most recently, the two album deal with London subsidiary FFRR and the Ice Cube remix: final proof of Goldie's pivotal importance as an artist and visible example of the drum n' bass revolution.
2. A Guy Called Gerald.
Manchester's unsung hero. Acid house originator and breakbeat innovator Gerald has never reaped the credit he's deserved for his lynchpin role in the development of British dance music.
The composer of 'Voodoo Ray' and jungle landmark '28 Gun Bad Boy'; Gerald was one of the first producers to chop up and subvert the accepted drum patterns of hard-core on early Juice Box releases (his own label).
In 1994, he relocated his 80s house sound to a landscape of complex and innovative percussives, pioneering incredible new fusions on tracks like the 'Gloc' remix and 'Finley's Rainbow'. Watch out for a revamped drum n' bass style 'Voodoo Ray' in the future and a groundbreaking album 'Black Secret Technology' in February.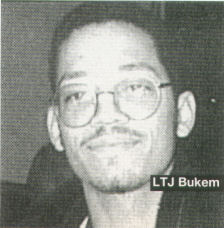 3. LTJ Bukem.
The godfather of the sophisticated, soulful style Grooverider has termed 'hardstep'. Bukem's influence on the new wave of house, minimal and ambient styled jungle is immense. His '92 track 'Musik', a sparse and delicate meditation touched by soothing strings, still resonates through much new drum n' bass. Bukem's label Good Looking has gone from strength to strength this year, with releases like Peshay's 'The Piano' and the 'Parallel Worlds' EP.
In between extensive travelling to DJ and find new talent in the UK and Europe, he's resident at the discerning and stylish pure drum n' bass night Speed at Mars (formerly the Milk Bar) in London, fast becoming the Drum Club of jungle and attracting the scene's top producers and DJs. Next year he plans to set up a complementary label Lookin' Good to help diffuse the deluge of releases lined up for Good Looking.
4. Omni Trio.
'94 was the year that anonymous artcore junglist Rob Haigh truly came into his own. After giving new life to the snare drum on '93's three note anthem 'Renegade Snares', Haigh created neo-orchestral hardcore classics on the impeccable Vol. 4 and Vol. 5 EPs.
Taking a lifetime's love of experimental music - Steve Reich, Kraftwerk, Can and Cabaret Voltaire - Haigh deconstructed drum n' bass and translated the ethics of repetition, minimalism, purity and emotion into eloquent rhythmic mantras like 'Thru The Vibe' and 'Soul Promenade'.
And as a perfectly timed close to '94 there's his album: 'Vol. 1 - The Deepest Cut': the fitting culmination to years of studio experimentation. Expect to hear the crafted roll of new Vol. 1 epics: 'Shadow Play' and 'Together' at an ambient club near you very soon.
5. 4 Hero.
Reinforced drum n' bass improvisers Mark, Dego and Ian charted new territories for jungle in '94 on their experimental second album 'Parallel Universe'. As 4 Hero, the trio have used live vocals on remixes and their own tracks like the polished soul epic 'Universal Love', a smooth pre-cursor to Goldie's 'Inner City Life'.
As Tom & Jerry (Vol's '8-10') Mark and Dego rifled through their old Herbie Hancock and Patrice Rushen records, underlaying them with militant percussives and redefining jazz fusion for the 90s. Most significantly perhaps, the duo were busy defying generic definition - making assured jazzy techno as Nu Era and hooking up with Detroit's second generation, Claude Young, DJ Tone and Mad Mike. True visionaries.
6. Foul Play.
In 1994, Steve Bradshaw and John Morrow consolidated their position on jungle's A-list of remixers as well as continuing to put out thoughtful and soulful origi nal work. The Northampton duo's extraordinary multidirectional remix of Nookie's 'Sound Of Music' stretched it, distorted the vocal and introduced such an emphatic range of snare sounds and tempos that it felt more like a hallucinatory journey through rugged terrain than a top scene anthem.
Then there was the lyrical reworking of DJ Pulse's 'Stay Calm' and the second Foul Play turnaround of Omni Trio's 'Renegade Snares', deploying spiralling rhythmic tattoos and staccato synth chords to devastating effect. Their own major release of the year, 'Vol. 4', another collaboration featuring soul vocalist Denise Gordon, simply dazzled. Reflective, deep and plaintive with orchestration punctuated and perforated by continually morphic rhythm. In '95 they plan to compose further material for live musicians and release an album at Easter.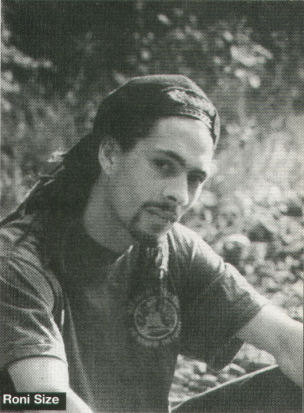 7. Roni Size.
Bristol based pioneer Roni Size has made all the long mulled over connections between the 70s proto-electro of Lonnie Liston Smith and the syncopated polyrhythms of 90s jungle overt. Together with long term collaborators DJs Krust and Die he produced hip-twitching and innovative cuts like 'It's A Jazz Thing' and 'Timestretch' (both on Jack Frost and Brian Gee's V Records), admirable follow ups to 93's now legendary 'Music Box'.
By the end of the year his remixing skills were gracing Goldie's 'Inner City Life', Leviticus's 'The Burial' and D"Note's 'Iniquity Worker'. Now signed to MoWax, watch out for his mix of Palmskin Productions and further releases on his own impeccable Full Cycle label.
8. DJ Rap.
This year, Rap managed to balance a frantic DJing schedule at jungle's top events (Thunder & Joy, Roller Express, AWOL) with a well produced vinyl output on her own label, Proper Talent. Four EPs: 'Digable Bass', 'Total Tangent', the 'Spiritual Aura' remixes and 'Intelligent Woman' followed last year's sensual gem and second top jungle seller, 'Spiritual Aura'.
Rap's sound juxtaposed sweeping feminine strings, off kilter melodies and uncompromising, hard edged volleys of beats: cool and calm yet custom built for the dancefloor. Charissa (Rap's real name) also dug up new talent in the shape of The Gimp and is currently working on an album alongside studio collaborator Pete Parsons.
9. Andy C & Ant Miles.
19 year old DJ Andy C and creative drum programmer Ant Miles have put out some of this year's most visionary rhythmic jungle.
'Sound Control', a collaboration with Randall on Andy C's Ram label, arranged snares in intricate formations, weaving through a haunting, rippling refrain. Likewise their menacing 'Predator' track as Shimon built a hostile environment out of the word jungle. Other progressive percussives - like Miles and DJ Rhythm's 'Higher Sense' - came out on Ant Miles own Lifting Spirit label. He explains that his mission is to exploit computer technology to an art form, whilst retaining very human instincts in their music. Two to watch for '95.
10. DJ Crystl.
Ambient manipulator of the breakbeat genre, Crystl (real name Danny) followed Goldie in signing a major deal with London subsidiary FFRR for a few singles. Now Polygram have signed him for five albums. 1994 found Crystl cuts 'Let It Roll', 'Sweet Dreams' and last year's 'Meditation' becoming a staple in the sets of ambient DJs.
In turn the ex b-boy and graffiti artist derived inspiration from FSOL, The Orb and film soundtracks, confusing matters further - was this listening music or kicking drum n' bass? Meanwhile Crystl's remixes of Tamsin's 'Better Place' and Zero B's 'Lock Up' on Internal's excellent 'Counterforce' compilation gave a hint of the breathtakingly beautiful possibilities for his sound. Expect a debut album next year and more underground releases on Dee Jay Recordings and Force 10.
[Author: Mixmag]