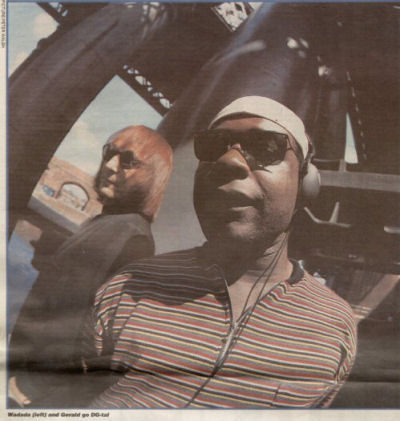 Every now and then a record comes along that combines such disparate forces that the results can only be explosive. The history of modern pop, from and Public Enemy to Leftfield and Lydon, is littered with such records.
'Govinda's Dream' by SUNS OF ARQA and A GUY CALLED GERALD is one such record. A rumbling, head-on collision between Gerald's brittle jungle and the Suns' uplifting, dub-influenced global grooves.
On the surface, the two seem to have very little in common. Since 'Voodoo Ray' battered the grown-up charts senseless, Gerald has been at the cutting edge of dance. After splitting with Sony in 1991, he went underground, releasing a staggering 23 singles on his own Juicebox label, supporting the nation's slowly mushrooming jungle scene way before it became fashionable.
The Suns, in contrast, have ploughed their own furrow in determined fashion since they started in the mid-'70s. Under the guidance of leader Wadada (more white middle-aged Mancunian than his name suggests) they've played literally thousands of gigs, spreading a mixture of dub, Asian and dance vibes like a mission.
But put Wadada and Gerald together and the common ground becomes very clear. Fellow Mancunians, they met through friends and gelled quickly. Music naturally followed. "With Suns Of Arqa," Gerald says, "I could hear there were a lot of things going on, like the dub influence and the really spacey Asian things flowing. I thought, 'I can tie that together'."
Gerald has steered relatively clear of remixes in the face of increasingly lucrative offers from major companies. "It's a waste of time just banging it out or patting a breakbeat over it for the sake of doing a remix. It could be a way of making money. That's not the important thing, you've got to have goals and put them before actual money-making."
Holed up in Gerald's studio above Manchester's famous Home club, the pair developed a common loathing of the city's commercial club scene, where fashion comes before music.
"The dub scene in Manchester's so controlled," says Wadada. "People are fed a certain type of music so that's what they go for."
"The scene is quite fickle," Gerald continues, about to nail his non-PC colours to the mast. "It's not like people are really into the music, it's more of a night out. I'm the same - I only go in there for the women. There are women in there so I go in - the music I shut off. I know you go in for a drink and a laugh but you should have at least a little bit of interest in it otherwise go to the pub."
What about the jungle scene? H it made a big impression in Manchester yet?
Gerald: 'There is a small scene, but it's growing. I don't think it would ever be as big as it is in London because there are more open-minded people who listen to it in London than Manchester."
Wadada: "I don't really know what jungle is, to tell you the truth. I mean I've heard it, but I don't really know what it is."
In any case, Wadada believes the labels we impose on music are irrelevant; what really matters is the feeling behind it.
"A lot of so-called world music samples bits of things from other cultures and slaps them in with no regard to whether it's suiting the mood of the music.
"1 heard a record the other day with a full Indian piece on it lifted from a CD. It was good but there's something missing from it. It's not wholesome.
"Gerald's interested in the esoteric side of things and that's exactly what I'm trying to portray, because it's not always what it seems. A lot of people seem to grasp that. People do the music without much concern for where it comes from or what it's supposed to do."
But the pair are hardly old hands moaning about the new breed of whippersnappers; in fact, they see the dance scene hedonism and escapism as a revival of tribal traditions surrounding rhythm and music.
"In ancient cultures music was a tradition to take you to another realm," Wadada continues. "It's getting back to that now."
"A lot of tribal rhythms are natural, raw dance music," Gerald believes. "People listen to garage because that's what they're told to dance to but there's alt this other stuff to listen to. I can skin up and chill out to Suns Of Arqa and it can take you somewhere else. But it's all being broken down, we're creating this situation where it's fashionable to be unfashionable."
"Is that why, you're wearing that hat?" Wadada counters, sharper than a Moss Side Stanley knife.
As a meeting of minds and a meeting of sounds, 'Govinda's Dream' is simply unmissable. Don't let it pass you by.
• Gerald's mixes of 'Govinda's Dream' are released, together with reworkings by 808 State and Astralasia, on Arka Sound on August 22.
[Author: Ben Willman]