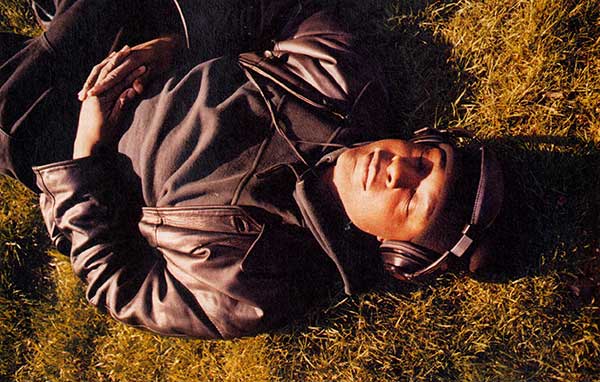 A GUY CALLED GERALD
What is hardcore? "Hardcore reflects hard times."
What is jungle? "Jungle is a feeling of frustration and trying to fight your way out."
Where is the scene going in 1994? "The scene in Manchester is still very underground. Hopefully it will grow."
It makes sense that A Guy Called Gerald, one of the original members of 808 State and producer of the 1988 techno anthem Voodoo Ray, has recently given the master tapes of that track to Goldie to remix. Back then, 23-year-old Gerald Simpson was the phoenix of Manchester; Voodoo Ray was a track of awesome mystery matched only by the original Detroit innovators. But his star set with Manchester's. After signing to major label CBS and failing to match that first track, he slipped out of the mainstream and started releasing jungle tracks on his own Juice Box label; harsh, chaotic, dense tracks, their tone nicely summed up by the title of his 1992 compilation album, 28 Gun Bad Boy. Unlike Goldie, who simply calls it hardcore inner city ghetto music, Gerald accepts the word 'jungle':
"As I hear it, it's a mixture of things. It's like going into a tropical rainforest. But then there's a lot of aggression and tension in the music as well. It's like fighting your way out of something. I've had people pull shooters in my face here in Manchester. They want to shoot you down if you're doing something for yourself, and that's what comes across in my music now."
[Author: Kodwo Eshun, Photos: Wolfgang Tillmans]