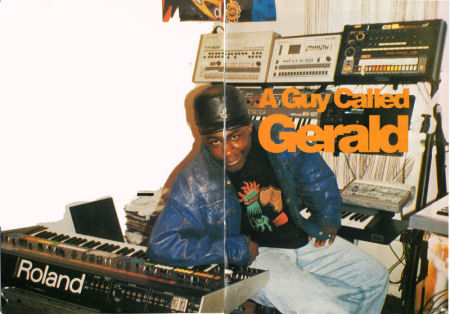 What do you call a guy whose equipment set-up includes a TR-808, TR-909, TR-727, TB-303, MC-202, two SH-101s, a Jupiter 8 and a Juno 106? Answer: Gerald.
WHAT do you call that guy if he's thinking of adding an R-8M, an S-770 and a D-550 to that set-up?
Answer: A Roland addict. 22-year-old Gerald Simpson, aka A Guy Called Gerald, happily confesses his addiction, which began in 1983, when a shop assistant in Al Music, Manchester, asked him if he'd like to try Drumatix. Instantly hooked, Gerald spent all his money in the shop. His world revolved around Roland gear to such an extent that he even indulged during working hours.
Gerald was a DJ in youth clubs around Manchester. Long before they became the darlings of the Dance scene, he took his TB-303 Bassline and TR-606 to play along with the records, and to give him a competitive edge at sound system 'clashes', where he would pro-gram a bassline off a record into the 303 and play it along with the record, syncing the two together manually.
"It'd be going along with the tune, but there'd be a totally different sound, and the other system would be thinking 'We've got that record but it doesn't sound like that, it must be a different version'."
By 1985 he'd moved on to the TR-808.
"There were quite a few other drum machines around at the time, but I wanted something with a bit of oomph in it, and when I heard the 808 I knew that was the one for me. I'd already heard it on a lot of Soul tracks and Arthur Baker used it on all those old Electro records, but I hadn't known what it was. When I finally got one I was dead chuffed."
Subsequently he bought a couple of SH-101 monosynths and experimented with marrying recorded music from his turntables with synths, sequencers and drum machines. Encouraged by the ease of programming the SH-101, he developed a penchant for sound synthesis. In time the instruments took over from the turntables, and he began to produce original Dance tracks.
"I would have the two SH-101s controlled from the accent and cowbell triggers on the 808 so that the rhythms of the 101's sequences could be controlled from the 808. I'd put a bass pattern into one SH-101 sequencer, press Play on the 808 and see what came out; if it sounded good I'd use it, if not then I'd edit it around till I had a really good riff. Then I'd build a drum pattern on the 808 around that. The 808 would be synced to the 303 using the built in DIN sync; I'd put a riff together on the 303 then lay down another riff using the other SH-101. That's how I did tracks like Voodoo Ray."
Life changed dramatically when an independent record label, hearing some of his music on local Piccadilly Radio, signed him in 1988 to record the Voodoo Ray EP, which has been followed by two albums, Hot Lemonade and Automanikk. His Roland habit grew with his success.
"In 1988 I got a TR-707, MC-202 and Juno 106, and added the Jupiter 8, TR-909 and an MPU-101 MIDI-to-CV converter a year later. I still use the SH-101 for bass sounds, because there's so much you can get out of it. I used the Juno 106 for bass on quite a few tracks on Automanikk and on tour earlier this year; it's a lot smoother, not as rough-edged as the 101. You can get a really warm bass sound if you put it through the Chorus 2 setting."
However, with the release of the new album, and live and PA tours, there is little time to check out new gear, and more frustrating, little time for writing new music.
"Really I'm more a composer than a per-former: I'd rather compose all the time. If I'm out doing an inter-view and I get an idea for a track I suddenly can't wait to get home and work on it. I could do with a portable sequencer with a built-in synth and drum machine so that when I get an idea I can work on it there, then take it home and load it into another sequencer."
That sounds very much like a pocket studio (And that sounds very much like an MV-30 - Ed); Gerald is beginning to rationalise his equipment needs. Without sacrificing his love of experimentation and sound synthesis he now opts for rackmount units for convenience; and he uses modern sampling technology while he's on the road to recreate the sounds he gets at home from the older gear.
The basis of his rhythm tracks still comes from the 808, 909 and 727, but these days the sounds are sampled. Particularly impressed by the RGB colour monitor option on Roland samplers Gerald is thinking of upgrading his current Akai MPC60 to the new rackmount S-770; his craving for Roland rhythm technology also extends to the rackmount R-8M Human Rhythm Composer. And his next choice of synth: "One of the LA synths, probably a rackmount for convenience".
What do you call a Roland addict? Well this one's A Guy Called Gerald. 
[Author: Unknown]