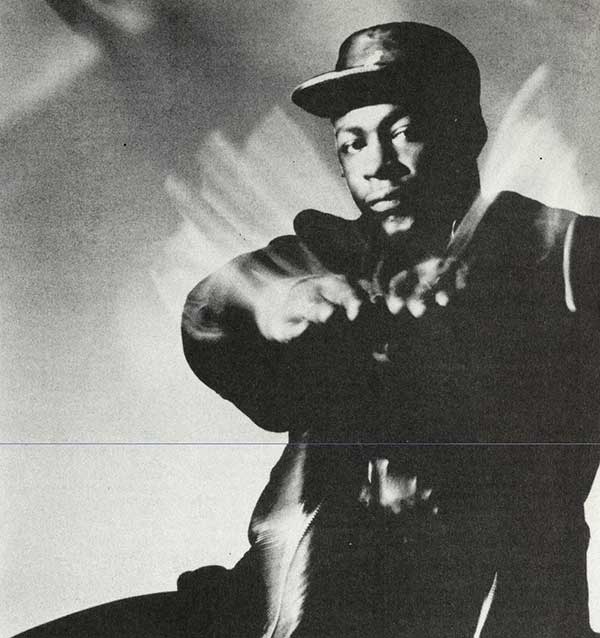 Why should one of the hippest characters in British dance music be rifling through the New Age catalogues and listening to reactionaries like Jean-Michel Jarre? Colin Steven meets A Guy Called Gerald.
1989: With the rise of British club culture and the sound of young Manchester, A Guy Called Gerald was the perfect specimen for the music papers to work themselves into a frenzy about. There were interesting angles by the dozen: his collaboration with those other Manchester dance freaks 808 State, generating songs for which he was never paid (allegedly including the smash 'Pacific State', which will now be the subject of a lengthy court battle); his DIY debut album Hot Lemonade (written and released in 1988) was the subject of much critical acclaim but no success, and Gerald, on the verge of packing it in, was forced to take a part-time job in McDonalds to afford studio time. In the summer, he had a massive hit with the hypnotic 'Voodoo Ray', after it had been played to death in the clubs for almost a year. This led to him being signed by CBS, and given his own label Sub-Scape as part of the deal. Towards the end of the year, he collaborated with novelist Trevor Miller on a combined book and soundtrack package. That was A Guy Called Gerald's 1989, but what about 1990?
Assuming all goes well, we will see Gerald release a new album, seek out new talent to release on his label, record new material, remix various projects and set out on a comprehensive package tour of Britain, for a start.
His debut album for CBS is called Automanikk, and as you might expect, they're not letting Gerald have complete control over it. The man himself speaks matter-of-factly about his lack of creative freedom on the project, more of a dance record than the experimental Hot Lemonade. 'It's going to be a selling market for a major label, but I was expecting that anyway,' he states, without noticeable bitterness.
The complete artistic freedom he once enjoyed may have gone now, but on the plus side is Sub-Scape. Gerald expects great things from it, but how much control does he really have over it?
'I can do what I want . . . sort of!' is the cryptic answer. 'Album-wise, I have complete control, but for singles I'm leaving that to them, as they've more experience.'
Gerald has recently been collecting tapes from all over the place to give him ideas for his new Sub-Scape label, but mostly techno from Detroit. 'British majors aren't interested in putting out unknown American DJs, but that's where it all started. If you listen to the stuff there, it's way ahead of here. The stupid thing is, they'll sign up somebody trying to sound like these guys, but not them themselves.'
We'll have to wait until the summer for the first Sub-Scape releases, as Gerald will need to visit Detroit to sort out a lot of problems first. As well as techno, he's been putting his immense credibility on the line by listening to Jean-Michel Jarre and a lot of New Age, which has influenced at least one track on the album - 'a really spacey track which I've not named, so whoever buys the record can call it what they want. It's quite a diverse album really, as there are a couple of slowish numbers and one with a rockish feel.'
There have been a number of great dance albums released in recent years (particularly in the rap field), but we're still waiting for the first truly great house LP. In one's bedroom, house tends to sound rather one-dimensional and repetitive (there are some excellent exceptions, I know). Recent releases by Adamski and 808 State have proved the difficulty in providing the consistency to sustain the listener's interest for 40 minutes. Whether Automanikk will be the one to do it remains to be seen. Despite Gerald's obvious raw talent, I doubt it.
A Guy Called Gerald headlines the Magical Manchester Mystery Tour package (which also includes the Ruthless Rap Assassins, Kiss AMC and DJs Jon Dasilva, the Jam MCs and local DJs) at an all-dayer (beginning 4pm) in the Leith Assembly Rooms, Edinburgh on Sunday 25 and the Mayfair, Glasgow on Monday 26.
[Author: Colin Steven]