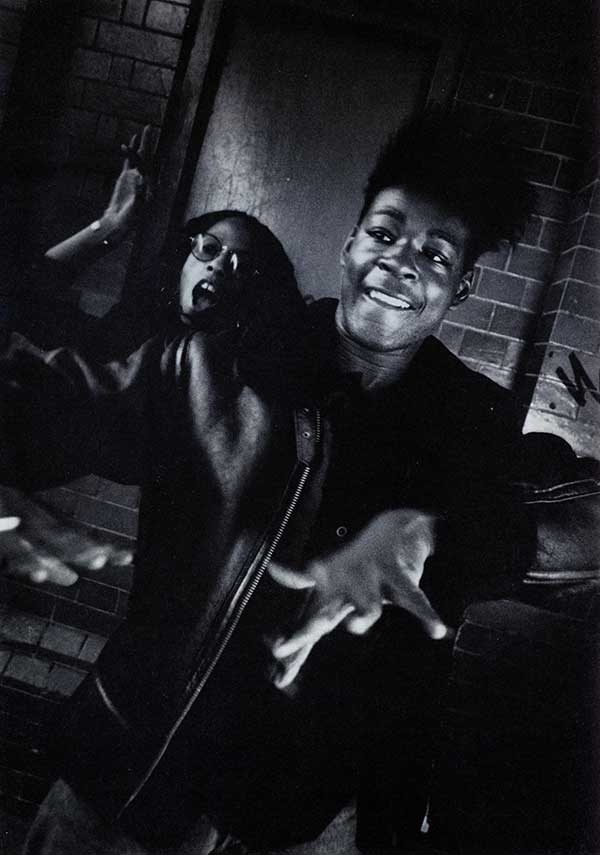 Soul Underground was the first publication to introduce you to A Guy Called Gerald, around September last year. Since the hype set in Gerald went from being a name to drop to a name associated with the phrase `one hit wonder', though this has bothered him about as much as wishing to appear on Top Of The Pops. Now signed to CBS, Gerald plans a tour, an album and - if he fulfils his ambitions - to work with Derrick May or Prince in 1990!
However, it seems that Gerald has been fairly unproductive since Voodoo Ray - certainly as far as his own music goes - yet he assures us that this really isn't the case at all...
"I've been working on all sorts of stuff lately, but the main thing has been some tracks I've put together on a tape for a book called `Trip City', which should be out any time now. It's written by Trevor Miller, whom I think is originally from Manchester, but now living in London. The book seems like an autobiography after reading part of it and talking to him
"It's basically about club culture in London. Trevor got in touch with me through Rham Records around the time when I had a lot of problems and I just felt like kicking music in the head! I've remixed two of the tracks; `FX' and `Trip City' and they appear on my next 12", which should be out at the beginning of the month. I was thinking of the Hacienda when I remixed the tracks, and how people would respond to them on the dancefloor. The main one is `Automatic', and there's another `I Feel Rhythm' featuring Vivian Dixon on vocals. I've really got to get more into songwriting, which I find boring and a bit old fashioned - I'm just not used, to doing that sort of thing. I'll probably end up writing `fall asleep songs!'
`Voodoo Ray' and most of the tracks on the debut album, were produced and put together on fairly basic equipment, mainly through necessity. Now that money isn't such a tremendous problem for Gerald, due to the benefits of major label support, he has the opportunity of working with virtually any type of samplers, sequencers and drum machines. But has all of this changed the way he creates - or even where he produces - the music now?
"Well, I've been writing at home and working out new material at Battery Studios where they have little writing rooms. I have to go to London practically every week though, and I hate doing that. I'd never want to move there out of choice. I really hate the tubes and everything is so dirty ... just look at these trainers, they're supposed to be new! But anyway when I was at Battery, I spent two weeks putting down some basic basslines and drum patterns, and ended up with 43 different ones. Then I was simply taking out ideas and creating new things ... basically just multiplying and building from other songs ... a weird way of self-inspiration or something!
"I haven't had as much time lately to do things like sampling different sounds and stuff as I used to, but I'd really like to do that now, because I've got a portable DAT machine which I carry round with me. I'm going to get a small microphone and record some weird sounds I think. I bought the DAT from the remix work I've done for other people and from CBS! I still collect unusual and obscure records though, to get inspiration and other ideas, that's why I'm borrowing a load of yours! Ha ha..."
OK while we're on the subject of the new label let me briefly jump a few steps and discover how A Guy Called Gerald arrived at this stage.
"Well, as soon as I signed my management deal, when I left Rham, I had an offer to do a remix job for Cabaret Voltaire, then I did some other things including more recently the Turntable Orchestra remix. I was still working at MacDonalds just before all this happened, but now luckily these jobs basically sustain me. CBS have allowed me to create my own label, Subscape, so I suppose eventually I'll be able to do some A & R work and sign people up! CBS have actually given me quite a lot of control; the only thing they've told me I can't do is have any swearing on the records!
"I really didn't want to sign to a major at first because I thought they'd want me to make their kind of `pop' records or whatever, but I was getting fed up of being battered by people saying how they'd take care of me, and how it was really good publicity that I was living in a squat in Hulme! It wasn't `good publicity'; I didn't have any money! I just wanted someone to help me and at least give me some money to live on. I was honestly ready to give up altogether, and when the management offer came up and then CBS, I thought that if people are going to rip me off, then at least I've got a load of new equipment ... which is all I ever wanted in the first place."
It has to be said that, to date, Gerald's rare live appearances have hardly been the most exciting of musical events. But what are the plans for 1990, now that CBS are ploughing in the mega-bucks for the proposed elaborate stage shows?
"Well, I'll be doing some live dates in February in the UK and maybe a few in Europe. There will be a lot of heavy lighting, maybe lasers and a couple of dancers I expect, but nothing too strong like Janet Jackson or whoever, it'll be more simpler than that. You can actually overdo things. I went to see Inner City last month and although it wasn't completely over the top, it was getting that way. You could tell the drummer wasn't really playing the drums, and it was all sequenced. It started getting like a rock concert, and they might as well have had the house lights on. None of the tracks sounded like the records at all. One of the things I've done while I've been writing and recording at The Roundhouse in London is that I've made sure that my tracks can be performed well live ... I want them to sound nearly the same as how I've recorded them."
This could hardly have been envisaged twelve months ago. It all seems a far cry from the days - not so long ago - when Gerald used to sell Socialist Worker in Chorlton precinct. What has happened to the political motivations? Have they all become abandoned?
"Not really ... for instance, one of the things in the CBS deal was about whether I minded if my records were sold in South Africa . . . `because Michael Jackson sells his there' ha ha. I said `No way', and my management took me aside and told me that my views could either make or break the deal. I just said that I was sorry but I wasn't having any of it. In the end CBS agreed."
How can he be sure that they'll stick to the agreement? "Well I've been approached by quite a few people since I signed with them. It's in the contract now, so if they break it I'll just go and make records with any Tom, Dick or Harry!"
[Author: Alison Martin]