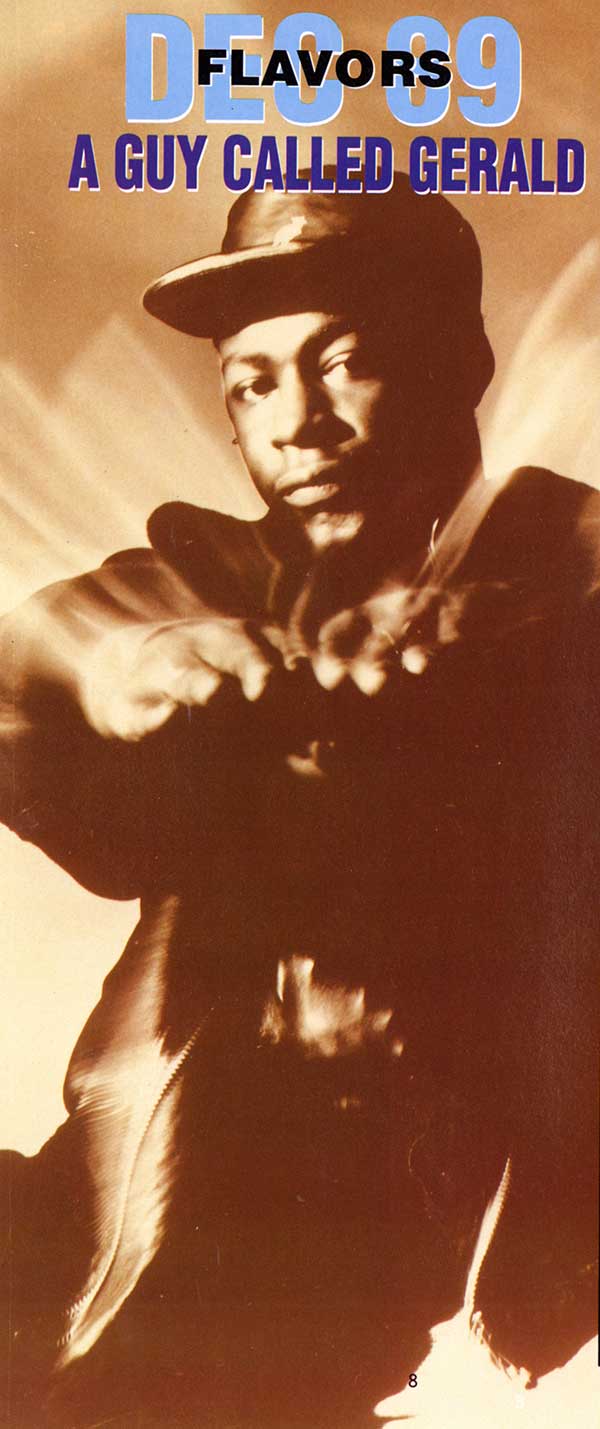 A new single before Christmas and an LP scheduled for February/March mark the return of A Guy Called Gerald - his first new material since the 'Hot Lemonade' LP and 'Voodoo Ray'. The eight month journey of 'Voodoo Ray' from club anthem to National Top 20 is well documented, as is Gerald's spell behind the McDonald 's counter and the hassle he received from a disbelieving DHSS. What of his early music days?
Gerald began as one half of a hip hop crew with speed rapper MC Tunes. It didn't take him long to start hooking up more and more of Mr Roland's technological hardware to his decks - indeed he soon found himself using only one deck as electronics took precedence, and what of MC Tunes? "He only bothered practising on Sundays", remarks Gerald wryly...
So Gerald's solo tapes circulated around his native Manchester (reaching Piccadilly Radio amongst others), and a deal was struck with local indie label Rham Records - a far cry from CBS; Gerald's current home of life with a major label. Gerald says "I think they'll take a while to get used to me - they're more used to wiping people's bottom's like Bros!"
However, Gerald still maintains a fair level of independence. His records will be released on his own subsidiary label, Subscape, whilst press and promotion will be handled by his management company 10X Better.
The new single is called 'FX' and its forms part of what is literally, a 'Novel' project. 'FX' is from a five track tape put together by Gerald which will be sold in conjunction with 'Trip City', a book on clubland life by fellow Mancunian Trevor Miller. The book and tape will be sold as a package: Gerald thus provides the reader with an instant soundtrack!
As for the LP, Gerald promises that it will take 'A techno direction'. Like many of Detroit's techno pioneers, Gerald cites Kraftwerk, early Human League and Depeche Mode, Visage, and even Jean Michel Jarre as early influences. He has struck up a friendship with Derrick May, with whom he is hoping to collaborate soon, and particularly admires the way May constructs a track 'Like a painting, stroke by stroke'.
A heavy remix schedule is also on the Gerald agenda. When we met, he was ensconced in the studio remixing 'Fools Gold' by Manchester indie heroes the Stone Roses - the latest evidence that Manchester's thriving indie and dance scenes are closer together than ever. Before taking on a track for remixing Gerald must:
1. Like it. 2. Be given leeway to 'strip down and rebuilt it'. Only then can he enjoy himself as he did with Cabaret Voltaire's `Hypnotised'.
Currently listening to 'A lot of new age and old jazz rock stuff like Herbie Hancock' Gerald has remained unaffected by the mediterranean dance explosion. Black Box he sees as 'Dead weak there's nothing artistic about it', although for sheer originality he does favour Raul's 'Real Wild House'. "I don't even listen to a lot of current club stuff apart from Techno from Detroit" he asserts, although he does express an interest in getting back in touch the best way he knows how - by return to djing.
In short, there's a lot more to a Guy Called Gerald than one club classic. A technological whizz with a dry sense of humour (he's threatening to release an 'Italian version' of his currently in-vogue oldie 'Emotions Electric', not to mention six versions of 'Pacific State', the 808 State track inspired!). Gerald knows where he's going and how he's going to get there. The Manchester techno assault starts here.
[Author: Nick Gordon Brown]