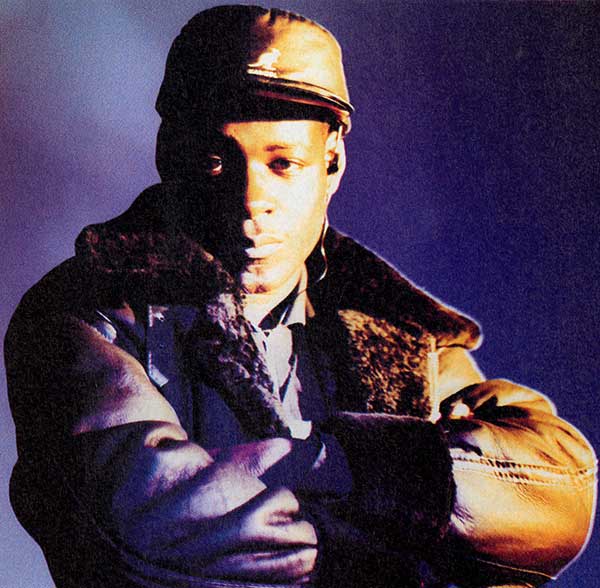 EVERYBODY'S HEARD OF FILM SOUNDTRACKS BUT WHAT ABOUT BOOK SOUNDTRACKS? A GUY CALLED GERALD IS PROVIDING SOME AURAL STIMULATION TO ACCOMPANY TREVOR MILLER'S NOVEL 'TRIP CITY' AND ONE OF THE TRACKS 'FX' IS OUT AS A SINGLE. CRAIG FERGUSON PUTS DOWN HIS COPY OF 'THE BEANO' AND TAKES NOTES
You may have been to the party. but have you read the book and heard the soundtrack? The Party? That's warehouse party to you bud. Y'know acid house, scourge of our respectable society, perverter of pure young minds. The book is 'Trip City'. the debut novel by Trevor Miller, hailed by some as the voice of a generation. The soundtrack, available on cassette in a special edition package with the book, comes courtesy of A Guy Called Gerald, arguably the leading light of the British House scene. It all sounds like a marketing executive's dream, more so now, since CBS have decided to release one of the tracks 'FX', as Gerald's first major single. One wonders, in one's smiley T-shirt and one's bandana, whatever next?
Trevor Miller is fairly certain what's next. He and his publishers are looking to sell the film rights, and the signs are, there will be no shortage of takers. So who is this guy? It should come as no surprise to learn that this naturalised Londoner is a one-time DJ promoter, and - wait for it, scandal fans - organiser of warehouse parties. And we all thought that it was the work of the devil himself.
"When we started doing them, we never thought that the whole thing would ever get as big as it is now, I think it'll probably evolve into an even bigger monster."
'Trip City' goes where even our beloved tabloids fear to tread, plunging deep into the horrific excesses of big city party life. and taking a swipe at the young high-powered class that both promotes it and revels in it, While all the hype has understandably associated the novel with the acid warehouse phenomenon, neither - of these actually figure directly in the scheme of things. But it is that same 'life-is-a-24-hour-party' attitude that forms the basis of the book. That said, it's doubtful that anyone could lead the 'Trip City' lifestyle of the London drug culture.
Joking aside though, what made him write the book?
"I wanted to give people who don't read a lot a good reason to buy a book."
I think we're getting into soundtrack territory here - whose bright idea was that one?
"I think someone at the publishers suggested it after buying an opera cassette that was packaged with its libretto swords). It had to be a house soundtrack; I deliberately wrote the hook in a repetitive style, in 4/4 time, like a house track. Gerald was suggested and he thought it was a good idea."
Whether 'Trip City' is viewed as a modern day 'On The Road' in a few years time or just another well packaged product of the day, remains to be seen. Miller himself likes to think that "it'll close the door on late 1980s' culture."
"I don't think it quite works," says the guy called Gerald Simpson. "The idea was much better than the execution. I thought, doing a soundtrack for a book? Why not, it's something different; I'm well into crossing boundaries."
Gerald was first approached by Trip City's' publishers, Avernus, at a time when 'Voodoo Ray' was still dust a club-hit, and he himself was still serving Chicken McNuggets on a Saturday. He supplied five brand spanking new tracks to be used as a 'soundtrack'. "The problem is, it's hard to read the book and listen to the music at the same time, because my music's really upfront."
If the exercise has been something of a failure to Gerald, then it's something of a worthwhile failure. For one, it has spawned Gerald's first CBS single 'FX'; and for another, it's a fair indication of future activity. "I am looking to write soundtracks for films. Films like 'The Abyss', 'Blade Runner', sci-fi movies." Are they his favourite type of film? "No, I prefer comedies."
Soundtracking is just one of the toms on the extensive A Guy Called Gerald agenda. The new album Automanic' is ready for a new year release; 10 tracks for the next album have already been written.
What I'm doing now is developing different styles - 'Automanic' is a much more vocal LP."
Is this a very deliberate attempt to get away from 'Voodoo Ray'. a record that will no doubt he used as a yardstick for sonic tune to come?
''Not really. I could easily run off 10 tracks that sounded like Voodoo Ray, and people would say. why didn't you do something different?"
The B-side of 'FX', 'Eyes Of Sorrow', hints at a much mellower, melodic music, very much in the mould of 808 State's 'Pacific'. Now there's a sore point Gerald, it seems, is convinced of his former playmates' style being a bit too similar to his own work. He has some harsh words on the matter, and suffice to say, he's not in the mood for a Christmas reunion.
Gerald feels he is getting victimised from all sides at the moment, what with unauthorised re-releases, and bootlegs, not to mention his records being sampled. Ah, but such are the problems of being a highly marketable commodity. It's enough to make you turn back to the Chicken McNuggets.
[Author: CRAIG FERGUSON]