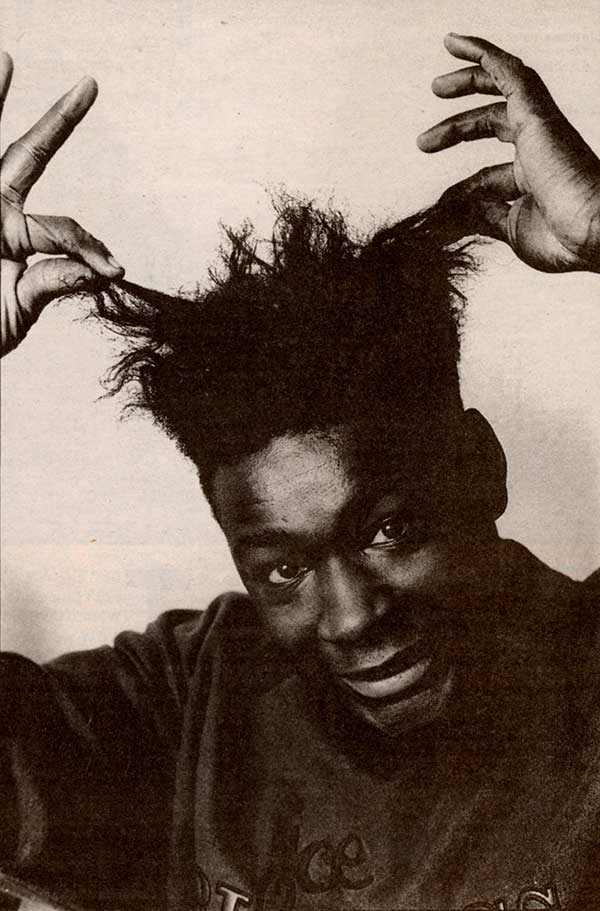 The smell emanating from Abdul's Take Away kebab shop is overwhelming, like a year-old corpse in a sewer. A Guy Called Gerald has chosen this spot in Rusholme as a rendezvous.
Further down the street a red banner proclaims the presence of the Women's World Weightlifting Championships. This is Manchester late 1989, the metropolitan muscle behind the British music scene. And right this second it stinks somewhat, more than I imagined as it soon turns out.
Just as I gag for the tenth time and am about to give up, a young lady taps me on the shoulder. Her name is Elaine. "Sorry about the smell," she says, "but we asked you to stand here so we could see you from our flat window. Come and meet Gerald."
Attired in a leather Kangol hat, Joe Bloggs sweatshirt, baggy jeans and trainers, Gerald flips on the DAT machine and with a wicked smile says "Listen to this." A series of sustained keyboard chords smooth out the speakers, followed by a familiar bassline and drum pattern. It's' Pacific State'-only it isn't! It doesn't have that eerie sax motif.
"It's called 'Day Ride'," explains Gerald. "It's what 808 State's 'Pacific State' is based on. In fact that tune is mine and I'm not happy about the way they have ripped me off.
"I told Martin from 808 State when I heard they were going to put out 'Pacific State' that I didn't want them to and I would get an injunction served. Martin told me that they were going to go ahead anyway. So I said they could use it if they took off me chord sequence, me bass sequence, me percussion pattern and drum pattern, so all they would be left with is the sax solo."
But isn't what 808 State have done just a bit of over-generous sampling?
"But this isn't sampling!" complains Gerald. "I did that track for them on the understanding that I would get paid. On the first version of 'Pacific State' l was actually credited. Now 808 State have signed to ZTT the money must have gone to their head or something. they've taken my name off the credits and tried to rewrite the tune but it just sounds like a weak version."
And that's the one in the charts as 'Pacific 707'.
Bloody typical! Mankys, they're always on the blag. I'd come to Manchester to talk to Gerald about his signing to CBS, his soundtrack collaboration with novelist Trevor Miller for the book Trip City, his new single 'FX' with its double-top Derek 'Strings Of Life' May remix, his new album, plans for the future and ... I've ended up in a slagging match. Great. Just bloody great.
Later, in the Dry bar in the city, I'll talk to affable Graham Massey from 808 State, the man responsible for the beautiful sax on 'Pacific State', and he'll tell me: "I'm completely pissed off with Gerald because his publishers, Zomba, are claiming 100 per cent publishing rights over 'Pacific State'. That makes it look like we had nothing to do with the track and we did. You're gonna have a bit of a problem writing this up, since people tend to take what they read in NME as gospel. How do you stay impartial?"
Now, now chaps. I feel like a tennis net over which arguments are being lobbed by Gerald and 808 State. Nonetheless the gospel according to Saint Jack is this: 'Pacific State' is remarkably similar to 'Day Ride'. In its original form, on 808's 'Quadrastate' mini-LP on Creed Records, 'Pacific State' was partially credited to Gerald.
In its current form, 'Pacific 707 '- the revamped ZTT-promoted chart version - any mention of Gerald is conspicuous by its absence. Who has ripped off who? Well, let the courts sort that out.
Meantime, as you may have gathered, Graham and Martin from 808 State and A Guy Called Gerald go back quite a long way. Gerald, having spent his childhood sawing electrical machines in half to see how they worked, graduated in his teens to DJ-ing and mixing. With his rapping partner Nicky - aka MC Tunes - he approached Eastern Bloc, a Manchester shop run by Martin who would later be the mouth behind 808 State. Eastern Bloc were starting a label, Creed, for local hip-hop talent.
A little while later a single under the corporate name The Hit Squad MCR was released. The A-side, 'Back To Attack', was a hip-hop affair featuring Gerald and his mate MC Tunes. The flipside showcased the talents of Martin from Eastern Bloc and Graham Massey. A number of collaborations followed with Gerald, who was then working in a McDonald's in Stockport and getting more interested in House, lugging his gear by bus to the studio in Manchester.
One gets the impression that Gerald, who is still only 22, was more than a little naive. But he wasn't so naive that he couldn't see that his relationship with the Creed bods was odd.
"I wasn't getting paid for anything, I didn't have a contract, and I wasn't even allowed to name me own tunes," alleges Gerald. Creed said they would make him a partner in the label. This wasn't enough for the Guy who was skint. So on the side he recorded what turned out to be a monsterpiece, 'Voodoo Ray', which he slyly gave to Rham Records. Despite their distributors, Red Rhino, collapsing, slowly but surely the sheer originality of 'Voodoo Ray' made it the most loved British House anthem of the first quarter of 1989.
So now we're at the end of 1989. And Gerald - with one iffy Rham album, 'Hot Lemonade', recorded for £800, under his sequencer- is signed to CBS and is busy working but still griping. Gerald admits he isn't too happy with the cassette of cuts he did as a soundtrack for Trevor Miller's just published novel, Trip City.
"Trevor's publisher got in contact with me ages ago through Rham Records to do a soundtrack for the book. The way it worked was I read parts of the book and tried to imagine an appropriate soundtrack. I must admit I found the book difficult to read and that's maybe why the music isn't completely up to scratch. Music for me is about movement which is why I find moving images stimulating for my music and why I think I could do a decent film score."
Most of the tunes for Trip City do indeed sound flat and uninspired. Nonetheless CBS in their infinite wisdom have decided to lift 'FX' off the cassette for single release. Though hardly the masterpiece needed to follow the impact of 'Voodoo Ray', ' FX' is adroit enough. The forthcoming remix by Detroit's techno-rhythm surgeon, Derek May, is the business however.
Gerald hopes to collaborate more with Derek who was responsible for this year's mental mental-Felicity-Kendall-yob House anthem 'Rhythim Is Rhythim'.
"There's so much techno House talent in Detroit that hasn't been heard in Britain," says Gerald. "I hope to put some acts out over here on my new label, Sub-Strata, which is being licensed through CBS."
Aside from doing remixes for The Stone Roses' "Fools Gold'" They rejected it because they said I'd Houseified it too much, what did they expect?" - and Turntable Orchestra's classic 'You're Gonna Miss Me When I'm Gone', Gerald closes 1989 working on his album.
Many have already written off Gerald as a one-hit wonder. Although it's too early to be definite, the Guy's album seems to argue against that. And anyway so far as Gerald is concerned he has already had two hits 'Voodoo Ray' and 'Pacific State'. The legal stink over who composed the latter will last long after Abdul's Take-Away closes down I reckon.
[Author: Unknown]