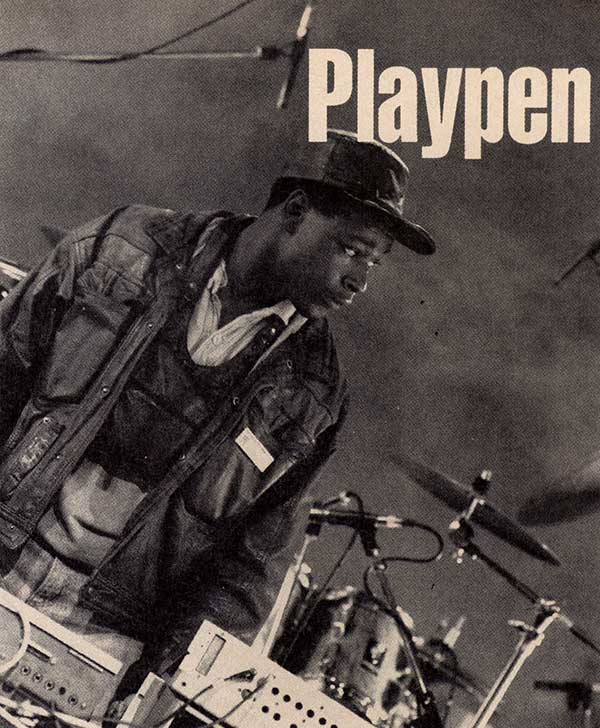 A Guy Called Gerald is perhaps the most unlikely pop star ever. His hypnotic single 'Voodoo Rah, which dominated clubland for an incredible 12 months before soaring to number 12 in the pop charts, turned the shy boy technician from Manchester into the figurehead of British house music and has now won him a major label contract with CBS. But Gerald Simpson, in perennial leather cap and baggy Joe Bloggs jeans, is still the same enthusiast who issued the inspired 'Voodoo Ray' EP through Liverpool independent Rham Records last summer. He doesn't think of himself as star material; even in his native Manchester he's only been 'recognised' once ("these office girls once shouted, 'there's Gerald!' near the bus station... that was it really"), and if you told him his amiable good looks had weakened knees all over Britain, he'd probably die of embarrassment.
For Gerald, having a top 20 hit was "a lot of hassle", but now he's having to learn how to smother his shyness and cope with media attention. "I've been told to be more assertive," he smiles. "I've been practising." He hasn't, however, acquired the pop star's smooth diplomacy; after making a significant contribution to 808 State's current club smash 'Pacific State', he has nothing but vitriol for his former colleagues. The unmistakable Arabic wail of 'Voodoo Ray' has been pirated on both sides of the Atlantic, on Voodoo Doll's 'Women Beat Their Men' in the US and EZE & Boy Wonder's 'Dextrous' here. "They caused a load of hassle too," frowns Gerald. 'Oh yeah, it's flattering, but I just got more and more earache about it all the time." He can't see his CBS debut attracting similar imitations: "It's different, it's just a club track. It hasn't got anything that stands out," he insists somewhat modestly. The new single, provisionally titled 'Automatic', isn't another 'Voodoo Ray'. On the flipside will be the soundtrack music for Trevor Miller's book about London club lowlife, Trip City. Both are uncompromisingly hard. So what do CBS think they're buying, if not another pop-house hitmaker? "Something different. Something street, really. Someone who goes to clubs, goes home and makes club records. I can see myself having problems with them, but then everything I've done so far has meant problems..."
After the single comes the first CBS LP. Already in production, Gerald says it will explore "different textures of house music", from the ethereal to almost rock-like hardness. Working alone with a real budget, it's a long way from his origins in shoestring recording studios only 18 months ago: "When I started I was really keen to get in the studio and do stuff. Once I worked all night in the studio, then ended up walking all the way to Oldham afterwards because I didn't have any money, and I was happy, just because I'd laid down a track," he recalls. "Things are getting better now; I've got a flat, a microwave, a fridge, a washing machine - it's brilliant! It's a lot more peaceful, too, working on my own. Tranquil, like. I'm totally free to do what I want." Gerald smiles and adjusts his cap. "I'm sorted out. Freedom at last!".
A Guy Called Gerald's new single is out on CBS in November.
[Author: MC]