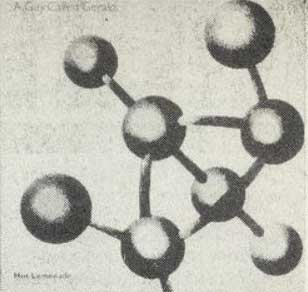 With both the House and its Acid aftermath now but a fading pulse in the musical heavens, you might expect to find the sharply threaded DJ, who spends his time ensconsed within a tower of hi-fi technology to be something of an endangered species. Oldham's most renowned mixer and matcher A Guy Called Gerald will be dispelling such notions when he plays Edinburgh Venue (Wed 14) and Glasgow Rooftops (Thurs 15). However. despite the widespread critical plaudits accorded to his recent Voodoo Ray EP and with a sell-out tour of Manhatten's House high-spots under his belt, the twenty-year old is still finding that the music biz is not a pleasant place to be.
Once his upcoming tour is over and his long-awaited Hot Lemonade LP released, Gerald believes that he might just hang up his drum machines and sequencers for good: 'I'm beginning to get fed up with the business, really' he says 'Once you've had a single out, people think you've got wads of money. Like my family. They're always ringing up saying "I want this" and "I want that". They don't take my music seriously. If I'm in the house, trying to write some stuff, they'll come up and tell me to turn it down. And to do the music properly I really need more equipment. All my stuff is really old but record companies are only interested in ripping you off rather than supporting you. Once this tour is over, I think I'll have to go and get a proper job'.
To the thousands of night-clubbers who helped make Voodoo Ray a regular visitor to the Billboard black dance chart last year, such news is less than welcome. Only Trip City can save the day. A pioneering fusion of word and music, the project consists of a book (written by Trevor Mailer) which is supplemented by a music cassette.
Gerald's recent dalliance with The Shamen (which included several gigs and some twelve-inch remixes) and his work with Edward Barton (of The Tube and demolished six-string fame) have helped to broaden his musical horizons but the process is perfected on his latest work. Moving away from the space-age trance and bubbling Acid beats of his earlier releases, Hot Lemonade should herald a leaning towards more conventional sound structures and maybe even the odd song or two: 'The stuff I usually do is very spur of the moment, I don't really tend to work it out at all that thoroughly. But my new stuff is moving towards proper songs. It's an important part of the modern day pop machine' he adds with tongue noticeably in cheek. The only thing Gerald is missing is a singer to supplement his two drum machines, keyboards and sampler.
Venue , 14 June; Rooftops, 15. June.
[Author: Allan Brown]