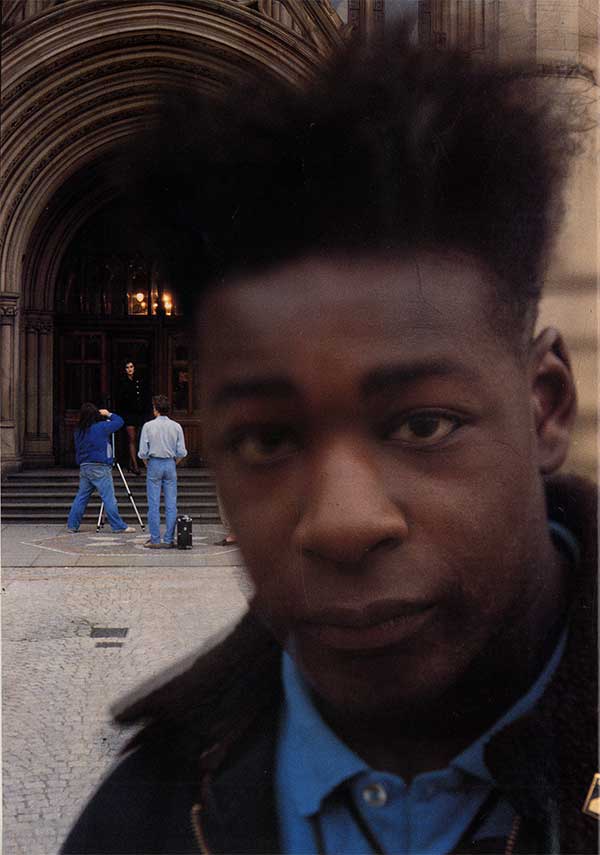 "Do you want a true interview, or the lying one where I say I'm doing really well?" 
Oh, the lying one please! 
We met a guy called Gerald at Piccadilly railway station in his hometown, Manchester. He's friendly, he's good looking, he has a shock of jet black hair shooting from the top of his head, and a way with machines that has led him into the world of music. We have come in search of a rags to riches to rags story for our luxury issue. It's not an expose of the price of fame, or failure, but the trials and tribulations of making music without much money.
Our story begins and ends in Hulme, a run down '60s dream home housing estate right in the heart of the city, five minutes walk from G-Mex, 10 minutes walk from the Arndale Centre, some time in 1988. A tune is nagging at Gerald's brain (IS he paces round his heavily barricaded fourth-floor tenement flat. It is a tune that is destined to become Voodoo Ray; the record, which, almost a year after its initial release is still inducing screams of delight from clubbers the world over. It's only a simple house instrumental, but it's got that special ingredient, maybe the insistent female vocal line, the clangy synth bass sound, that sends you. 
Voodoo Ray has led Gerald to forge close links with America in two contrasting ways. He recently spent a week in New York, living it up at the Milford Plaza Hotel on Broadway, promoting the newly released US version of the single and will be going back soon due to popular demand. He also recently started a part time job behind the counter in that great Stateside born institution – McDonald's.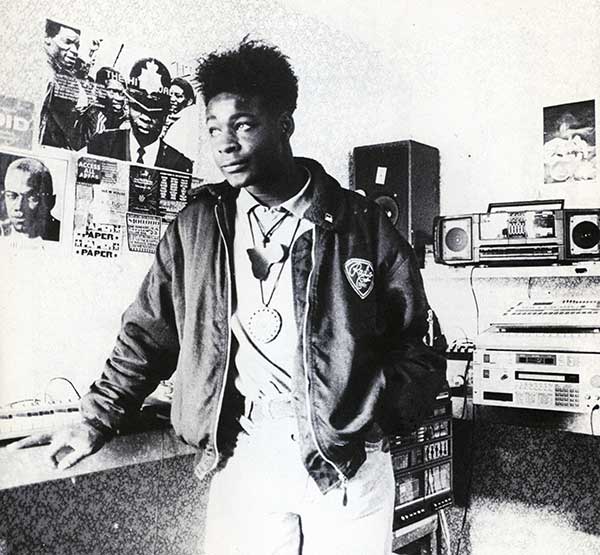 Lets take a walk through Manchester and talk about New York. 
"I spent seven nights there. I did PAs with a girl called Madison, who has worked with Big Daddy Kane, in clubs like World, Tunnel, Red Zone and Mars. Warlock (the US record company) took us round the clubs in limousines. We had a different limo every night, with a TV in the back and everything)" 
The story unfolds as we pass McDonald's.
"On Saturday I start work there, it's only part time. I'm looking forward to it. It'll be a laugh. Working at Macs will mean I can save up and buy an eight track to record at home. I don't like using other people's studios; it's like using somebody else's toilet. And I can get some things that I need, like some clothes. At the moment on a normal day I do a couple of tracks, I'm working on some remixes for my brother's sound system, bits and pieces, and doss around, so I might as well be working."
We head out of the city centre, past the town hall. "In New York they have this TV channel which just shows gold chains all day. Every now and then a finger comes in and moves them about to make them glisten. It's like a home buying service or something, but after a while it's quite hypnotic."
We bump into John Dasilva, DJ at the Hacienda. "Gerald, I've been trying to contact you, you haven't got a phone, have you? Get in touch with Nicky Holloway because he's trying to book you for a Sin all dayer or something, apparently its quite good money..."
And an old college mate who is now working for the Department of Social Security. "Ah, Gerald, I see you've got quite a successful record you must be raking it in..." 'Well, not exactly, you see I..." We hurry on, under the railway bridge and the underpass into Hulme.
"You can tell people are friendly round here, all the graffiti says welcome to Hulme." It also says pig free zone, but...
"There's loads of weirdoes round here. They all look like the zombies from Jackson's Thriller video. They've got jackets with potatoes growing out of them, most of them could do with a good scrub."
"Voodoo Ray sold nearly 20,000 copies in the first week. I couldn't believe it when they told me that. And they want me to start work on an LP for them. I think from now on I might take stuff to the States and release it there first."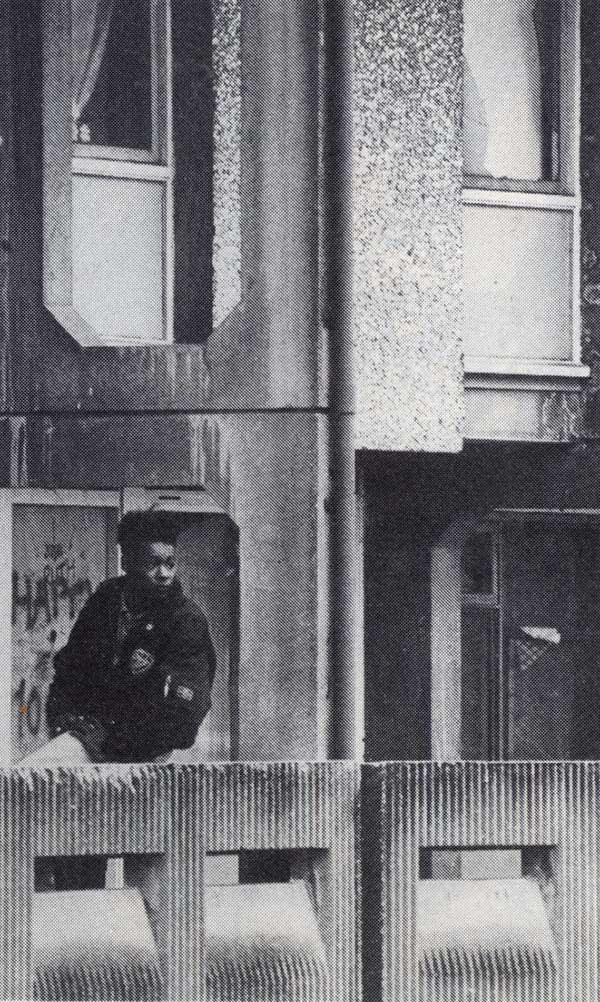 We negotiate layer after layer of exposed, graffiti splattered concrete landings, attempting to avoid the leaking pipes, the inevitable mess left by the large dog population which seems to be a mandatory quota of at least two per occupied flat, and eventually arrive at a door which, like all the others, looks like it hides a deserted, boarded up flat. This is where Gerald lives. "Come and see my hi-tech studio set up..." I detect a hint of irony. There is an expensive looking sampler, but the rest is basic stuff. All he has to mix down onto is a cassette player, and all he has to sit on is an old wooden stool with no top on it.
"...and have a look at the snapshots of New York... This is the Empire State Building from the back of the limo... This is the World, someone was shot while I was there, but I didn't see it... This is a picture of a big wad of money after a show...
"When I arrived in New York they nearly didn't let me through customs because I hardly had any money, they kept on asking what I was going to live on, so I just said there was someone else coming through who had my money, and luckily they believed me. It's a nice place, compared to Manchester; everywhere's always open. Here, you can get a taxi down to Rusholme and get a curry anytime, but that's about it. In fact, New York reminds me of Rusholme! It's a really mixed community, I like that all different cultures intermingled… and there's lots of inspiration. I know it's not all limousines and night clubs, but I would like to live there."
But that would spoil the Gerald appeal, which is his very Englishness, the accent, the attitude, the crisps.
"They don't understand English in America, they don't know what crisps are."
(They are, of course, potato chips.)
But all is not fast food and failure for Gerald. He's made the first tentative steps up the ladder to the high life and from now on it's fast forward, all systems go. His future good luck is assured, thanks to a guy called Mamumba. "He gave me this Africa symbol, he says it's the key of life and it will protect me wherever I go." Gerald has already become a massive cult hero, over here and in New York, and McDonald's hippest employee. All he has to do now is wait for Hot Lemonade, his next single, which has an added commercial edge, to rocket up the dance charts in America and the pop charts in Britain, then wave bye bye to big Macs forever.
THE MEGA-BUCKS MONEY-MAD RECORDING CAREER OF A GUY CALLED GERALD
Massagearama and Let Yourself Go by 808 State (Two 12 inchers which didn't pay a lot, well, actually nothing at all.)
Back To Attack by Hit Squad (Earned Gerald £3, but it cost £10 in studio time.)
Voodoo Ray by A Guy Called Gerald (The original version. Um, not a lot earned from this, most of the money was lost when distribution company Red Rhino went bust. Rham were also offered $5,000 for the worldwide rights by MCA USA, but that included MCA owning the master tape forever. Thanks, but no thanks.)
Dream 17 by Annette (Released on RCA, this one earned £130... and a t-shirt.)
Newbuild by 808 State (An acieed LP which earned about a grand "in £40 chunks, every time I went and begged them for some money".)
Voodoo Ray the US and UK remixes, and Hot Lemonade the LP all by A Guy Called Gerald (Nothing, but these haven't been out long enough to get any money back yet.
Emotions Electric, a Peel session EP by A Guy Called Gerald (This one's not even released yet so don't even think about it.)
[Author: John Robb]