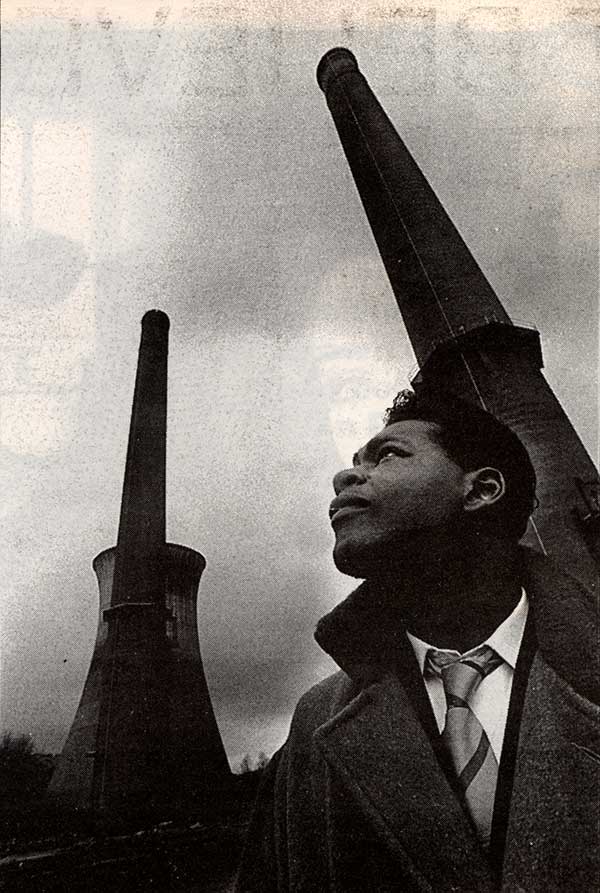 A Guy Called Gerald explains to John Robb why his aims are wider than mere chart success
HOT MOSS Side dance maverick, A Guy Called Gerald has finally spliced open the charts with his ethereal dance blend, 'Voodoo Ray'.
Not bad for a record that has been festering in the clubs since its release some time last summer. Featuring a niggling riff, 'Voodoo Ray' entwines bitchin' tendrils round your memory.
Wrapped in a blue leather jacket, Gerald bounds in. He's a lively fellow, whose warmth and enthusiasm encase an ever-blooming garden of ideas, and whose energy initially drove him to his mother's attic.
"I started at home with a tape recorder, giving tapes to Stu Allen (an influential local dance DJ) at Piccadilly Radio.
"Working in the city centre McDonald's at the time meant that I could spend all my time and money in the music shops on new gear."
Although nowhere near representative of the bulk of Gerald's work, 'Voodoo Ray' has become his flagship.
"The single went down this week to something like number 57. The record label expect it to go up again next week. But personally I don't really care as I'm sick of it. I want to get it out of my system. I mean, I'm dead chuffed about getting into the charts, but I want to do something else now."
ALREADY GERALD has pasted himself across a few collaborations, the weirdest of which must be with the bearded, brooding, guitar-chewing Edward Barton.
Results of this odd coupling can be heard on the upcoming compilation of Barton cover versions.
Gerald has also loaned his talents to 808 State, pulling the band out of obscurity and nearer the limelight,
Anyone other collaborations in mind?
"There's not an awful lot of people I would like to work with In Britain, apart from someone like Baby Ford. I don't think there's anyone that genuine in Britain. In America everyone wants to be an individual. In the States, in the office everyone was coming in with tapes and playing some really great stuff. Not like they would be in Britain, wearing a leather jacket and sporting a Bros haircut, with a tape that would have a Marshall Jefferson piano and a Todd Terry bassline."
Gerald is moving the dance formulae away from the tedious pub band routines of just sampling James Brown. On his debut album, 'Hot Lemonade', samples have been culled from sources as bizarre as noise gods Negativland.
"I'm into all types of sounds. Negativland themselves use samples that suit the track, Instead of using them for the sake of it. I work along similar lines."
The search for more interesting sounds is inspiring A Guy Called Gerald to rather crazy stunts.
"Some time soon I'm going to climb onto the roof of the block that I live on and get my tape recorder, and tape one side of the building down one microphone and the other side of the building down the microphone. Then when I mix them, I'll mix them down on both sides of the stereo."
Will that work?
"Don't know!
"I'm really interested in Latin and African percussion. It's really spiritual. They work really well with the 4/4 backing which fits neatly onto anything.
"I used to do contemporary dance and I learnt to dance to the flow of the music. In some countries music is the culture, but the culture in this country is Porsches and clothes."
Gat-fling Gun types like Gerald, constantly firing out ideas, should hopefully break down such cultural barriers, as well as fraying nerve ends and splicing together entertaining sculptures to lob at the dancefloor.
[Author: John Robb]