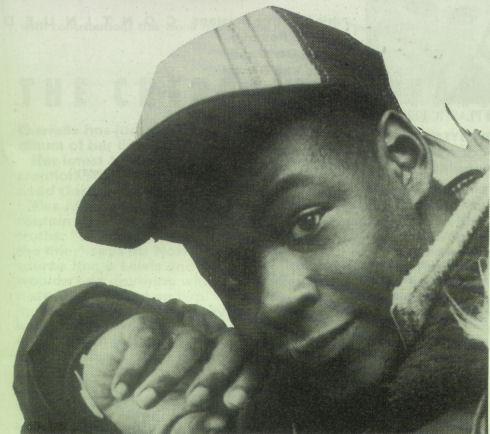 "Hi! I've got brown eyes. I'm Aquarius and I'm A Guy Called Gerald." Gerald is a one man band, he comes from Manchester, he's made a fantastic, original dance EP called 'Voodoo Ray' and is about to release a whole album of electro-classics called 'Hot Lemonade'. The title track is a real killer; Gerald's bizarre soundscapes are overlaid with a bittersweet pop twist. It's the sort of track that could become a surprise pop hit.
"I like pop drinks and it's a pop record. It's a mickey-take of Stock Aitken Waterman. But it's only a one-off, I'm still at the experimental stage at the moment."
Gerald is careful to avoid being lumped in with the acid scene. In fact he calls his music 'un-uniform' because, I suppose, it just doesn't sound like anything else on the planet. His influences range from the masters of Detroit Techno like Derrick May and Juan Atkins, through Euro-machine manipulators Kraftwerk to jazz pianist Chick Corea. He makes music primarily for himself and doesn't mind being called self-indulgent.
"I'd be happy to stay in my bedroom and do my thing, put it on my Walkman and walk down the street listening to it."
Not the sort of statement to start a great career, but then Gerald is no careerist, he's an enthusiast. That shows in the sound - it's lively and vibrant with a hint of the unexpected. He loves his music and that's what really counts. Catch it while it's still fresh.
[Author: Matthew Collin (CM)]