A Guy Called Gerald
One of the few with the software-conscious head to take acid Into the Nineties Is A Guy Called Gerald. His first LP 'Hot Lemonade' (Rham), due In the New Year, follows the current 'Voodoo Ray' EP in Its rearrangement of acidic assumptions. Unlike Its predecessor, 'Hot Lemonade's strength is Its fine dissection, Its chopping and shuffling of minute shards of electric Impulse, its refusal to be either totally definite, of Its format or easily anthemic in format. It also features what could be the first acid soul track, 'Music Sweet Muzic'.
As a sequel to the hardcore housetronics' of 808 State's 'New Build' LP (Creed) or a companion to the forthcoming Phuturo LP (US Trax/Westside), It's a mighty statement of Intent.
808 State
808 STATE are part of the new breed of acid children coming out of the Hacienda and transmuting its electric dreams into vinyl. As Manchester house makes a play for the big time with the RCA compilation 'Fresh Air From Manchester', this trio of dedicated backroom industrialists have gone back to basics and made an exciting album of raw metal rhythms called 'New Build'.
"We just made everything up as we went along," confesses State 808's Martin. Their spontaneous activism owes more to Chicago and Detroit than It does to the moneymen of London's corporate house; Martin gets angry when people like D. Mob collect the cash from rhythms written by Adonis and Mayday: "Why should It be that the originators aren't getting the attention when any dodgy British act can make It?" he asks.
Along with his partners Graham and Gerald (yes, A Guy Called Gerald again - does this man never sleep?), Martin's dedicated to getting deeper Into the post-acid groove with the next single. 'Let Yourself Go'/'Deepville' will replace the twiddle and flutter with something more solid. As acid hits the charts and the High Street, the underground new build will be keeping Its spirit of independence alive and taking the music one step further.
[Author: Unknown]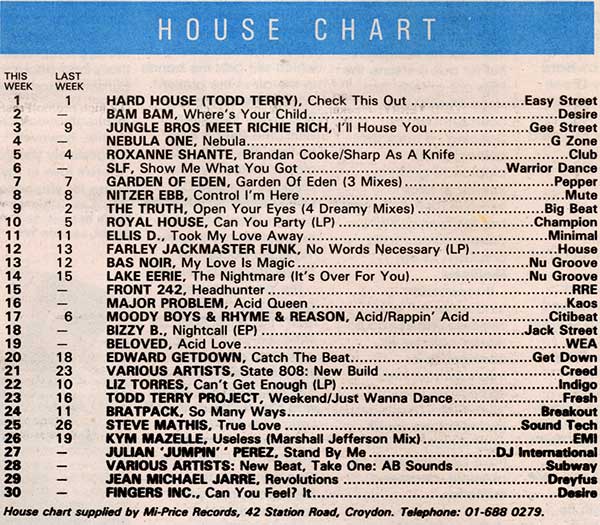 House Chart (as supplied by Mi-Price Records, Croydon).
State 808's "New Build" at number 21.