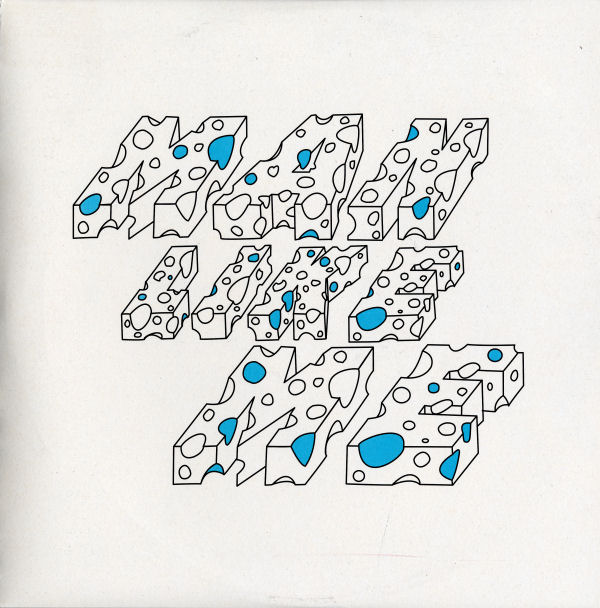 Man Like Me - Oh My Gosh
UK 2006 CD-R Single; Non-Stop Recordings: NONSTOP 008X [Promo CDR single - some with PR]
UK 2007 12" Single; Stop-Start / Non-Stop Recordings: STOPSTART 001X / NONSTOP 008X / NONSTOP008
UK 2007 CD Single; Stop-Start / Non-Stop Recordings: STOPSTART001X / NONSTOP 008CD [Mislabelled as "Stairs"]
UK 2007 Digital; Stop-Start / Non-Stop Recordings: NONSTOP011EP

Tracks:
8:46 Oh My Gosh (A Guy Called Gerald Remix)

Released:

8th June 2007.
Credits:
Remixed by A Guy Called Gerald at The Diehold Studios Berlin 2006.
Press Release:
Artist: Man Like Me
Title: Oh My Gosh
Label: Nonstop
Release date: March 26th 2007
Cat: NONSTOP008X

1: Oh My Gosh (Original)
2: Oh My Gosh (A Guy Called Gerald remix)
3: Oh My Gosh (Roll Deep remix)
4: Oh My Gosh (Ed Laliq's Hoi Polloi remix)

Man Like Me. Man Like Who?

If you haven't heard of Man Like Me by now you deserve to get your ears boxed. This 22-year-old pop-grime superhero tore up 2006 like an over-enthusiastic puppy on Viagra let loose in a cattery.

MLM began his burgeoning career by showcasing his talents in his parent's front room back in Feb 2006. A few months later he leaped from showing off on the sofa in front of his Aunties to showing off on the stages at Bestival and V, and at hip club spaces such as Adventures Of The Beetroot Field at Canvas, Bugged Out at the End, Mish Mash at Cargo and Druzzis at the T-Bar – not forgetting those dodgy gay clubs and school discos along the way. 2006 also witnessed MLM bagging single of the week in the Guardian Guide for his addictive slice of pop/electro/grime, `Wine & Dine'. So there.

Now the time has come to unleash the MLM monster `Oh My Gosh' which has already won over die-hard fans such as Rob Da Bank, Steve Lamacq and Mary Anne Hobbs as well as Mylo, Queens of Noise and the Audio Bullies.

Alongside the more-addictive-than-crack original version, this release has turned out some killer remixes. First up is king of old skool rave A Guy Called Gerald - famous for dance classic 'Voodoo Ray' - with his playful nod to the current rave revival. Next up are grime giants Roll Deep, fresh from their involvement in Tate Tracks, where they wrote a piece of music based upon the painting 'Ishi's Light' by Anish Kapoor. These East London Eski boys have shaken up the original and spat out something for fans everywhere. And last but not least is Ed Laliq's `Hoi Polloi' mix, the name speaks for itself.

'Oh My Gosh' – do you give a toss?
Comments:
Initially released as a promo CD-R single in November 2006, this finally got a release over 6 months later (possibly because the record label seems to have changed to Stop Start Recordings, as opposed to Non-Stop Recordings?). The CD-R promo's volume levels are little low - it is advisable to purchase a download of the remix (via iTunes, etc), as the levels seem to be a lot better - however it *is* available on the commercial CD single, but the tracklisting is incorrect (actually the track labelled "Stairs" is the Gerald mix - "Stairs", itself, is elsewhere on the CD)!! :)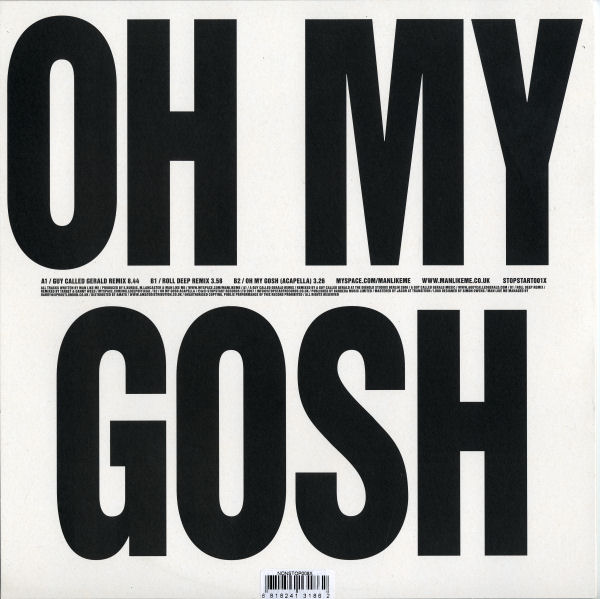 Man Like Me - Oh My Gosh - UK 12" Single - Back


Man Like Me - Oh My Gosh - UK 12" Single - Credits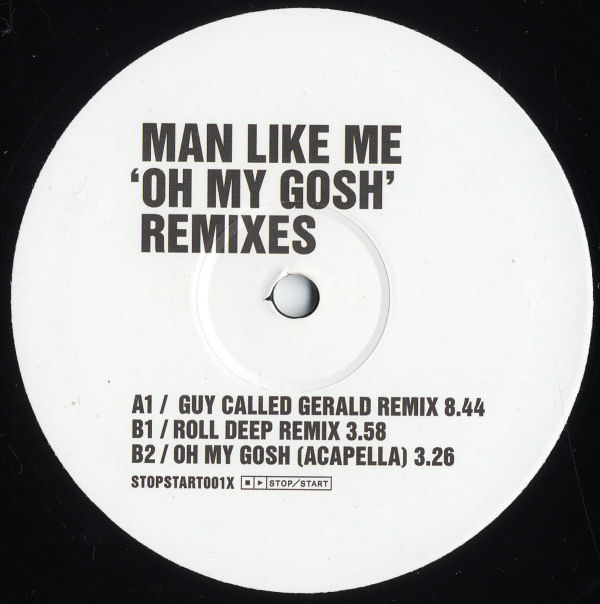 Man Like Me - Oh My Gosh - UK 12" Single - Side A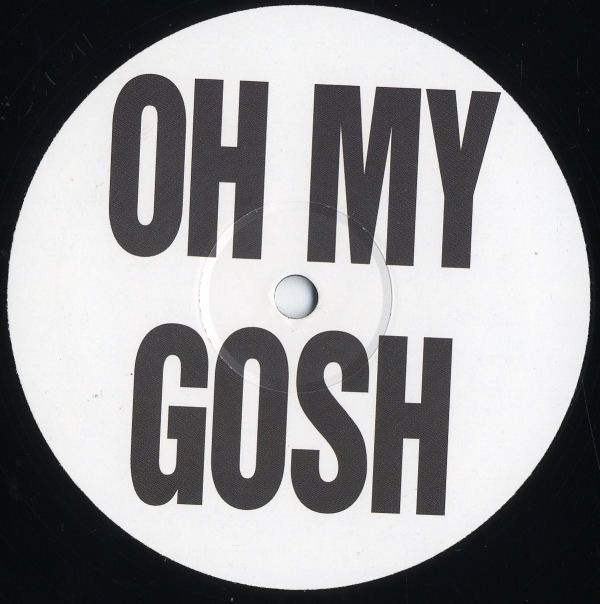 Man Like Me - Oh My Gosh - UK 12" Single - Side B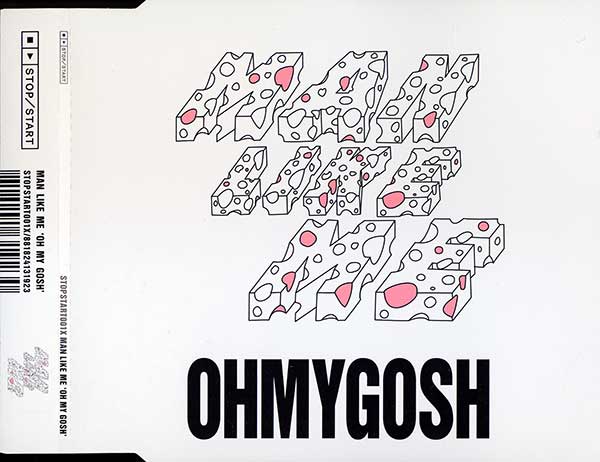 Man Like Me - Oh My Gosh - UK CD Single - Front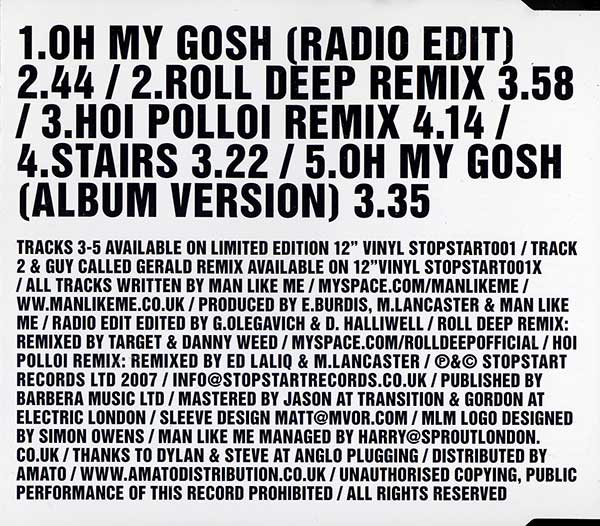 Man Like Me - Oh My Gosh - UK CD Single - Case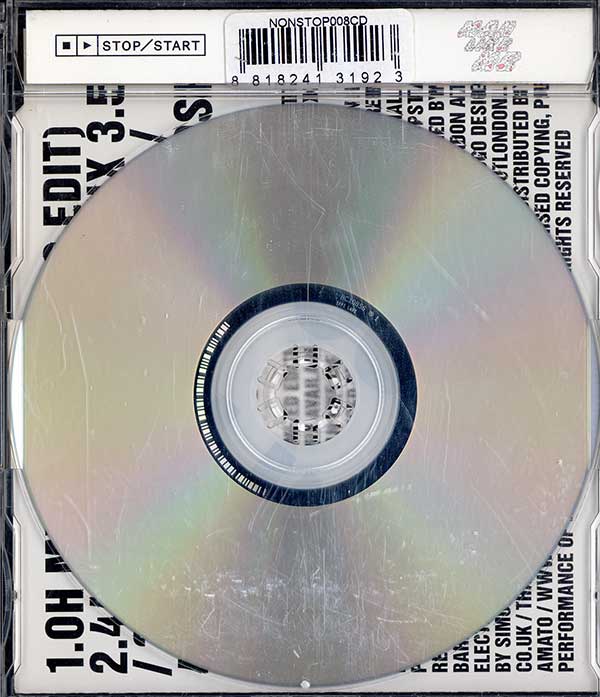 Man Like Me - Oh My Gosh - UK CD Single - Credits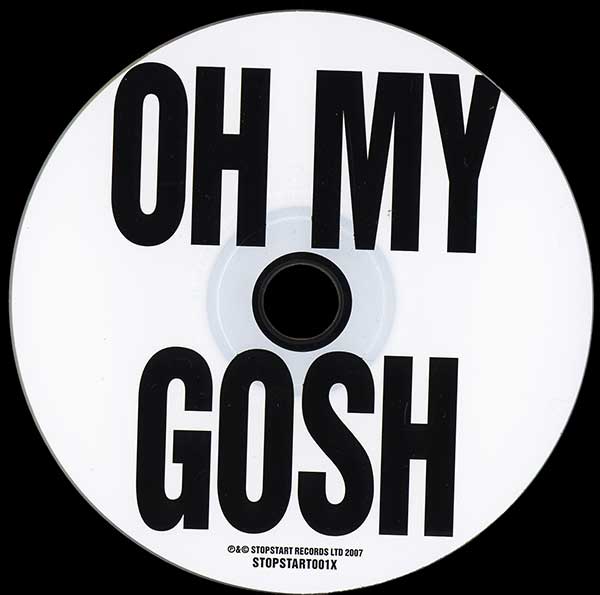 Man Like Me - Oh My Gosh - UK CD Single - CD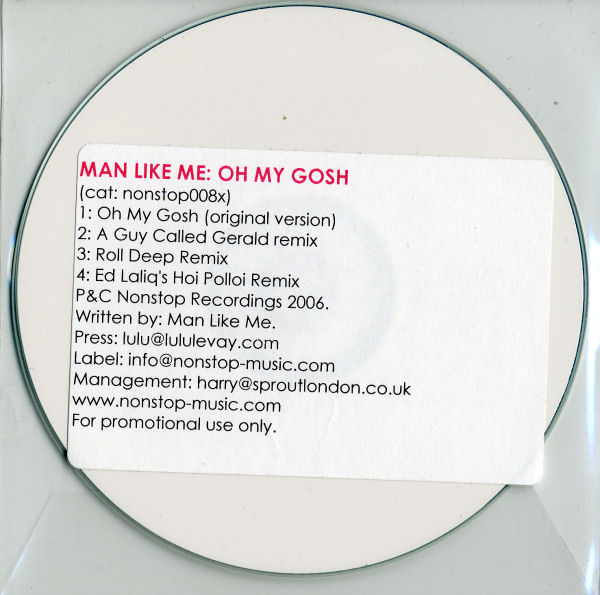 Man Like Me - Oh My Gosh - UK Promo CDR Single - Front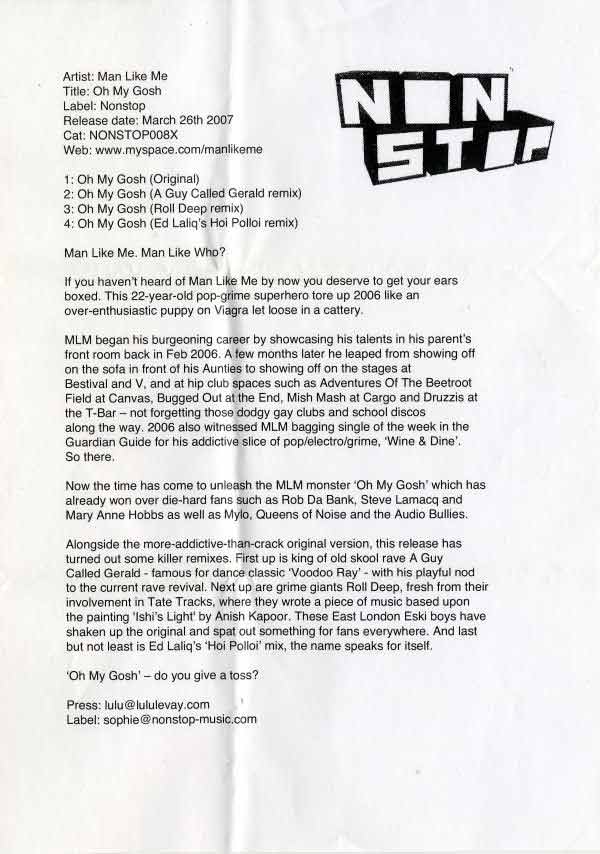 Man Like Me - Oh My Gosh - UK Promo CDR Single - Press Release