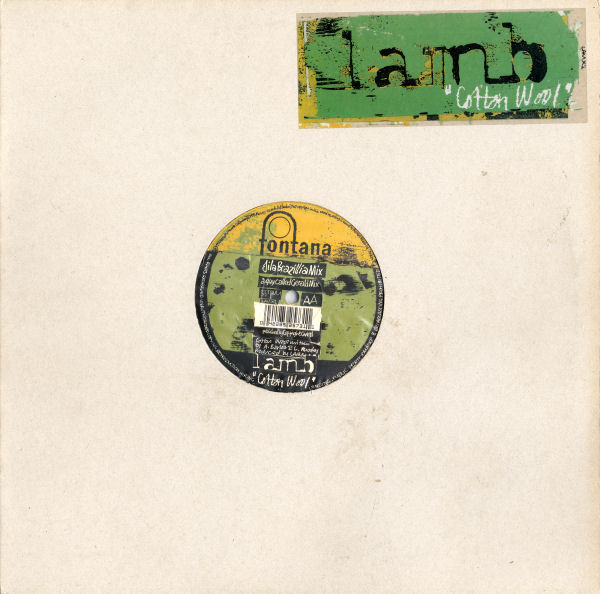 Lamb - Cotton Wool



UK 1995 12" Single; Island: LAMDJ 1 [Promo - labels mix as 'Erogenous Mix' - some with PR]
UK 1995 12" Single; Island: LAMX 1
UK 1995 CD Single; Island: LAMCD 1

5:27 Cotton Wool (A Guy Called Gerald Mix)

Released:

11th December 1995(according to Press Release).

Credits:

Produced by Lamb.
Remix and Additional Production by A Guy Called Gerald.

Press Release:

Artist: Lamb
Title: "Cotton Wool"
Label: Fontana
Release: 11th December 1995

Lamb are a duo, namely Louise Rhodes and Andrew Barlow..... two people who are total opposites, perhaps that is what makes the music they create so strong and moving. Louise is into vocals, she has been writing for some time and had never really found the right person to create the music, she wanted conflict and and a raw edge to set her melodic, soulful vocal off Andrew does not like vocals particularly, he is moved much more by the instrumental side of hip hop, the breaks and beats. After a sound engineering course in Manchester, and attending a few free parties held by the likes of those DIY ladies and gentlemen, he merged his passion for hip hop with his new found interest in instrumental "proper house music. The culmination of this merger was Hip Optimist, under this pseudonym Andrew released a 12" on Brighton's Skint label.

The partnership between he and Louise has spawned a different and even more eclectic fusion, perhaps it could be described as a place where Joni Mitchell meets LTJ Bukem ??

As an added bonus there are two fine remixes both adding weight to a strong and innovative original, the only way to use remixes !!

To add to something that is excellent, and offer a different interpretation...... A Guy Called Gerald turns in what has to be one of his very finest to date, dancefloor drum n bass that will smash down the boundaries with relish, and Fila Brazilia turn in an epic piece of Latin Jazz meets contemporary Drum n Bass, but sounds like no one else can ...... a classic 12" in the making, and from hearing a cassette of tracks to come a band that are to be watched, await the album in Spring 96....one of next years finest, and that's without hearing the rest yet !!!! But we are sure.

Reactions within 10 days please....

Comments:

Lamb are a Manchester-based band starring Louise Rhodes who has also contributed a track to 'Essence'.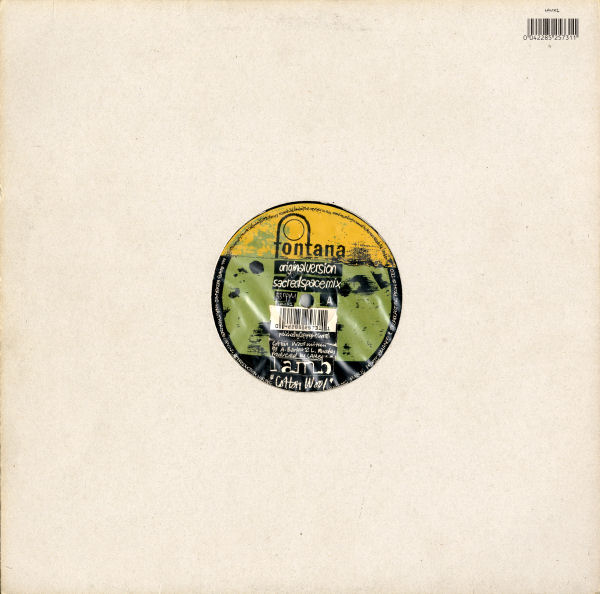 Lamb - Cotton Wool - UK 12" Single - Back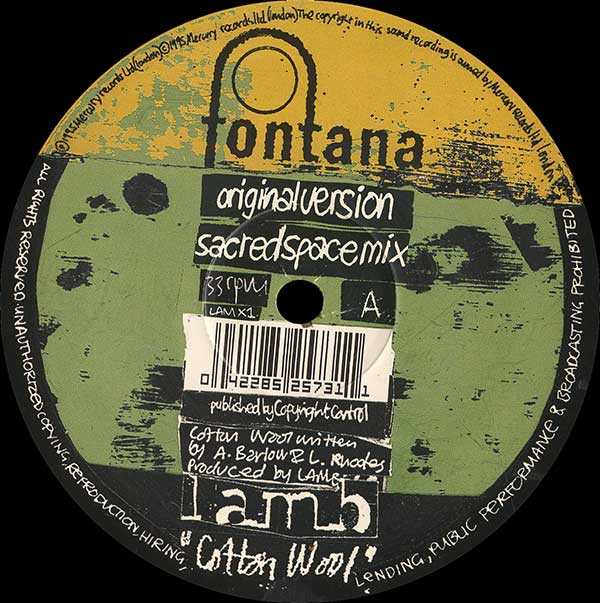 Lamb - Cotton Wool - UK 12" Single - Side A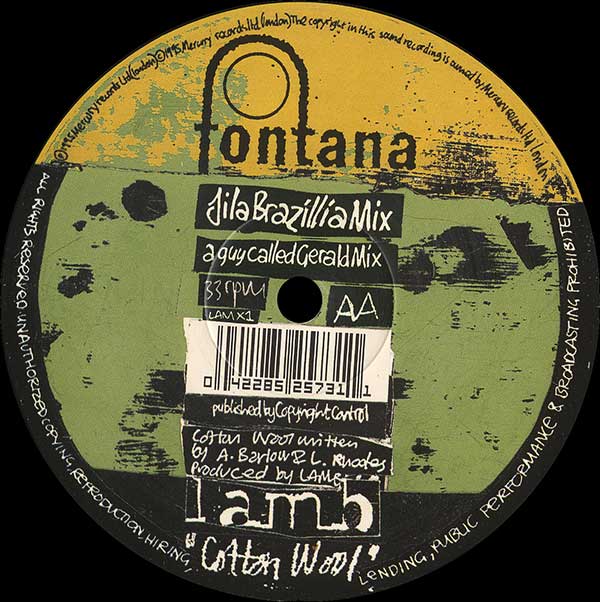 Lamb - Cotton Wool - UK 12" Single - Side AA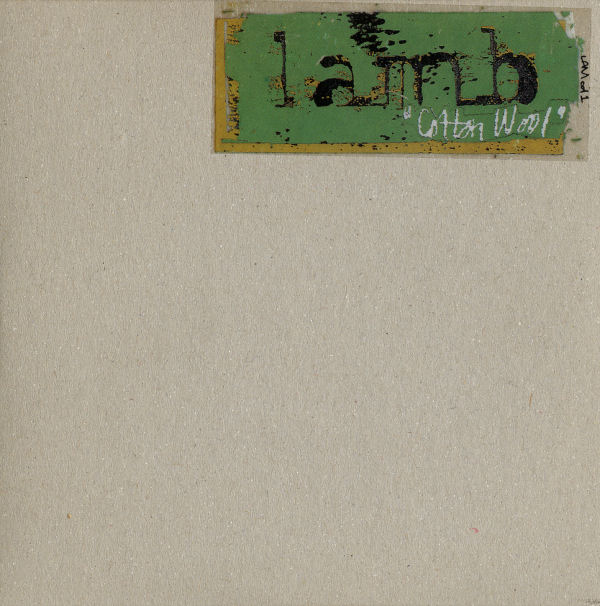 Lamb - Cotton Wool - UK CD Single - Front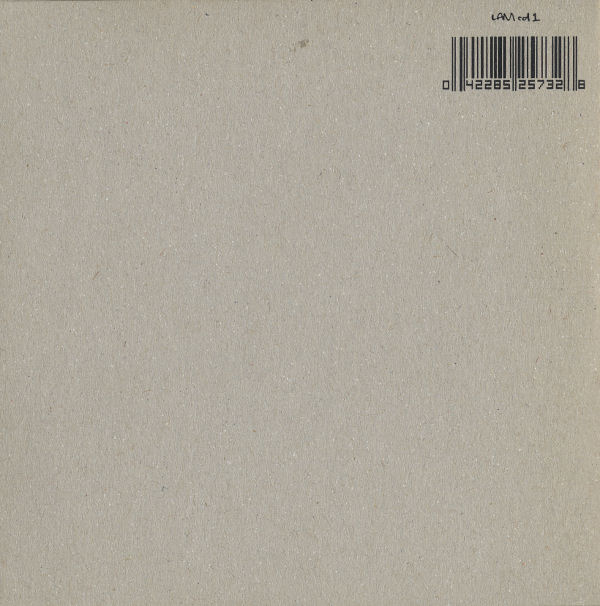 Lamb - Cotton Wool - UK CD Single - Back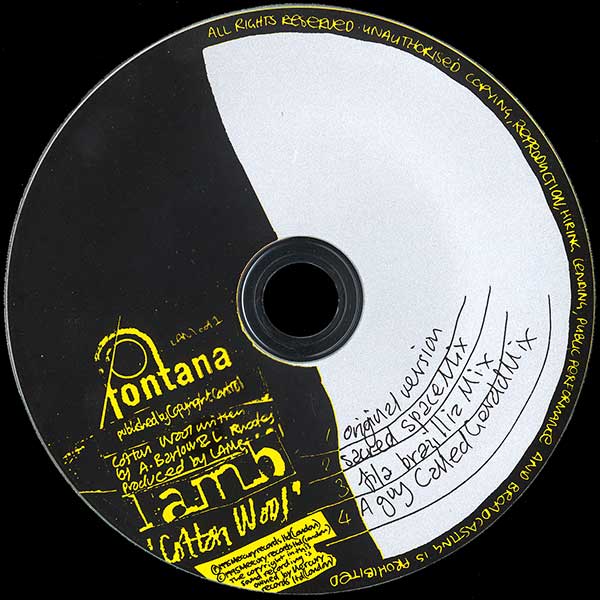 Lamb - Cotton Wool - UK CD Single - CD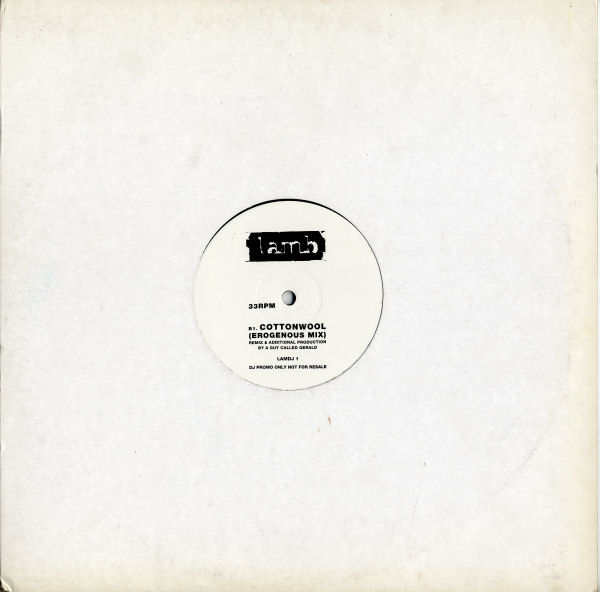 Lamb - Cotton Wool - UK Promo 12" Single - Front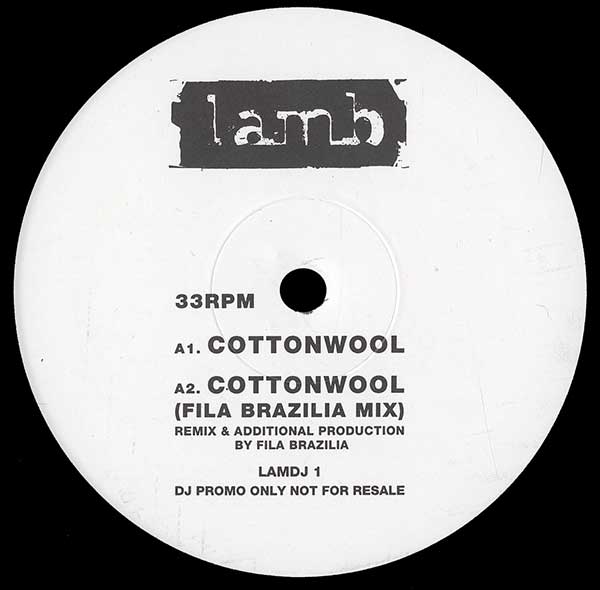 Lamb - Cotton Wool - UK Promo 12" Single - Side A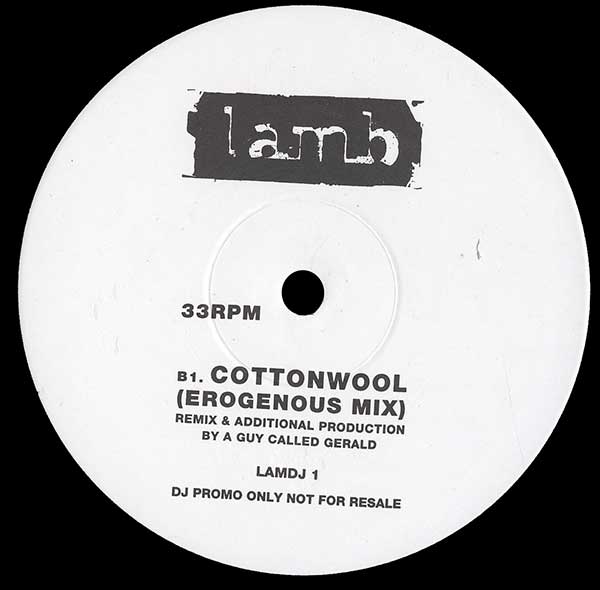 Lamb - Cotton Wool - UK Promo 12" Single - Side B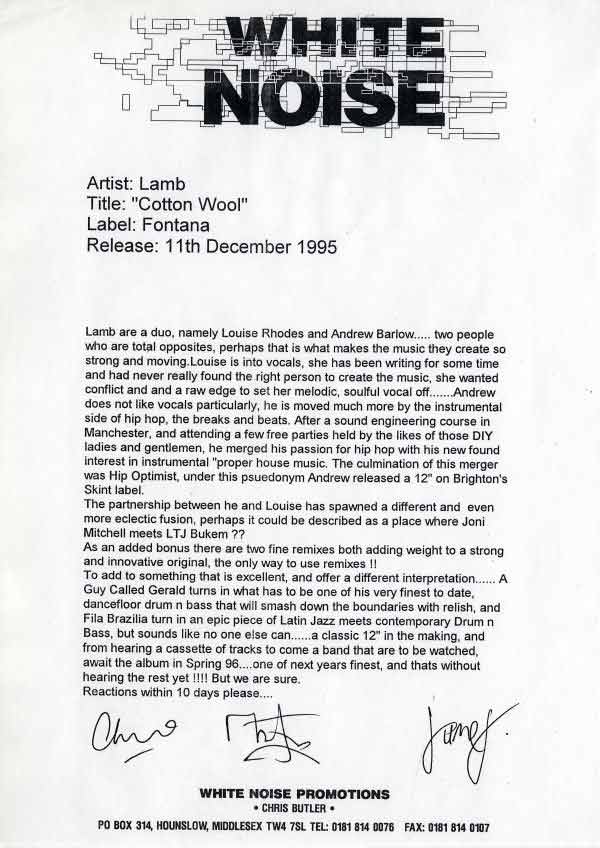 Lamb - Cotton Wool - UK Promo 12" Single - Press Release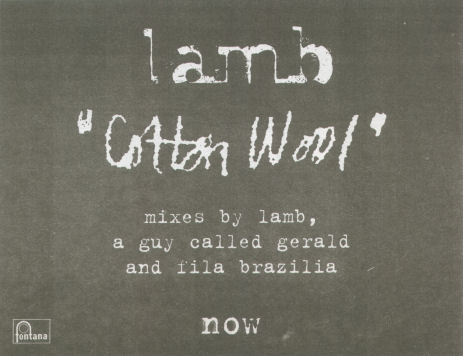 Lamb - Cotton Wool - UK Advert - from 6th January 1996