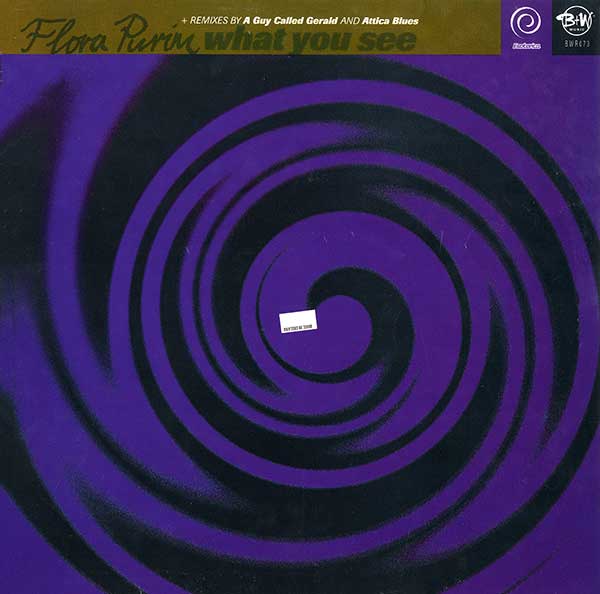 Flora Purim - What You See
UK 1995 12" Single; B+W Music: BWR 073P [Promo in stickered sleeve - BWR073P etched in vinyl]
UK 1995 12" Single; B+W Music: BWR 073
UK 1995 CD Single; B+W Music: BW 5073 [Card sleeve]
UK 2016 Digital; Airflow: 5919453 [Digital Release]

4:23 What You See (Ghost Of Flora's Dream)

Released:

12"/CD: 24th July 1995.
Digital: 22nd July 2016.
Credits:
Remix and additional production and engineering by A Guy Called Gerald. Mixed at the Machine Room Studio.
Press Release:
FLORA PURIM - REMIXED BY A GUY
CALLED GERALD & ATTICA BLUES
'WHAT YOU SEE' RELEASED JULY 24TH ON B&W MUSIC
The unique Flora Purim, Queen of Brazilian jazz, ventures into a new direction with a remixed new single out in July. 'What You See' is a move away from her normal roots introducing her extraordinary vocal range to the worlds of drum 'n' bass and trip hop. The single will feature remixes by leading junglist A Guy Called Gerald (The Ghost of Flora's Dreams) and trip-hopper Attica Blues on Mo Wax.
The track is taken from Flora's current album 'Light As My Flo' on B&W Music. Produced by one of the world's biggest percussionists, Airto Moreira, the album was her first in five years and has brought her back into the spotlight of the London jazz dance scene.
Flora is playing two live dates in the UK this summer:
July
14th Blackheath Halls
15th Phoenix Festival (Jazz Cafe stage)
For further information please contact Celeste.
Comments:
Check out the official website here.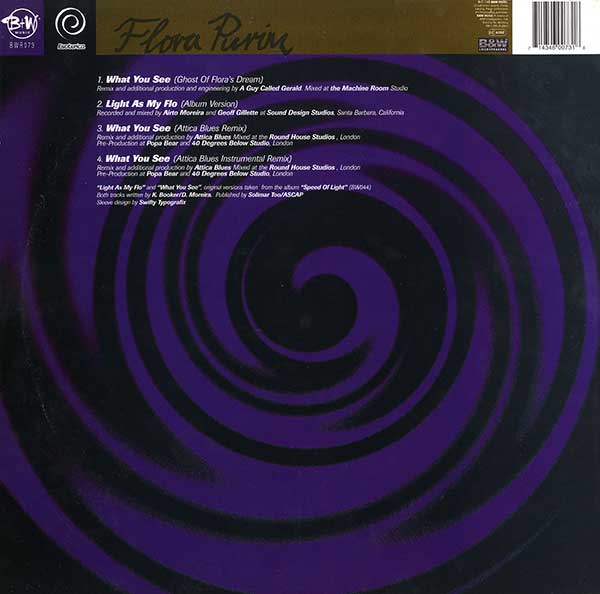 Flora Purim - What You See - UK 12" Single - Back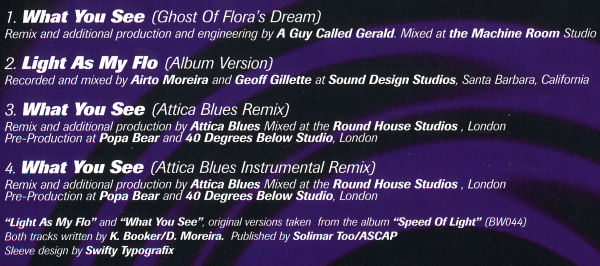 Flora Purim - What You See - UK 12" Single - Credits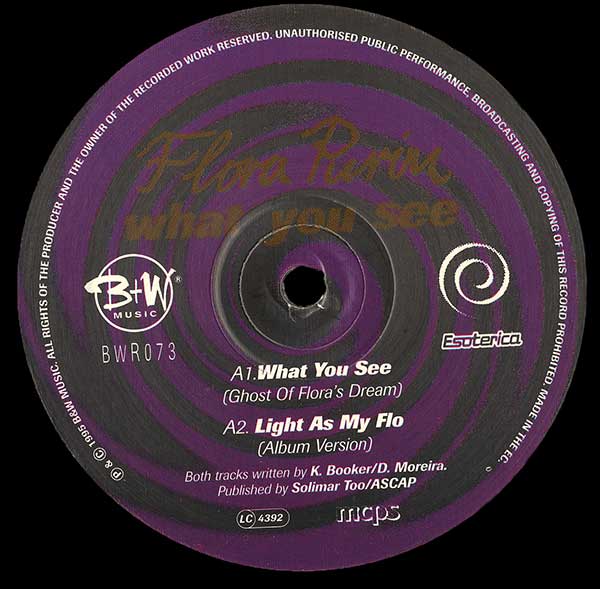 Flora Purim - What You See - UK 12" Single - Side A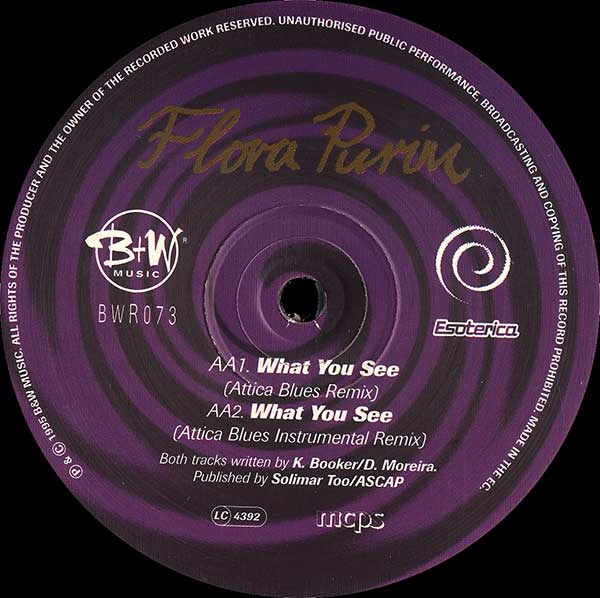 Flora Purim - What You See - UK 12" Single - Side B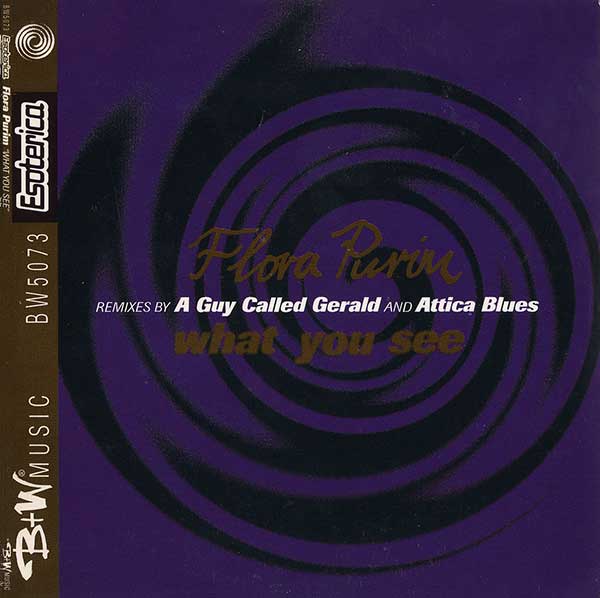 Flora Purim - What You See - UK CD Single - Front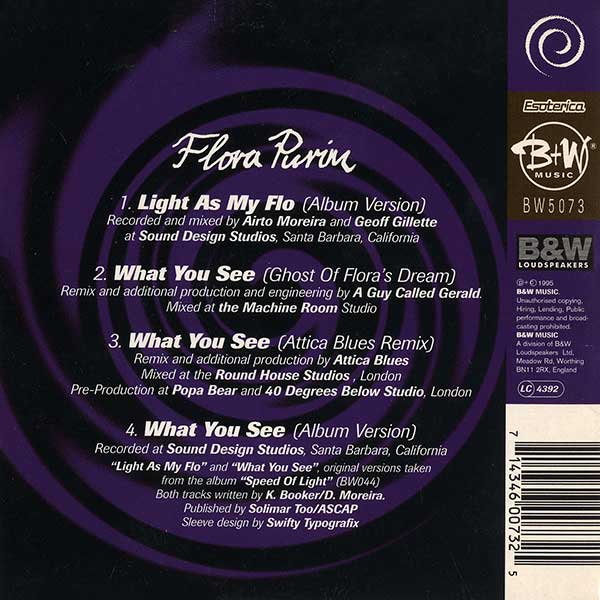 Flora Purim - What You See - UK CD Single - Back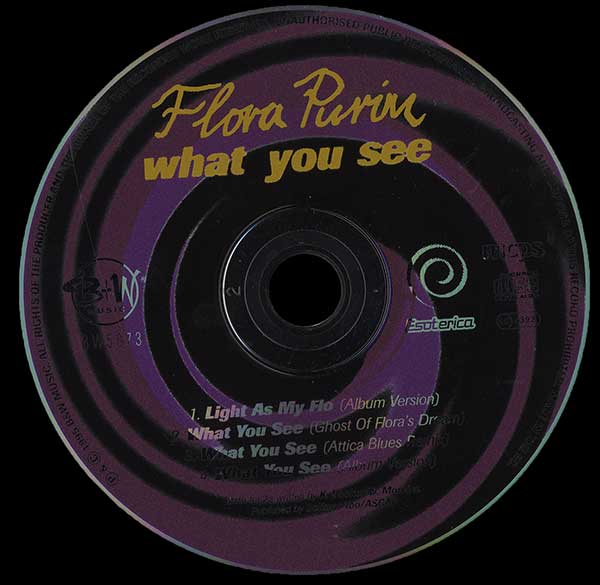 Flora Purim - What You See - UK CD Single - CD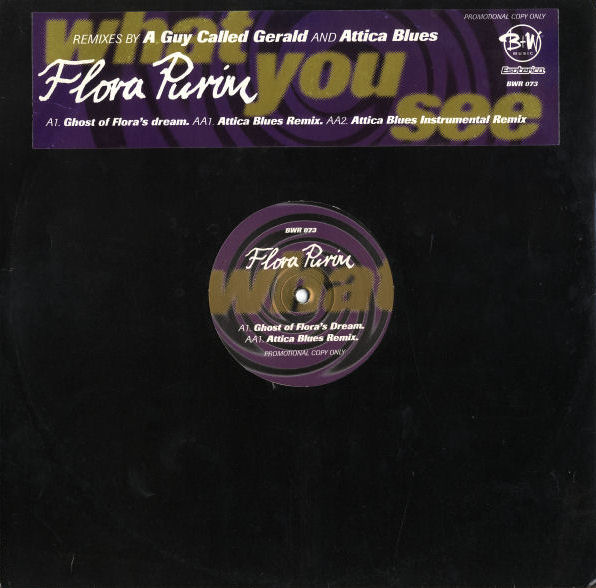 Flora Purim - What You See - UK Promo 12" Single - Front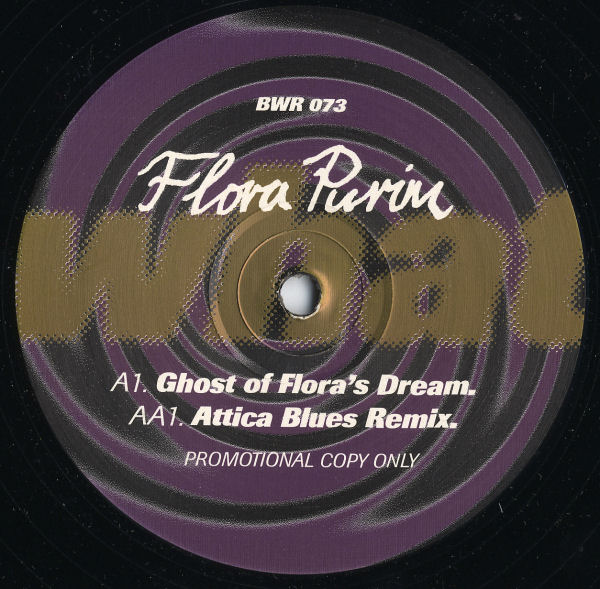 Flora Purim - What You See - UK Promo 12" Single - Side A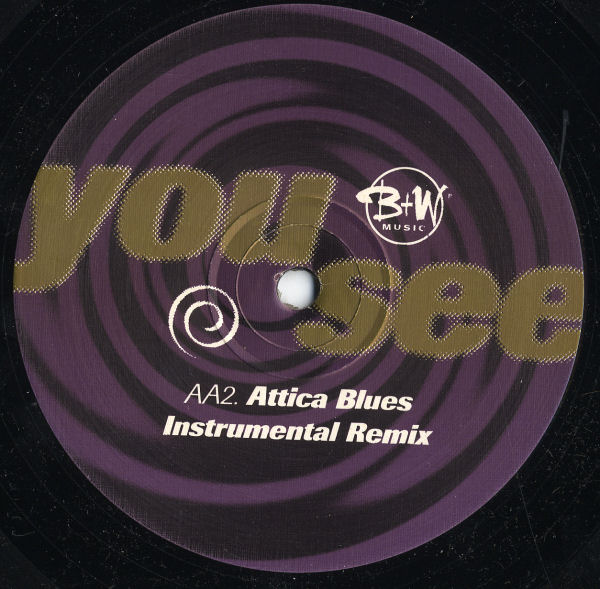 Flora Purim - What You See - UK Promo 12" Single - Side B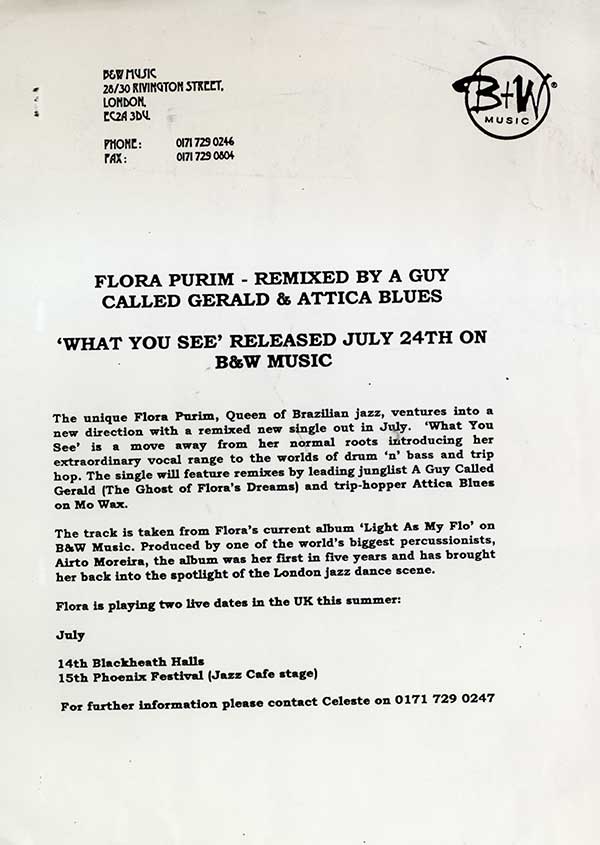 Flora Purim - What You See - UK Promo 12" Single - Press Release