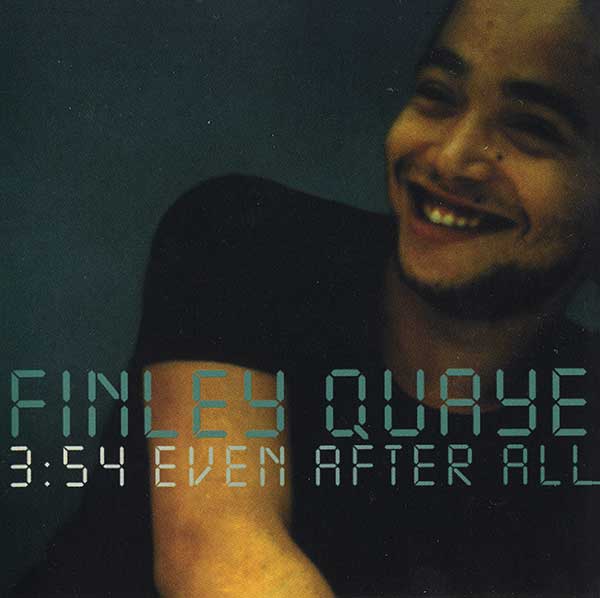 Finley Quaye - Even After All
UK 1997 12" Single; Sony / Epic: 31 3156 20 [Promo]
UK 1997 2x12" Singles; Sony / Epic: XPR 3156 [Promo 2x12" in picture sleeve]
UK 1997 CD Single; Epic: 664971-2
4:30 Even After All (Studio 2000 Mix)
Released:
1st September 1997.
Credits:
Co-Produced by Finley Quaye and A Guy Called Gerald.
Mixed by A Guy Called Gerald.
Additional backing vocal by Kusta (aka David Simpson, Gerald's brother).
Press Release:
Finley Quaye Releases New Single
"Even After All"
September 1st On Epic Records
Finley Quaye is releasing his second single "Even After All" on September 1st. After scoring Top 20 success with his summer anthem "Sunday Shining", anticipation is high for a second hit.
Finley is gaining a reputation as a solid live performer and musician after making the rounds on the summer festival circuit (Glastonbury, Phoenix, Essential Festival and V 97) and playing a sold out show at Camden's Dingwalls.
"Even After All" puts Finley's lush vocals in a different light. Unlike "Sunday Shining", "Even After All" has a more soulful vibe to it. The single features remixes by the hip-hop legend Chubb Rock and Studio 2000, as well as a mellow acoustic mix and a heavy dub mix. Finley's debut album "Maverick A Strike" is released on September 15th.
Finley Quaye - "Even After All"
1. Even After All
2. Even After All (Chubb Rock)
3. Even After All (Studio 2000 Mix)
4. Burning (Dub)
5. Even After All (Dub Mix)
6. Even After All (Acoustic)
7. Watt Hertz (Faded)
8. Graphic Traffic (12" Club Promo Only)
"EVEN AFTER ALL" IS RELEASED ON EPIC RECORDS SEPTEMBER 1st
"MAVERICK A STRIKE" IS RELEASED ON SEPTEMBER 15th"
Comments:
Backing vocals are by MC Kusta (otherwise known as Gerald's brother, David Simpson) who sings on the new Gerald 'Essence' album.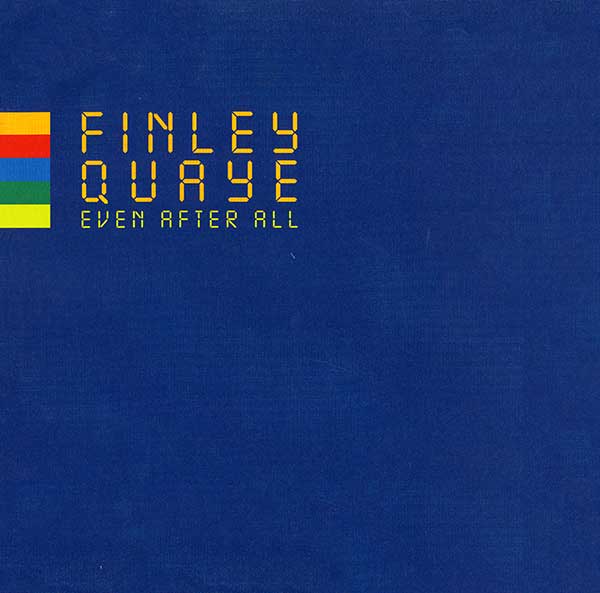 Finley Quaye - Even After All - UK Promo 2x12" Single - Front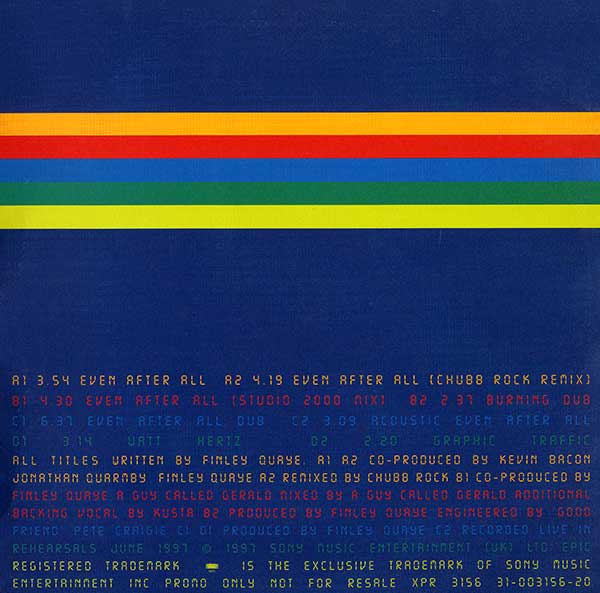 Finley Quaye - Even After All - UK Promo 2x12" Single - Back
Finley Quaye - Even After All - UK Promo 2x12" Single - Press Release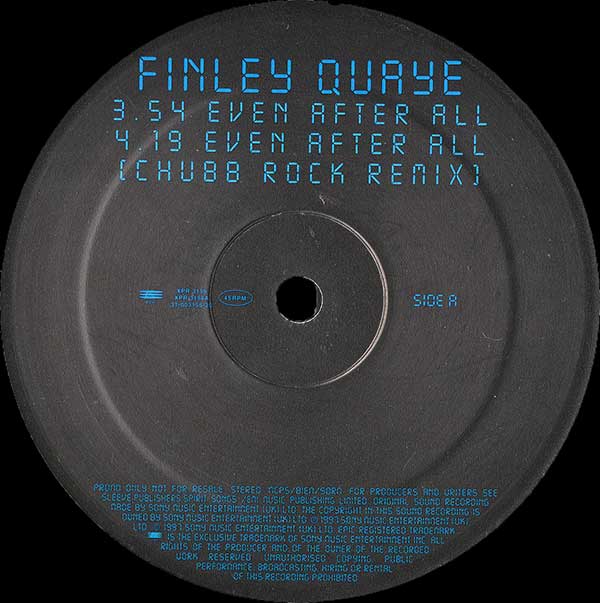 Finley Quaye - Even After All - UK Promo 2x12" Single - Side A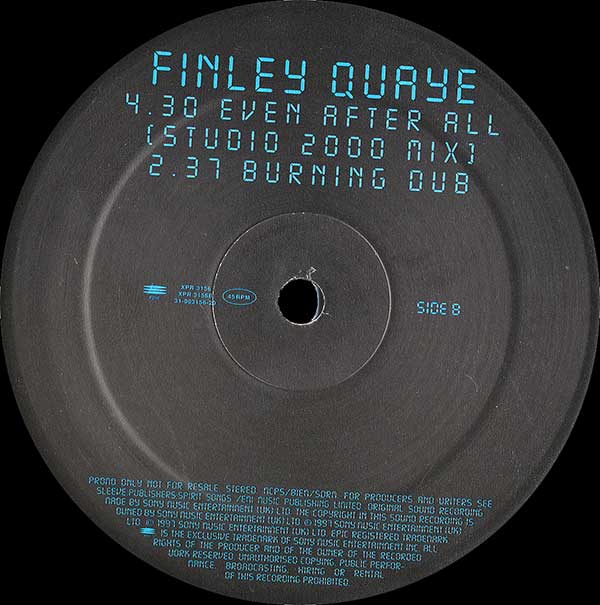 Finley Quaye - Even After All - UK Promo 2x12" Single - Side B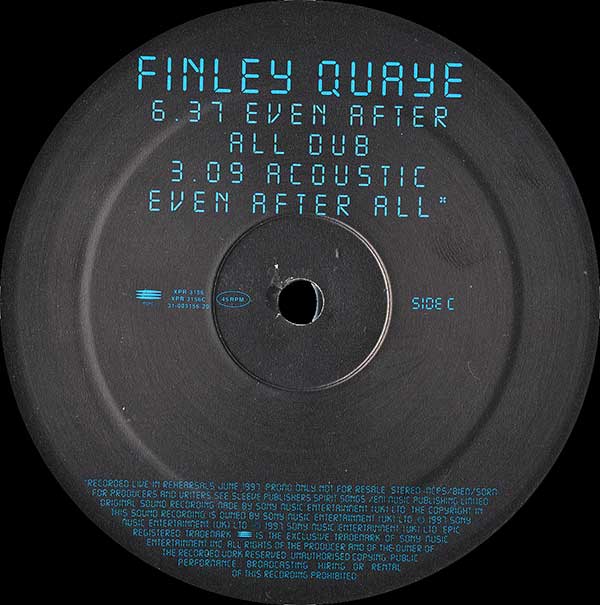 Finley Quaye - Even After All - UK Promo 2x12" Single - Side C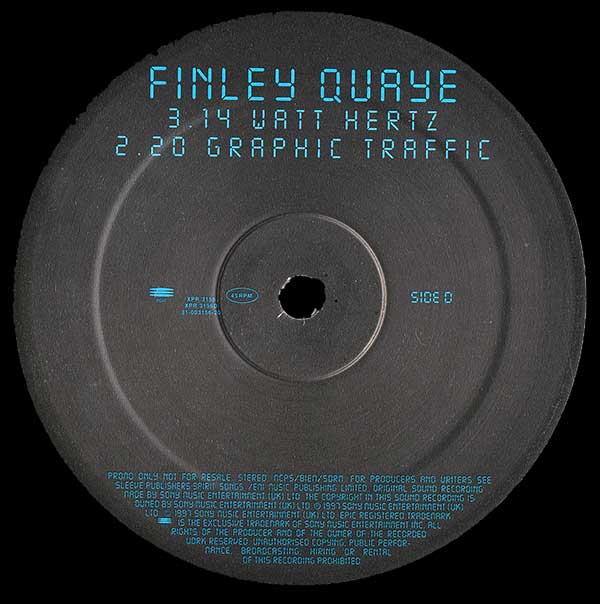 Finley Quaye - Even After All - UK Promo 2x12" Single - Side D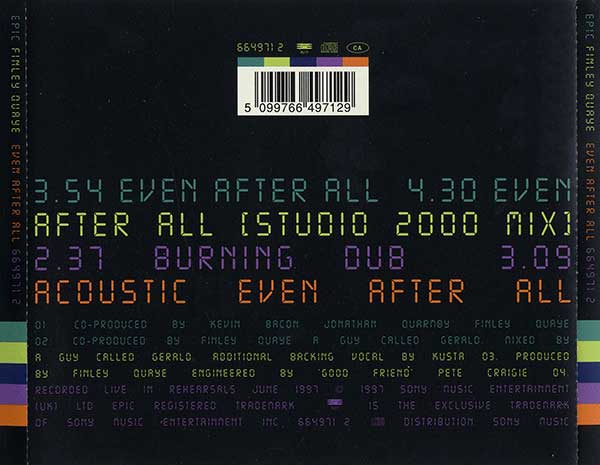 Finley Quaye - Even After All - UK CD Single - Back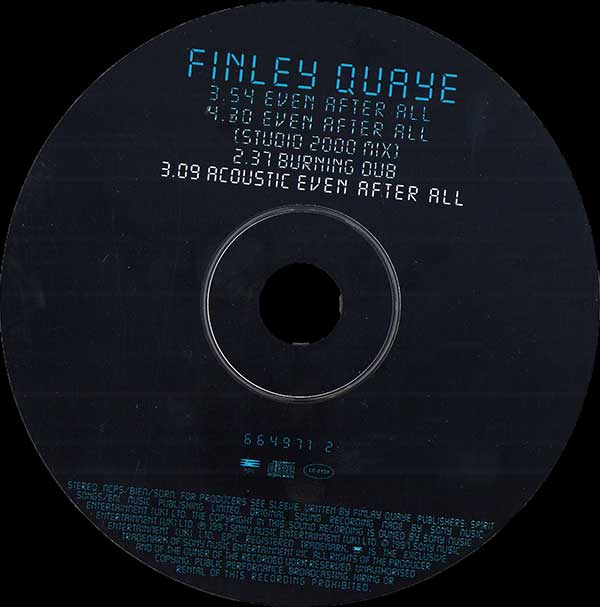 Finley Quaye - Even After All - UK CD Single - CD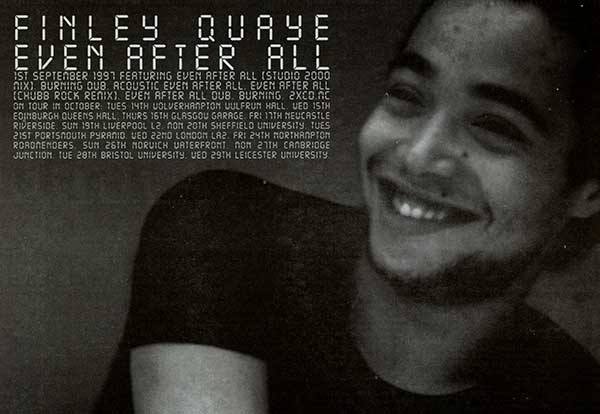 Finley Quaye - Even After All - UK Advert - Melody Maker (30/08/1997)