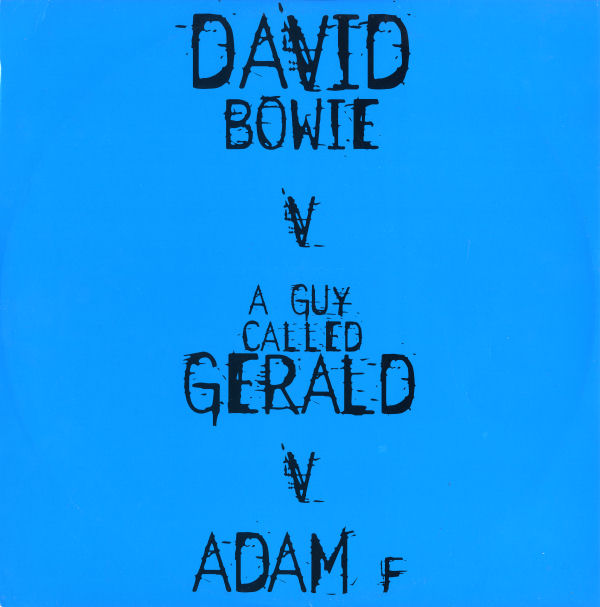 David Bowie - Telling Lies
UK 1990 2x12" Singles; Arista / BMG: LIES 1 [Promo 2x12" Singles]
UK 1990 12" Single; BMG / RCA: 74321 39741 1 [Blue cover]
UK 1990 CD Single; BMG / RCA: 74321 39741 2 [Blue Cover]
UK 1990 CD Single; Arista: 74321 39739 2 [Black Cover - 3 tracks]
SA 1990 CD Single; Arista / BMG: CDBMGS(WS)235 [Black Cover]
EU 1990 CD Single; Arista / BMG: 74321 39740 2 [Cardboard Black Cover - 2 tracks]

Tracks:
5:10 Telling Lies (Paradox Mix)

Released:

Internet: 11th September 1996.
Europe: 4th November 1996.
(Released via the Internet on September 11, 1996 after a CU-SeeMe event where David and two impersonators were asked questions from the audience)
Credits:
Additional production and remix by A Guy Called Gerald at Machine Room Recording Studios, London.
Press Release:
1st November 1996

So You're A David Bowie Fan Are You?

InterAct - RCA

Well would you be interested to hear about a new single release from the Thin White Duke which only a select number of his hard core fans will ever get a chance to buy?

The title of the track is called "TELLING LIES". It is, in fact the track that Virgin Records NYC launched exclusively on the Internet through the official David Bowie web site on the 11th Sept '96 and has previously been totally unavailable - until now!

For strictly exclusive UK purposes, RCA are releasing "Telling Lies" as a limited edition CD and 12". Featured are mixes by the highly acclaimed Adam F and A Guy Called Gerald which have been serviced to radio and played on Kiss FM and Radio 1's 'One In The Jungle'. You may have heard this track before but it needs to be stressed that this is a strictly limited edition release with only 3,500 copies being pressed.

If you want a copy of this release we suggest you get your coat on now and find a shop which has stocked it. But wait - don't go down to your huge local chrome filled record store. In an attempt to dissuade non-Bowie fans from purchasing "Telling Lies" this release is only being sold through the smaller independent shops, a list of which you will find on the back of this letter.

Good Luck, InterAct

If we have recorded your address details incorrectly or you know of any friends who may be interested in DAVID BOWIE information, please send their name, address and D.O.B. to us at:

David Bowie, PO Box 607, London SW6 4XR.

N.B. If you are already an InterAct member, please quote your membership number which appears above your name on the address label in all correspondence.
Comments:
Limited to very few copies, this single has been much criticized by Bowie fans and other sceptics as it's seen as Bowie trying to be trendy. I, however, love the track and was glad that I managed to get a copy whilst it was still available.
Despite some media reports, this is the only track that Gerald collaborated with Bowie - he didn't have anything to do with the rest of the "Little Wonder" album.
According to issued press releases, over 300,000 people downloaded the original Internet-only release.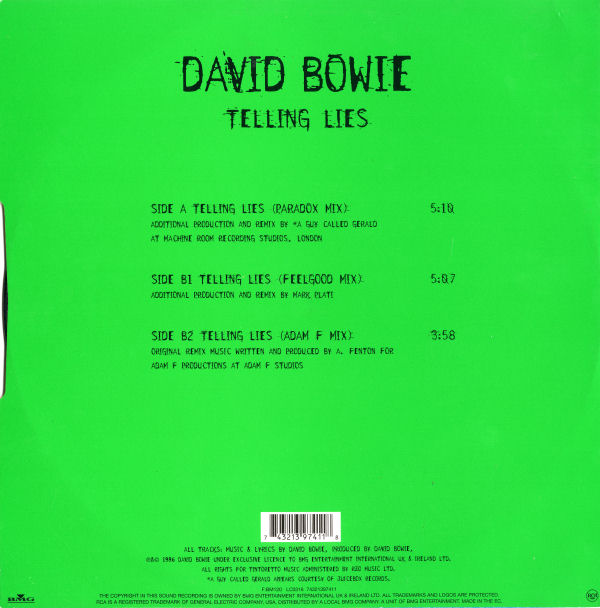 David Bowie - Telling Lies - Blue Cover - UK 12" Single - Back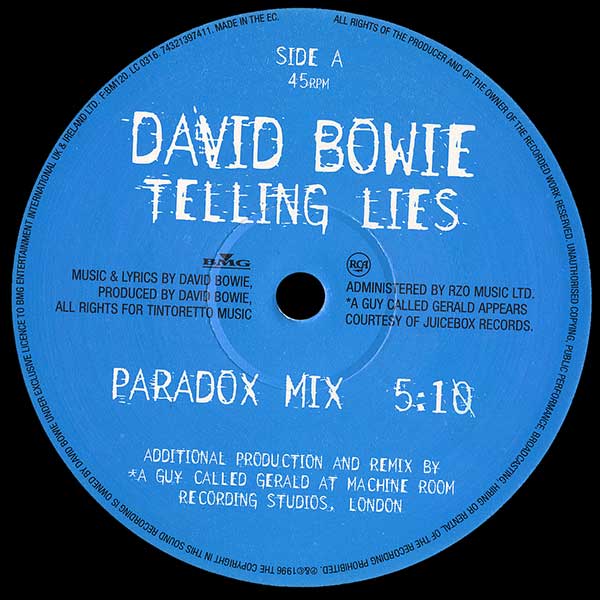 David Bowie - Telling Lies - Blue Cover - UK 12" Single - Side A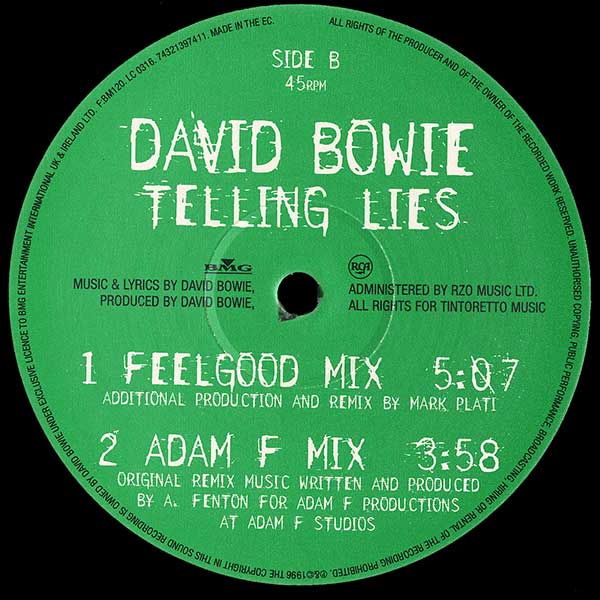 David Bowie - Telling Lies - Blue Cover - UK 12" Single - Side B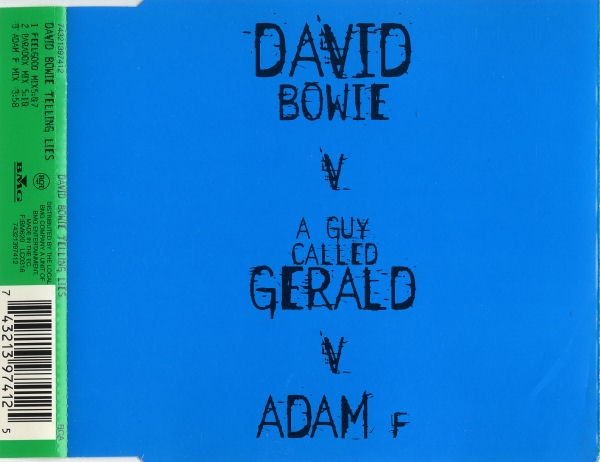 David Bowie - Telling Lies - Blue Cover - UK CD Single - Front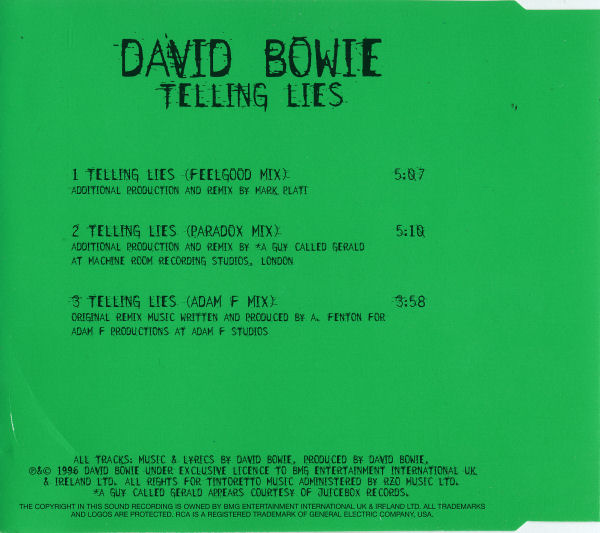 David Bowie - Telling Lies - Blue Cover - UK CD Single - Front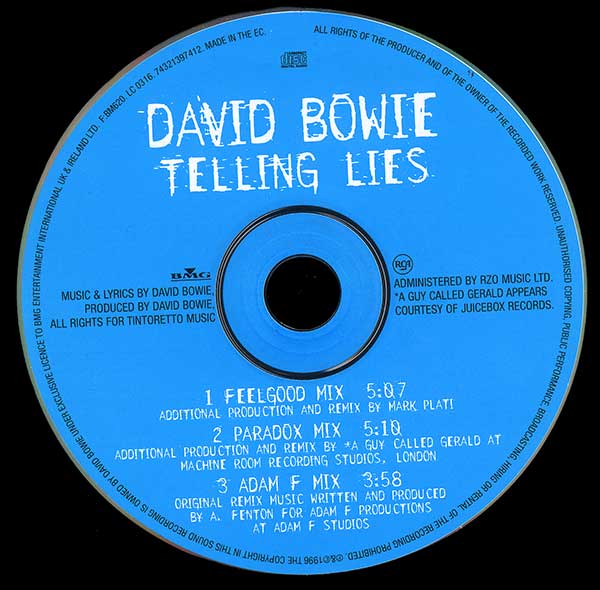 David Bowie - Telling Lies - Blue Cover - UK CD Single - CD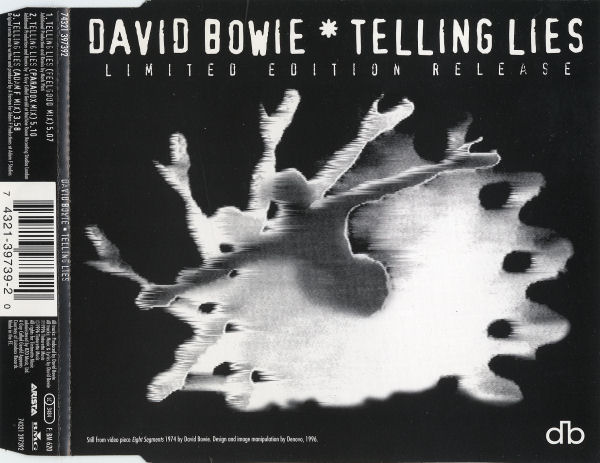 David Bowie - Telling Lies - Black Cover - UK CD Single - Front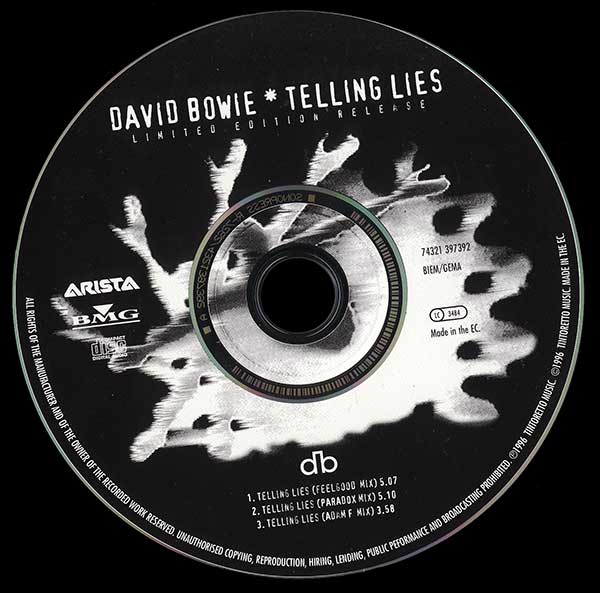 David Bowie - Telling Lies - Black Cover - UK CD Single - CD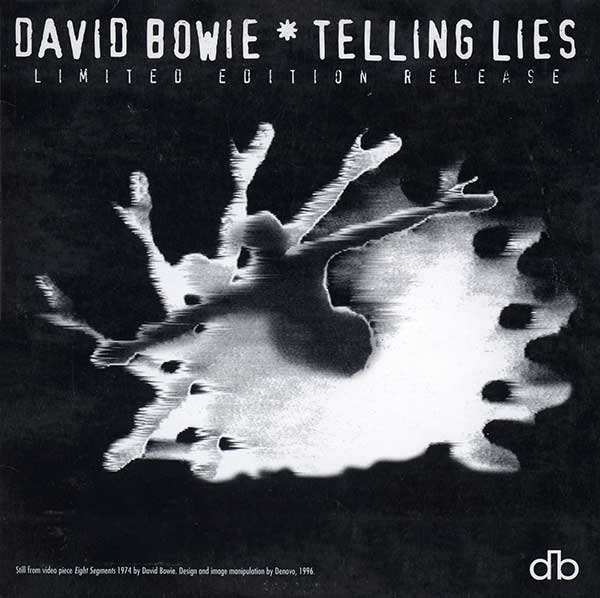 David Bowie - Telling Lies - Black Card Cover - EU CD Single - Front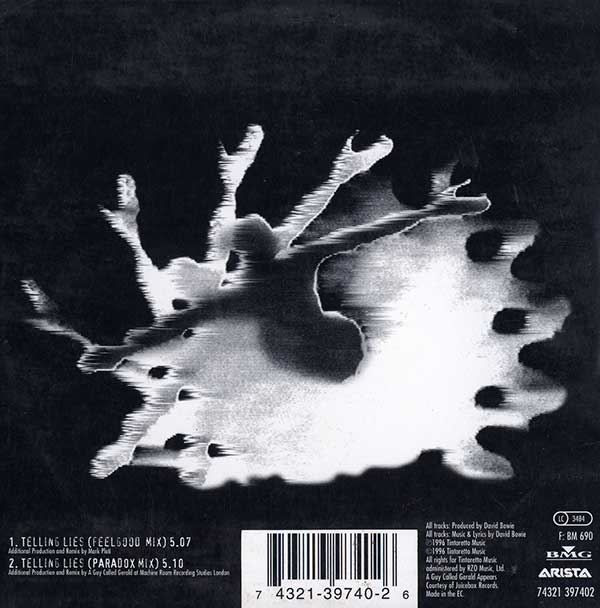 David Bowie - Telling Lies - Black Card Cover - EU CD Single - Back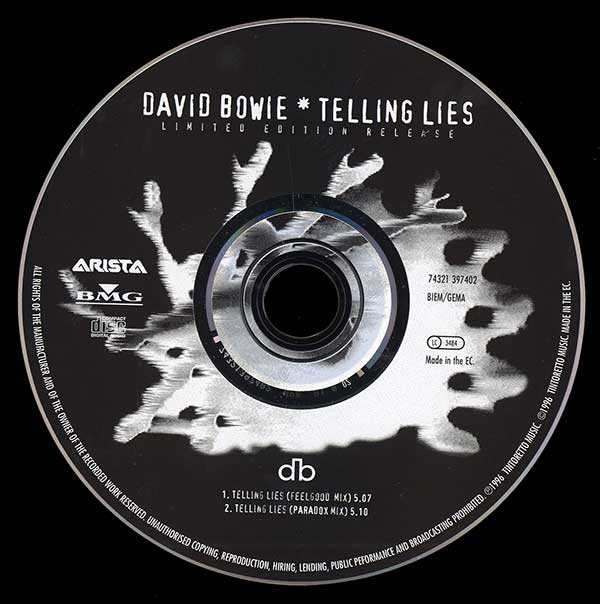 David Bowie - Telling Lies - Black Card Cover - EU CD Single - CD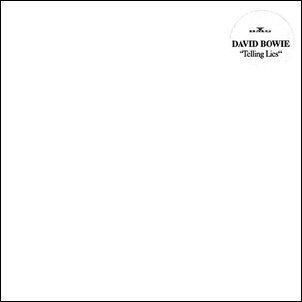 David Bowie - Telling Lies - UK Promo 2x12" Singles - Front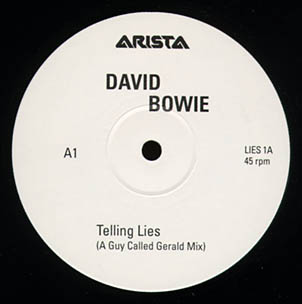 David Bowie - Telling Lies - UK Promo 2x12" Singles - Side A1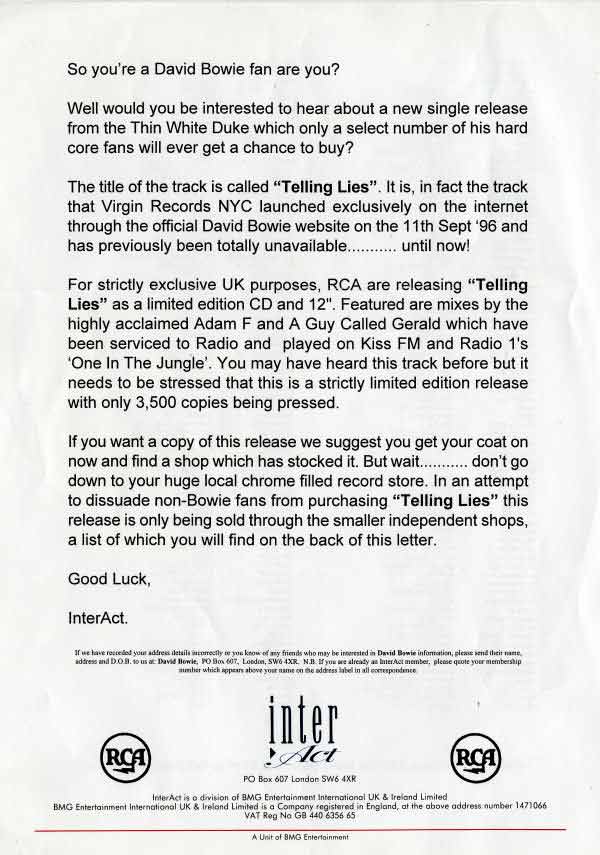 David Bowie - Telling Lies - Blue Cover - UK 12" Single - Press Release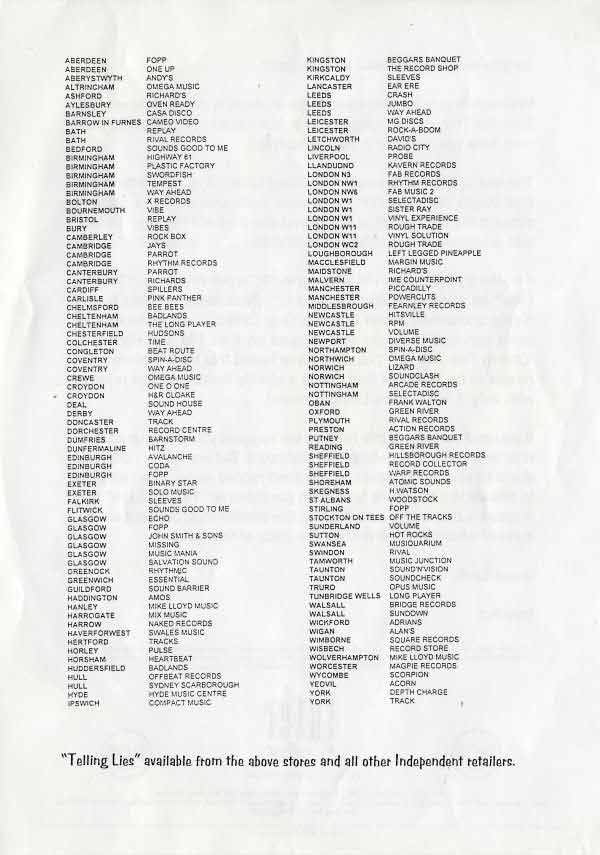 David Bowie - Telling Lies - Blue Cover - UK 12" Single - Press Release - Back