Purchase digitally from
iTunes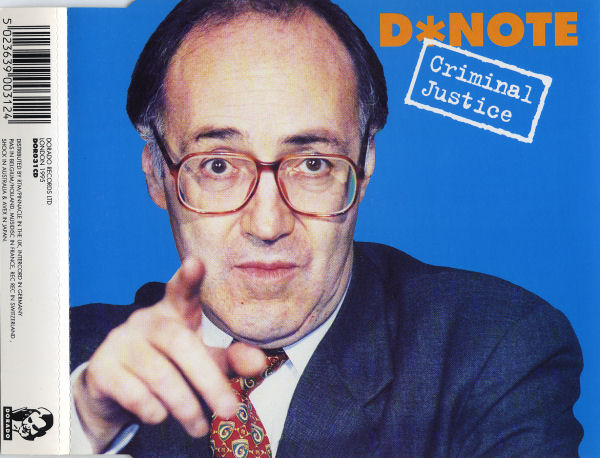 D*Note - Criminal Justice
UK 1995 12" Single; Dorado: DOR 031 [Promo]
UK 1995 12" Single; Dorado: DOR 031
UK 1995 CD Single; Dorado: DOR 031CD

5:11 Criminal Justice (A Guy Called Gerald Remix)

Released:

16th January 1995.
Credits:
Music by Matt Wienevski, Lyrics by Navigator.
Additional research by Ellis Freeman / Matt Wienevski.
Produced by Matt Wienevski / Charlie Lexton, Engineered by Jono Podmore.
Navigator - vocals, Dee Major - vocals, Gary Crosby - acoustic bass
Matt Wienevski - wah sax, Charlie Lexton - additional programming.
Remixed by A Guy Called Gerald.
Press Release 1:
D*NOTE
CRIMINAL JUSTICE
RELEASE DATE:- 16TH JAN 95
DISTRIBUTOR:- DEMIX/PINN
LABEL:- DORADO
SALES FORCE:-DEMIX/RTM

Format Cat. No. Barcode Dealer Price
12" DOR031 5023639003162 £2.50
CD DOR031 CD 5023639003124 £2.56

Sales Points/Marketing
• Press ads in Vox, The Face, The Wire, Touch and Dazed and Confused
▪ Features have already been written and will appear in January issues of Mixmag, Generator, NME, MM and Echoes
▪ Heavy radio play on "Iniquity Worker" on Kiss, Choice and the pirates (plus some play on Radio One, assures that "Criminal Justice" of even more exposure with its radio edit and CD release.
• A N appearance on the Word is lined up but not confirmed yet
• Criminal Justice is remixed by A GUY CALLED GERALD, his mix will be featured on the finished 12" and promoed before Christmas.

Background
The second single and title track from the forthcoming album

D*Note are the first band to successfully fuse jazz and jungle. "Iniquity Worker" featured a Roni Size remix and made Single of the week in NME.

"Criminal Justice" sees D*Note return to their political roots. However, the lyrical content of the tracks is not just about the much hated act, more a comment on how British justice itself seems to be the real criminal. The track sticks to the facts: That Britain now has the highest prison population in Europe (over 50,000), that most judges are white males over the age of sixty, and that black people receive longer sentences for the same crime as their white counterparts. British courts accept uncorroborated evidence and confessions like practically no other court system (certainly not the French or Americans), and now with the police caution we have seen our most ancient right of "innocent until proven guilty" removed. With the recent spate of untenable convictions (The Birmingham Six, the Tottenham Three etc); it seems that British justice is just as bad as the third world courts that western liberals spend so much time attacking. Matt Wienevski and Navigator tell it like it is: that this country has lost its justice and that the act itself is designed to keep a lid on these inequalities.

Musically the track features for the first time on a junglist record, a live acoustic double bass courtesy of Gary Crosby and the live wah sax of D*Note front man Matt Wienevski. Navigator is assisted on vocals by long time D*Note collaborator Dee Major.

Tracklisting
12" VOCAL
INSTRUMENTAL
GUY CALLED GERALD MIX SOLOMON'S DUB

CD AS ABOVE PLUS 7" EDIT
Press Release 2:
D*NOTE "CRIMINAL JUSTICE" A GUY CALLED GERALD REMIX DOR31/CD
RELEASED 16TH JANUARY 1995
Well here it is as promised the Gerald Simpson aka A GUY CALLED GERALD remix of "Criminal Justice" and the slightly slower (!) "Solomon's Dub".

Gerald is one of the most innovative and ground breaking musicians in the country. From writing the legendary "Voodoo Ray" and "Pacific State" in the late eighties to his acclaimed junglist ventures like the 93 album "28 Gun Badboy" and the Detroit inspired jungle of "Finley's Rainbow". Gerald takes D*Note's jazz junglist political commentary and pushes in into the future.

By contrast, "Solomon's Dub" is a much more sedate affair and will placate those of you outraged by D*Note's forays "into the jungle". Surprisingly it is a dub mix of "Solomon's Blade" one of the many slow cuts on D*Note's forthcoming album CRIMINAL JUSTICE. In fact there are only two and a half jungle-ish tracks on the album, so don't panic! The track features the talents of MATT COOPER on piano, GARY CROSBY on acoustic bass, MATT WIENEVSKI on flute and bits of PAMELA ANDERSON's vocals ...well it's a dub isn't it!

"Criminal Justice" the album will be released on 30th Jan 95 followed by XPRESS 2/BALLISTIC BROTHERS mixes of "The Garden of Earthly Delights" released on 27th Feb 95.
Comments:
"'CRIMINAL JUSTICE' IS CURRENTLY BEING REMIXED BY A GUY CALLED GERALD, HIS MIX WILL BE FEATURED ON THE FINISHED 12" AND PROMOTIONAL COPIES OF THAT MIX SHOULD BE WITH YOU BEFORE CHRISTMAS. THAT PROMO WILL ALSO FEATURE A DUB MIX OF 'SOLOMON'S BLADE', SHOWING THE SLOWER MORE FAMILIAR SIDE OF D*NOTE."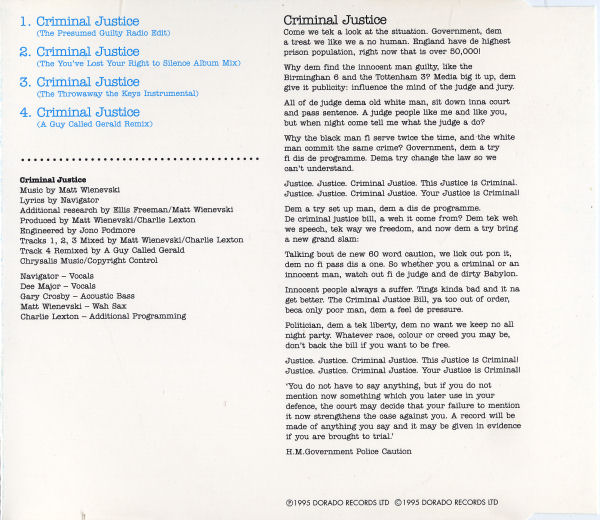 D*Note - Criminal Justice - UK CD Single - Inlay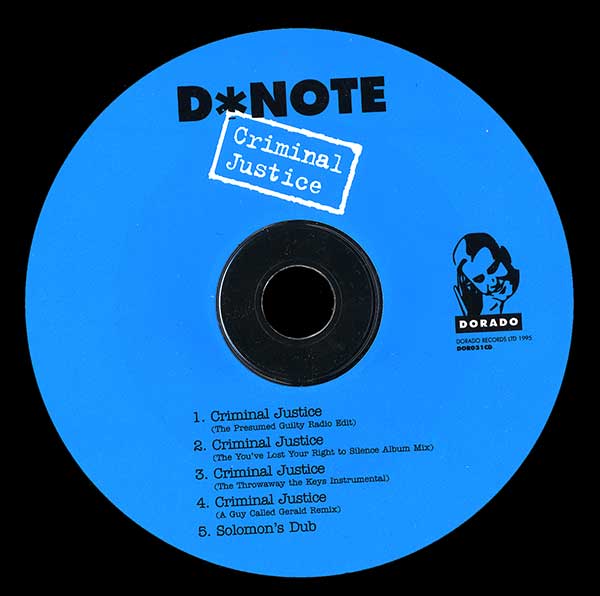 D*Note - Criminal Justice - UK CD Single - CD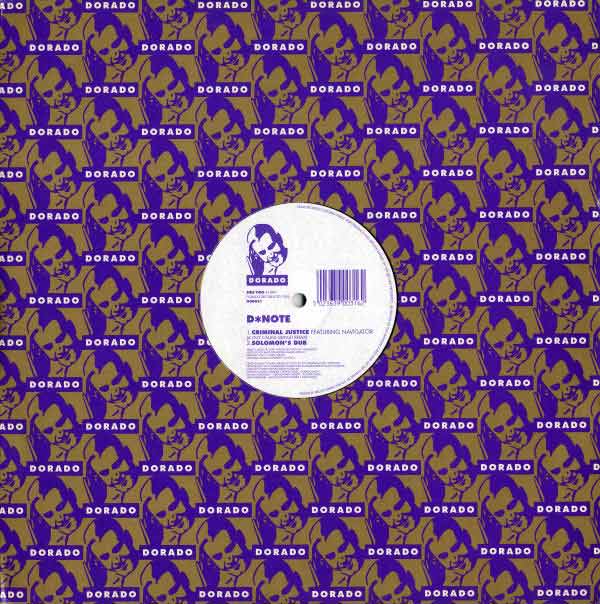 D*Note - Criminal Justice - UK 12" Single - Front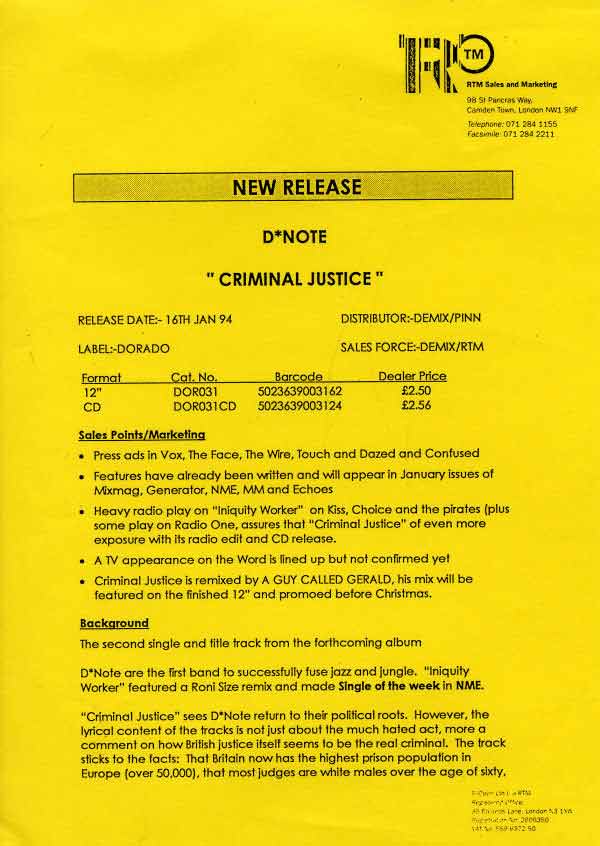 D*Note - Criminal Justice - UK Promo 12" Single - Press Release - Page 1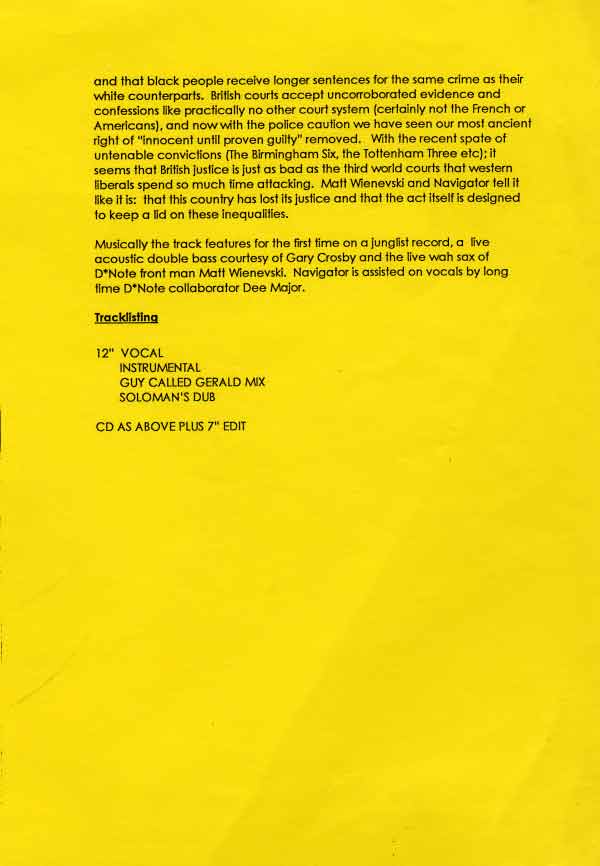 D*Note - Criminal Justice - UK Promo 12" Single - Press Release - Page 2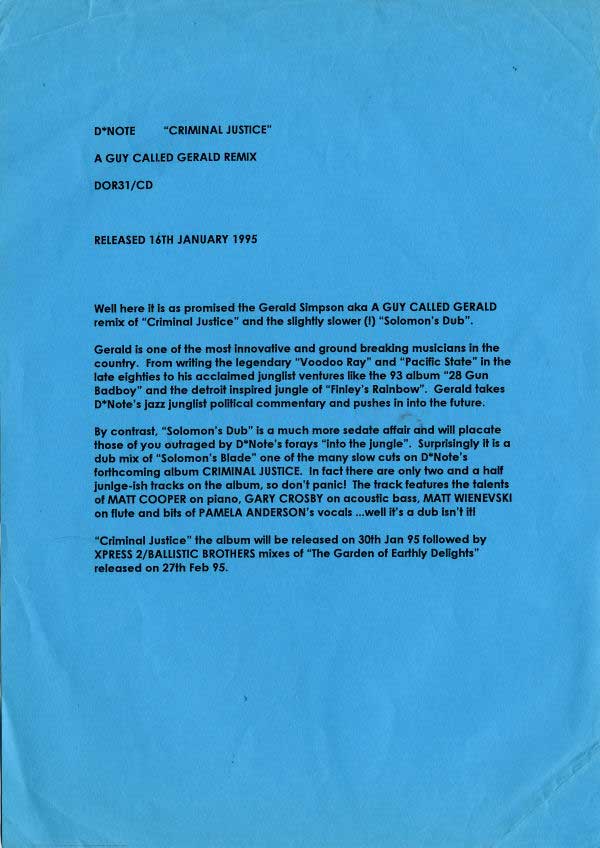 D*Note - Criminal Justice - UK Promo 12" Single - Press Release - Page 3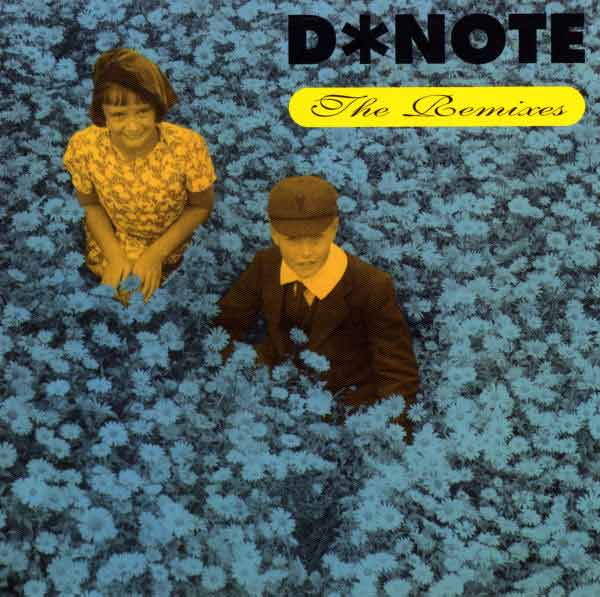 D*Note - The Remixes
US 1995 CD; TVT: TVT 5211-2

5:14 Criminal Justice (A Guy Called Gerald Remix)

Released:

1995.
Credits:
Remix by A Guy Called Gerald.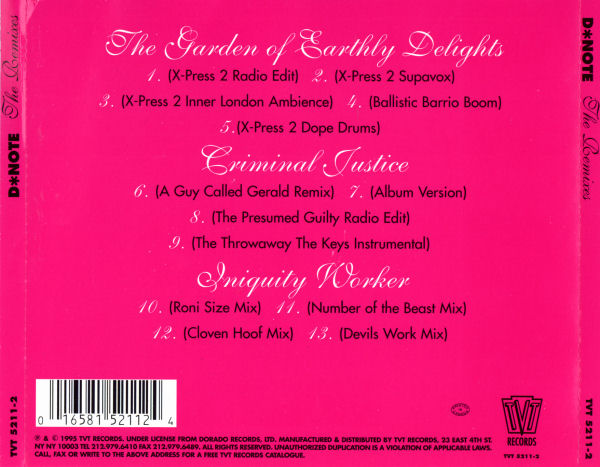 D*Note - The Remixes - US CD - Back
D*Note - The Remixes - US CD - Credits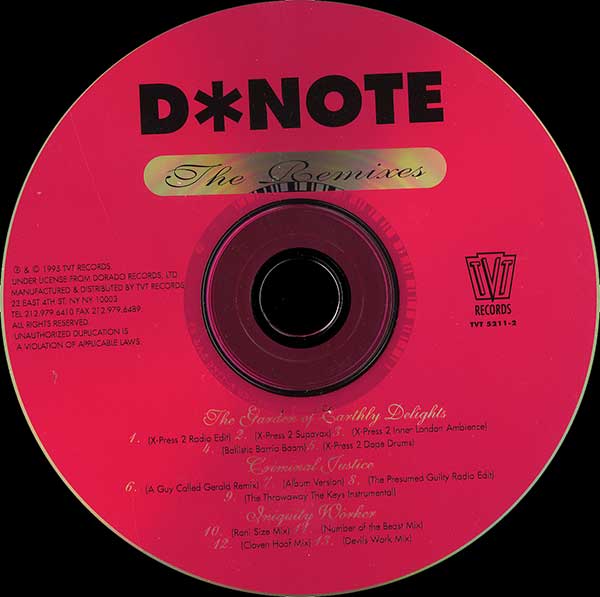 D*Note - The Remixes - US CD - CD