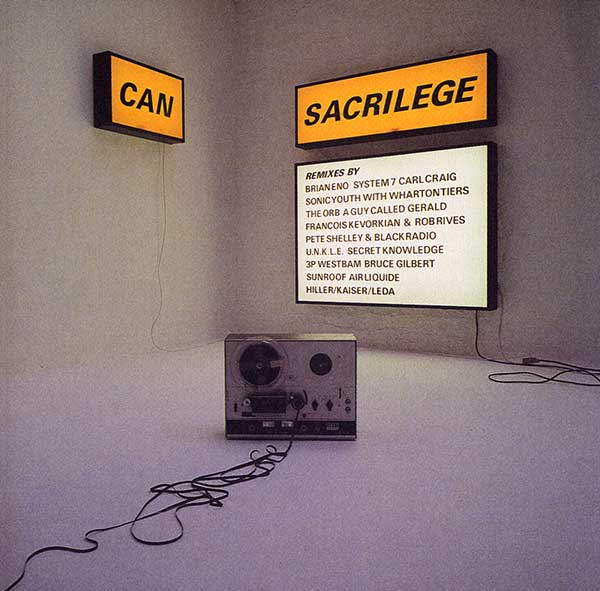 Can - Sacrilege
UK 1997 12" Single; Mute: P Spoon 39 [promo-only 3-track 12"]
UK 1997 3xLP; Mute; LP Spoon 39/40
UK 1997 2xCD; Mute: PSPOONCD 039/40 [Promo]
UK 1997 2xCD; Mute: SPOONCD 039/40
US 1997 2xCD; Mute US: MUTE 9033-2
CA 1997 2xCD; Mute: MUSDJ 10-2 [Promo]
BE 1997 2xCD; PIAS Benelux / Mute: 393.2139.23 / SPOONCD 039/40
FR 1997 2xCD; Mute: 7243 8442862 4
JP 1997 2xCD; Toshiba / EMI: TOCP-50198-9 [also promo]

5:13 Tango Whiskeyman (A Guy Called Gerald Mix)

Released:

12th May 1997.
Credits:
Remixed by A Guy Called Gerald.
Press Release:
Artist: Can
Title: "Sacrilege"
Label: Mute
Release: 12.5.97
Dist: RTM/Disc
Tracklisting:
Al ) "Tango Whiskeyman" A Guy Called Gerald Mix A2) "Unfinished" Hiller/Kaiser/Leda Mix B1) One Blue Bag - Toroid Mix" by Francois Kervorkian and Rob Rives AA1) One Vitamin C" U.N.K.L.E. Mix AA2) "Yoo Doo Right" 3P Mix BB1) One Future Days - blade Runner Mix" - by Carl Craig BB2) "And More" Westbam Mix
You have in your hands "Sacrilege - The Can Remix Album" sampler. This project brings together a diverse cross section of collaborators to apply their talents in remodelling the back catalogue of one of the most remarkable and influential groups that have ever existed (check their "Tago Mago" masterpiece from 1970). The far reaching effects of Can's music can be gauged by those involved in the remixes - techno, hip hop, pop rock and Da Da-ism all come into the frame courtesy of acclaimed Can-addicts as disparate as Sonic Youth, Kris Needs, Brian Eno, The Orb, System 7 and Air Liquide. Some of the remixes make the original unrecognisable and 'remix' is less apt than `reinvention' with the tracks running in parallel to the weird journeys Can sometimes took. This sampler, especially designed for you the DJ, encompasses a variety of styles so check each track carefully. We would like to highlight a few of the tracks; the Francois Kervorkian and Rob Rives remix of "Blue Bag" is absolutely stunning, proving once again the Francois is always at the cutting edge of dance music.... an excellent breakbeat exploration; James Lavelle's U.N.K.L.E. take on "Vitamin C" and crank up volume.... cool for beat heads everywhere; Carl Craig produces another slice of understated beauty out of the elements of "Future Days" and Hiller/Kaiser/Leda turn "Unfinished" into a track perfect for a wide range of drum'n'bass floors
A serious album that deserves attention. Reactions and charts as soon as possible please!!
Comments:.
There is a superb interview with Irmin Schmid, where he talks about a possible collaboration with Gerald:
"One of my favourites of "Sacrilege" is the incredible remixed of "Tango Whiskeyman" performed by A Guy Called Gerald...
Yeah... mine too...one of my favourites....
I think you're preparing a pop opera, working together with A Guy Called Gerald ?
Well, this is not true. I am writing this opera called "Gormenghast" this is one thing, I am sitting here in my studio and ten metres away from me there is Jano behind the desk and he's working on the electronics of the opera. This is one thing and the other thing is that when I heard the work he did for this record by A Guy Called Gerald I just said to people that I'd like to work one day something with him but it doesn't need to be necessarily must be on the opera. I'm just interested to work with him maybe parts of the opera. I haven't talked to him yet, just I said that one day so now everybody writes about it. It's just he's one of those who structures and how he builds rhythm and how it sounds interests me a lot and I think there's much in common about musical thinking."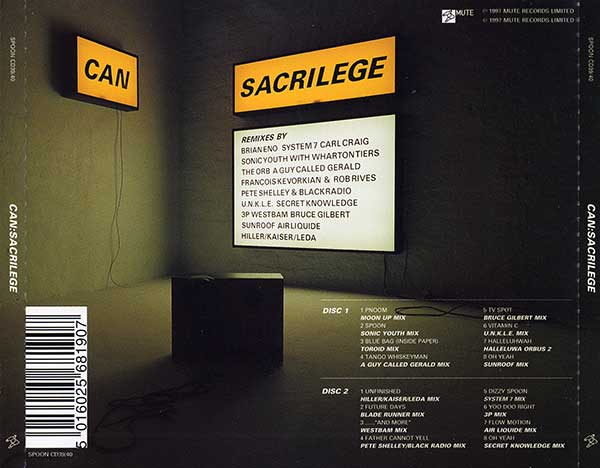 Can - Sacrilege - UK 2xCD - Back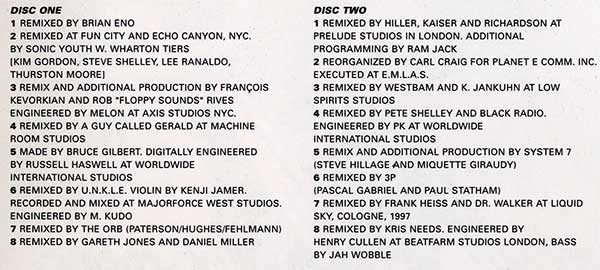 Can - Sacrilege - UK 2xCD - Credits

Can - Sacrilege - UK 2xCD - Gerald Quote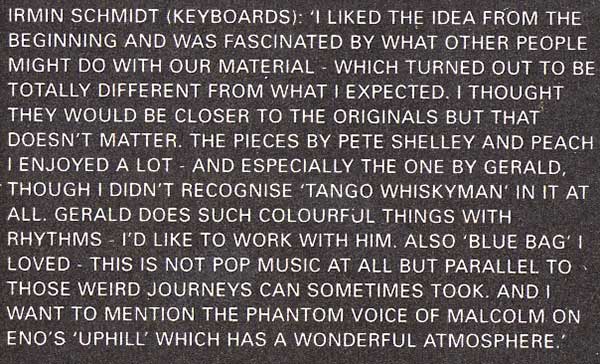 Can - Sacrilege - UK 2xCD - Irmin Schmidt Quote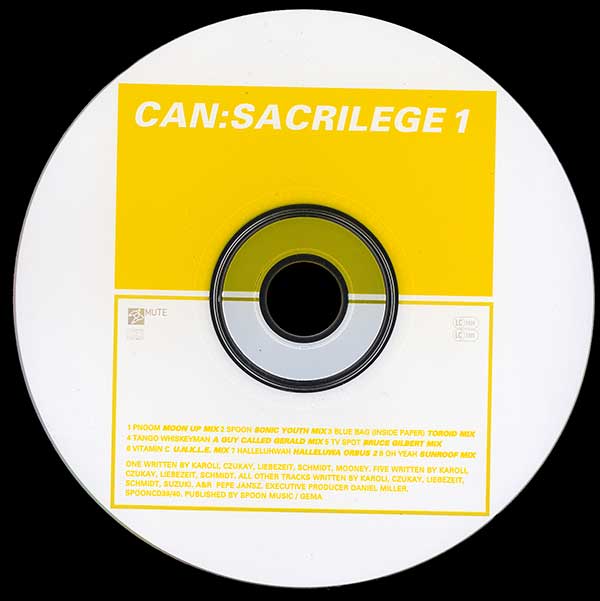 Can - Sacrilege - UK 2xCD - CD 1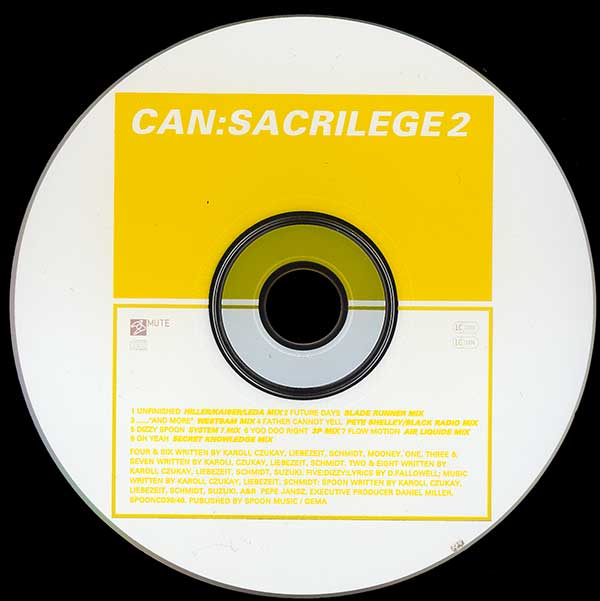 Can - Sacrilege - UK 2xCD - CD 2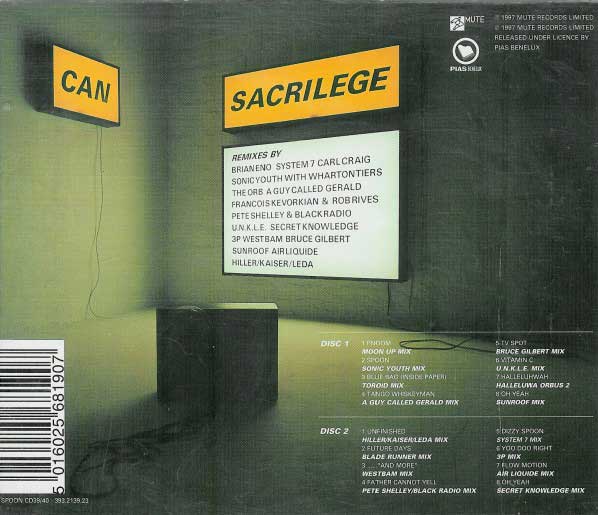 Can - Sacrilege - Belgian 2xCD - Back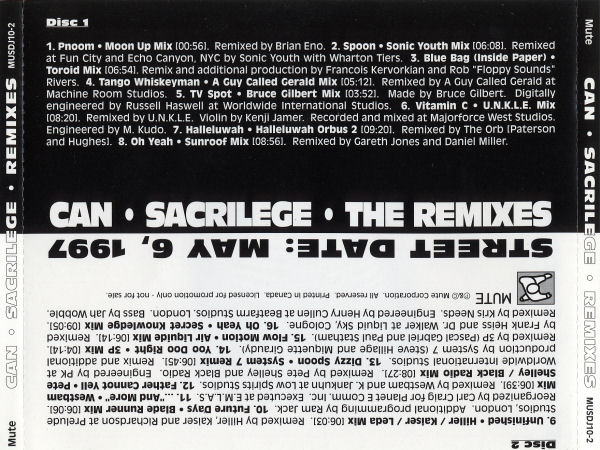 Can - Sacrilege - Canadian Promo 2xCD - Back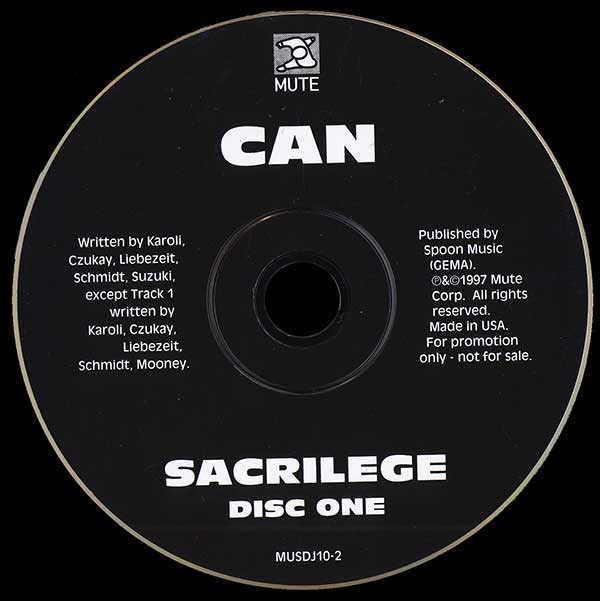 Can - Sacrilege - Canadian Promo 2xCD - CD 1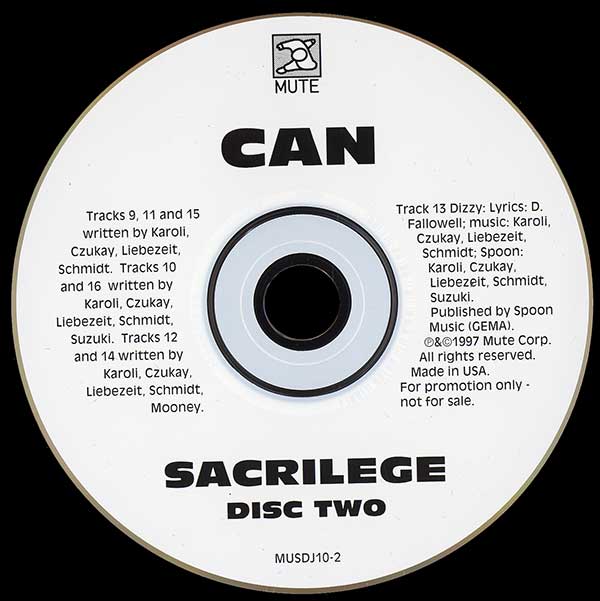 Can - Sacrilege - Canadian Promo 2xCD - CD 2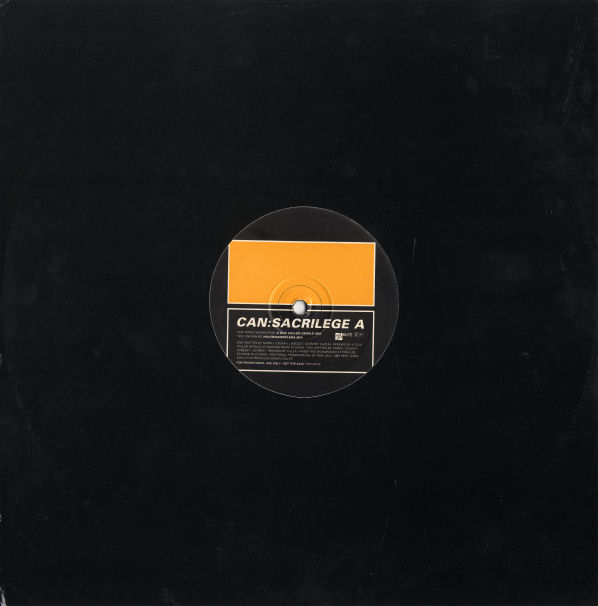 Can - Sacrilege - UK Promo 12" Single - Front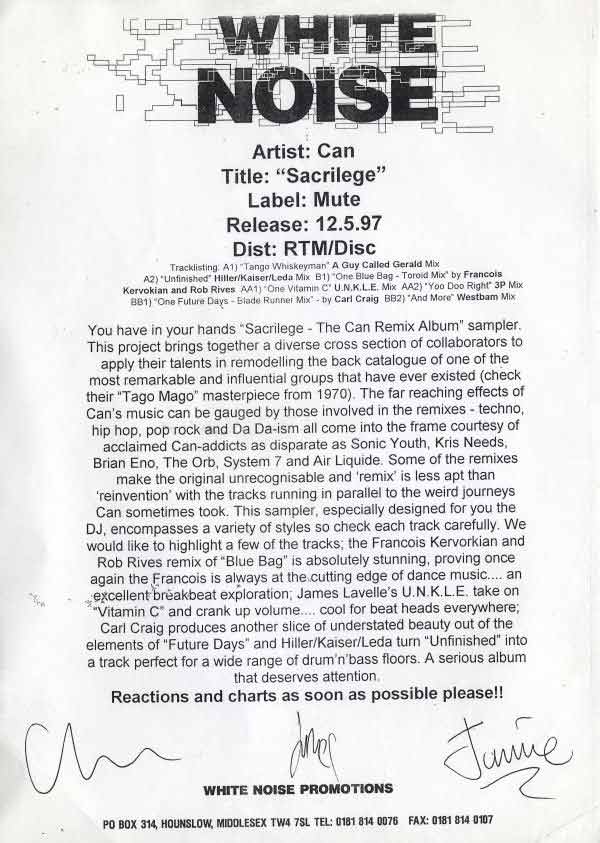 Can - Sacrilege - UK Promo 12" Single - Press Release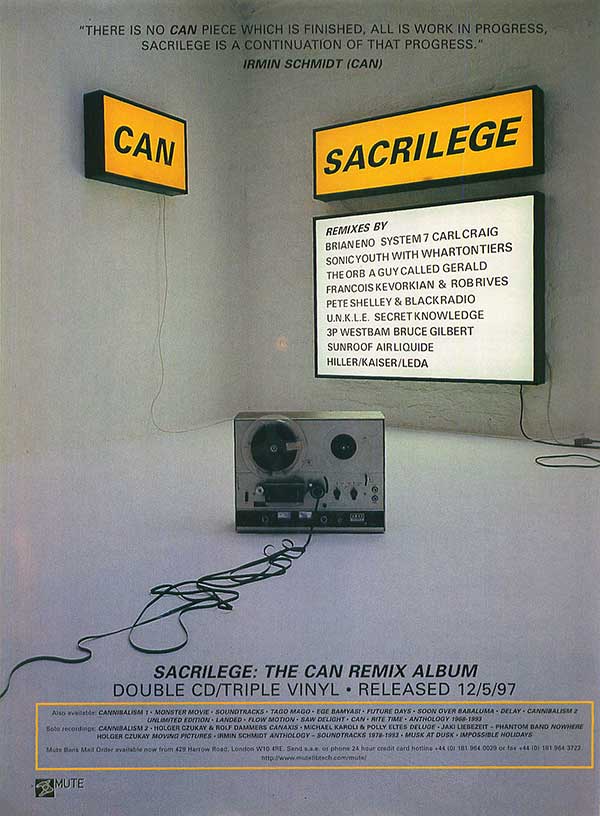 Can - Sacrilege - UK Advert - Muzik Magazine (06/1997)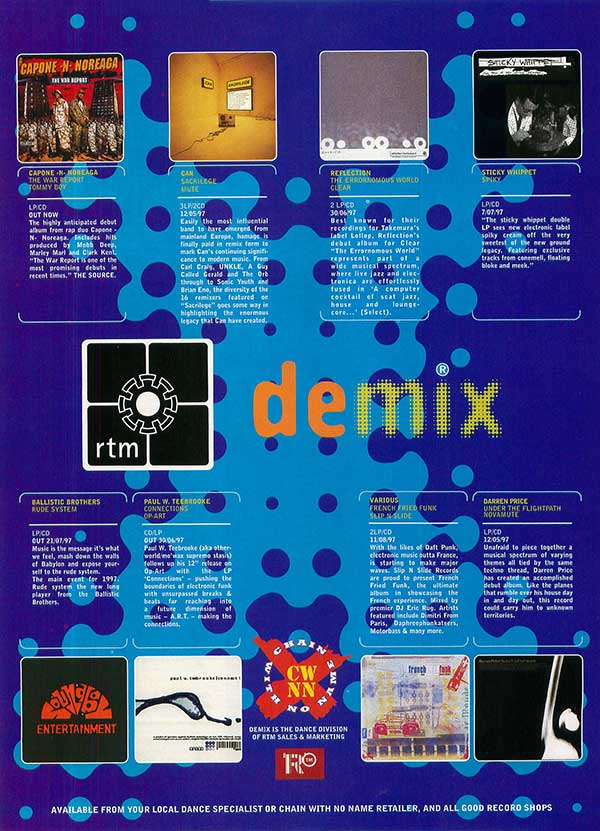 Can - Sacrilege - UK Advert - Muzik Magazine (09/1997)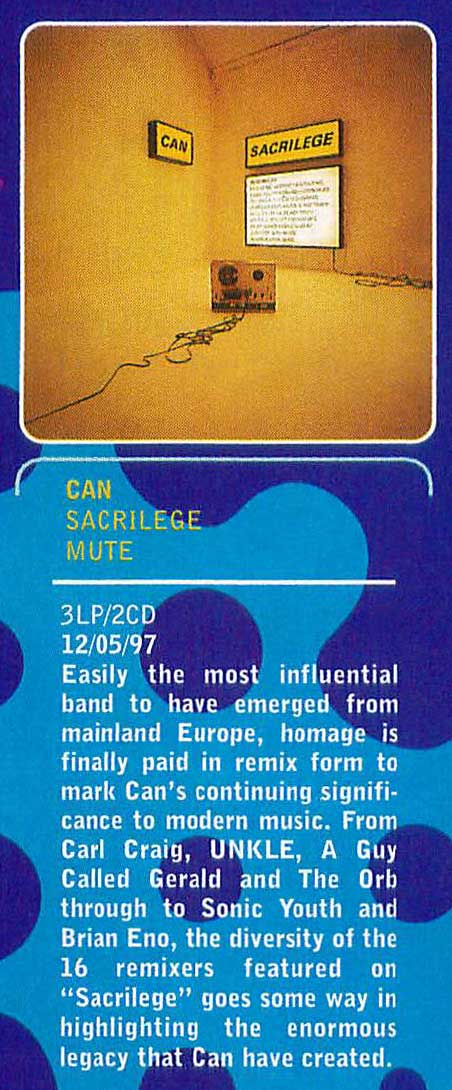 Can - Sacrilege - UK Advert - Muzik Magazine (09/1997)