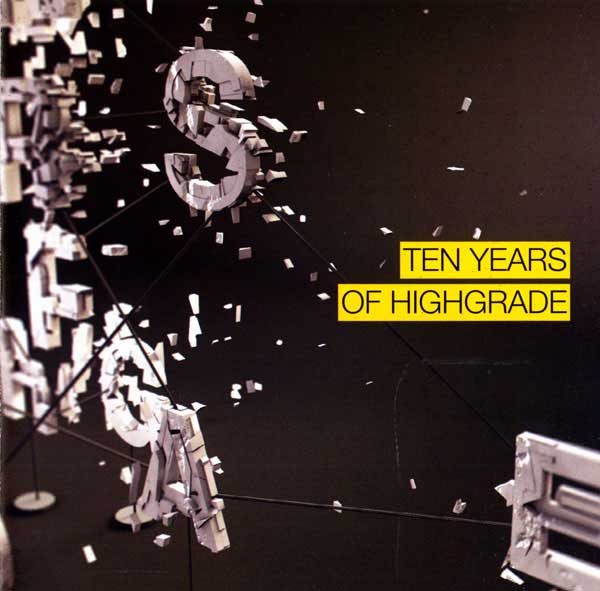 Various - Ten Years Of Highgrade
DE 2010 2xCD; Highgrade Records: HIGHGRADE 075CD

7:16 Benno Blome - Rum Bum Box (featuring A Guy Called Gerald)

Released:

18th May 2010
Credits:
Written and Produced by Benno Blome at Blomatik Studio, Berlin.
Vox by A Guy Called Gerald & Maren Woitek.
Waterphone played by Daniel Drierer.
Comments:
A decade since its first release, Highgrade Records will release a two-disc collection of new tracks later this spring.

Started by former E-Werk resident Tom Clark at the turn of the millenium, Highgrade has put out more than 100 releases since its inception. Ten Years of Highgrade will feature new tracks by many of the artists closest to the label, including André Galluzzi, Marc Antona, Format B and Guido Schneider. If you're in Berlin, most of the artists featured in the tracklist will appear at the compilation's CD release party, scheduled for May 15th 2010 at Berghain and Panoramabar.

Tracklist
CD 1
01. Prompt - Ohm
02. Jens Bond and Tigerskin - Tiefschnee
03. Homm & Popviciu - Cosimo
04. Dirty Boots - Show Me
05. Marcus Sur - The Cat On My Chest
06. Format B - Like a Techmachine (2010 Edit)
07. Todd Bodine - Cold Place (2010 Edit)
08. Ludwig Coenen - Reservat
09. Demir & Seymen - It Ain't
10. Guido Schneider & Andre Galluzzi - Baccara

CD 2
01. James Flavour - Bold Eagle
02. Simon Beeston - Horn Fed
03. Tom Clark - Harry the Moustache
04. Benno Blome - Rum Bum
05. Dale & Daniel Dreier - Mutanga
06. Jackspot - Outcelling
07. Marc Antona - Omega
08. Heinrichs & Hirtenfellner - Feel Me
09. Asem Shama - Killer
10. Adriano Filippucci - Japanese Thea

Highgrade Records will release Ten Years of Highgrade on May 10th, 2010.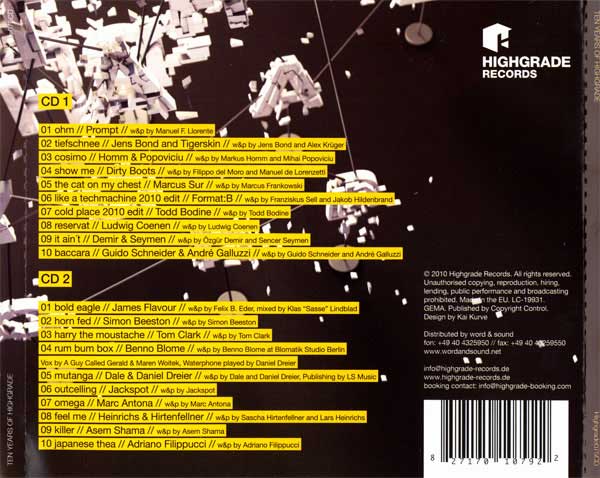 Various - Ten Years Of Highgrade - German 2xCD - Back