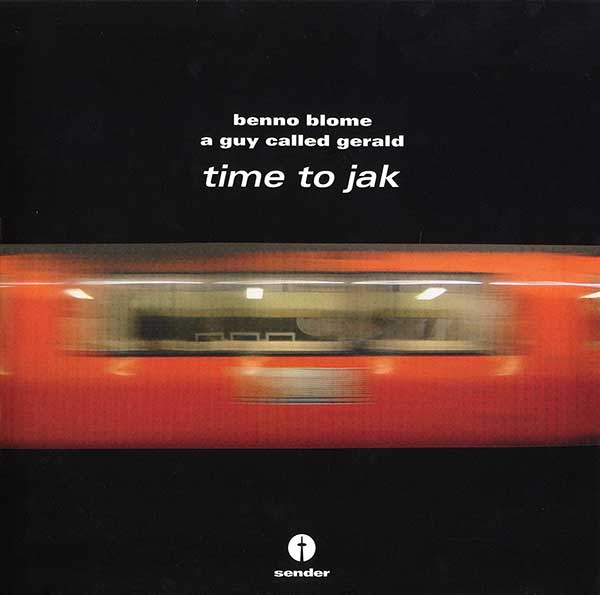 A Guy Called Gerald / Benno Blome - Time To Jak
DE 2006 12"; Sender Records: SEND058 [W/L Promo with Press Release]
DE 2006 12"; Sender Records: SENDER 058
DE 2006 MP3; Sender Records: SEND58 [Beatport]

6:50 Time To Jak
(b/w Benno Blome version of "Time To Jak")

Released:
MP3: 25th May 2006
German Availability of 12": 12th June 2006.
UK Availability of 12": 26th June 2006
Credits:
Published by Nanoplasmic.
Press Release:
Artist: Benno Blome / A Guy Called Gerald
Title: Time To Jak
Label: Sender Records
Cat. No: send058
Format: 12"-Vinyl
Release Date: 12.06.2006
LC: 11543
Barcode: 880319200519
Tracks:
A 45: Benno Blome Time To Jak
B 45: A Guy Called Gerald Time To Jak
Deutsch:
Ein Konzept, zwei Seiten.
Im Spätsommer treffen sich die beiden Wahlberliner A Guy Called Gerald und Benno Blome an der Spree. Ein gemeinsames Projekt soll den Chicago-Klassiker Time to Jack zu neuem Leben erwecken. Gut Neun Monate später ist es nun soweit.
Benno Biomes Version kreiert Time to Jak in einem elektrisierenden Aufbau. Urbane Dichte inszeniert in einem gefühlvollen Auf und Ab. Digitalisierte Augenblicke, melodische Eleganz. Unverkennbar, der Sendertypische Benno Blome-Sound: Dynamisch, Präsent, Hypnotisch. Auf der B-seite entwickelt der seit den achtzigern aktive A Guy Called Gerald eine darke, raumgreifende Klangillusion. Das in die Jetzt-Zeit transformierte Vocal und die rhytmische Gediegenheit zaubern Time to Jak in die Clubs der Welt und Metropolen der Nacht.
Sender 058 konzipiert zwei Seiten einer Idee, verkörpert durch zwei Artists eines Kosmos: Benno Blome und A Guy Called Gerald.

English:
One concept: two sides.
In the late summer A Guy Called Gerald and Benno Blome meet by the Spree. A mutual project is born: to reanimate the classic Chicago track Time To Jack. Around nine months later the time has come.
Benno Biome's version suffuses Time To Jak with an electrifying build up. The track is tightly knit and with an urban feel to it. Digitalised moments melodic elegance, dynamic, tangible, hypnotic unmistakeably Benno Biome's signature Sender sound.
A Guy Called Gerald, himself a producer since the 1980s, develops a dark sound illusion that fills every last corner of space. The revamped vocal brings the track up to date and its rhythmical integrity casts a spell over the world' s clubs and the cities of the night.
Sender 58 presents two sides of one idea, embodied by two individuals: Benno Blome and A Guy Called Gerald.
Comments:
From Boomkat:
""Time to jack" - what a call to attention, a jolt to the brain synapses, here retrieved from its auspicious mid-late-eighties chicago origins. A Guy Called Gerald was of course the man there at the time, running exclusives to an increasingly hectic Haçienda dancefloor, presiding over the epicentre of what proved to be an uncontrollable global explosion. By way of tribute to another inspirational forefather, his rousing original is coolly modified, the bass beefed up for a new generation, the acid mesmeric as ever, lent a fresh dynamic and frankly sounding totally awesome. For the flip welcome Benno Blome, a recent compadre from Gerald's new adoptive home of Berlin, giving the darkness of the original a more contemporary twist for the '06. With Blome you sense less of a line of continuity with the original, but offset against the raw power of the Gerald monster, working very well indeed as an alternative, melodic, elegant, dynamic, tangible and hypnotic . Buy!!"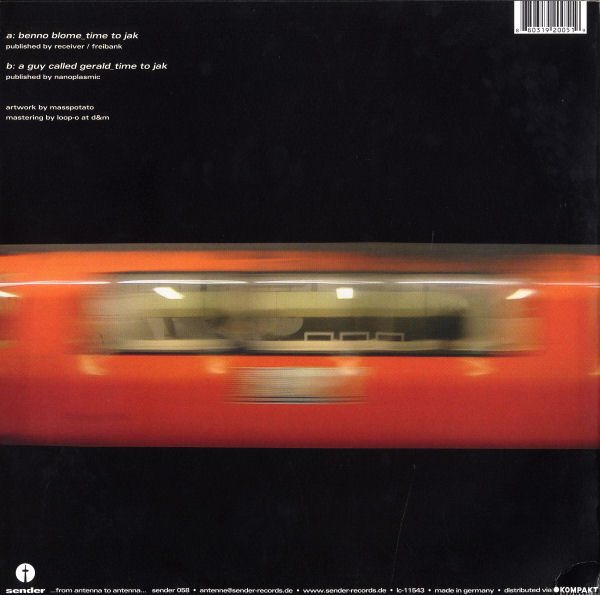 A Guy Called Gerald / Benno Blome - Time To Jak - German 12" Single - Back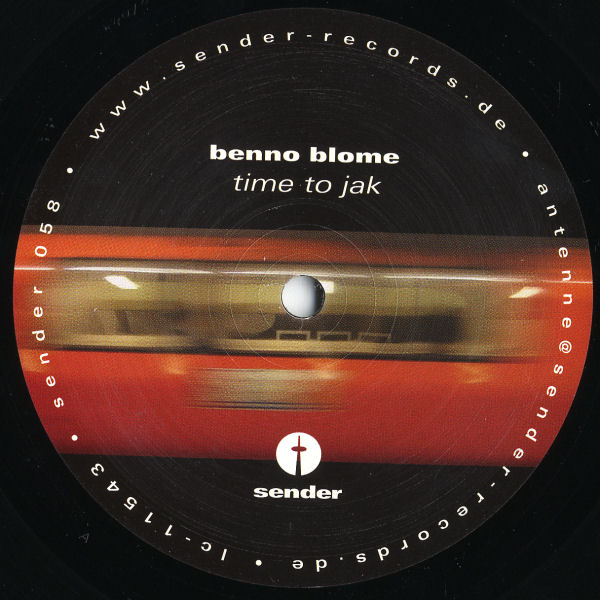 A Guy Called Gerald / Benno Blome - Time To Jak - German 12" Single - Side A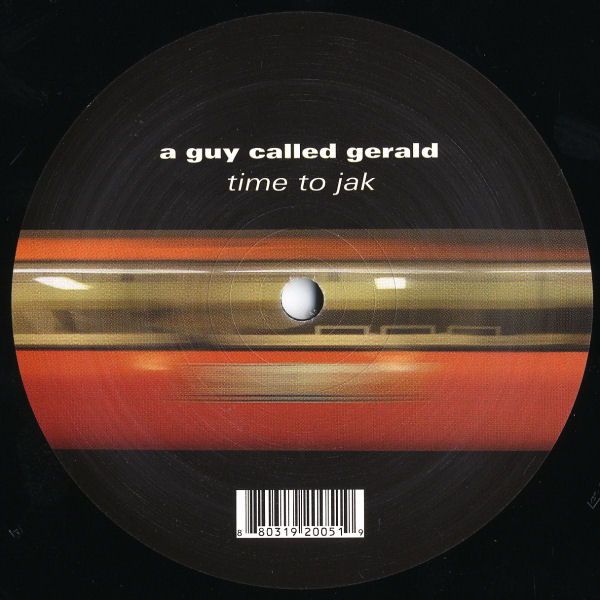 A Guy Called Gerald / Benno Blome - Time To Jak - German 12" Single - Side B

A Guy Called Gerald / Benno Blome - Time To Jak - Beatport Screen Capture
A Guy Called Gerald / Benno Blome - Time To Jak - German Promo 12" Single - Front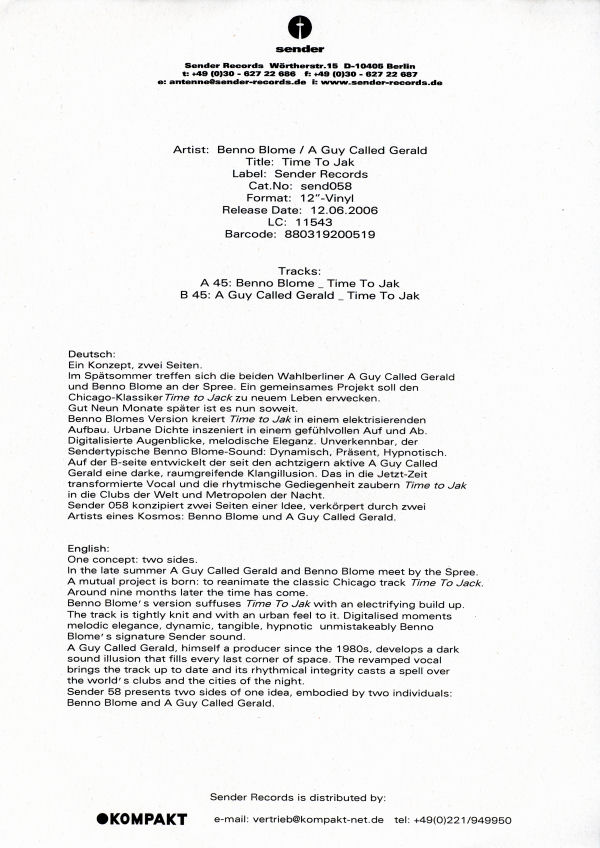 A Guy Called Gerald / Benno Blome - Time To Jak - German Promo 12" Single - Press Release