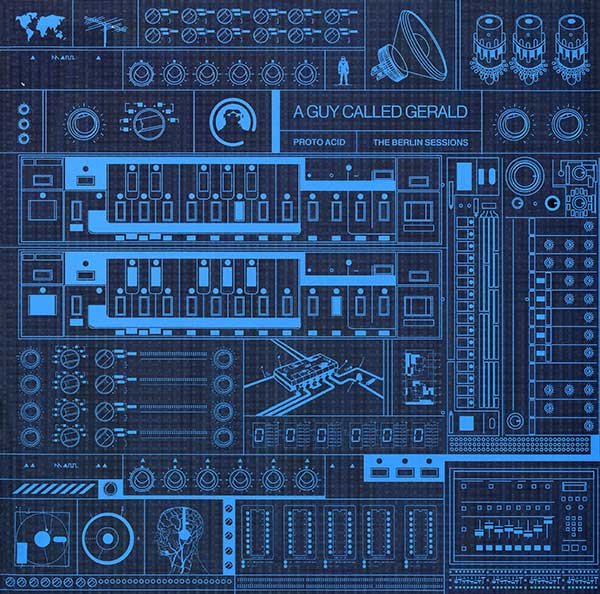 A Guy Called Gerald - Proto Acid: The Berlin Sessions (vinyl album)
DE 2006 LP; Laboratory Instinct: LI011 [White-Label Promo]
DE 2006 LP; Laboratory Instinct: LI011LP

4:10 Droid
3:24 Nasty
2:36 The Slink
1:15 Transition
1:50 Andromeda
3:25 Skitzoid
4:41 Night Flight
2:08 Scaffolding
2:21 Bass-O-Tran
Released:
12th August 2006.
Credits:
Written and produced by A Guy Called Gerald at the Diehold Studios, 11th February 2006.
Mastered by Rashad Becker at Dubplates & Mastering Berlin.
Published by Nanoplasmic under worldwide exclusive license courtesy of Sugoi Recordings.
Design by as1@as1projects.com (https://www.as1projects.com/)
Press Release:
Earlier this year, A Guy Called Gerald (Gerald Simpson) made his Laboratory Instinct debut with a 'drop-tech infusion' mix of Dell & Fl'gel's Superstructure that appeared on the duo's Study For A Skyscraper EP. Now the British acid house pioneer and drum'n'bass legend issues his own superb full-length on the German imprint, the appropriately-titled Proto Acid The Berlin Sessions. Having literally influenced generations of music-makers with an incredible discography that's grown incrementally deeper since the '80s, the Manchester UK native and now Berlin resident executes this infectious 71-minute jam with a masterful meticulousness.

Drenching Detroit-styled techno into sparkling electro, the set, recorded live in one session using two laptops and a DJ mixer at Gerald's Diehold Studio on February 11th, 2006, flows with a relaxed ease. With one exception ('Auto Rebuild,' the third track, is a remake of 1990's 'Automanikk'), the album's 24 raw, club-oriented tracks are all new and were created over the last year in Berlin. The collection departs from the style of his last full-length, To All Things What They Need, in many ways, the most obvious being the absence of singing. Asked why he decided to make Proto Acid The Berlin Sessions wholly instrumental, Simpson doesn't mince words. 'On my last two albums, I felt pressured to include vocals,' he replies. 'Nowadays, I feel singers should be put on a bale of hay with a piece of straw hanging out of their mouths while playing acoustic guitar - keeping it real, if you know what I mean. I want to make music for clubs and sometimes you just have to get down and dirty into the machines and, to take it there, you can't hold anyone's hand. Some things just don't need a vocal. What I'm trying to do is keep myself entertained as well as give the punters something new.'

Asked to describe the album's sound, Simpson says, 'To me it's proto acid; it's how I feel house/techno music would have sounded if the whole rave thing hadn't happened in England. When I was younger, I would go to soul and funk clubs and you could easily mix a techno/house track into your set without spoiling the environment. Could you imagine playing a techno track at an r'n'b club today? Things have splintered and fragmented and floated so far apart that funk seems to have dropped through the cracks. I'm one of those preserved creatures that basically loves to use genres as a palette. So when I say proto acid I'm saying this stuff has direct lineage to Chicago and Detroit in the mid-to-late 80s.'

Don't think that, for Simpson, acid's definition is limited to something as obvious as the 303 either. 'I find it really interesting how the TB303 has come to be fetishised as an acid machine,' he says. 'For me, acid was all about the tweaking of synths and riding a groove, you know what I mean? Like, before the masses thought the Transistor Bass machine was a special tool for doing acid house music, I was already bored with it and had moved on to tweaking envelopes on other Roland machinery, so I never really possessed that value for the 303 like everybody else did. I feel like I followed my own path and was inspired by what was going on in Detroit and Chicago but always did my own thing. To me, the new album is acid and acid's a part of everything I do.'

On the disc itself, Simpson doesn't waste a moment but immediately invigorates the set with the pumping tribal groove of 'Marching Powder' before moving on to the steely funk-throb of 'The Strip.' The mix's strutting electro strain makes its first appearance in 'Auto Rebuild' and dominates thereafter, though its presence is subtly modulated from one cut to the next, at one moment oozing a house vibe and the next techno. While differences distinguish one track from the next (though Simpson avows that his influences are more machines than particular artists, a seemingly Drexciyan influence emerges in 'Droid' and the dark synth-driven 'Feel the Heat' while dub rears its head in 'Xray' and 'Bass-o-train'), there's clearly a unified feel to the album. 'Skitzoid' casts a mechano spell, 'Night Flight' breezily rocks, and the jacking cut 'Voltar' broils feverishly for almost eight minutes. Bringing the mix to a chilled close, 'Sweet You' floats in a billowing haze of jazzy pianos and locomotive drum brushes before vaporizing in a cloud of cymbal accents.

At this stage in his career, one might assume that Simpson has covered every base imaginable, but apparently that's not so. Referring to the new release, he says, 'It's the culmination of a dream I've had since I started making music, and that's to take the studio into the club; this album is snapshot of those possibilities.'
Press release taken from ePM website.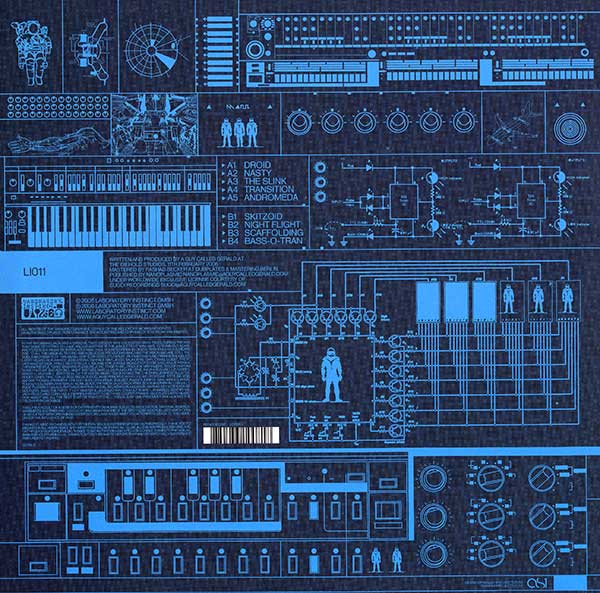 A Guy Called Gerald - Proto Acid: The Berlin Sessions - German LP - Back;

A Guy Called Gerald - Proto Acid: The Berlin Sessions - German LP - Credits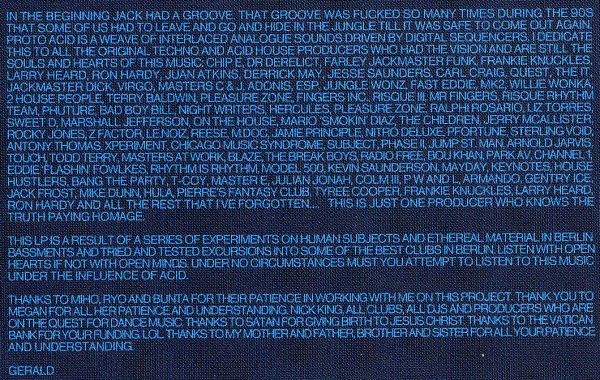 A Guy Called Gerald - Proto Acid: The Berlin Sessions - German LP - Thanks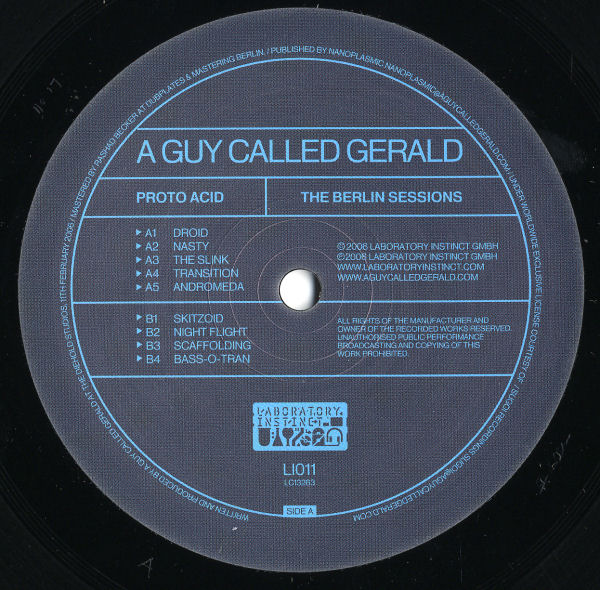 A Guy Called Gerald - Proto Acid: The Berlin Sessions - German LP - Side A
A Guy Called Gerald - Proto Acid: The Berlin Sessions - German LP - Side B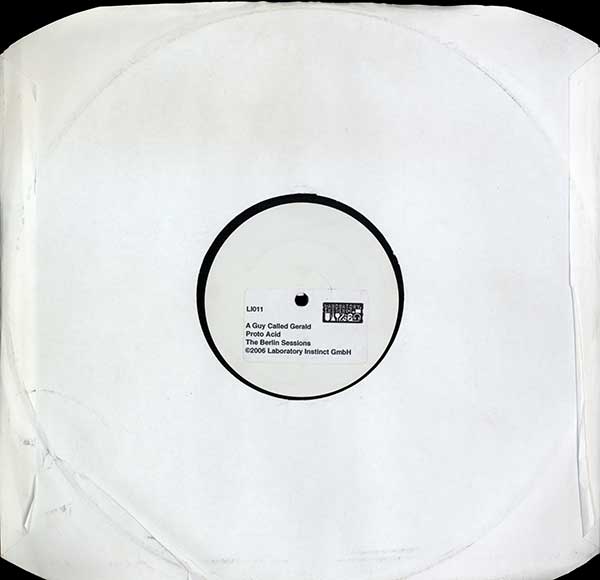 A Guy Called Gerald - Proto Acid: The Berlin Sessions - German White-Label Promo - Front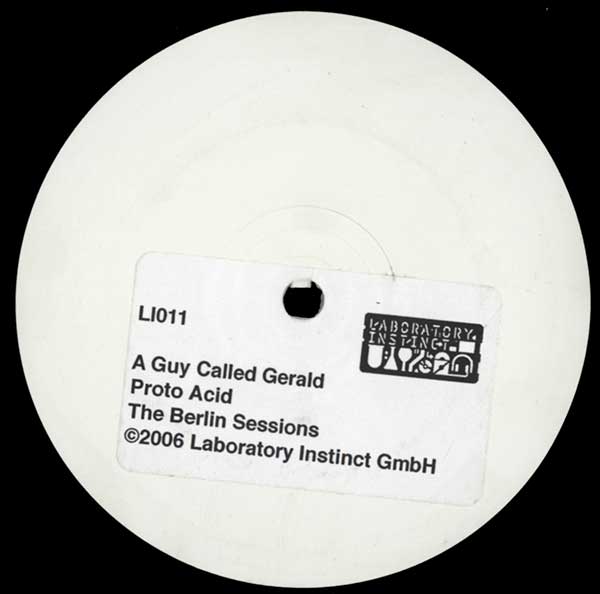 A Guy Called Gerald - Proto Acid: The Berlin Sessions - German White-Label Promo LP - Side A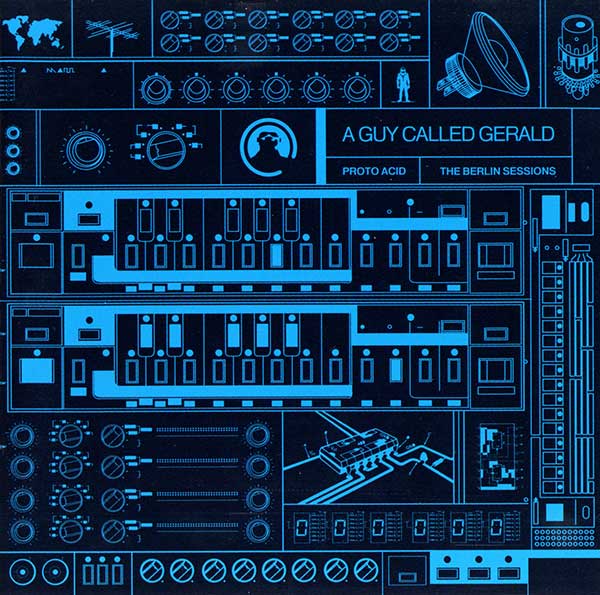 A Guy Called Gerald - Proto Acid: The Berlin Sessions (CD album)
DE 2006 CD; Laboratory Instinct: LI011CD [Promo in plastic wallet]
DE 2006 CD; Laboratory Instinct: LI011CD
JP 2010 CD; Octave Music / Laboratory Instinct: OTLCD 1355 / LI011CD [with OBI]

2:27 Marching Powder
1:24 The Strip
2:20 Auto Rebuild
1:14 Space 1999
4:10 Droid
3:24 Nasty
2:36 The Slink
1:15 Transition
1:50 Andromeda
4:37 Monday
1:21 Clock
2:42 Downstroke
2:50 Bumpt
2:42 Plaything
3:26 Merlot Brougham
2:57 Xray
1:50 Feel The Heat
3:25 Skitzoid
4:41 Night Flight
2:08 Scaffolding
2:21 Bass-O-Tran
2:45 Robogroover
7:33 Voltar
5:15 Sweet You
Released:
Promo released: July 2006.
CD released: 12th August 2006.
Japanese CD released: 17 Apr 2010 (actually October 2010 - it was late!).
Credits:
Written and produced by A Guy Called Gerald at the Diehold Studios, 11th February 2006.
Mastered by Rashad Becker at Dubplates & Mastering Berlin.
Published by Nanoplasmic under worldwide exclusive license courtesy of Sugoi Recordings.
Design by as1@as1projects.com (https://www.as1projects.com/)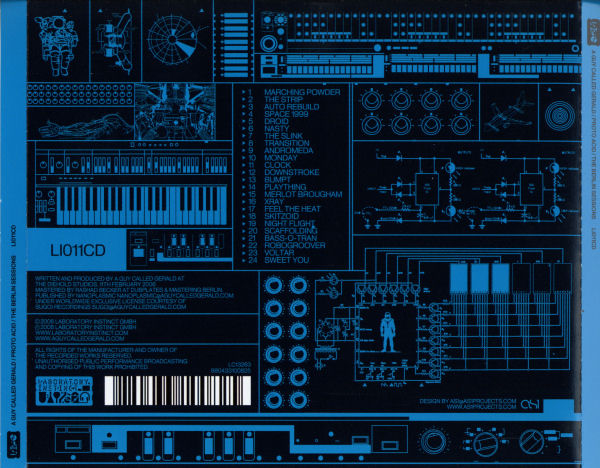 A Guy Called Gerald - Proto Acid: The Berlin Sessions - German CD - Back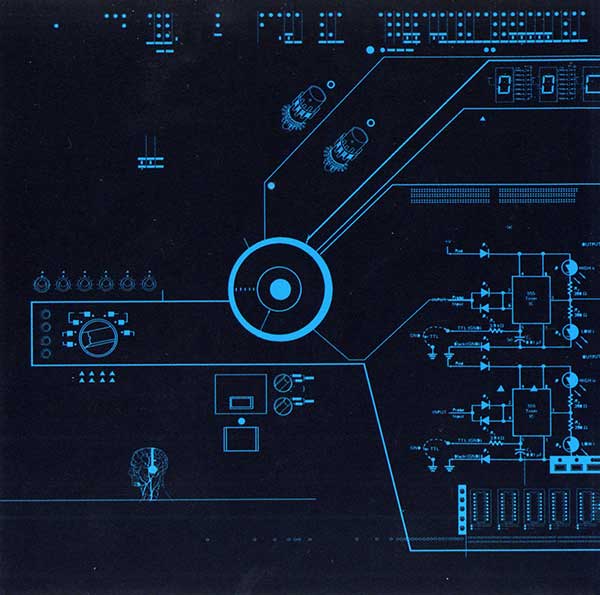 A Guy Called Gerald - Proto Acid: The Berlin Sessions - German CD - Inner Sleeve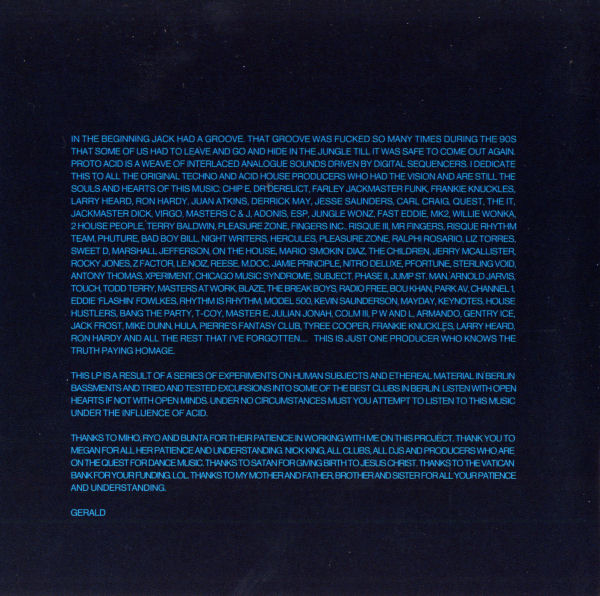 A Guy Called Gerald - Proto Acid: The Berlin Sessions - German CD - Inner Sleeve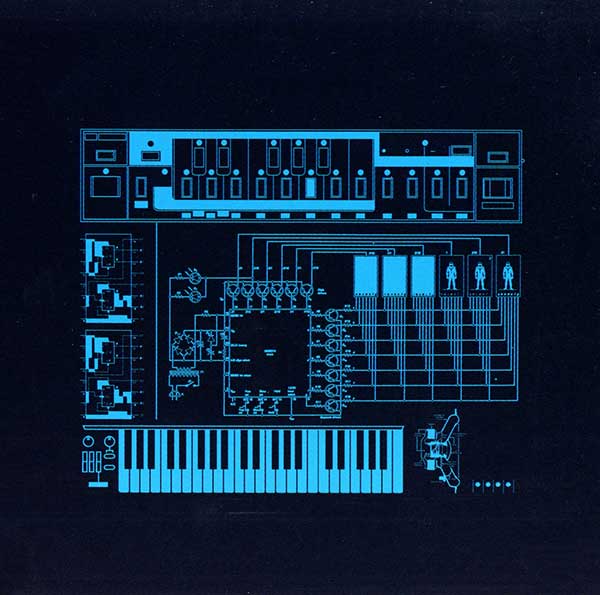 A Guy Called Gerald - Proto Acid: The Berlin Sessions - German CD - Inner Sleeve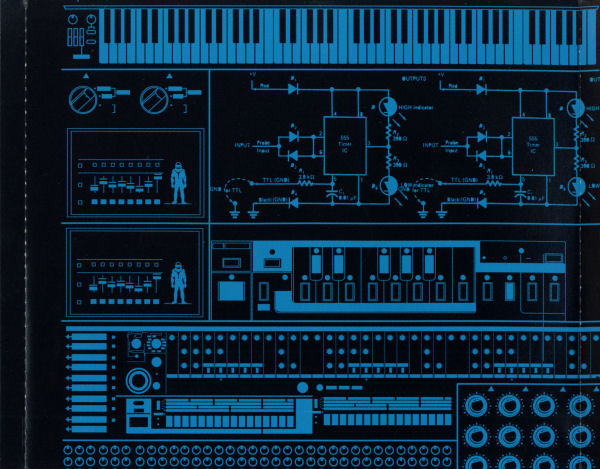 A Guy Called Gerald - Proto Acid: The Berlin Sessions - German CD - Inner tray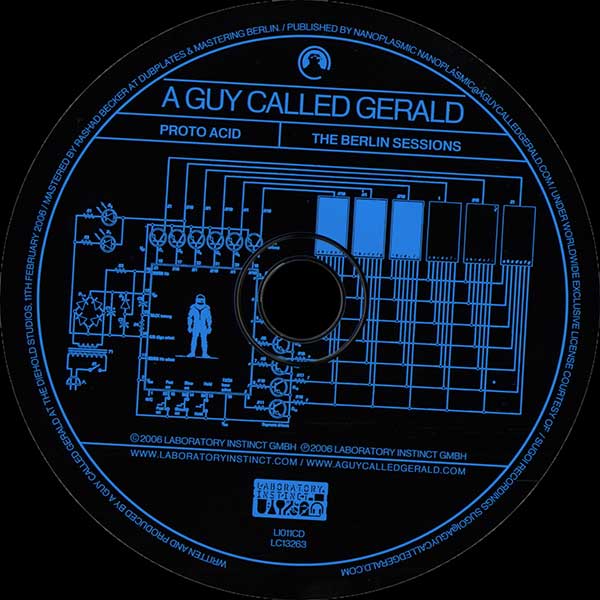 A Guy Called Gerald - Proto Acid: The Berlin Sessions - German CD - CD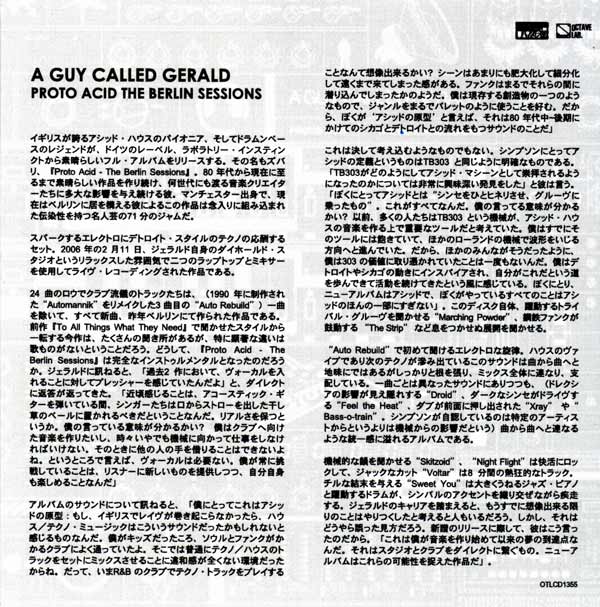 A Guy Called Gerald - Proto Acid: The Berlin Sessions - Japanese CD - Inner Text
A Guy Called Gerald - Proto Acid: The Berlin Sessions - Japanese CD - OBI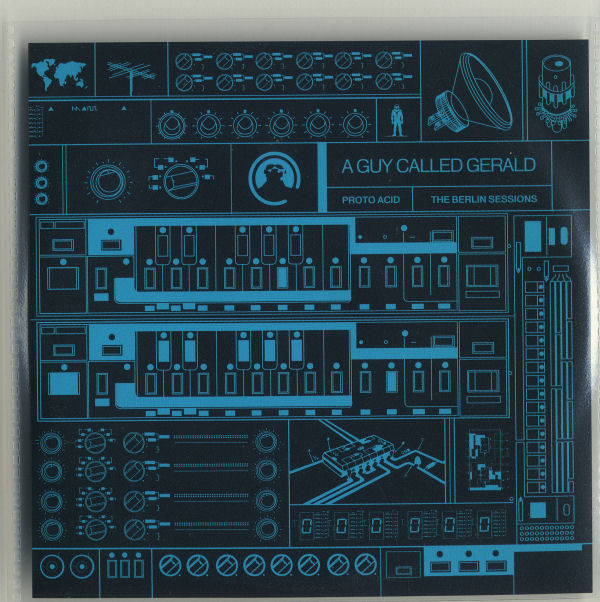 A Guy Called Gerald - Proto Acid: The Berlin Sessions - German Promo CD - Cover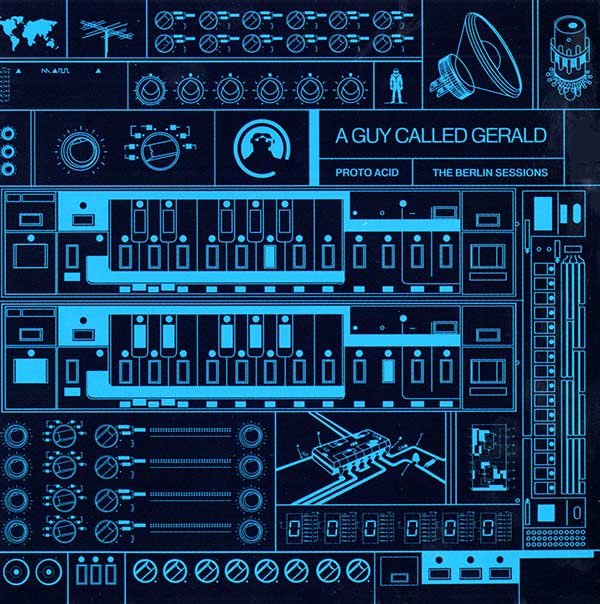 A Guy Called Gerald - Proto Acid: The Berlin Sessions - German Promo CD - Front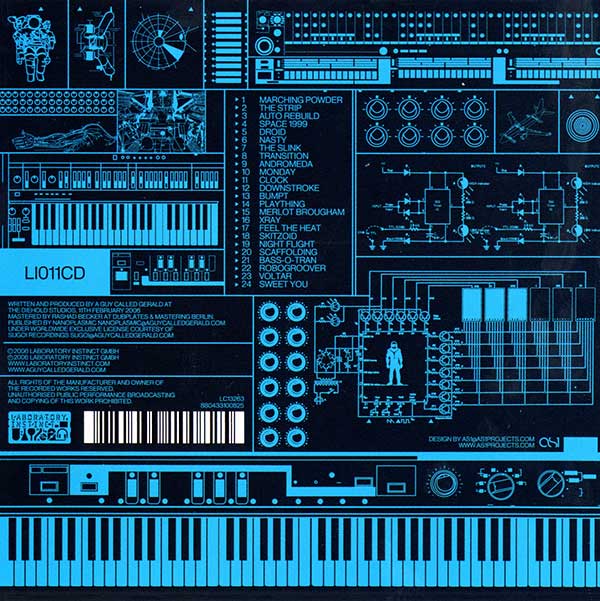 A Guy Called Gerald - Proto Acid: The Berlin Sessions - German Promo CD - Back