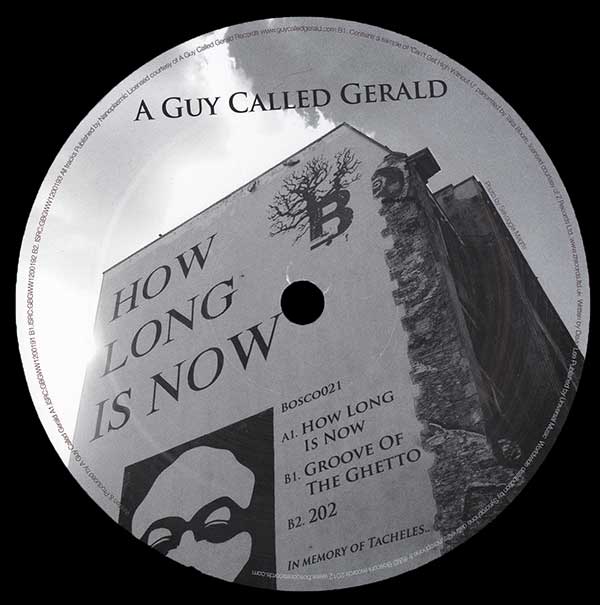 A Guy Called Gerald - How Long Is Now
IT 2012 12" Single; Bosconi Records: BOSCONI 021

Side A

08:06 How Long Is Now

Side B

06:13 Groove Of The Ghetto
04:39 202
Released:
Vinyl: 19th December 2012.
Digital (Beatport): 25th December 2012.
Credits:
Worldwide Distributed by Synchrophone Cyberproducion
All tracks Published by Nanoplasmic Licensed courtesy of A Guy Called Gerald Records www.guycalledgerald.com
B1. Contains a sample of 'Can't Get High Without U' performed by Taka Boom, licensed courtesy of Z Records Ltd. www.zrecords.ltd.uk Written by David, Lee Published by Universal Music
(P) & (C) Bosconi Records 2012
Reviews:
Press Release
Bosconi is proud to announce the arrival into the family of one of the greatest legend of house music, the oldskool hero A Guy Called Gerald. The release randomly arrives in coincidence with the definitive closing of another legend, the place in berlin that has been a symbol for years of the cultural renaissance of the german capital after the wall, the Tacheles. When Gerald just moved to berlin, he got his house and his studio inside that very inspiring and artistic place, and as a tribute and homage to his legendary figure, some mysterious writer draw G's face on the right side of that building with the shamanic enigma above that giant mural "How Long Is Now", an existential sigh or question that perfectly sums up the uncertain past, present and future of one of Berlin's most important initiatives, as the Tacheles was, and as the things of our life that we love, as the music, can be, uncertain…But for sure this 3 tracker vinyl is real and it will last for long in our bags, these are 3 deadly club weapons by The Master between bass music, micro funk and soul excursions: A1 gives the title to the EP and it's subliminal dark and psychedelic after-hours dope session, while on B1 there's the shady and sexy atmosphere of "Groove of the Ghetto", a driving and funky house tune sustained by an ultra fat synth bass and enriched by soulful vocals and deep pads, while on B2 the EP ends wih the brutal Uk bass bonus beats monster entitled "202".

Serious Stuff. In memory of Tacheles and the good old days.

Bosconi Release page here.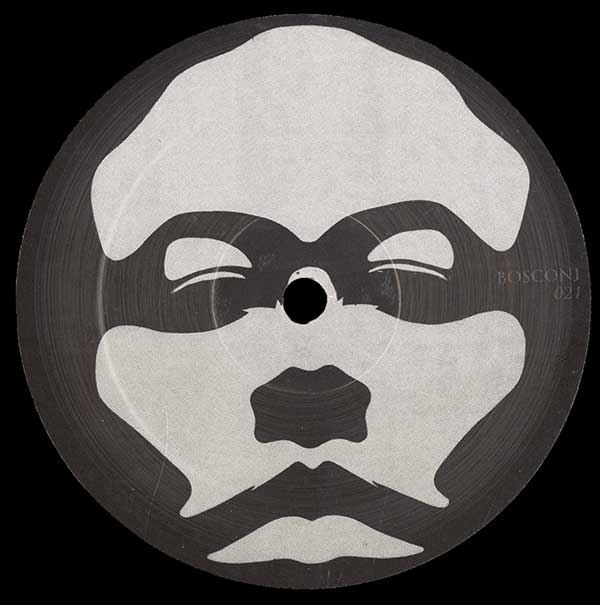 A Guy Called Gerald - How Long Is Now - German 12" Single - Side B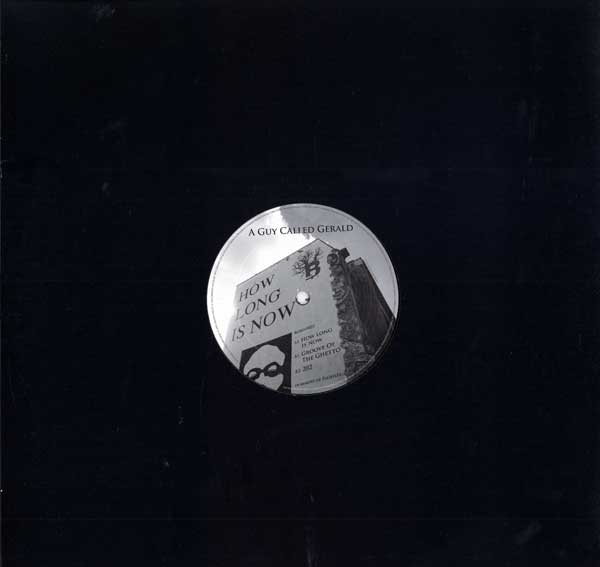 A Guy Called Gerald - How Long Is Now - German 12" Single - Front