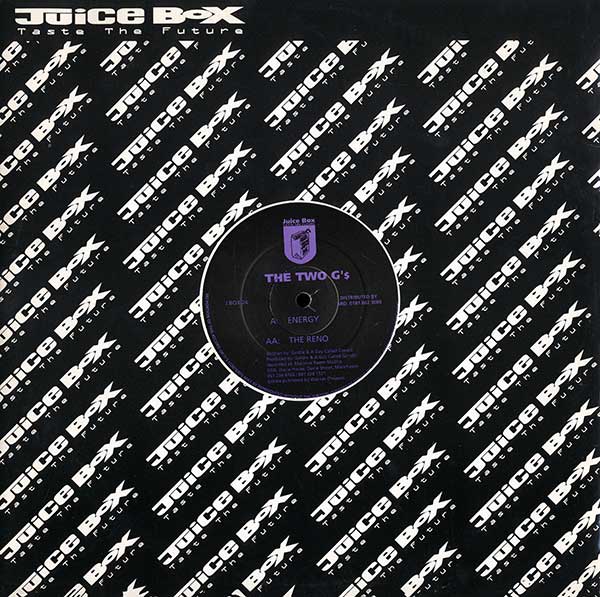 The Two G'$ - Energy
UK 1994 12" Single; Juice Box: J.BOX 24 [White-Label Promo, No picture sleeve, Some with PR]
UK 1995 12" Single; Juice Box: J.BOX 24 [Juice Box company sleeve]
6:35 Energy
6:30 Reno [aka "Isobar Mix" - in run-out grooves]

Released:

16th January 1995 (mentioned in Mixmag Update, No. 367, 19/01/1995).
(Promo was released in 1994)
Credits:
Written by Goldie & A Guy Called Gerald.
Produced by Goldie & A Guy Called Gerald.
Recorded at Machine Room Studios, Ducie House, Manchester.
Reviews:
Press Release:
"The meeting of the two greatest producers of the dance music scene; The Two G's, Goldie and A Guy Called Gerald, got together at the Machine Room Studios in Manchester to collaborate on "Energy", producing their own unmistakeable style of Ambient Jungle.
The creative styles of both Gerald and Goldie produced "Energy", serious piece of music for intelligent minds crossing the influences of Jungle, Techno, Jaii, and Soul to create a new breed of urban inner city music.
Serious record collectors - this one is not to be missed, it may never be heard again. "Energy", like lightning, only strikes once.
Release date; January, 1995. Tel/Fax: 061-236-8705.
Distributed by: SRD 081-802-3000."
Comments:
The Two G'$ are Gerald and Goldie of "Inner City Life" fame - one of the forerunners of Jungle (together with Gerald, of course!). This track also appears on a few Enforcers compilations on the Reinforced label.
Mixmag, January 1995: "Goldie and A Guy Called Gerald take the ambient/jazz/jungle fusion one giant step further with this cosmic adventure in breakbeat. Real future music: believe the hype. Best track: 'Energy'"
Rick, Leeds, Planet E Zine, 19th November 1994: "Bit of a lucky find this one, was in the bargain basement bin, and Mixmag happened to review it, so I thought I'd check it out - apparently its A Guy Called Gerald & Goldie, so you know what it'll sound like already, good female vocals (treated in various ways throughout the track), big strings and an old-skool type breakbeat, its a very smooth tune, and should go down well with anyone who's a fan of reinforced stuff. The flipside (Isobar Remix), uses a very jazzy riff, which I thought would initially be annoying, but its a very good remix - like it a lot... definitely worth buying..."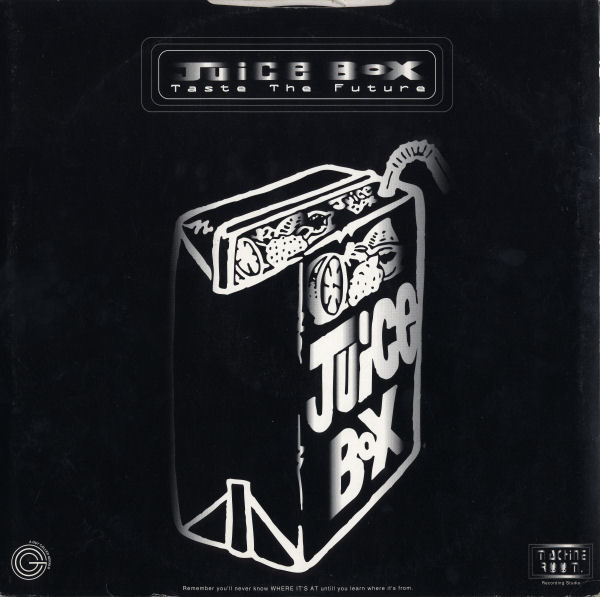 The Two G'$ - Energy - UK 12" Single - Back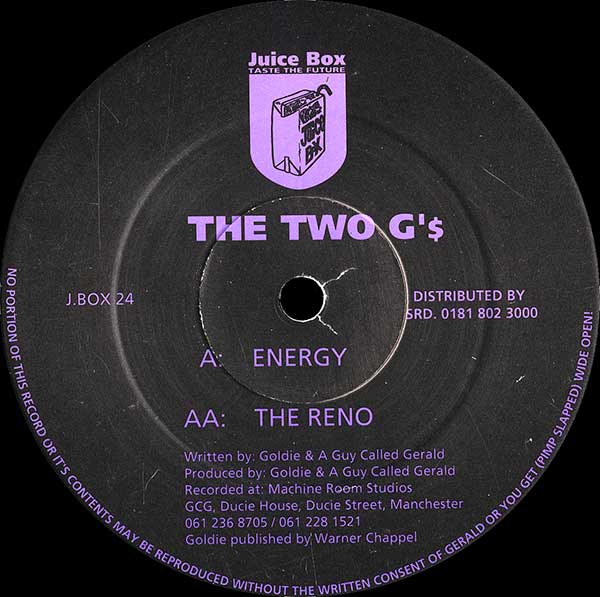 The Two G'$ - Energy - UK 12" Single - Side A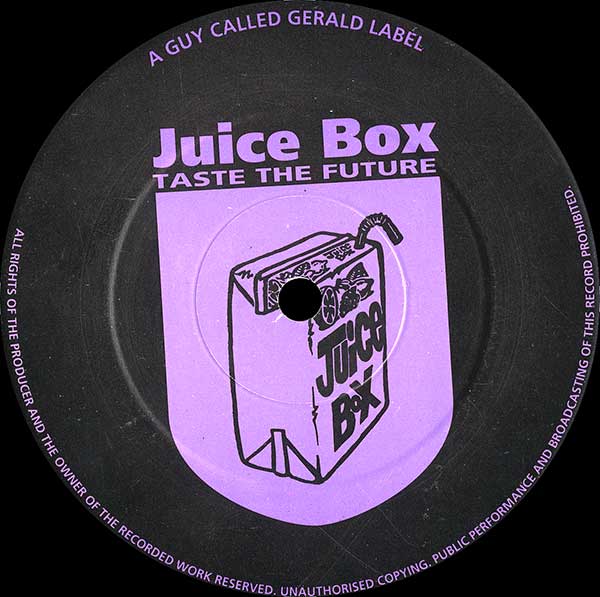 The Two G'$ - Energy - UK 12" Single - Side B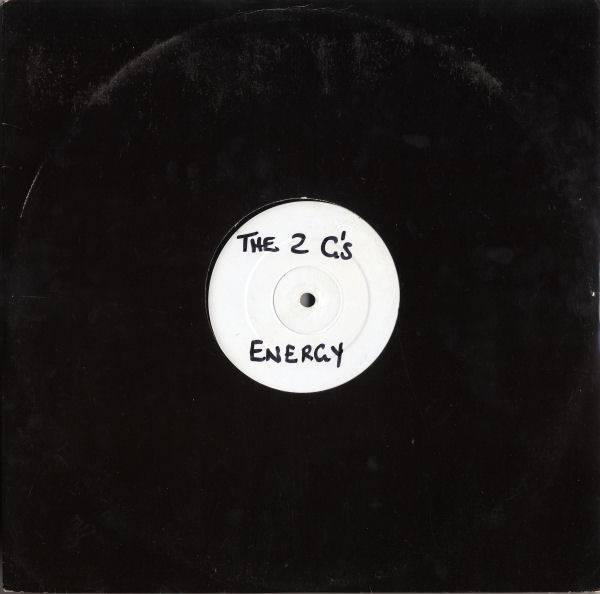 The Two G'$ - Energy - UK Promo 12" Single - Front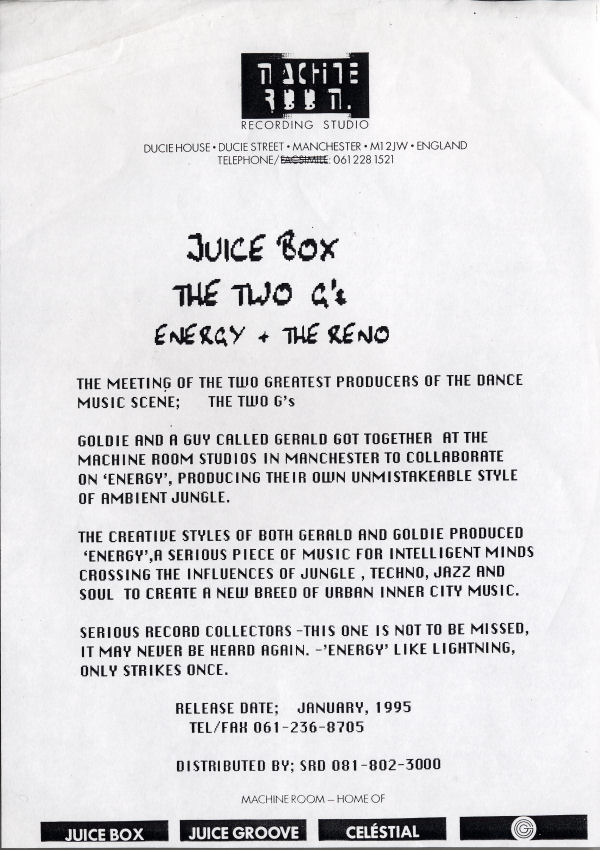 The Two G'$ - Energy - UK 12" Single - Press Release