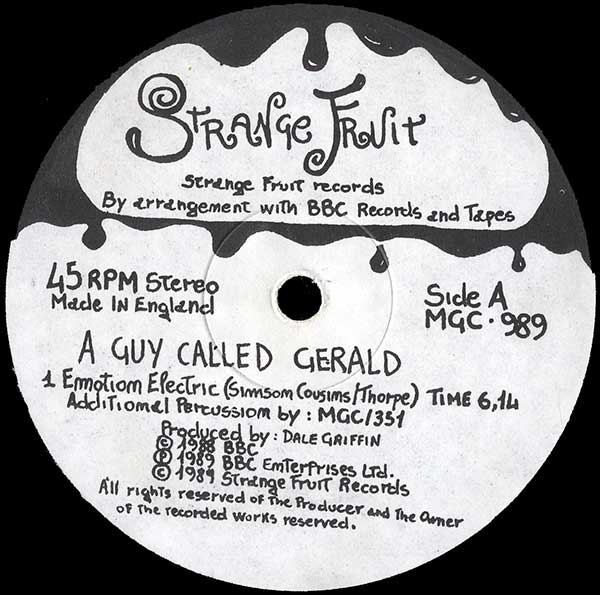 A Guy Called Gerald - Emotion Electric (Bootleg)
UK 1989 12" Single; Strange Fruit: MGC 989 [Not actually Strange Fruit - this is a bootleg]
6:19 Emotion Electric
6:04 MGC Paradise Latin Drums
Released:
October 1989
Credits:
Produced by Dale Griffin.
Written by Simpson/Cousins/Thorpe [Misspelt as "Simsom" on label!]
Additional percussion by MGC/351
Reviews:
Emotion Electric bootleg reviews.

Comments:
A bootleg single - not authorised by either Strange Fruit or Gerald (as can be seen by the spelling mistake on the credits and the non-standard Strange Fruit catalogue number.
The b-side is simply a different mix of 'Emotion Electric'...

This sneaked out onto CD (albeit in edited form) on the compilation, "The Chillout Session: Ibiza Sunsets", in 2003.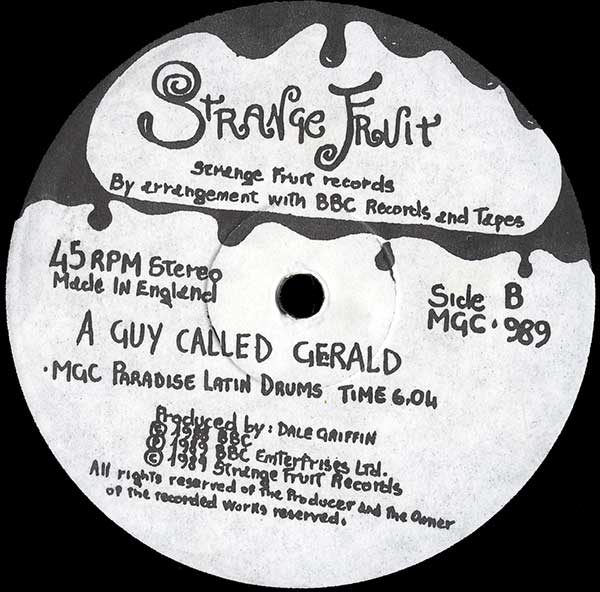 A Guy Called Gerald - Emotion Electric - Bootleg - UK 12" Single - Side B