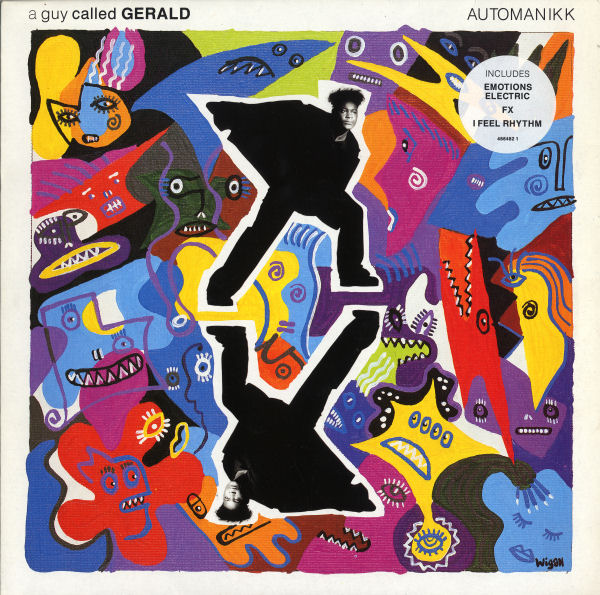 A Guy Called Gerald - Automanikk (Album)
UK 1990 LP; CBS/Subscape: 466482 1
UK 1990 LP+12"; CBS/Subscape: 466482 0 [Plus 12" Single, XPR 1497 - Limited to 7,000 copies]
UK 1990 Cassette; CBS/Subscape: 466482 4
EU 1990 CD; CBS/Subscape: 466482 2 / 01-466482-10 ["Made in Austria"]
NL 1990 LP; CBS/Subscape: 466482 1 / 01-466482-20 ['Subscape' as opposed to 'Untitled']
NL 1990 Cassette; CBS: 466482 4 ['Subscape' as opposed to 'Untitled']
SP 1990 LP; CBS/Subscape: 466482 0 / M-8134-1990 ['Subscape' as opposed to 'Untitled']
AU 1990 CD; CBS/Subscape: 466482 2 ['Subscape' as opposed to 'Untitled']
CA 1990 Cassette; Columbia: CT 46770 ['Subscape' as opposed to 'Untitled']
US 1990 LP; Columbia: C 46770 ['Subscape' as opposed to 'Untitled']
US 1990 Cassette; Columbia: CT 46770 ['Subscape' as opposed to 'Untitled']
US 1990 CD; Columbia: CK 46770 ['Subscape' as opposed to 'Untitled' - initial copies in Longbox]
5:21 To The Other Side
3:27 FX (Mayday Upgrade)
5:23 Automanikk
7:02 Emotions Electric 2
7:38 Eyes Of Sorrow (Viv Version)
6:01 I Feel Rhythm
6:24 Stella
1:17 I Blame The Artist
5:01 Untitled (UK) or Subscape (Other Countries)
6:30 I Won't Give In
7:32 Voodoo Ray Americas [Cassette & CD only]
Released:
UK: 2nd April 1990.
US: 19th June 1990.
Credits:
All tracks written by Gerald Simpson, except "Stella".
Produced by Ricky Rouge.
Engineered by Lee Monteverde (Moonraker), James Reynolds (Roundhouse), Paul Schroeder (Battery).
Keyboards by Rohan Heath.
Vocals by Viv (Dixon).
Flute by Mike (Pod).
Sound Designer by Gerald Simpson.
Illustrations by Wigan.
"Stella" written by Gerald Simpson and Rohan Heath.
"FX (Mayday Upgrade)": remix and additional production by Mayday (with assistance from Carl Craig) for Best Beat Ltd. Edited by Steve Shin at Hit Factory, London.
"Blame The Artist" vocals by Terry & Jerry.
"To The Other Side" vocals by Elaine.
Reviews:
Press Release:
A GUY CALLED GERALD
A Guy Called Gerald is British house music's leading figure. He has been sampled in New York, bootlegged in Italy, imitated worldwide, adopted by both the Top 20 chart fraternity and warehouse ravers alike, and has had a hand in two of Britian's biggest ever club records, his own "Voodoo Ray" and State 808's "Pacific State."
"Voodoo Ray" has emerged as something of a phenomenon in England, where it recently won Music Week magazine's award for #1 Indie Single of the Year." Its success, along with the notoriety of "Pacific State," resulted in the two songs winding up on the "BRITS '90" medley, in which five BRIT award winners were compiled for a #2 national chart single.
"Gerald has been worried that people will be drawn to his music for all the wrong reasons," wrote Paul Lester in Melody Maker, "for his personality, his name, even his look. Gerald's mainly text-free music reflects a desire to keep his ego out of the proceedings, although it may be too late for that."
Partly responsible for Manchester club hits like "Dream 17" by Annette and State 808's New Build album, Gerald is best known for the delirious "Voodoo Ray," an arabic acid wail with a clanging steel-drum bassline that, in the words of one reviewer, "sends you." The "Voodoo Ray" EP, issued by Liverpool independent Rham Records, began a dance floor domination that spread from Manchester through-out the North and Midlands in late summer/autumn '88. It reached London over the winter and became an anthem for the "orbital" warehouse parties and pirate radio stations, before climbing to number 12 in the charts in July, 1989, over nine months after its original release.
Gerald, meanwhile, was still living in Manchester's run-down Hulme area, cadging bus fares to the studio, working Saturdays at McDonald's branch in Market Street, Manchester, and sneaking off to London for impromptu live gigs that his record company didn't even know about, just to put together some cash for new equipment.
Gerald Simpson, age 22, is a quite-spoken, affable Mancunian with a shy-boy smile and a mischievous sense of humour. Eternally self-depreciating (the flip stage-name A Guy Called Gerald is a sly dig at the ego games other musicians play), he deeply admires the sheer anonymity of American house musicians (and wishes sometimes that he could retain his own).
In addition to boasting jazz-fusion and rap roots and a love of anything avant-garde and electronic, Gerald also admires American techno-wizards like Detroit's Derrick May and Juan Atkins. In many ways he is their British equivalent, dedicated to technology rather than applause, happier in the studio with his collection of superannuated synthesizers than anywhere else. He once said: "I'd be happy to stay in my bedroom and do my thing, put it on my Walkman and walk down the street listening to it."
An incorrigible innovator, Gerald started his career in music by putting together hip hop tapes for Stu Allen's Piccadilly Radio show. After working with Manchester avant-techno outfit State 808, Gerald progressed through the spiky, raw textures of "Voodoo Ray" to his debut album, Hot Lemonade (released March, 1989 on Rham Records), a collection of new age acid and techno workouts that received far less attention than it deserved.
"F/X," his first single for a major label, is a mixture of rigorous, mechanical house and ethereal overlays; it takes A Guy Called Gerald's journey of discovery one stage further. Part of the music Gerald composed to accompany Trevor Miller's club/drug novel, Trip City, this is the real acid house, the best Britain has to offer.
"'FX' is a beautifully textured and wonderfully spirited track," wrote Push in his weekly Melody Maker singles column. "As such, it needs to be touched and experienced rather than simply heard. It's very much the perfect soundscape for a new era. Welcome to the Nineties."
Since its release, A Guy Called Gerald performed a sold-out show at ULU in London to a decidedly ecstatic crowd. "Gerald translates House music from urban night-life to paradisial, pacific scenes," noted Melody Maker reviewer Paul Old-field. "Tonight there's 'Eyes of Sorrow,' with its rainforest percussion and pipes; or 'Voodoo Ray,' with its slow-scanning ritual limbo from the tropics... or 'FX,' an ascent through a Lloyds-building ziggurat of glass and steel. Think Tokyo, think Ridley Scott." The London date was followed by two manic sold-out shows in Iceland with the Happy Mondays.
Coming up next is a British television special on house music, being filmed in Detroit with aforementioned house dj and mixer Derrick May. European dates are also being scheduled for the springtime; likewise a U.S. tour later on with the Happy Mondays and the Inspiral Carpets.
"Gerald is doing his best to freshen up pop, to scrub it clean and make it new again," Lester summed up in MM. "He's got more ideas than he knows what to do with, yet he's still only 22." Asked whether he was happy with the results of "FX," Gerald muttered in a rare moment of self-congratulations, "It's OK..."

Comments:
'Moroccan Black' is only available on the 12" single that came free with the UK 2xLP.

Chart position: 68; Date Of Entry: 8th April 1990; Weeks in chart: ?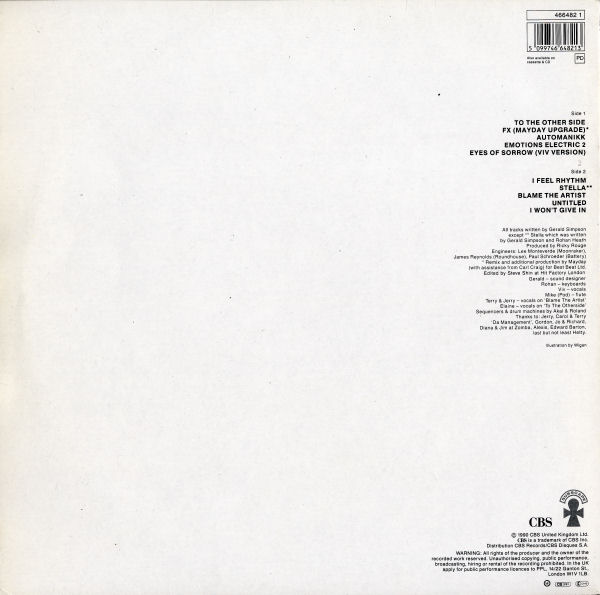 A Guy Called Gerald - Automanikk - UK LP - Back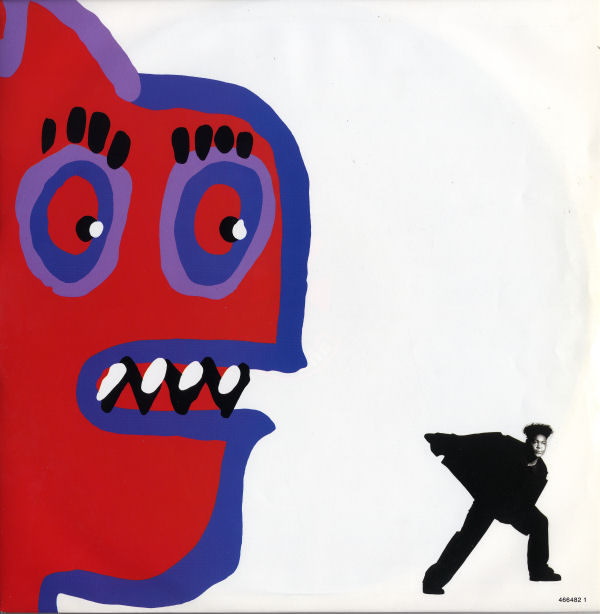 A Guy Called Gerald - Automanikk - UK LP - Inner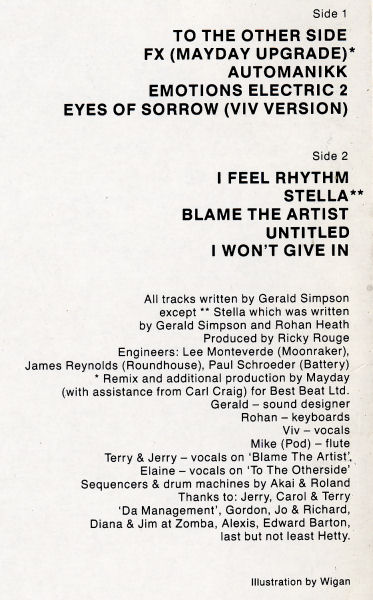 A Guy Called Gerald - Automanikk - UK LP - Credits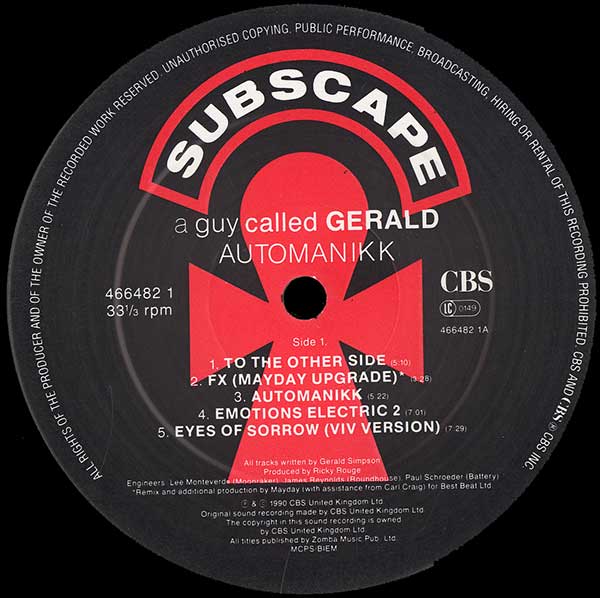 A Guy Called Gerald - Automanikk - UK LP - Side 1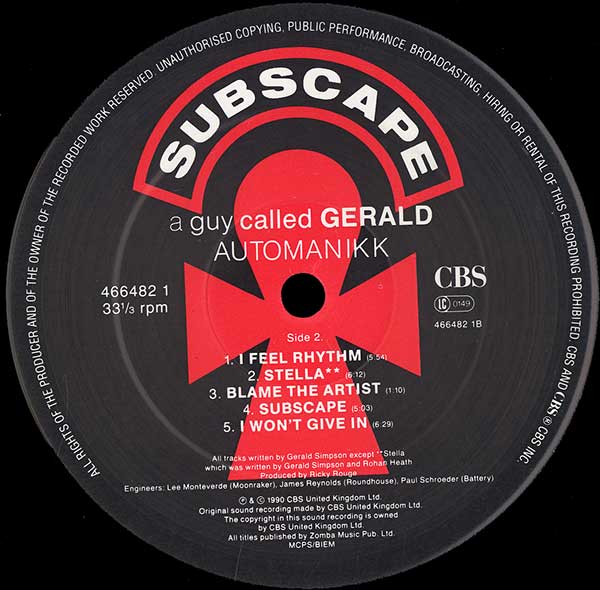 A Guy Called Gerald - Automanikk - UK LP - Side 1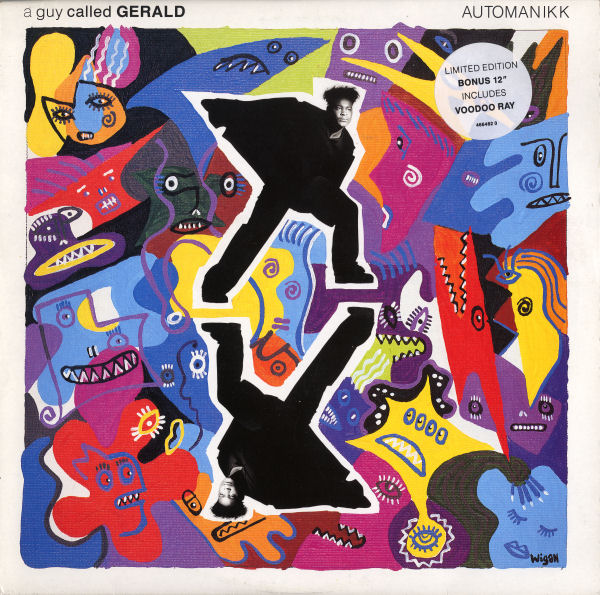 A Guy Called Gerald - Automanikk - UK LP+12" - Front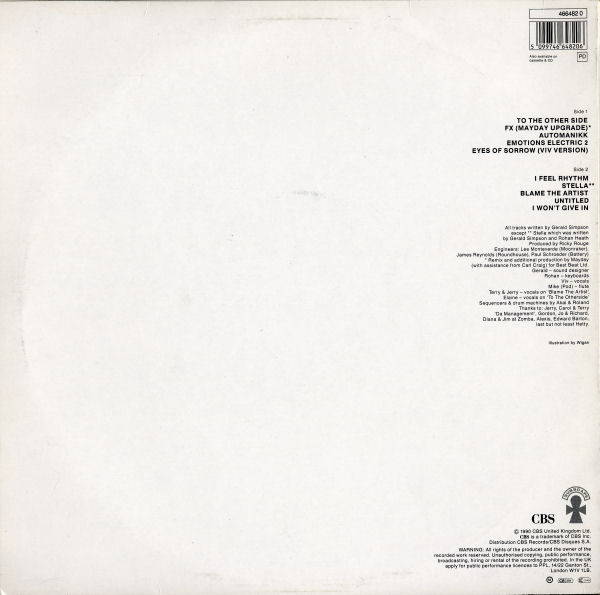 A Guy Called Gerald - Automanikk - UK LP+12" - Back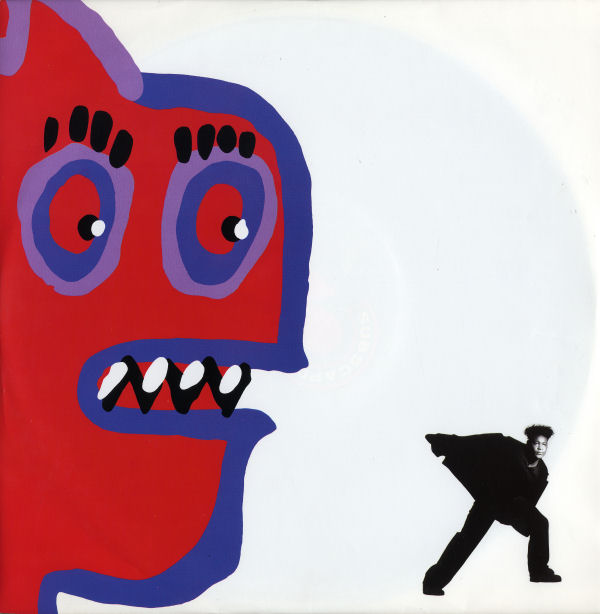 A Guy Called Gerald - Automanikk - UK LP+12" - Inner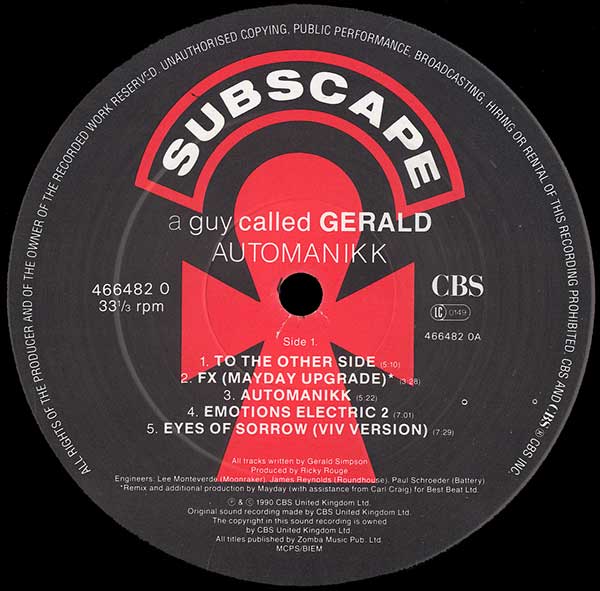 A Guy Called Gerald - Automanikk - UK LP+12" - Side 1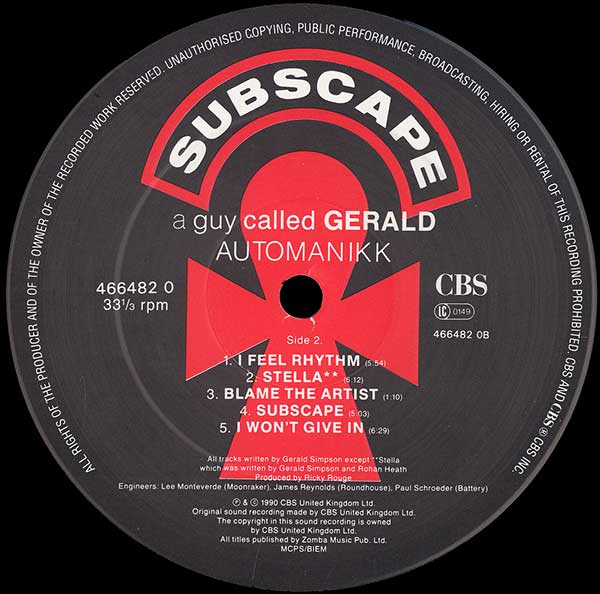 A Guy Called Gerald - Automanikk - UK LP+12" - Side 2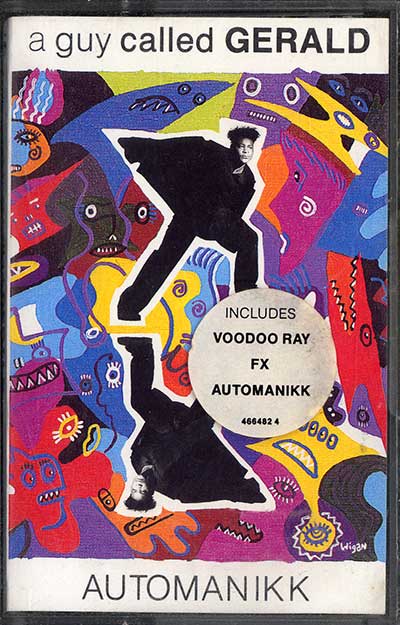 A Guy Called Gerald - Automanikk - UK Cassette - Front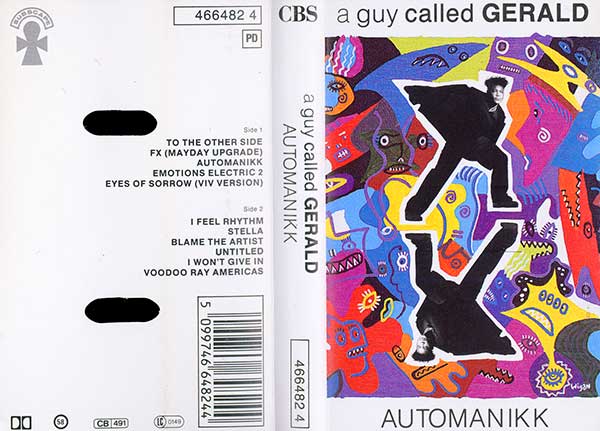 A Guy Called Gerald - Automanikk - UK Cassette - Cover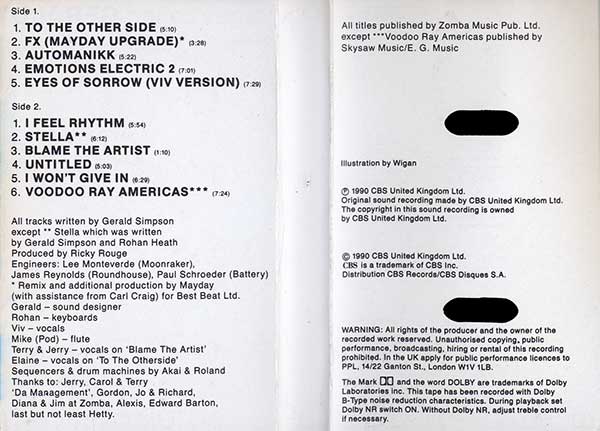 A Guy Called Gerald - Automanikk - UK Cassette - Inlay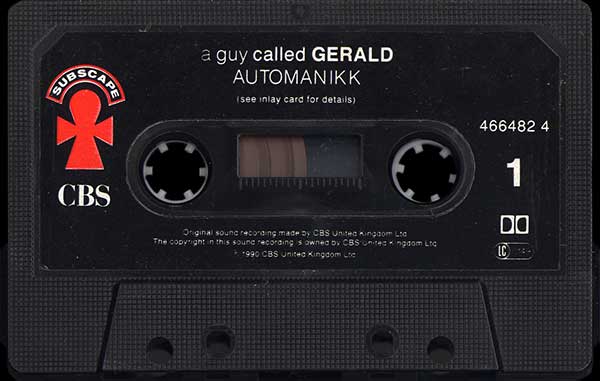 A Guy Called Gerald - Automanikk - UK Cassette - Side 1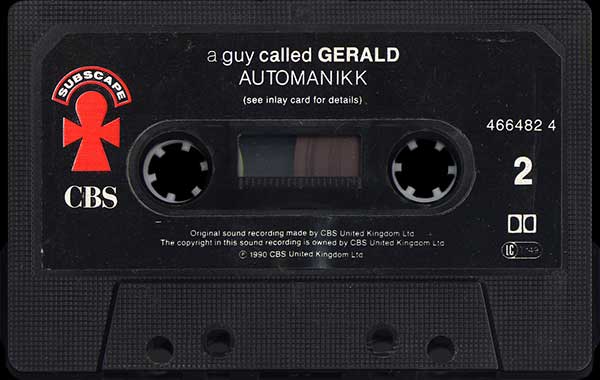 A Guy Called Gerald - Automanikk - UK Cassette - Side 2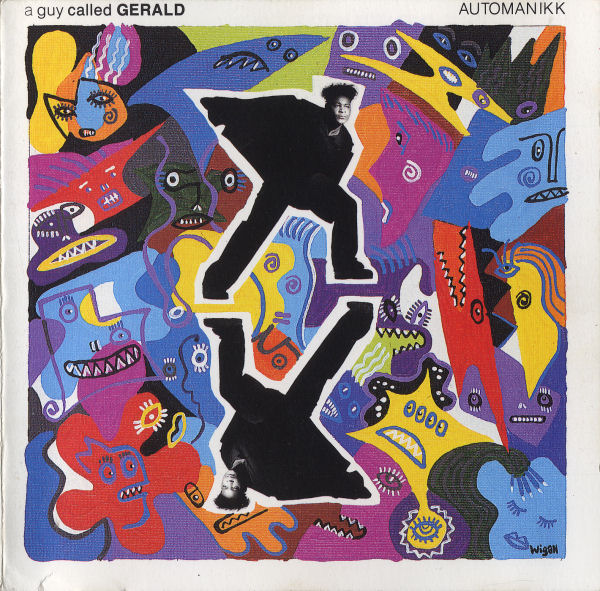 A Guy Called Gerald - Automanikk - EU CD - Front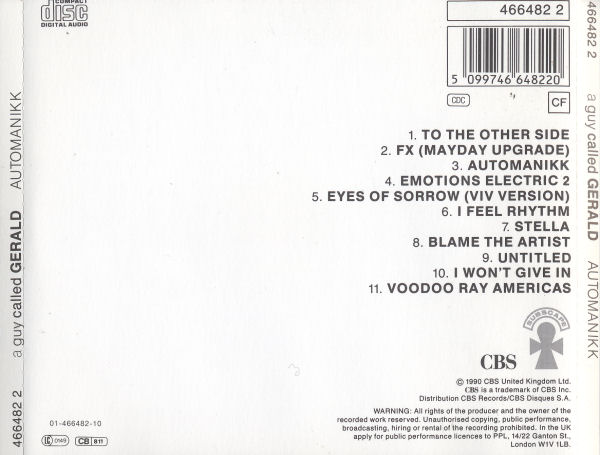 A Guy Called Gerald - Automanikk - EU CD - Back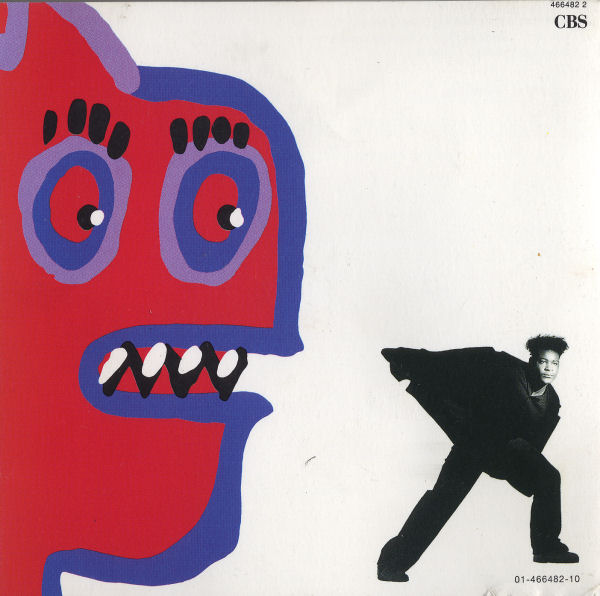 A Guy Called Gerald - Automanikk - EU CD - Inner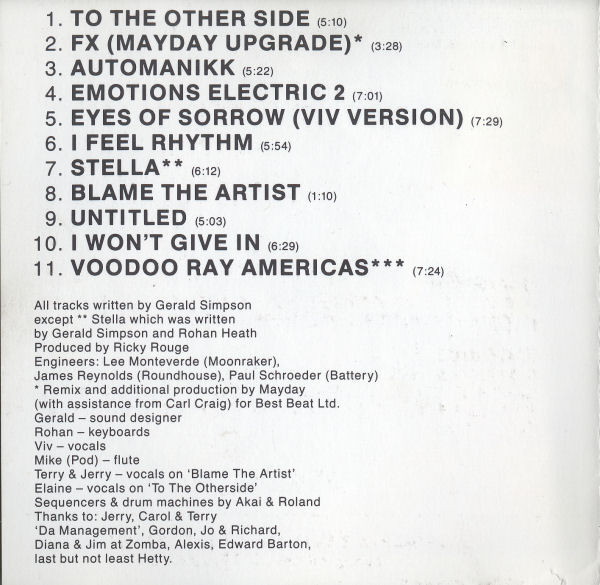 A Guy Called Gerald - Automanikk - EU CD - Credits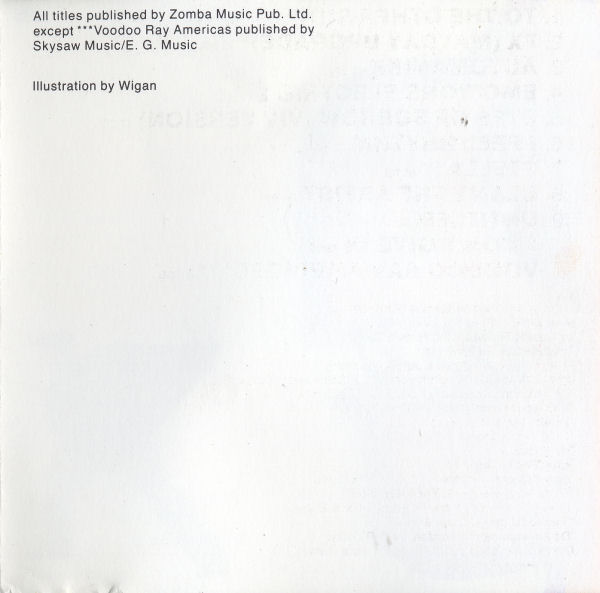 A Guy Called Gerald - Automanikk - EU CD - Credits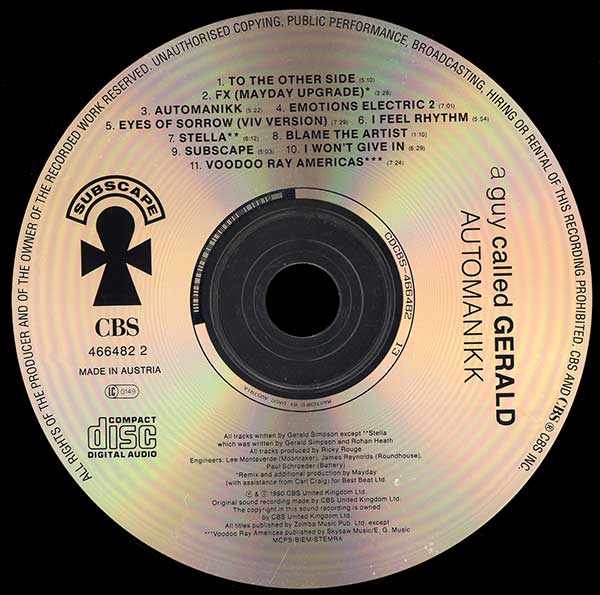 A Guy Called Gerald - Automanikk - EU CD - CD
A Guy Called Gerald - Automanikk - Dutch LP - Front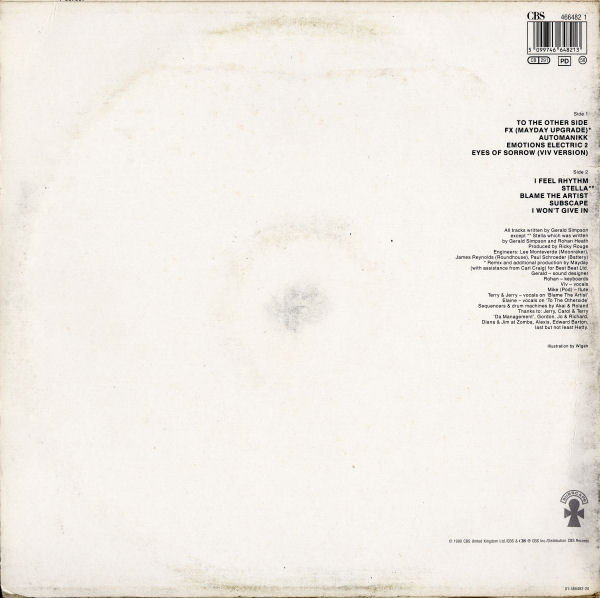 A Guy Called Gerald - Automanikk - Dutch LP - Back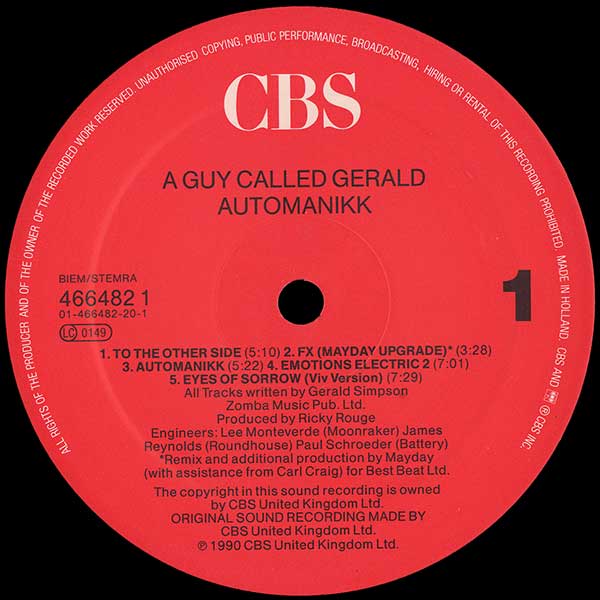 A Guy Called Gerald - Automanikk - Dutch LP - Side 1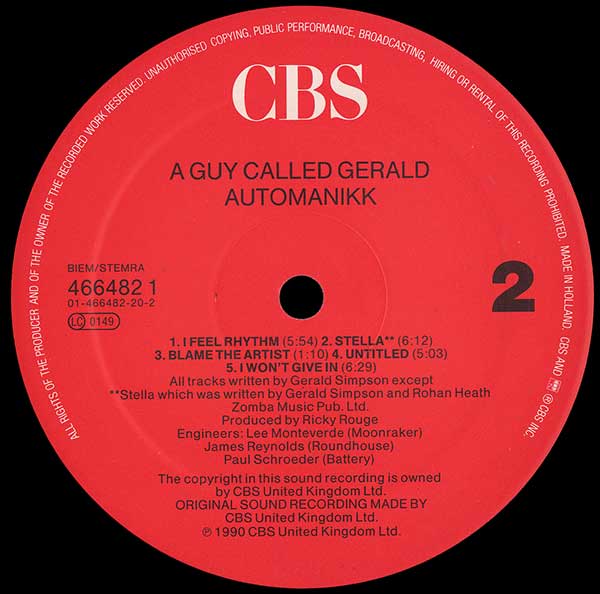 A Guy Called Gerald - Automanikk - Dutch LP - Side 2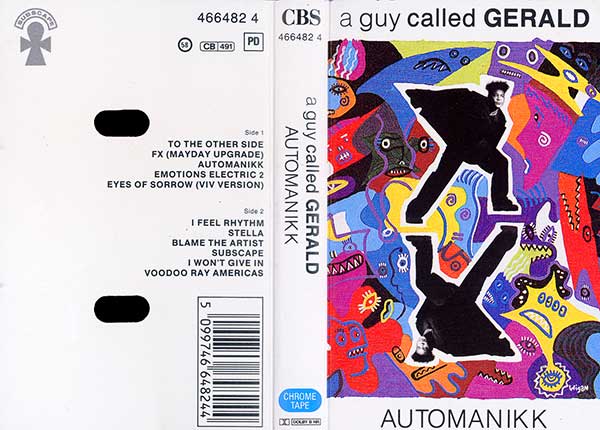 A Guy Called Gerald - Automanikk - Dutch Cassette - Front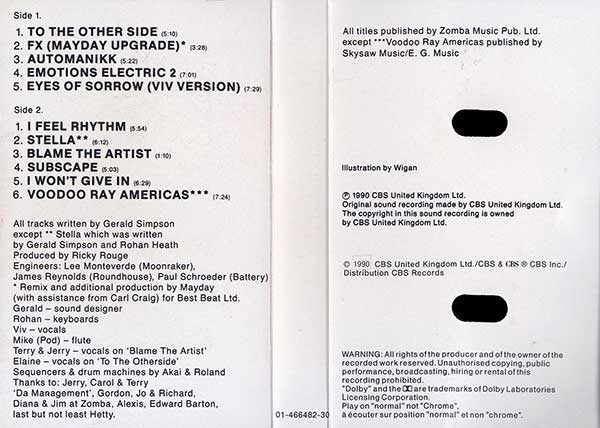 A Guy Called Gerald - Automanikk - Dutch Cassette - Back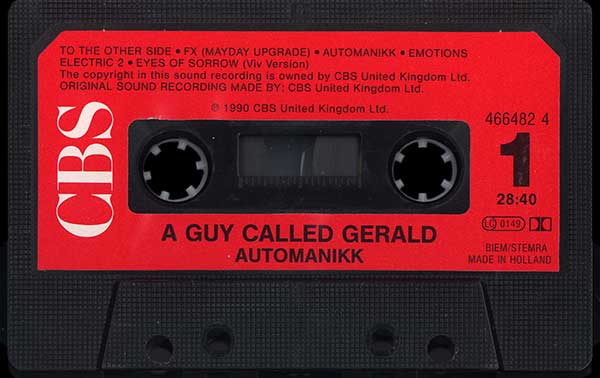 A Guy Called Gerald - Automanikk - Dutch Cassette - Side A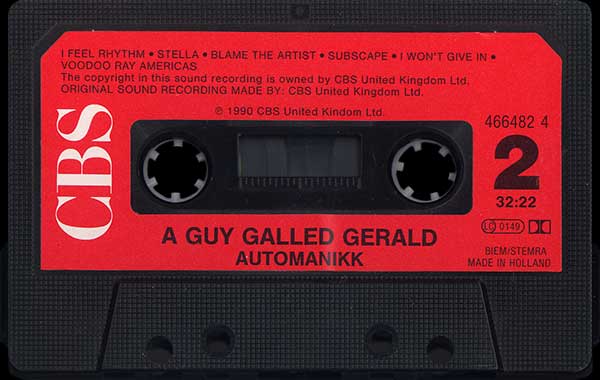 A Guy Called Gerald - Automanikk - Dutch Cassette - Side B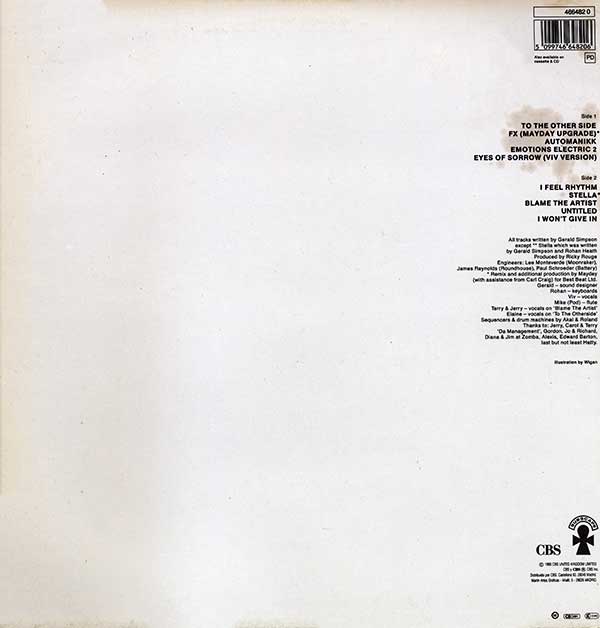 A Guy Called Gerald - Automanikk - Spanish LP - Back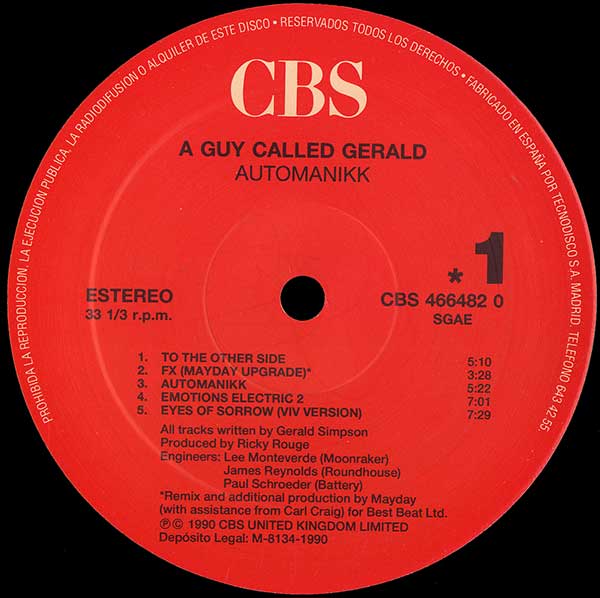 A Guy Called Gerald - Automanikk - Spanish LP - Side 1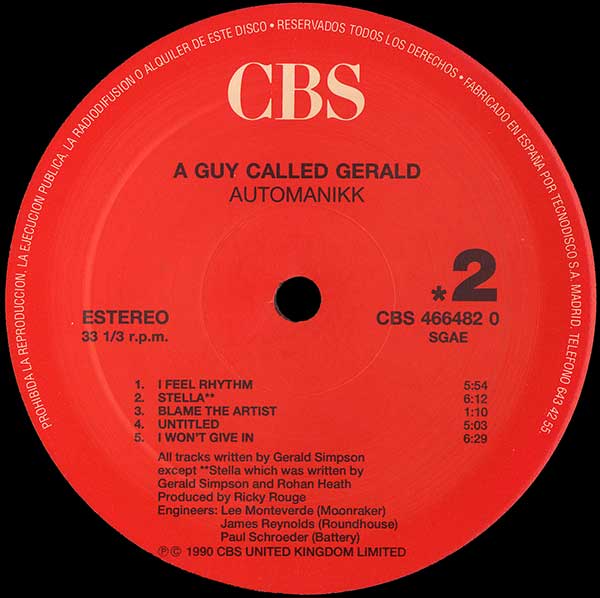 A Guy Called Gerald - Automanikk - Spanish LP - Side 2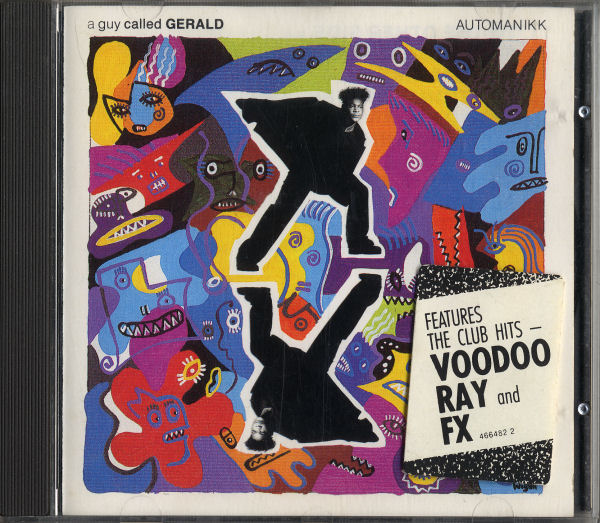 A Guy Called Gerald - Automanikk - Australian CD - CD Case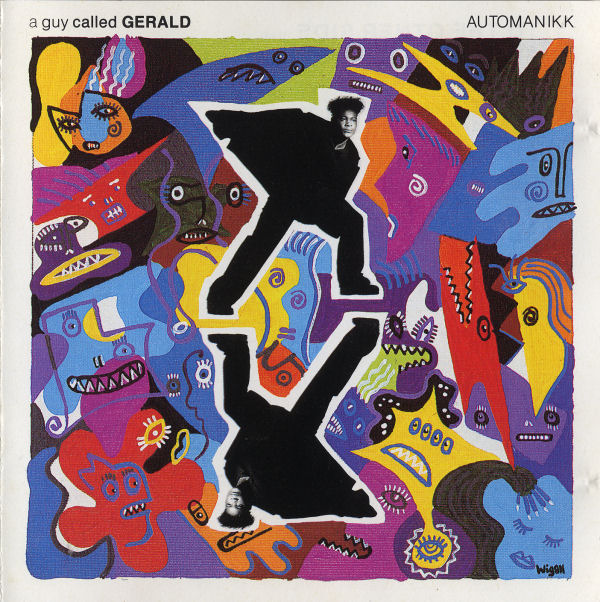 A Guy Called Gerald - Automanikk - Australian CD - Front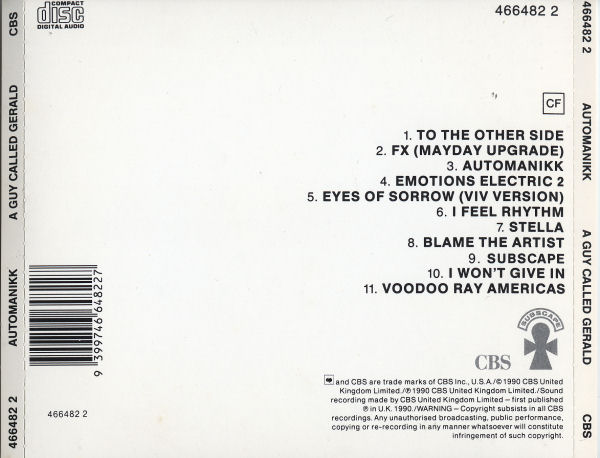 A Guy Called Gerald - Automanikk- Australian CD - Back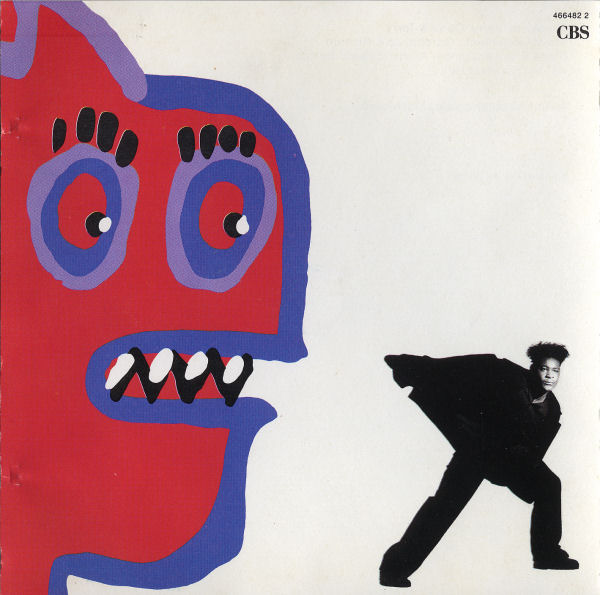 A Guy Called Gerald - Automanikk - Australian CD - Inner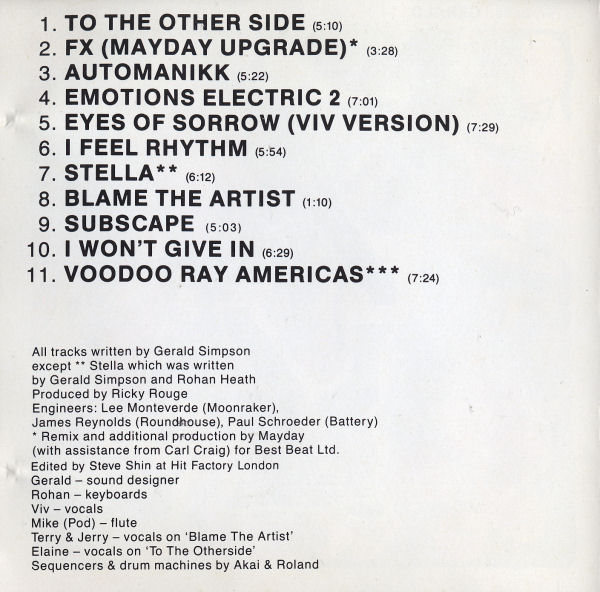 A Guy Called Gerald - Automanikk- Australian CD - Credits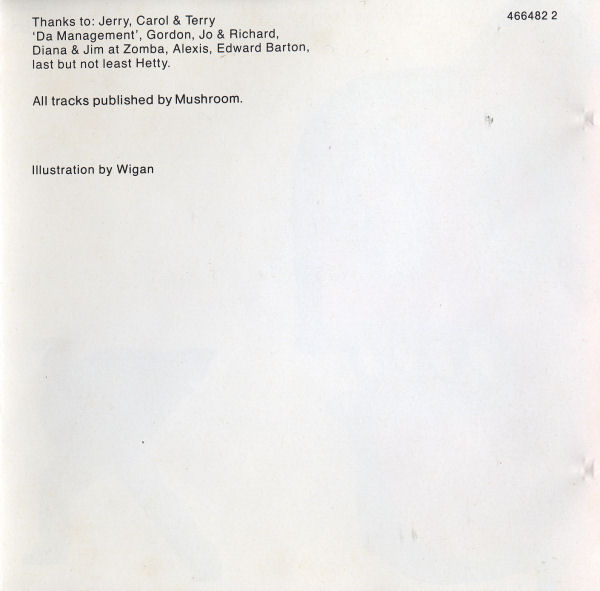 A Guy Called Gerald - Automanikk- Australian CD - Credits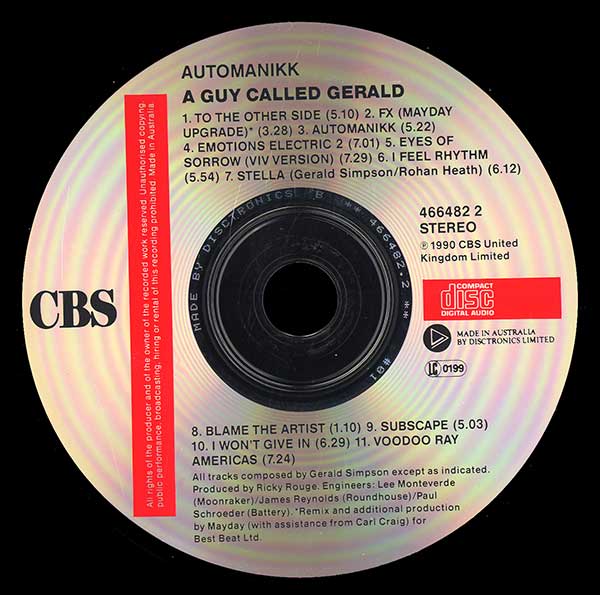 A Guy Called Gerald - Automanikk - Australian CD - CD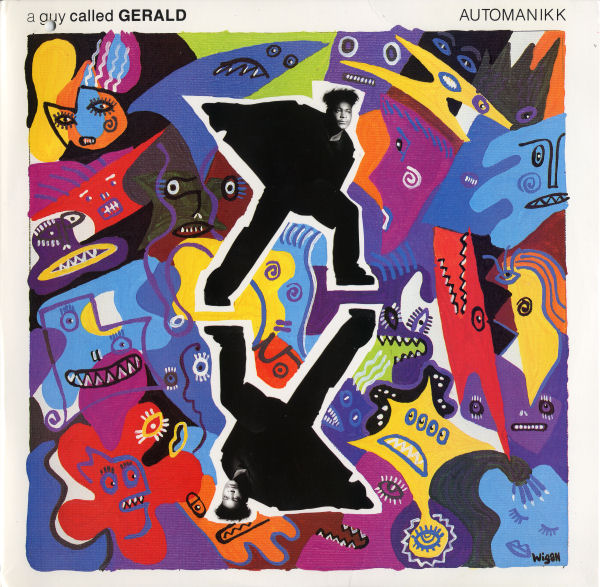 A Guy Called Gerald - Automanikk - US LP - Cover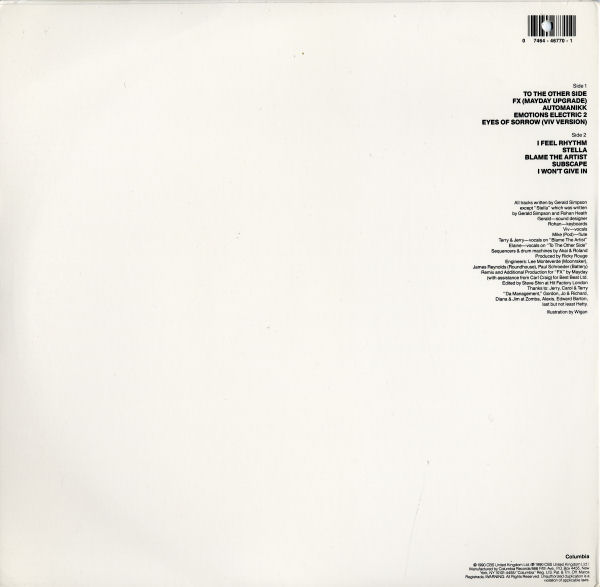 A Guy Called Gerald - Automanikk - US LP - Back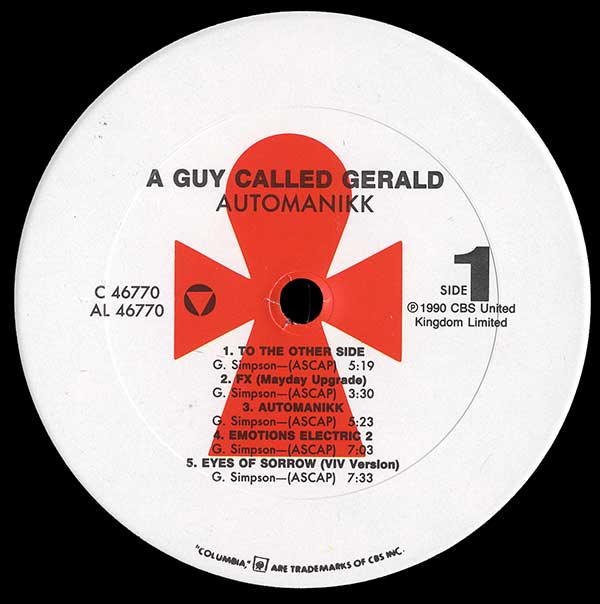 A Guy Called Gerald - Automanikk - US LP - Side 1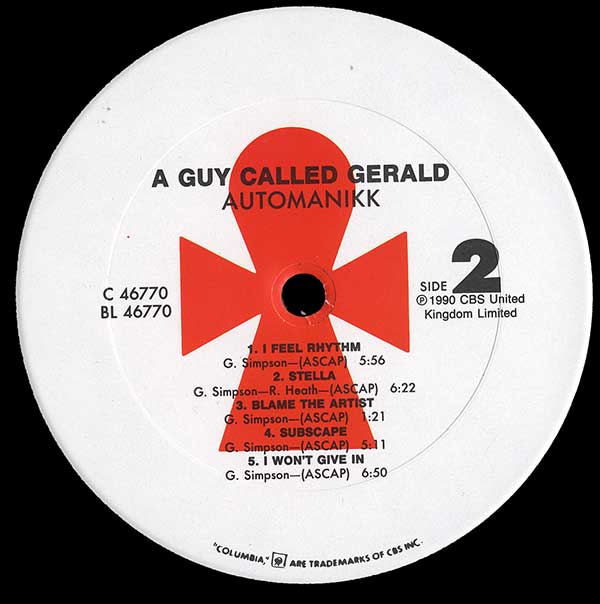 A Guy Called Gerald - Automanikk - US LP - Side 2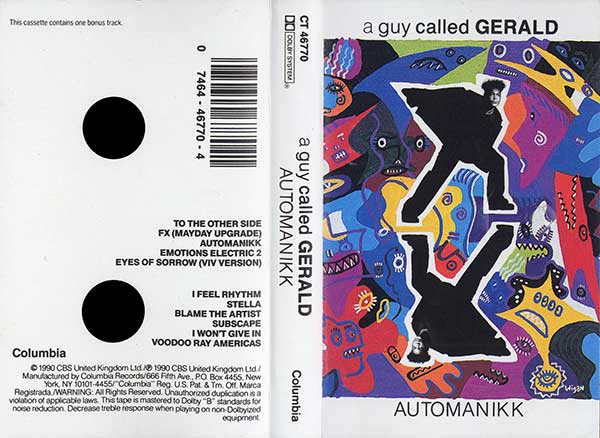 A Guy Called Gerald - Automanikk - US Cassette - Cover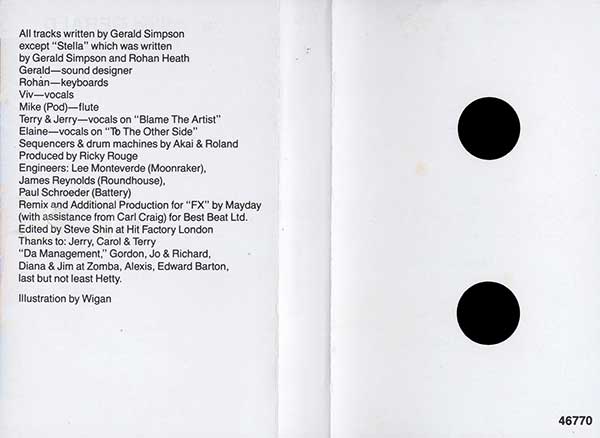 A Guy Called Gerald - Automanikk - US Cassette - Inner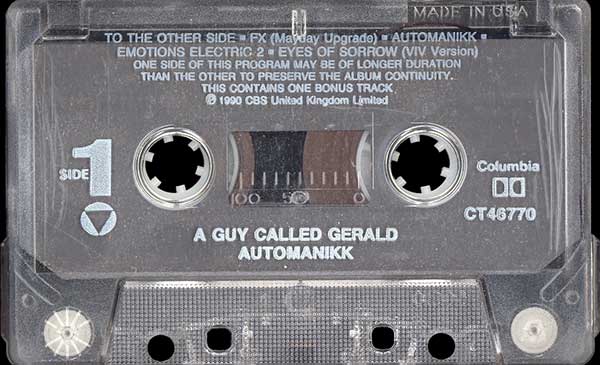 A Guy Called Gerald - Automanikk - US Cassette - Side 1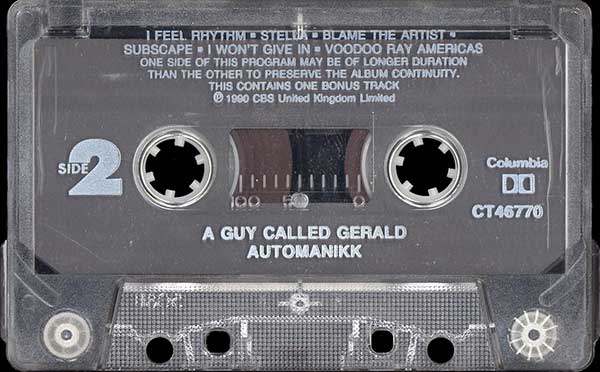 A Guy Called Gerald - Automanikk - US Cassette - Side 2
A Guy Called Gerald - Automanikk - Canadian Cassette - Cover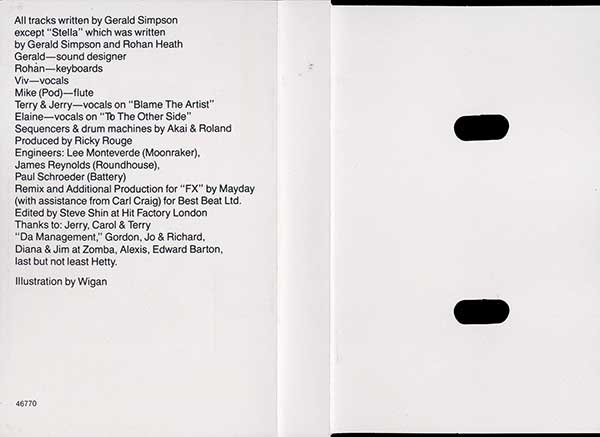 A Guy Called Gerald - Automanikk - Canadian Cassette - Inner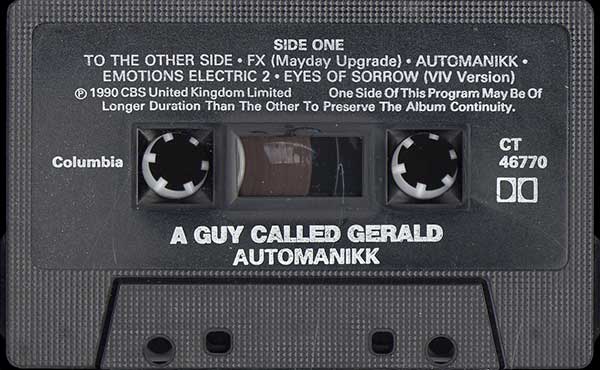 A Guy Called Gerald - Automanikk - Canadian Cassette - Side 1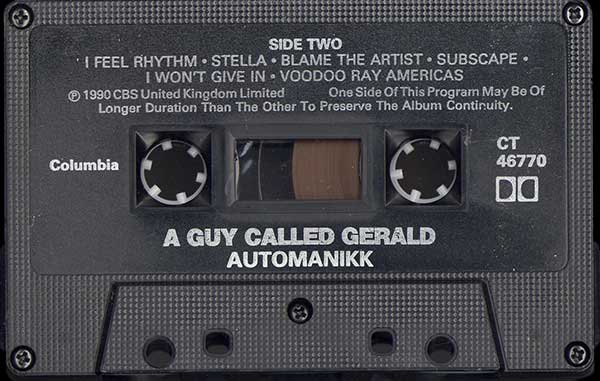 A Guy Called Gerald - Automanikk - Canadian Cassette - Side 2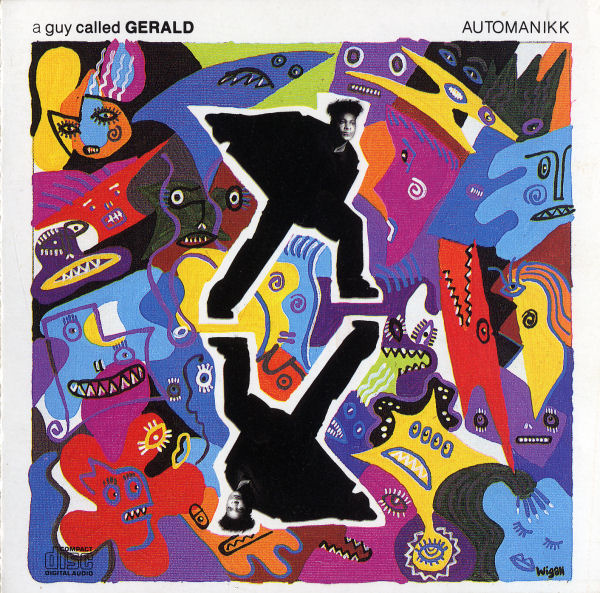 A Guy Called Gerald - Automanikk - US CD - Cover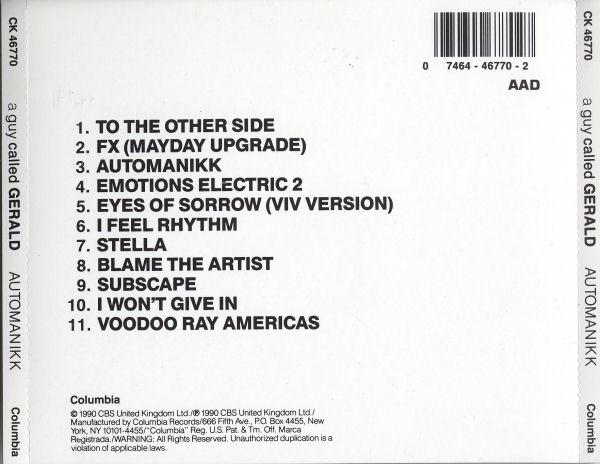 A Guy Called Gerald - Automanikk - US CD - Back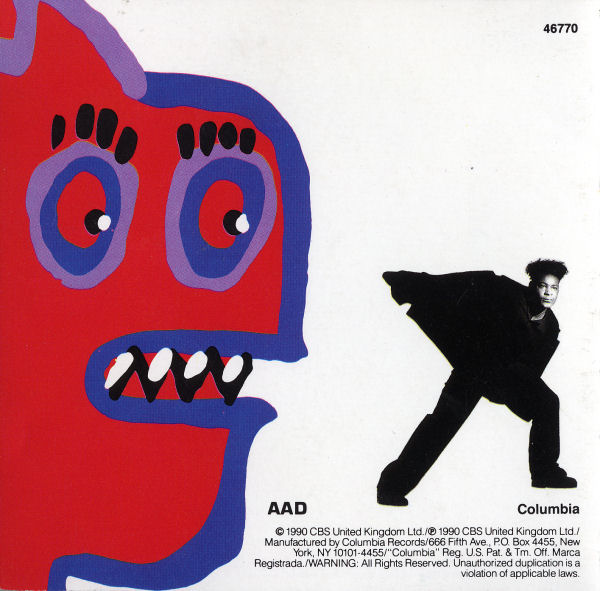 A Guy Called Gerald - Automanikk - US CD - Inner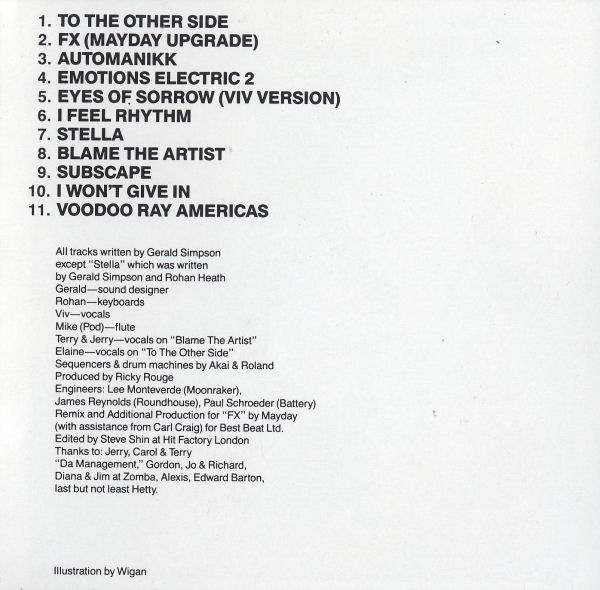 A Guy Called Gerald - Automanikk - US CD - Credits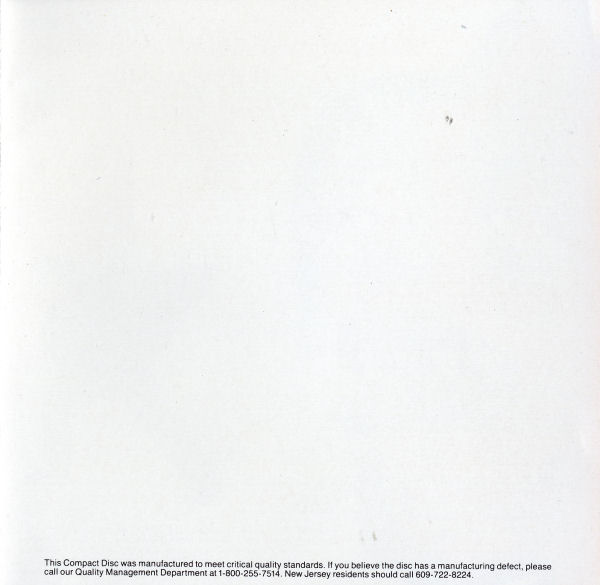 A Guy Called Gerald - Automanikk - US CD - Credits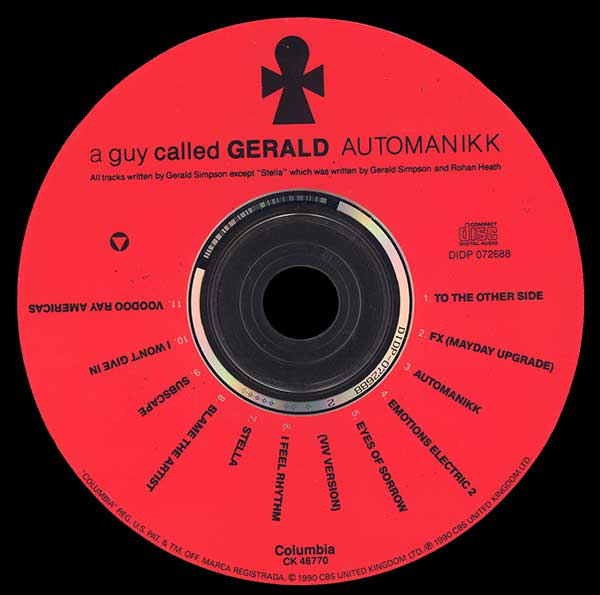 A Guy Called Gerald - Automanikk - US CD - CD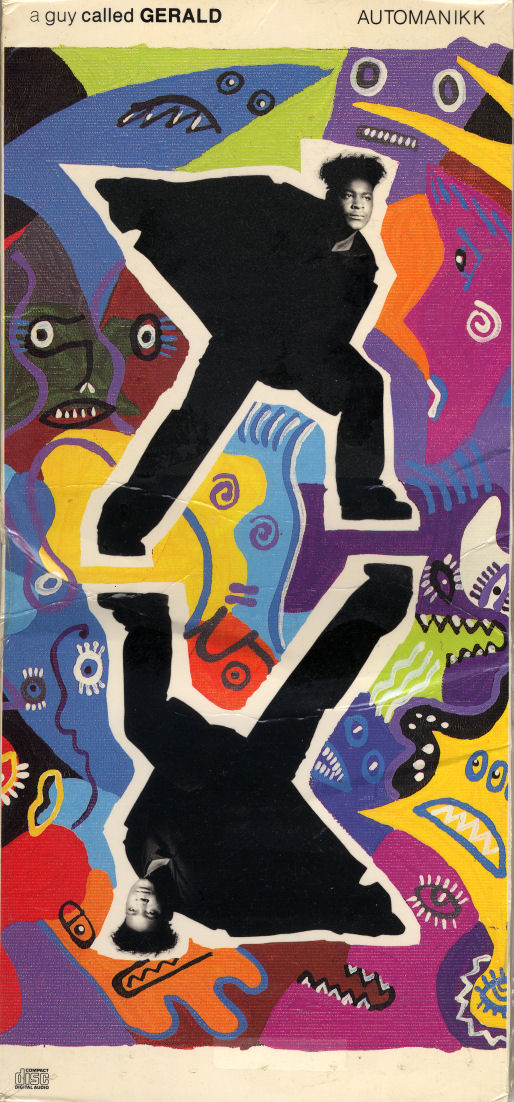 A Guy Called Gerald - Automanikk - US CD - Longbox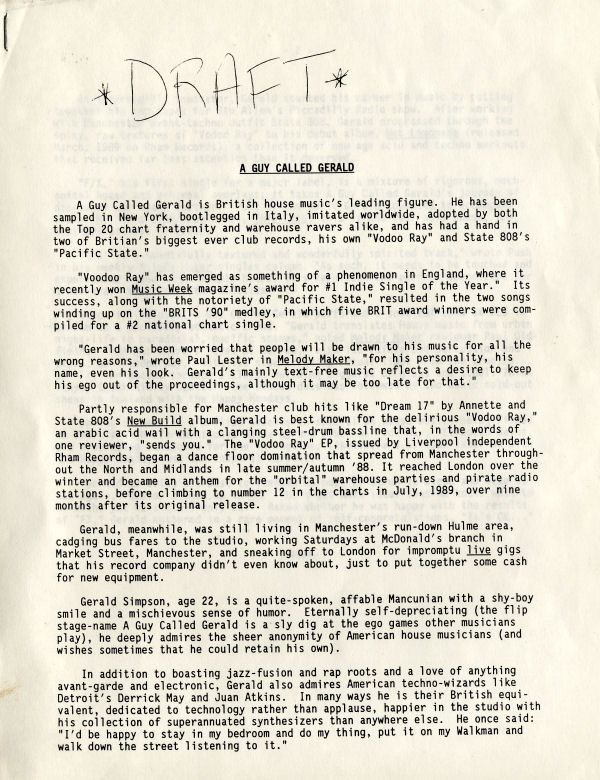 A Guy Called Gerald - Automanikk - US Press Release - Page 1
A Guy Called Gerald - Automanikk - US Press Release - Page 2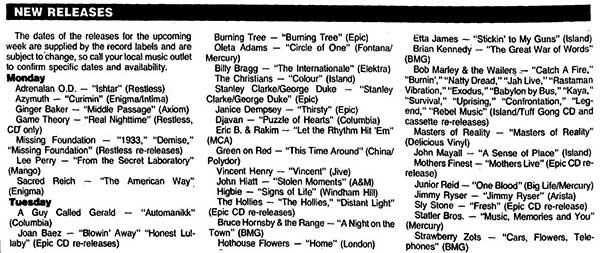 A Guy Called Gerald - Automanikk - US Release Date (Santa Ana Orange County Register, Sunday 17th June 1990)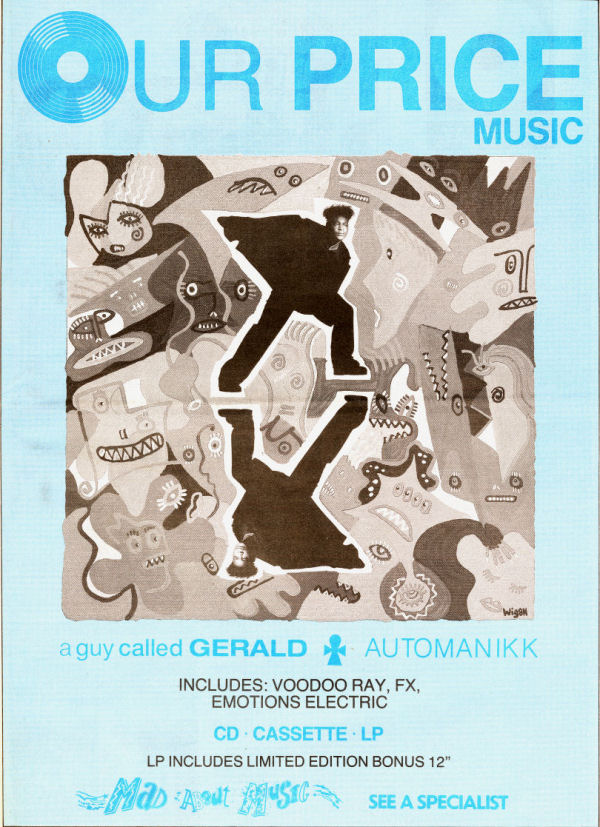 A Guy Called Gerald - Automanikk - UK Advert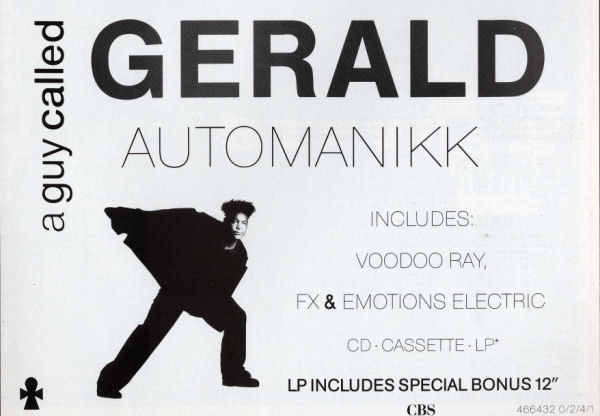 A Guy Called Gerald - Automanikk - UK Advert - Rave Magazine (Issue 11, 04/04/1990)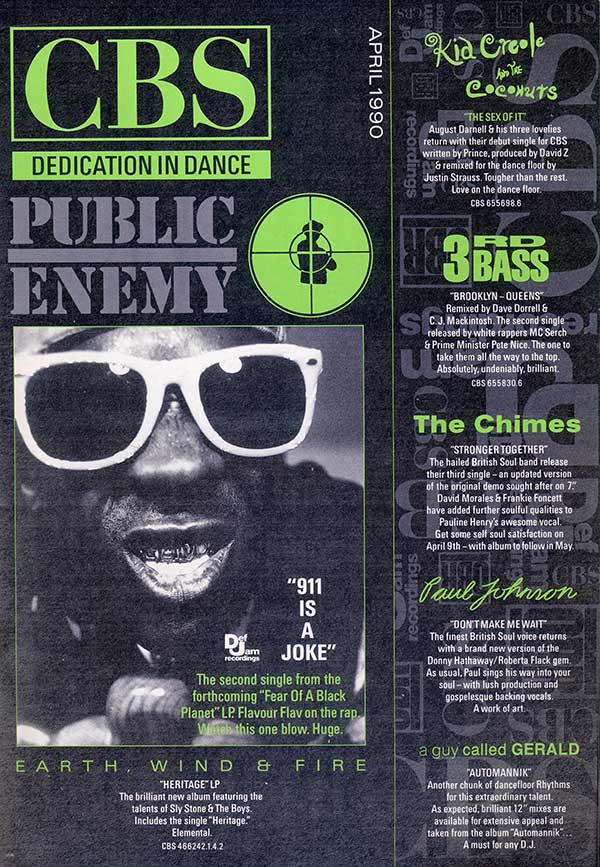 A Guy Called Gerald - Automanikk - UK Advert - Mixmag (Issue 87, April 1990)
A Guy Called Gerald - Automanikk - Press Photo