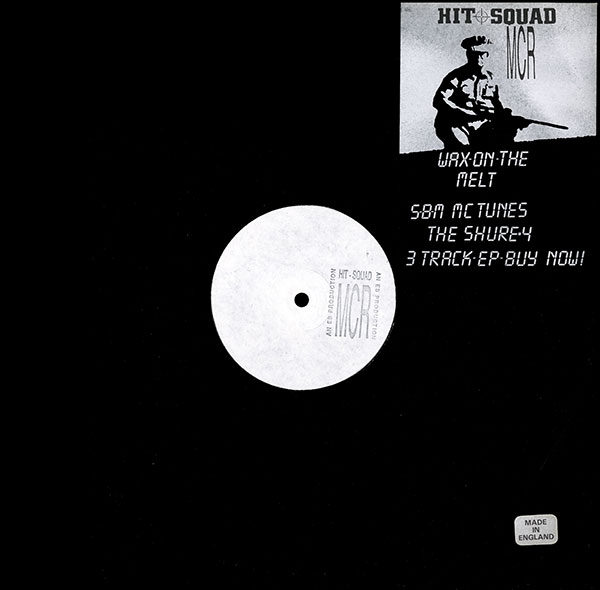 Hit-Squad MCR - Wax On The Melt
UK 1987 12" Single; Eastern Bloc Records: EASTERN 1 [White Label Promo - Stamped Labels]

??:?? Scratch Beatmasters/MC Tunes: "Back To Attack" (Original name "Tunes Is Back")
??:?? Hit Squad MCR: "Line Of Madness
??:?? The Shure.4: "Only The Dope"
Released:
July 1987 - Limited to 500 copies.
Credits:
Hit Squad MCR (MCR is a shortened term for Manchester) consisted of:
Scratch Beatmasters/SBM (MC Tunes aka Nicky Lockett, Gerald and Dave Caine).
The Spinmasters (aka Andy Barker & Darren Partington of 808 State).
MC Shine (aka Shine MC aka Martin Green who went on to find fame as an MC and songwriter, writing and producing the chart topping 'Flowers' for Sweet Female Attitude in April 2000. This charted at number two in the charts and stayed in the top ten for five weeks. He also produced a cover version of Isaac Haye's classic "Shaft" for PWL/Coliseum Records in 1996).
The Shure 4 (Darren Smith (DJ), Jay Jordan (MC), Nikki (Beatbox) + one other).
Comments:
Many thanks go out to Markus Arnold on the official 808 State web page for permission to use the images, Myk from the Old Skool Anthems Message Boards, and also to Graham Massey from 808 State for information on this page.
Myk from the Old Skool Anthem Message Boards:
"SBM are Scratch Beatmasters made up of The Spinmasters of Thunderdome fame and a Guy called Gerald, later becoming the infamous 808 State and MC Tunes (Gerald had by this stage gone solo).

Manchester Hit Squad was made up of 3 groups SBM, Hit Squad MCR with MC Shine, and The Shure 4 (4 M8's of mine from way back in the day).

It was recorded one sunny Saturday afternoon in the Eastern Bloc basement (thanks to Graham Massey and Martin Price) during a heavy smokin session way back in 1988.

Ill go further and tell you that it was a very limited press less than 500 copies released and only via Eastern Bloc and Spin Inn records"

"However every town has its own little squabbles and because Stu Allen was heavily backed by a record shop called Spin Inn, who supplied him with all the US Imports, there tended to be little promotion of the other main local hip hop shop's activities over at Afflecks Palace where the Goths & punks mixed readily with capped hip hop kids and early ravers. The rival shop was Eastern Bloc, who had got together four groups working under a joint umbrella name "The Hit Squad" which included my mate Jays group Mind Over Matter alongside Force Five (4 mc's rhyming at the same time!), MC Tunes (with Geds on the scratches or A Guy Called Gerald as he would later be known), Spinmasters (whose 2 dj's went on to be a part of 808 State & host their own mad dance show). Manchester writer John McCready did an excellent breakdown of the local scene, but unsurprisingly it just concentrated on the groups around Spinn Inn. "
Ruffmouth:
"MC TUNES Back to attack 12" Hit Squad 87
The earliest piece of wax in this pack and for a reason. When my pal Jay was in Mind Over Matter and the loose Hit Squad posse put on jams. I was amazed how Gerald got the super raw drum machine beats & razor sharp cutting live, not only that but Tunes was almost punk rock in style, no body was going to fuck with him, or diss him, at least not to his face. This was Nicky at his hardest, a drum machine & cut and a voice that's it, I still love the sound of them gritty 808 beats too. I think a lot of jiggy rappers should have to rhyme over shit like this to see if they can really rhyme."
Gerald Simpson:

"Yeh, I've always respected Andy and Darren from when they were the Spinmasters. We used to DJ battle at the Sally Army in Ancoats. I'll never forget the time they were spinning, I think they had about 7 sets of turntables or something like that and they were trying to do like this Knights of the Sound Table / itchybone scratch / type vibe. I turned up with the Scratchbeat Masters (the 3 of us - Dave Caine, Nicky Lockett and me) which was my crew at the time and a set of home-made speakers, 2 turntables and a drum machine (TR Roland 808)...... no one had ever used the drum machine in a DJ battle before. We tore the roof off! LOL But after that we became great friends. I remember going round to Andy's house and in his DJ room he had a wall of fame - all these posters of LL Cool J and it was great.... we go back a long, long way. "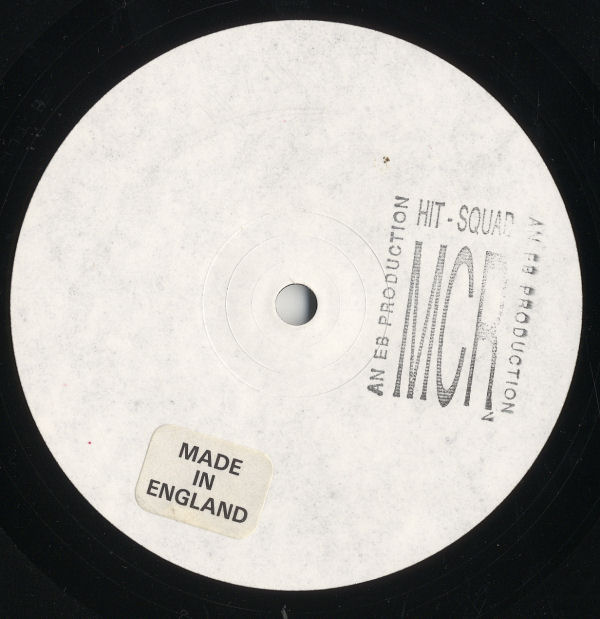 Hit Squad MCr - Wax On The Melt - UK 12" Single - Label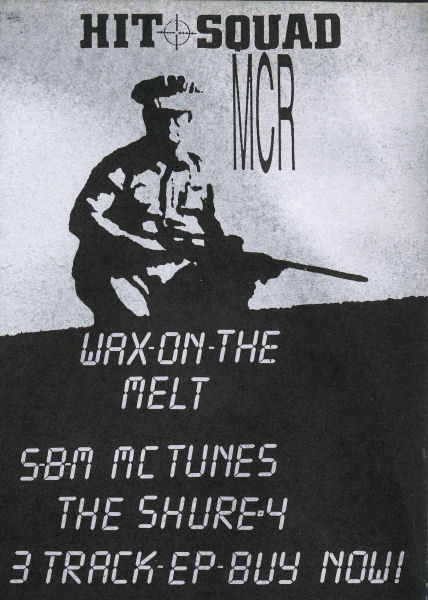 Hit Squad MCr - Wax On The Melt - UK 12" Single - Sticker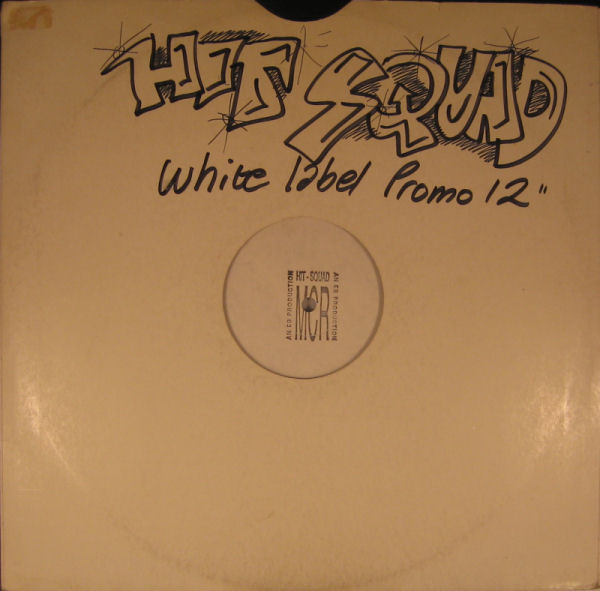 Hit Squad MCr - Wax On The Melt - UK 12" Single - Custom Promo Sleeve