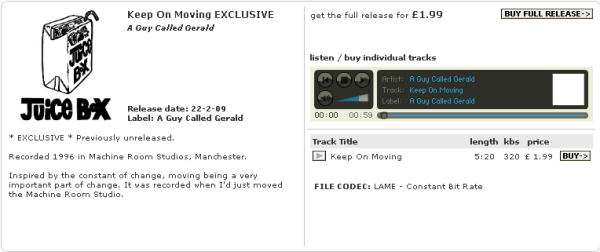 A Guy Called Gerald - Keep On Moving

UK 2009 MP3; A Guy Called Gerald: <No Cat Num>

5:20 Keep On Moving

Released:

22nd February 2009.

Comments:

* EXCLUSIVE * Previously unreleased.

Recorded 1996 in Machine Room Studios, Manchester.

Inspired by the constant of change, moving being a very important part of change. It was recorded when I'd just moved the Machine Room Studio.

320 kbps, LAME - Constant Bit Rate.

MP3 Link Page:

Was originally available via Gerald's IThinkMusic web shop, but no longer available.