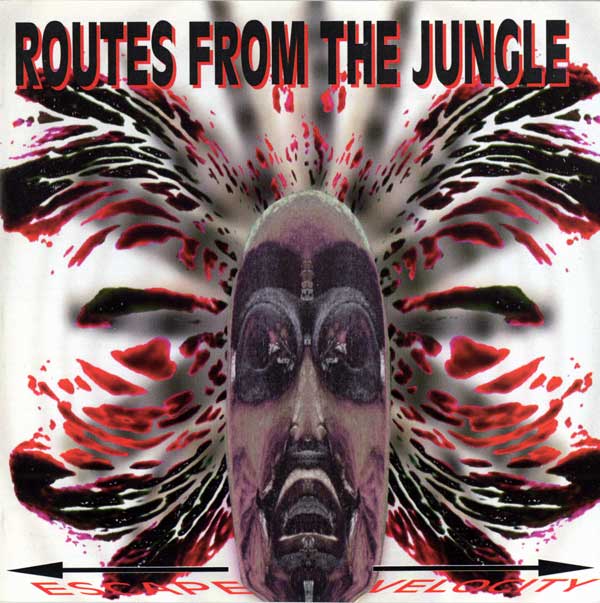 Various - Routes From The Jungle - Escape Velocity Volume 1
UK 1995 CD; Circa: VTCD 46
4:40 Nazinji-Zaka
Released:
1995.
Credits:
A GUY CALLED GERALD - NAZINJI ZAKA.
WRITER/PRODUCER/ENGINEER: GERALD SIMPSON.
PUBLISHER: COPYRIGHT CONTROL.
Comments:
Double Jungle CD featuring tracks from Roni Size, Doc Scott, 4 Hero, Dillinja, DJ Ed Rush and Nicollette amongst others - well worth tracking down if you can find it.
A GUY CALLED GERALD: "A LOT OF IT IS TRANSPOSING. LIKE THE DRUMS ARE TRANSPOSED UP SO THE ACTUAL BREAK IS PLAYING IN DIFFERENT PITCHES. I WORK ON TAPE A LITTLE BIT AT A TIME, SPIN SOME SAMPLES OVER THAT, SEE HOW IT SOUNDS, GO BACK OVER IT AGAIN. IT WAS DONE OVER A PERIOD OF A WEEK AND A HALF, ERASING IT AND PUTTING DIFFERENT THINGS OVER IT. IT'S AN AFRICAN FUTURISTIC KIND OF SOUND. YOU CAN PICTURE THE MARTIANS LANDING IN A JUNGLE CREATING THEIR OWN CIVILIZATION, SOMETHING TOTALLY UNDILUTED, A TECHNOLOGY UNTO ITSELF."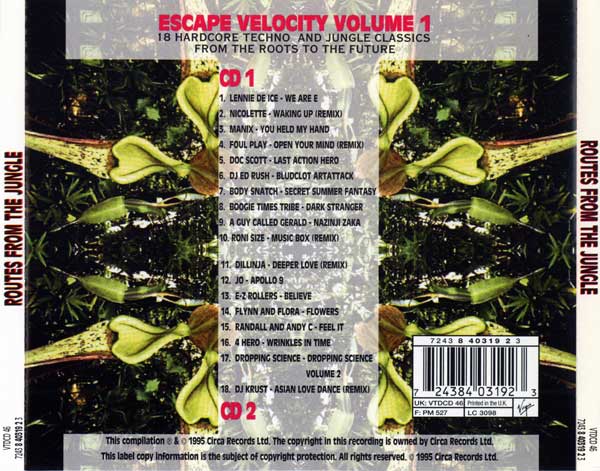 Various - Routes From The Jungle - Escape Velocity Volume 1 - UK 2xCD - Back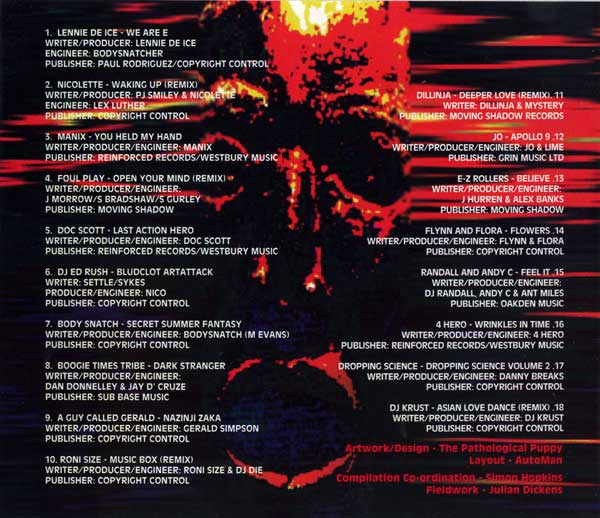 Various - Routes From The Jungle - Escape Velocity Volume 1 - UK 2xCD - Credits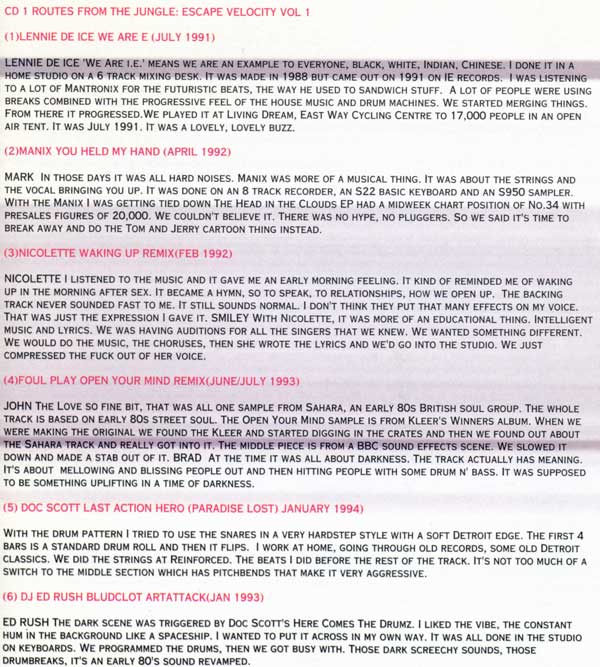 Various - Routes From The Jungle - Escape Velocity Volume 1 - UK 2xCD - Credits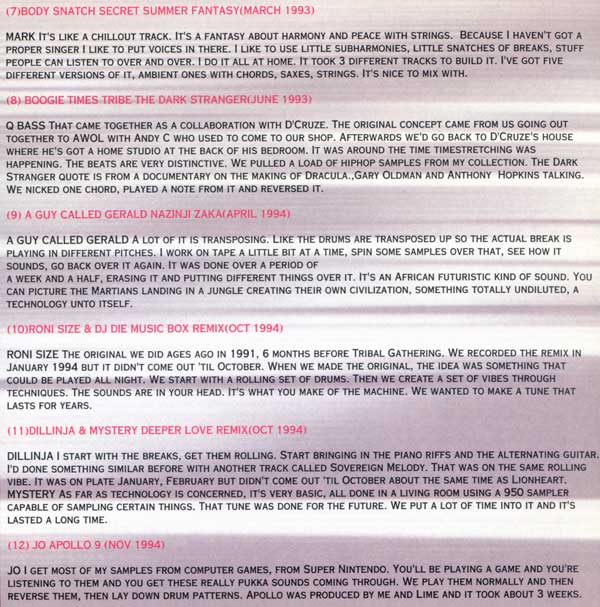 Various - Routes From The Jungle - Escape Velocity Volume 1 - UK 2xCD - Credits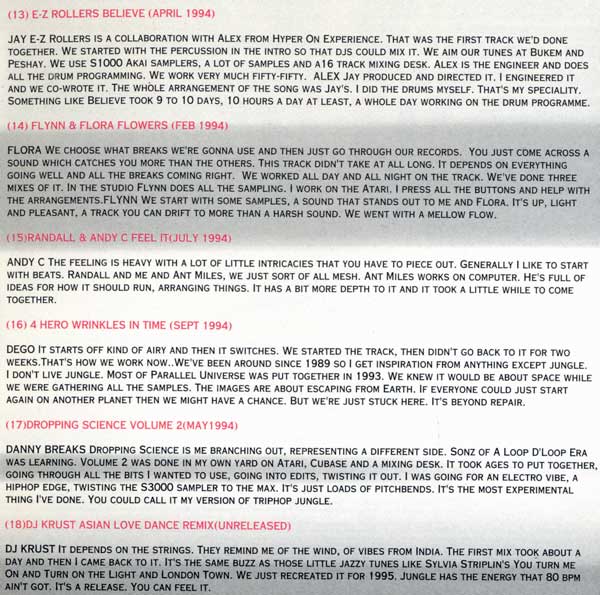 Various - Routes From The Jungle - Escape Velocity Volume 1 - UK 2xCD - Credits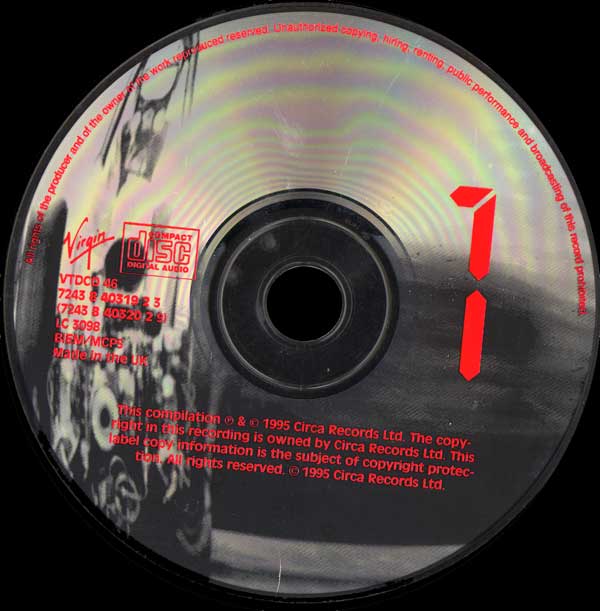 Various - Routes From The Jungle - Escape Velocity Volume 1 - UK 2xCD - CD 1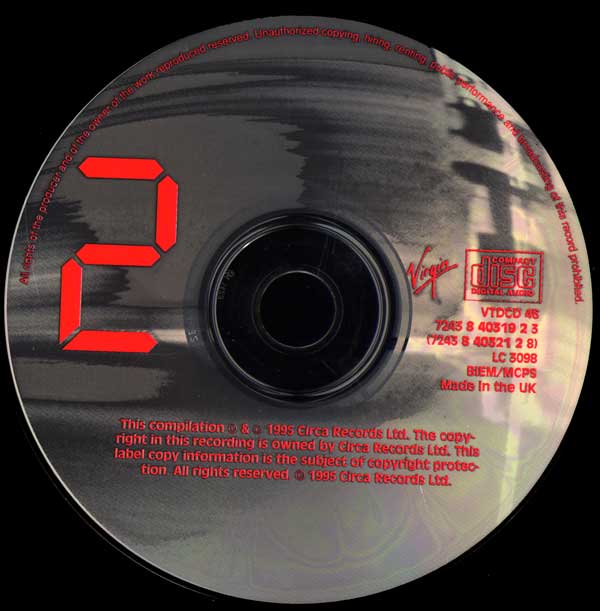 Various - Routes From The Jungle - Escape Velocity Volume 1 - UK 2xCD - CD 2