Label Profile - A Guy Called Gerald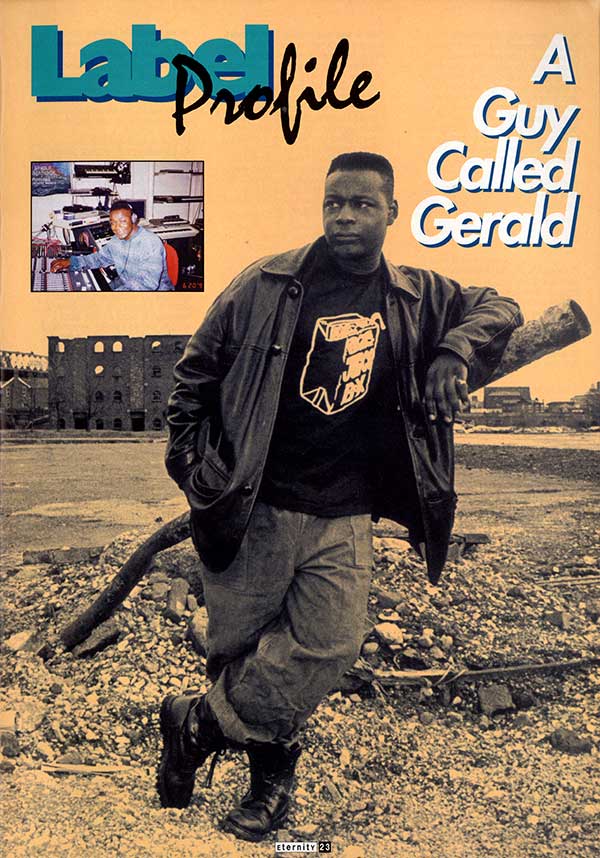 At 27 years old, Manchester's' Gerald Simpson has made more music than most people realise. There was Voodoo Ray, way back,
in the early acid days, followed by a string of successful releases that made him internationally famous for producing quality music for a house generation. Now, with the help of a fully automised thirty six track studio, he is concentrating on his own record labels, Juice Box, Juice Groove, and Celestial.
But his success has been far from easy. Management problems, coupled with the attitude of major label, Sony, have hindered his
progress and stopped him producing the music that he wants to make for the public.
"I hated being pushed in a commercial direction by these people. They didn't have a clue what I was about. I've always just wanted to make music that crosses new boundaries and goes one step further than what everyone else is doing. If you're being asked to produce commercial tracks, then you just can't do this."
A will to always be creating something new stems from the early days when he used to DJ at youth clubs and local schools with a couple of decks and the rest of his crew. He was throwing down masterpieces by Jazzy Jeff, Man Parish and Africa Bambaata, when he realised that a little Roland drum machine played over the top would enable him to make his own interesting new style. It was in 1986, when he heard Stu Allan playing House music on Piccadilly Radio, that he knew he must get more into making music.
"House was much more accessible than electro. I knew that I could make music like that. It was really stripped down and I'd had enough of the charts, so I got into House because it was sort of like an anti-pop thing".
At first Gerald and his crew (called the Scratch Beatmasters), had a rapper called MC Tunes. They would challenge other crews in the area, such as the Spinmasters, who are now known as 808 State. When the Scratch Beatmasters challenged the Spinmasters, they brought down loads of speakers and hooked them up to the decks. It was then Gerald produced his 808 drum machine and The Spinmasters were completely knocked back.
"We knew each other before then, because they were doing the same thing, but from then on we got together and met up with Graham Massey and Martin Price from Eastern Bloc. We formed 808 State, but after a few gigs, I realised it wasn't for me. You see I didn't function in groups properly and I wasn't getting much feedback, I just wanted to do my own thing. After contacting Rham Records through some friends, I started to concentrate on my own stuff, even though I'd just done the Newbuild LP with 808 State, which if it wasn't for Graham and me would have nothing on it!".

When Gerald went to do a Peel Session for Radio One, Gerald finally split up from 808 State. They had had a massive argument and things were getting nowhere. The next thing he knew he was sat down in front of the television and 808 State were doing a track that he had done originally, Pacific State.
He phoned them up, but it just caused another argument, and 808 State released the track. There was nothing he could do. A few months later however, he released his own piss-take of the track, Pacific 8.
To get out of the mess with 808 State, Gerald signed to management with some other people who later started distributing records under the name 'Deltra'. They got Gerald a major record deal with Sony, but at this time he was searching for a new sound, which Sony didn't really give him the opportunity to find. They had plans to make a commercial success out of A Guy Called Gerald.
"I've studied the chart system and I know exactly how it works. It doesn't matter what you put out, but if you've got loads of money, you'll do well. It's really a marketing mans game and I've always concentrated on the music".
When he signed to Sony they said that he could have his own label to do what he wanted. So he set up 'Submerge' and thought it would be an excellent opportunity. However, they thought that Gerald was going to write stuff like 'Voodoo Ray', when all he wanted to do was go his own way and find that new sound.
"I did a tour with the Automanikk LP, which Sony didn't really want us to do. I did the States, Japan and the UK, and by the end of it, Sony realised that it had gone really well. So, when we got back, they offered to give me anything I asked for. They sent me a big mixing desk and a twenty four track machine, so that I could produce it myself. They wanted me to do more song based stuff and I thought I'd have a go, but they wanted it commercial and I didn't. I kept on with how I wanted it and in the end I wrote some really deep and meaningful electronic tracks, but when I played them the album, they said that some things weren't right. They told me that I couldn't have back my tapes of the tracks back and after four months I knew they weren't going to release it."
What a shame. Gerald had spent over a year producing the LP and it was to no avail. It taught him a big lesson, but it didn't stop him doing what he loved to do. He continued with his management and they set up 'Deltra', a distribution firm that distributed all his records for him. However, they started to produce merchandise behind his back and it got to the stage where the relationship broke down. Gerald was back to square one.
While all the hassle with Sony and Deltra was going on, Gerald had teamed up with MC Tunes again. He had a sound system called 'Juice Box' which Gerald had put some equipment in to. They used to go round the streets of Moss Side and Manchester blasting out quite 'Jungle' sounding tracks influenced by hip hop, electro and dub reggae.