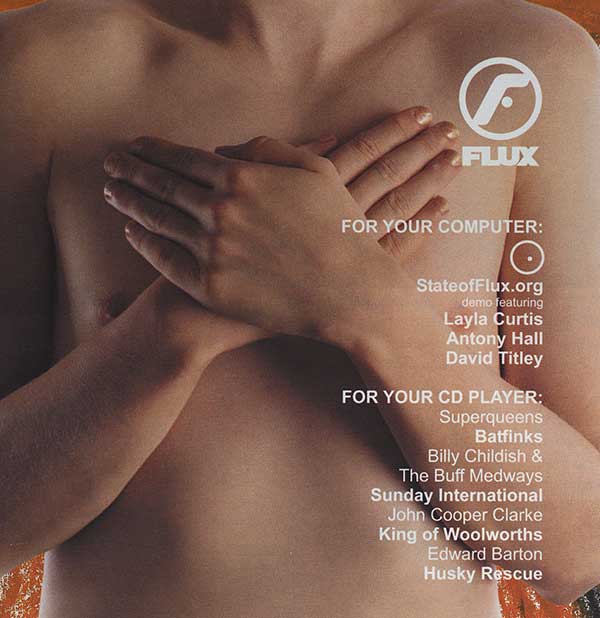 As a special treat, all our UK readers should have found on the front of the magazine a rather nice CD ROM and this is what's on it.
First it, has the early sights of StateofFlux.org. This web based concept has been in the pipeline for a while, and is getting ready to hit you with specially commissioned art and concepts online later in the year.
Second, it has some of our favourite music of the moment, a mix of signed and unsigned, electro and guitars, old and new - we think the best compilation you'll have heard in a while. More info on exactly who's on it is on the right.
And an exclusive just for you, hot off the email whirl, we're also announcing that there will be a major Flux event happening during London fashion week somewhere in London. Maybe we'll see you there.
Watch our for info at www.fluxmagazine.com and if the CD is not there (or if you're an international reader who would really, really like one) get in touch and we will see what we can do while stocks last.
FOR YOUR COMPUTER:
StateofFlux.org
Ever thought about just how dull most web sites really are? That the web is only any use for searching out hard facts or surfing cheesy sites? Well, launched later in the year, StateofFlux.org, supported by the Arts Council and NESTA, will be knocking that on the head with new commissions, no lists, no ads and no hype.
So, for those of you who like to be at the front of every queue, we'd thought you'd like to see a demo of the project's first throws before it gets all smartened up ready for its full launch. The pilot on this CD is designed by Nik Kraakenes and features:
LAYLA CURTIS - Message in a Bottle
ANTONY HALL - My Studio DAVID TITLEY - TicToc
Et FOR YOUR CO PLAYER:-
1 SUPERQUEENS - I'm in the No-Show Biz
With spoken lyrics delivered over stripped down electronic beats, the cultural universe of the Superqueens is one, which many of us have experienced, but few of us have managed to successfully articulate. 'I'm In The No-Show Biz' is lifted from what is, possibly, the greatest album you will hear this year. (See page 24 for full feature on the Superqueens).
2 BATFINKS - And So
This track is taken from Batfinks' 'The One Towards The Garrick From The Bird' EP released by Hippocamp.net earlier this year. 22 year-old Batfinks hails from Urmston and is highly regarded amongst the international internet label scene for his innovative blend of childlike melodies and inventive rhythms.
3 BILLY CHILDISH & THE BUFF MEDWAYS - We're Gone, We're Gone
Wild Billy Childish & The Buff Medway's with a Mr Childish at the helm knock out 'Authentic' inspired rock'n'roll tunes with fellow Medway town yokels. 'We're Gone' is another Buffs timeless classic, that'll wake you up faster than an injection of coffee, and if you thought that the Wah, wah peddle was defunct, think again. Robin Nature-Bold
4 SUNDAY INTERNATIONAL - Hey, Hey, You
'Hey You', is a perfect example of Sunday International wit and eclecticism, with unkempt guitar tempo perfectly accompanied with sultry vocals by Mrs Levick-Parkin and achingly good whistling by Mr Parkin, this is a tune to listen to whilst riding your Mo-ped to see alligators... RNB
5 JOHN COOPER CLARK - Slick
Since his emergence in the early 1970s, John Cooper Clarke has managed to forge a unique path, somewhere between the comic and the tragic, the sensuous and the barbaric. Here, 'Slick' provides a blues laden accompaniment to his own idiosyncratic avant-garde literary patter.
6 KING OF WOOLWORTHS - Rotisserie Chick
Jon Brooks' mix of crate-digging jazz grooves and electronica have been firm Flux favourites over the last three years. His third LP 'Rediffusion' is out on 27th September and this great track is an exclusive out-take from the sessions.
7 EDWARD BARTON - Flowers: Nice, sung by Ray Pratt
Edward Barton has been crafting countless melodies and lyrics for thousands of years (well almost). Barton has now just finished two new albums worth of paradoxical deliberating music. 'Nice: Flowers' smells of Barton's surreal day dreaming visions of chattering and rustling at the bottom of his overgrown garden. RNB
8 HUSKY RESCUE - The Good Man
The unique hidden track from the Helsinki based artist's forthcoming debut "Country Falls" LP released by Brighton's excellent Catskills label. The spoken word narrative by Jonathan Hutchings recently captivated listeners at Husky Rescue's Big Chill appearance.
[Author: Robin Nature-Bold/Flux Magazine]