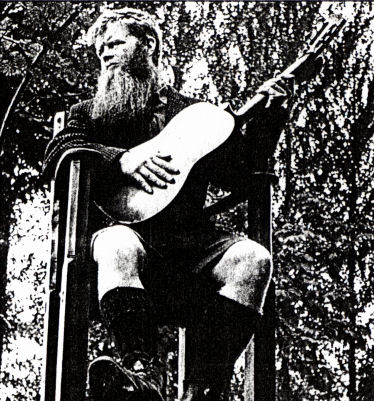 Welcome to the-wacky world of Edward Barton. Million-selling songwriter, singer, record label boss, video director, occasional TV personality and, until recently, art gallery owner, Barton is undoubtedly one of the last of the great British eccentrics. He also wrote the original melody and lyrics to the Opus III blockbuster It's A Fine Day which dominated dance and pop charts all over the western world in 1992.
Now he's back with an impressive 12-inch single on his own Wooden Records label 5 Songs 4 Voices and is looking for a publishing deal too.
"I've never wanted one before," says Manchester's answer to ZZ Top's Billy Gibbons, who also has recordings and co-writes to his credit with artists including 808 State, A Guy Called Gerald and Inspiral Carpets. "When I signed with Cherry Red for Its A Fine Day in 1983, I gave them the publishing, too. I quickly realised that as long I was a member of PRS, a publisher wasn't really necessary. But these are the first songs I've written I know I'll never sing myself so I need someone to work them for me."
Publishers reaching for the phone at this point should pause to reflect that Barton writes for voices only, composing mainly while walking the streets. The new single, and an imminent album Oblong, features unaccompanied performances by Tracey Carmen from Mind Body & Soul, Nina Henchion from Sub Sub, Smita Pandya from Cheyne and former Guy Called Gerald vocalist Viv Dixon.
"There's something naked about singing unaccompanied. The real truth of the song comes through and you get very aware of how honest it is. Originally I thought I could find the singers with the right kind of naive approach in local schools. But I swiftly realised the songs needed slightly more than that to come across properly."
[Author: Song Plugger]