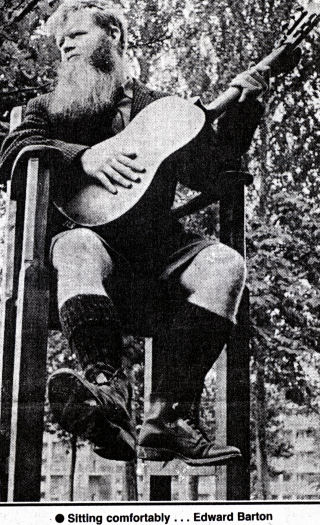 Strange - but super - sounds from Edward Barton
IT WAS a long time ago, but who could forget his appearance on The Tube singing: I've Got No Chicken But I've Got Five Wooden Chairs? Edward Barton must be the weirdest thing to come out of Manchester. But he's talented too.
He's had a hit single as writer of It's A Fine Day, taken to the charts by Opus III. He's run a record label and an art gallery, directed a video for James and played guitar for Tears For Fears on a TV appearance.
He's always collaborated with . other singers and musicians and has worked with some Liverpool artists for his latest brainchild.
5 Songs 4 Voices is an album of dance music - without any beats! In fact, without any music at all.
The 12" single is an all-acappella record featuring only voices.
It comes with the instruction: "Just add music". The idea is for DJs to mix in their own choice of sounds.
But some of the voices are good enough to stand up on their own. Among the Liverpool talent is Tracey from Mind Body & Soul, who co-produced the record, and Mark who takes lead on a choir track, Searching.
Whether the DJs will take up Edward's suggestion remains to be seen. But the record is good enough to work on its own.
[Author: PENNY KILEY]