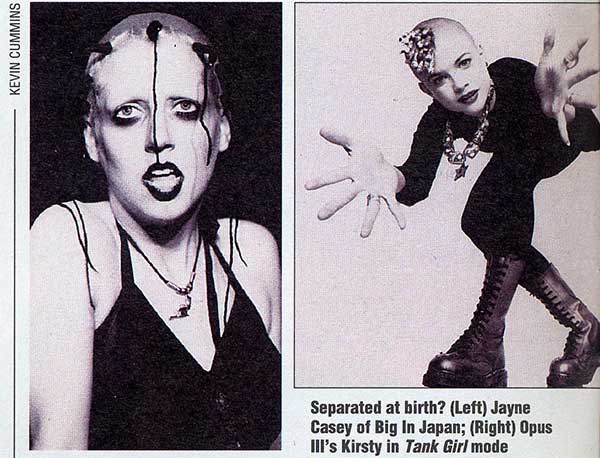 Edward Barton is an out-to-lunch Mancunian who once serenaded chairs and grappled with teddy bears on The Tube. Jayne Casey is a former singer in Big In Japan and Pink Military [Yes, but she is NOT the Jane who originally sang on "It's A Fine Day"!]. Ian, Kevin and Nigel are three anonymous but not very enigmatic producers who go under the name of ASK on MCA Records. Kirsty is a 23-year-old with shaved, elfin looks, who organises raves for the dance organisation Spiral Tribe. She's also the classically-trained daughter of the man who composed the original Grange Hill theme.
Pete Waterman, meanwhile, is a keen collector of military hardware (including missiles and rocket launchers) who has carved a successful career for himself as a record producer. When you put them all together, this oddball mix have all played their part in the success of Opus III's Top Ten 'It's A Fine Day' single.
Barton penned the tune a decade ago when his local mates James were only dreaming of pop success, and in 1983 Jayne [NO! It's Jane Lancaster, NOT Jayne Casey!] recorded an a cappella version for Cherry Red Records. Much later, ASK heard the song on the radio and decided to mix their own dance version. Shortly after this they met up with Kirsty at a rave and used her to re-record the vocal. Finally, Pete Waterman heard the track and released it through his PWL label. Lo and behold, a hit was born.
Edward Barton is said to be "delighted" with the new version, and wants to work with ASK in the future (despite his own version of the track with A Guy Called Gerald, released this month). MCA, originally somewhat miffed when the ASK boys went to PWL, now feel happier about a possible knock-on effect for ASK's new single 'Cry Freedom' - Kirsty has just signed a solo deal with PWL and looks set for a glittering pop career.
And as for Jayne - she's currently the exhibition organiser of the Bluecoat art gallery in Liverpool. [Jayne Casey, NOT Jane Lancaster!]
[Author: Steve Malins]