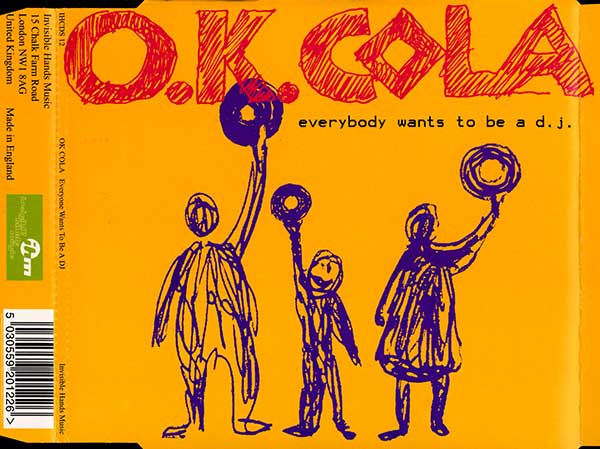 O.K. Cola - Everybody Wants To Be A D.J. (Single)
UK 2004 CD Single; Invisibile Hands Music: IHCDS 12
1. 03:38 Everybody Wants To Be A DJ (Radio Edit)
2. 04:27 Everybody Wants To Be A DJ
3. 04:33 Yeah Forever... (Half Arsed Hard Arse Mix)
Released:
15th March 2004.
Credits:
Written by: Barton, Day, Fitzpatrick, Moore.
Produced by: Fitzpatrick, Moore.
Guest guitrar: Larry Gott (James).
Comments:
O.K. Cola include Mark Day (Happy Mondays) and Edward Barton. Larry Gott (James guitarist) also guests.
Taken from the Invisible Hands website:
So what's brought Mark Day back out of anonymity? "Well" says Mark "I know Edward Barton from early morning coffees in the local coffee shop and we just gently started doing things together, you know played on something together, he wrote something I added something, just hung out I guess. Edward is one of the most brilliant songwriters around. He's written for Kylie Minogue, Pizzaman, Lost Witness, Opus Three and loads more y' know. I mean Edward is quality, real quality, man. He is really great to work with and he introduced me to Neil and Austin and Paula and so on. And that's how, I guess, Edward has formed OK Cola by bringing together in that very seductive and creative way that he has, everyone who forms OK Cola.
Edward Barton is the evil genius or inspired creative spirit, which ever you prefer, bringing OK Cola together. But as Edward admits providence had as much to do with OK Colas' formation as did design. "The right people were all available and in the right frame of mind at the right time" admits Edward. "We were lucky in that Neil and Austin who are both great musicians are also great producers were around at the same time as Mark. Paula is a fabulous singer and performer and we were all lucky to be able to conscript her into the gang. On top of all this we had some help from Larry (James guitarist) to speed us on our way. It's been a strange journey for all of us, bedroom recordings, coffee house song writing, used furniture warehouse photo shoots, watching the dawn bless our latest recording effort, cramped van journeys to gigs, sleeping squashed against each other on the way back from gigs, watching the road signs churn by, stacking empty bottles against the side of amps as the recordings stretch into 3 days with no sleep, arguing, shouting, running, playing games but here we are here and we are OK Cola".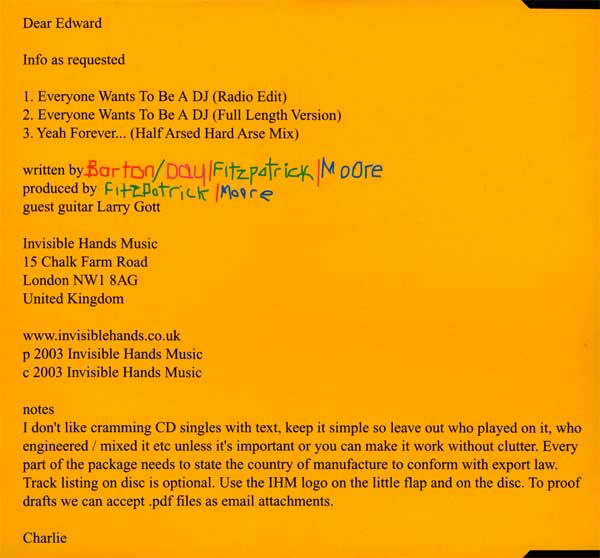 O.K. Cola - Everybody Wants To Be A D.J. - UK CD Single - Back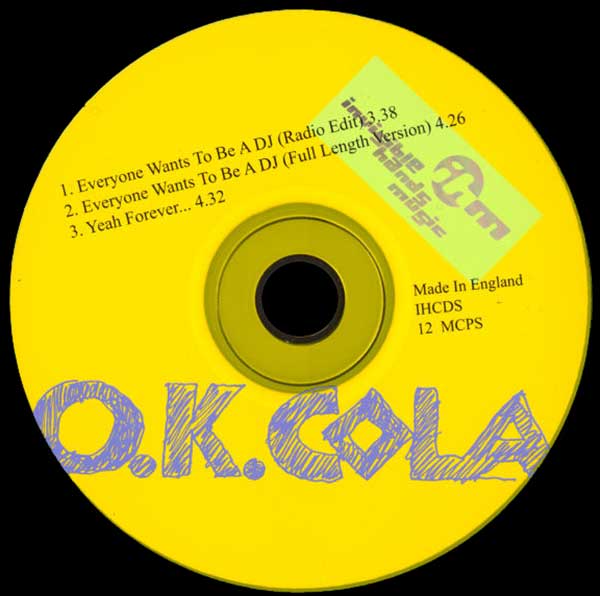 O.K. Cola - Everybody Wants To Be A D.J. - UK CD Single - CD