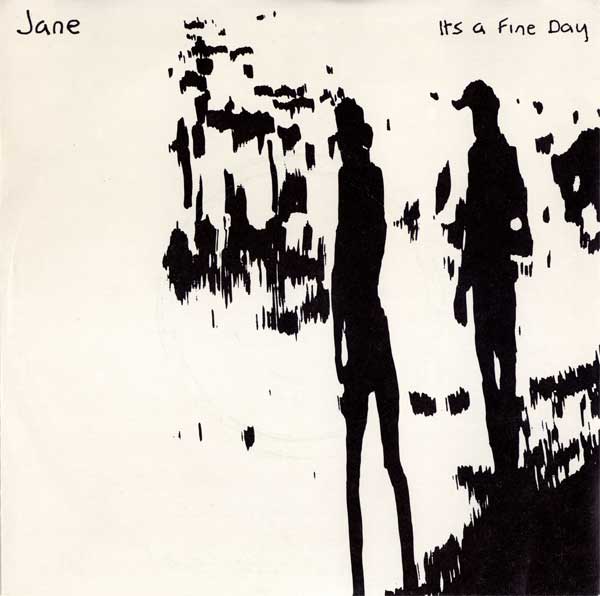 Jane - It's A Fine Day
UK 198x 7"; Alternative Music: ?? [First release - unknown release date]
UK 1983 7"; Cherry Red: CHERRY 65
NZ 1983 7"; Cherry Red: MAS-307
2:49 It's A Fine Day
1:20 Of all - Leaves were falling
Released:
May 1983 (as stated in Music Master Singles Catalogue, 3rd Edition, 1990).
Credits:
Voice: Jane.
Words, tune, cover art: Barton.
Impossible without Gabriel (Gabriel Gawin).
Press Release:
"IT'S A FINE DAY" - JANE (CHERRY 65)
The poem was written three years ago. I am not sure why, but last October I began to sing it to myself. Then I sung it through the phone from Manchester where I lived, to Lou. Lou has been a friend of mine for a long time. She sung it onto a cassette and sent it back to me. It is one side.
The next girl I sung it to was Jane who had told my friend Gabriel that she could sing a bit.
We recorded it in an almost lightless and airless studio for about five pounds. Next I sold my things and Mayking Records made one thousand records for me. These were useless but they would not give me my money back, so I did a lot more things to get some more money. Alternative Music then pressed the record properly.
Then I put some other of my poems with photographs and drawings and made thirteen posters which I put with the single into paper shopping bags which I am still selling for two pounds.
I had hoped that the posters and singles were at first simple but gradually confusing:
Cherry Red rang me up.
BY OWAIN BARTON
Comments:
Originally released in the mid 80's, this song, featuring the sole vocals of Gabriel Gawin's girlfriend - Jane Lancaster, originally had no music to it - Gabriel was Edward Barton's friend at the time. It was subsequently reissued in 1992 with a mix by A Guy Called Gerald (also on Cherry Red), but has subsequently been covered by the following artists:
- Opus III
- Orbital (who sampled the Opus III version in their song, "Halcyon")
- Miss Jane
- Lost Witness
There's an interesting story by the head of Cherry Red (Iain McNay) on this track here - reproduced below:
"Late one extremely wet and cold Monday evening I was driving home from having dinner with our German licensee, when I suddenly found I had two flat tyres. I called the AA rescue service and sat somewhat dejectedly as I waited for them to come. I switched on the John Peel show and the first record I heard was the haunting song by Jane, 'It's a fine day.' I loved the record, and even more, loved the song. Next morning I rang Peel's producer to find out more about the record. I tracked down Edward Barton the owner, bought the rights to the record and the song, and three weeks later 'It's a fine day' was out on Cherry Red and sitting in the lower reaches of the National charts. It wasn't until nearly 10 years later that the true significance of my flat tyres became apparent. In January 1992 I was having dinner at MIDEM in Cannes again when Pete Waterman from PWL came over to me enthusiastically pronouncing, "Iain, we're going to have a No 1 hit with your song.' I didn't even know which song he was referring to until he explained that he was putting out a new version of 'Fine Day' by a group called OPUS 3. It didn't actually get to No 1 but was a big hit all over the Continent and has now become one of Complete Music's biggest copyrights. [Cherry Red Music changed it's name to Complete Music in 1984]"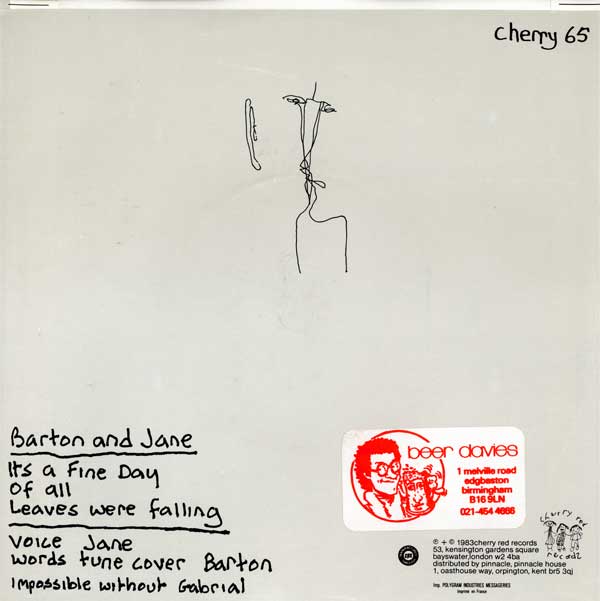 Jane - It's A Fine Day - UK 7" Single - Back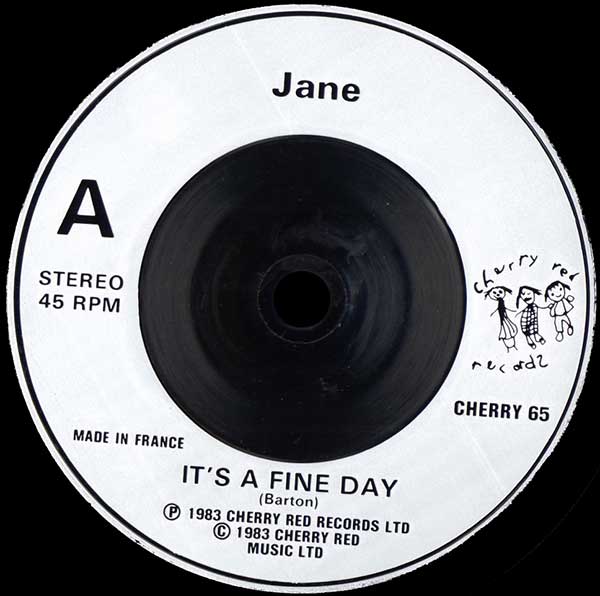 Jane - It's A Fine Day - UK 7" Single - Side A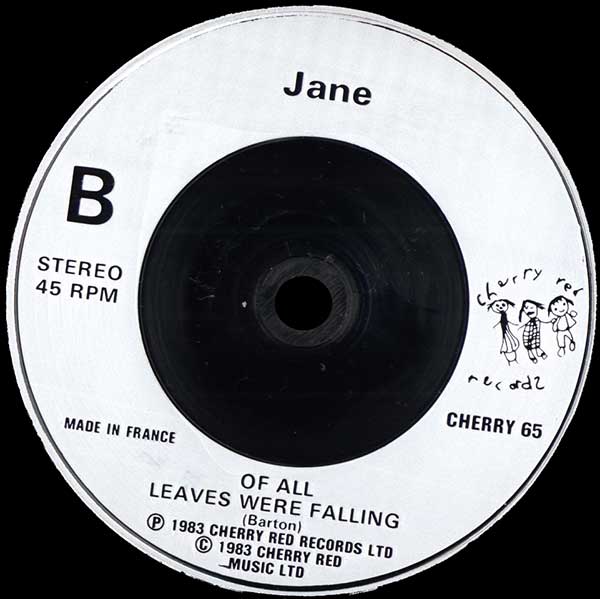 Jane - It's A Fine Day - UK 7" Single - Side B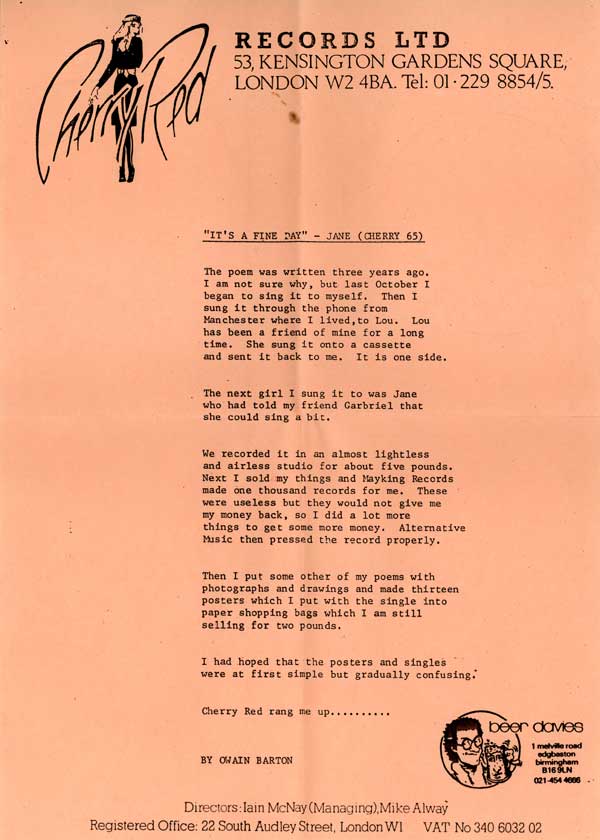 Jane - It's A Fine Day - UK 7" Single - Press Release

Jane - It's A Fine Day - Release Date Details - Music Master Singles Catalogue - 1990 (page J12)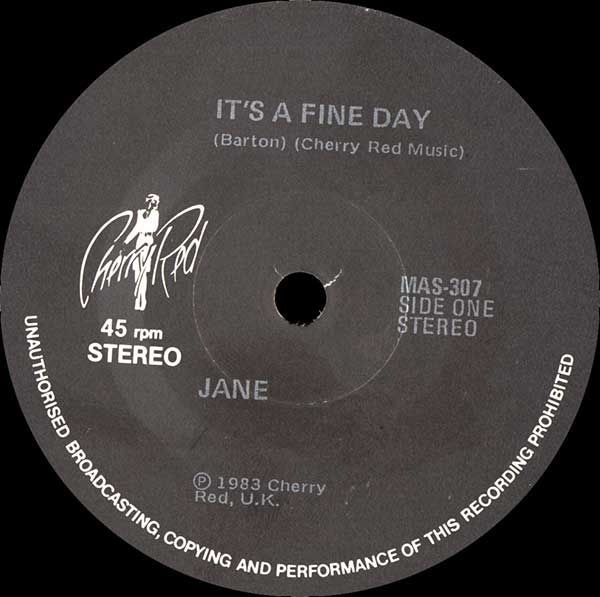 Jane - It's A Fine Day - New Zealand 7" Single - Side A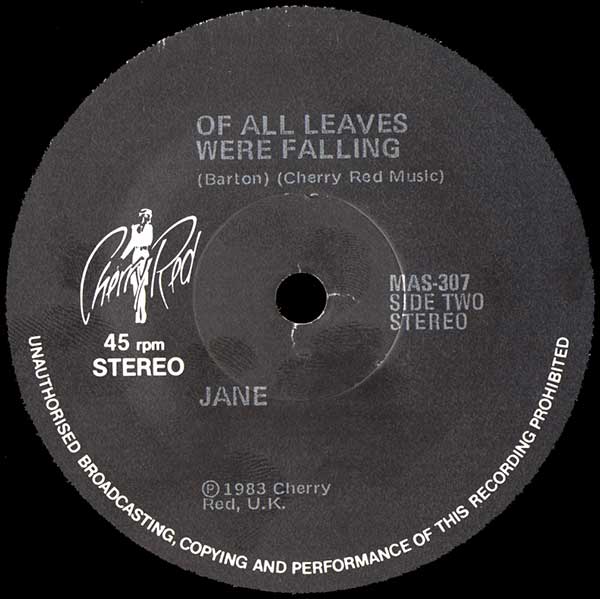 Jane - It's A Fine Day - New Zealand 7" Single - Side B