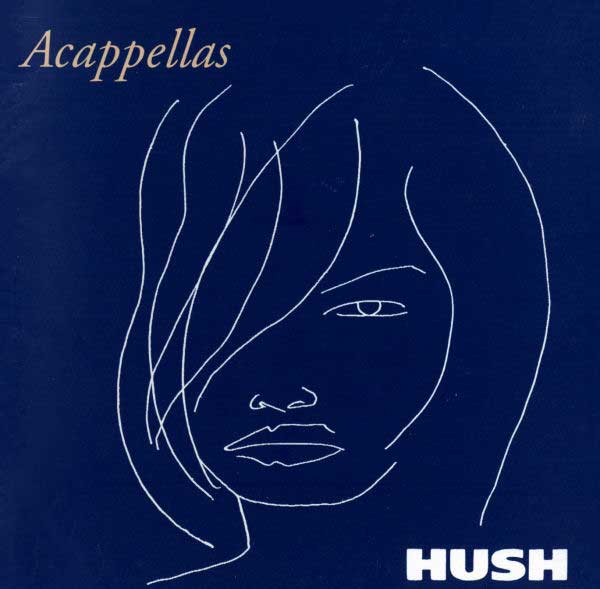 Hush - Acappellas
UK 1995 CD; Wooden Records: HUSH CD1
?? I Don't Mind The People (Vocals: Paula Van Wijngaarden)
?? You Make Me Happy (Vocals: Doreen Edwards)
?? Love And Love (Vocals: Nadia Blue)
?? Here It Comes Again (Vocals: Tracey Carmen, Jennifer Jo Price, Alexis Bellington, Martin Foster)
?? Beautiful World (Vocals: Nina James)
?? Higher Deeper Closer Further (Vocals: Jennifer Jo Price, Alexis Bellington, Tracey Carmen, Martin Foster, Mark Curtis)
?? Full White Moon (Vocals: Tracey Carmen)
?? Coming Up (Vocals: Doreen Edwards)
?? True Love In The Sunshine (Vocals: Nadia Blue)
?? Storm (Vocals: Nina James)
?? Do What You Say (Vocals: Paula Van Wijngaarden)
?? Humans And Gods (Vocals: Carolyn Mason)
?? Whatever (Vocals: Nina James)
?? Angels Care For Us (Vocals: Tracey Carmen)
?? Happy (Vocals: Simone Dominique)
?? Happy (Vocals: Nina James)
?? Looking Finding Losing (Vocals: Nadia Blue)
?? Ice-Cream Flame (Vocals: Doreen Edwards)
?? Happy Train (Vocals: Tracey Carmen)
?? Truly Beautiful (Vocals: Paula Van Wijngaarden)
?? The Wings Of Your Kiss (Vocals: Nina James)
?? The Lonely Boat Song (Vocals: Tracey Carmen)
?? Kiss The Sky (Vocals: Doreen Edwards)
?? Flowers Of The Night (Vocals: Paula Van Wijngaarden)
?? All The Way Up Here (Vocals: Tracey Carmen)
?? Beautiful With Feeling (Vocals: Doreen Edwards, Jo Price)
?? D.J. (Vocals: Nina James)
?? Wish I Could Change (Vocals: Jennifer Jo Price, Alexis Bellington, Tracey Carmen)
?? Strong For Love (Vocals: Tracey Carmen)
?? Love To Live (Vocals: Nina James)
?? Shut Your Eyes And Trust (Vocals: Paula Van Wijngaarden)
?? Eyes Of Sorrow (Vocals: Nadia Blue)
?? You Make Me (Vocals: Doreen Edwards)
?? This Song Is For You (Vocals: Nina James)
?? Aphrodite (Vocals: Carolyn Mason)
?? Play Around (Vocals: Paula Van Wijngaarden)
?? Golden Age (Vocals: Tracey Carmen)
?? Truly Beautiful (Vocals: Nina James)
?? I Love You (Vocals: Nadia Blue)
?? Do What You Say (Vocals: Doreen Edwards)
?? Life Is A Chance (Vocals: Nina James)
?? I'm Rich (Vocals: Doreen Edwards)
?? Flowers Of The Night (Vocals: Nina James)
?? Levitate (Vocals: Tracey Carmen)
?? Shut Your Eyes And Trust (Vocals: Nina James)
?? The Feeling (Vocals: Doreen Edwards)
?? Pink Bikini (Vocals: Nina James, Jo Price)
?? Love To Live (Vocals: Simone Dominique)
?? Touch Me (Vocals: Nina James)
?? I Don't Mind The Rain (Fast) (Vocals: Paula Van Wijngaarden)
?? Here It Comes Again (Fast) (Vocals: Tracey Carmen)
?? Higher Deeper Closer Further (Sample Soup)
Released:
1995.
Credits:
TBD.
Comments:
Tracey Carmen - Member of The Ruthless Rap Assassins.
Paula van Wijngaarden - Vocalist with Blyndsyde - a technical rock band hinting at Rush/early Yes. Their debut album Into the Storm of the Eye was released in Feb 1993 and was engineered by Roger Boden (Charlatans/Stone Roses). They have supported bands such as Pendragon, The Enid and IQ, and have earned a lot of respect with their powerful and extremely tight live performances.
Nina James - Most famous for the Hush vocals on 'After The Rain', which was then used by Lost Witness for their song '7 Colours'.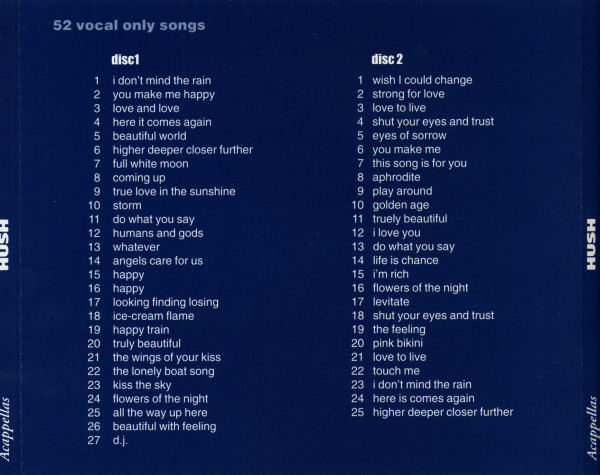 Hush - Acappellas - UK CD - Back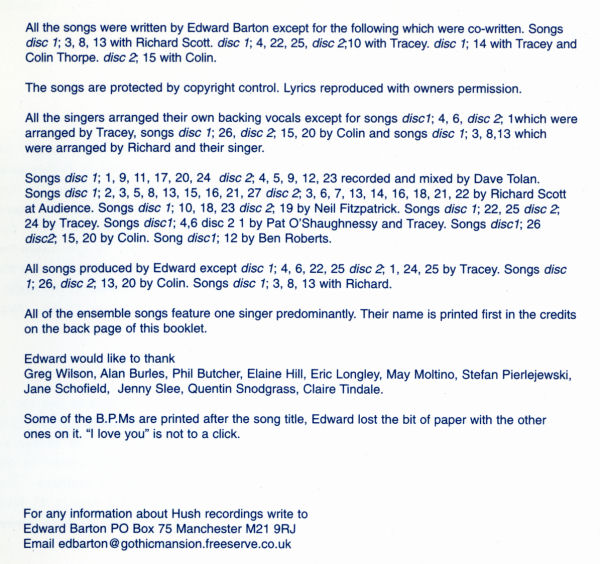 Hush - Acappellas - UK CD - Credits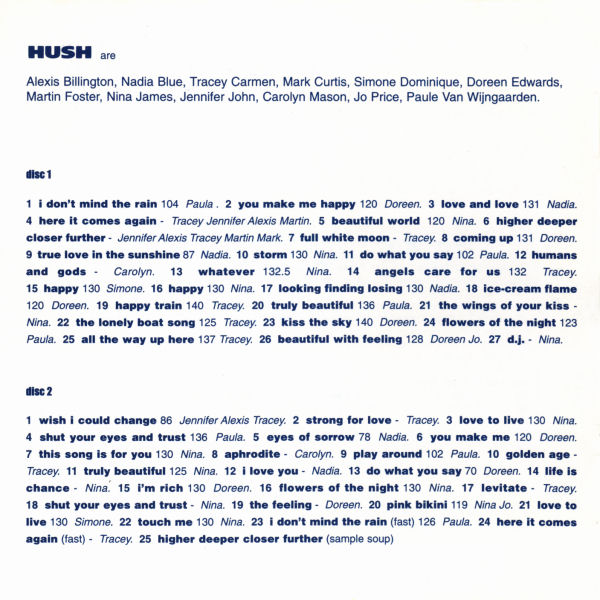 Hush - Acappellas - UK CD - Credits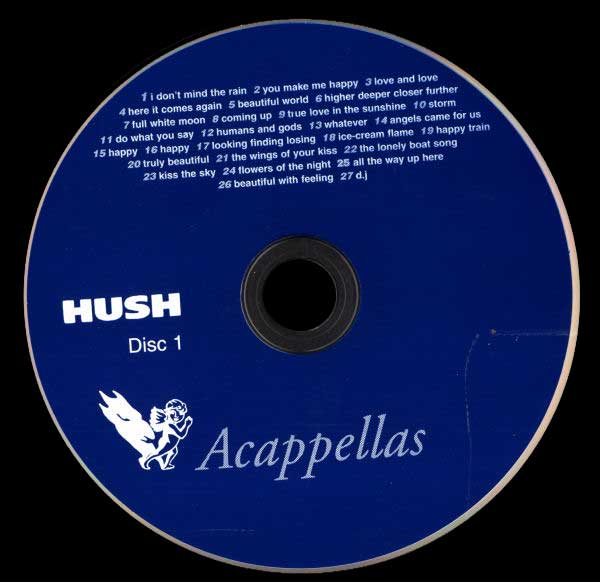 Hush - Acappellas - UK CD - CD 1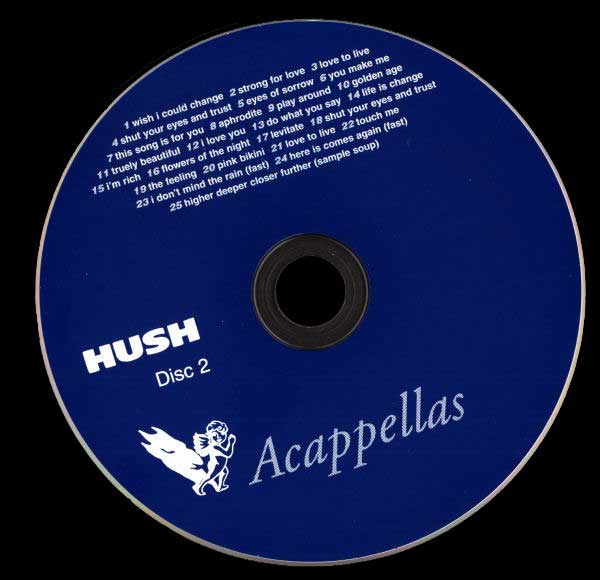 Hush - Acappellas - UK CD - CD 2